Coast to Coast Part 1 June 2010
Richmond to Robin Hood's Bay
Ian lives in Richmond and the Coast to Coast route passes right past his shop. So it was inevitable that we tackled this fantastic route at some time. As his shop opens 7 day's per week it was difficult for Ian to get enough time to do the full walk so we planned to do it in 2 stages. It seemed natural to start the last part of the walk from his house so we determined to do the section to Robin Hoods Bay first. We completed this walk in June 2010.
Preparation
Since I was retired I prepared by booking all our accommodation and producing a series of A4 maps for the complete walk. We planned to complete this part of the walk in 5 days. I also managed to get some longish 10-12 mile walks in every other day for about 3 weeks prior to starting our journey. With my rucksack prepared with spare clothes, first aid kit, maps and compass my wife drove me from our house near Wigan to Ian's house the night before our walk. Ian then drove us both to Danby Wiske to drop off our bags at our first B&B to have a pack free walk for the first day.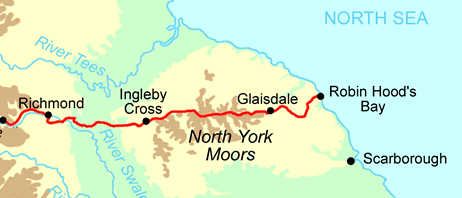 Day 1 23rd June 2010 Richmond to Danby Wiske (14 miles)
The day arrived for our walk and I woke and realised I had sent all my walking socks in my rucksack to Danby Wiske so I had to beg a pair from Ian and warmed up by taking his dog for a walk whist Ian sorted out the newspapers in his shop, We said our goodbyes at 9:00 and after a quick snap at the well photographed plaque on Ian's wall we began our hike in pleasant sunshine.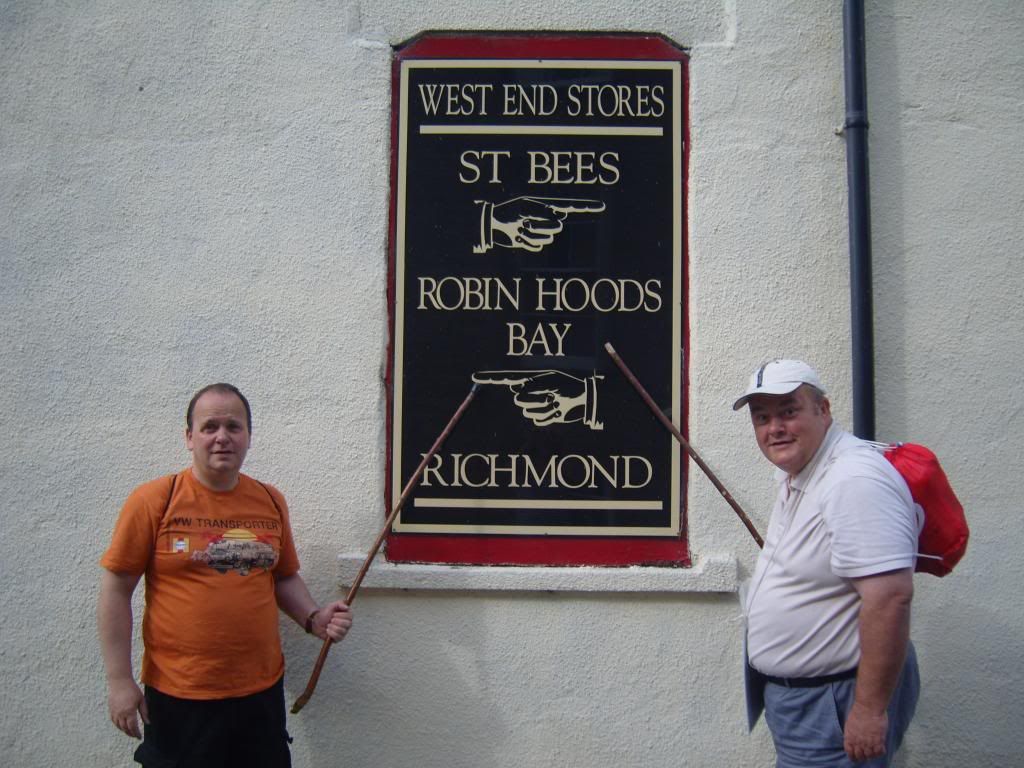 We headed down towards the Swale and crossed Richmond Bridge and followed the Swale downstream to the A6136 where we were passed by the lady who supplies Ian with sandwiches and he remarked she had promised to give us a drink when we passed her house later that morning. We walked along the pavement for about 500m before taking the footpath up past the remains of Easby Abbey. It was here were we first met a lone chinese lady whose name we never found out. She was busily studying her map near the sewage farm when we passed. Soon we arrived at the outskirts of the pleasant village of Colburn where we were greeted by Ian's butty lady with a large glass of cold squash to quench our thirsts in the hot June sunshine. We were passed by a large group of walkers enviously watching us drink our long cool glasses of orange. We said our goodbyes at 10:45 and headed onwards we soon arrived in a field with a large collection of cows. One over large "cow" was lying across the path through the field and we decided to give it a wide birth which we felt was justified when we confirmed that the large cow was in fact a bull. We passed a walker and his wife sat having a drink and snack on the banks of the Swale. On exchanging pleasantries, with him asking if we were lost, we nicknamed him Olaf because of his strong scandinavian accent. Just before we passed under the A1 we spotted a sign stating "CAMPING HERE" so I felt obliged to comply.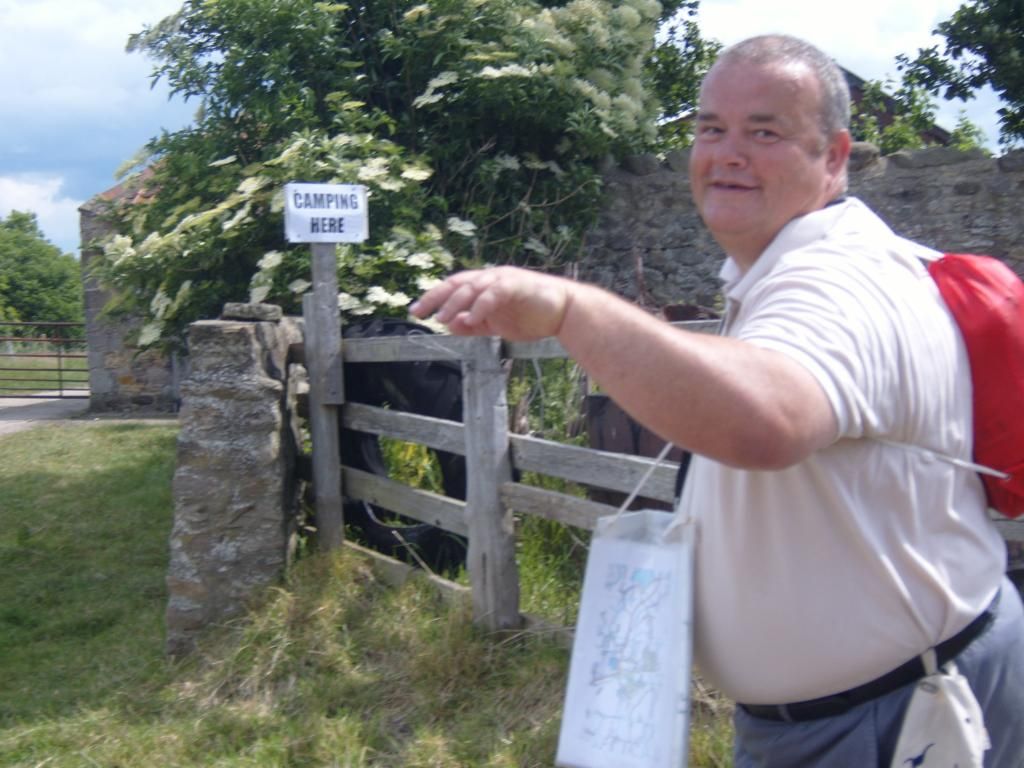 We reached Catterick Bridge at 11:30 and decided to purchase a couple off pints of Black sheep at the Bridge Hotel which we took into the beer garden to enjoy with our sandwiches. 12:00 we set off again for our last mile along the Swale past fields of wheat, rye, barley and rapeseed to the small hamlet of Bolton-on-Swale. On reaching the hamlet we took the Terry Marsh diversion to Danby Wiske to avoid 8 miles of road walking. This involved a short trek through fields to Kiplin Hall an then back onto a footpath to Plumtree Manor plantation where we paused to finish our sandwiches. Our path then took us across field footpaths and tracks past several farms. We were overtaken by a young French couple in a narrow nettle sided track. This prompted Ian to remind us of our fathers saying, that he it was quite handy to be nettled on the legs as it livened you up whilst walking. It was on this section where we encountered an extremely narrow stile through a thorn hedge. I had by now began to feel some foot discomfort and paused to rearrange my socks. A few miles further and we reached the White Swan where Olaf and his wife were sitting and again asked us if we had got lost. We also found the young French couple and the Chinese lady we had met at the start of the day also enjoying a refreshing drink. On purchasing a couple of pints we were informed that the pub did not serve food but that we could have a takeaway ordered. We chose an Indian meal for 7:00 and retired to our rooms for a shower and change. When we came down at 6:45 the landlord had prepared a table with cloth and cutlery to await our Curry which arrived on time and was lovingly consumed with more Black Sheep. Several locals arrived and began a 5&3's dominoes match followed by plates of sausage rolls and pork pies which were offered to everyone at 10:00 of to bed at 10:45 well sedated
.


Day 2 24th June 2010 Danby Wiske to Huthwaite Green (15 miles)
We left Danby Wiske at 8:45 with 60 more miles to walk after purchasing a £5 packed lunch from the Black Swan consisting of an apple a smalll carton of ribena a sandwich and a packet of crisps.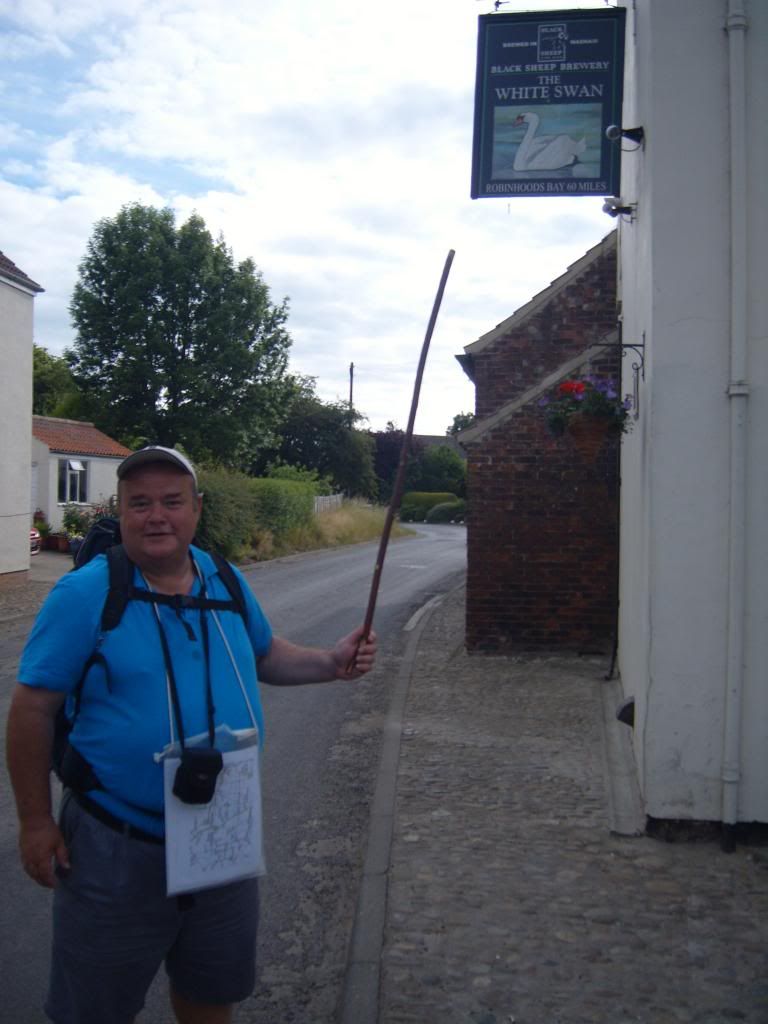 We soon found ourselves walking on a path through a field of ripening rapeseed oil pods.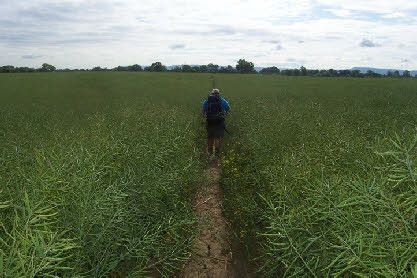 We carried on and at about 10:00 passed through a farm with a self service selection of drinksand snacks and at about 11:00 another farm offering the same fare. We both commented that our packed lunch was pointless. Soon we arrived at a level crossing over the railway line and carefully made our way across. We decided to take our lunch at the end of the next field where we relaxed in the sunshine for a while. We were passed by Olaf and our chinese lady who thanked us for being her guide. I realised that my feet were beginning to suffer badly. Lunch over we pushed on towards the busy A19. The sight of the woods above Ingelby Arncliffe looked a daunting task after our mornings walk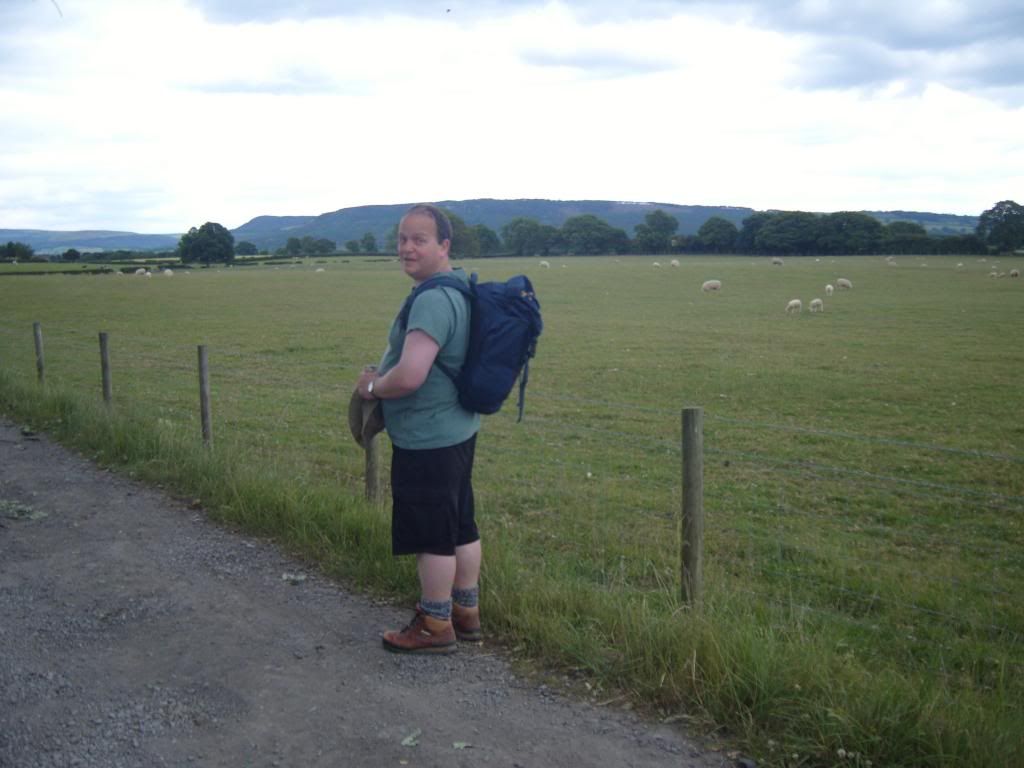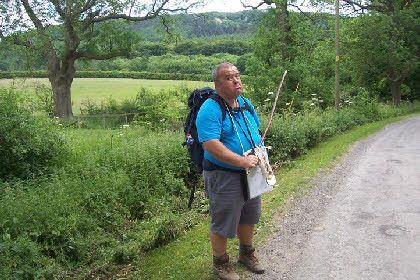 Our heavy backpacks began to take their toll and we toyed with the idea of actually paying for baggage transfers in future. When we reached the A19 it was like a traffic jam of walkers. The road had one side of the dual carraigeway closed for repairs and all the traffic was speeding along at 60mph in both directions down one carraigeway. It was a full 20 minutes before a sufficient gap between cars was available in both directions and on the shout of lets go 15 coast to coasters took their life in their hands and raced across to the opposite empty carraigeway. Our chinese lady companion had been held up at the A19 and walked with us for a while. She commented on Ian's walking stick admiring the carving on the head however she thought it was a duck when Ian had always insisted it was a dog. This made me chuckle to myself. On reaching Ingelby Arncliffe we decided some liquid fuel was needed and ordered a couple of pints of cider, I decided to examine my feet more closely and discovered 2 large blisters forming each foot. I wrapped each foot with plasters and put my boots and socks back on. Then began our slog up through Arncliffe woods to the start of the North Yorkshire moors .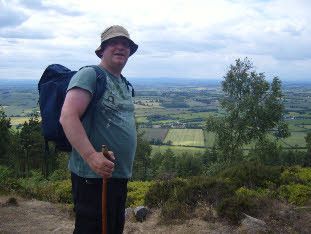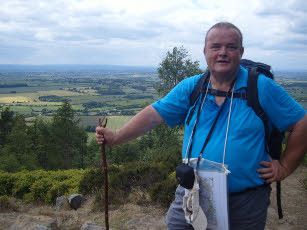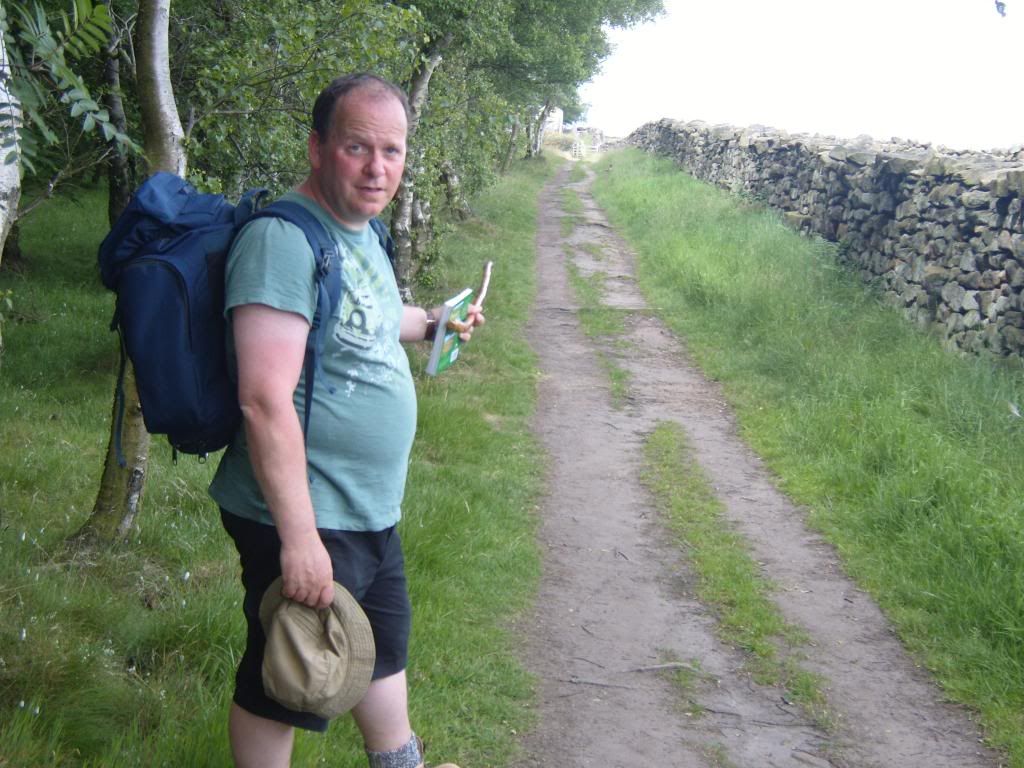 On reaching the top of the wood we were treated to excellent views over the Vale of Mowbray back towards Richmond. Ian spotted a pheasant crossing the path ahead. The path side was covered in Bilberry bushes laden with fruit we we took a short while to sample. We carried on the path above the woods until we had our first view of the Cleveland Hills and we were honoured with the sight of a deer running through the heather a short distance ahead of us.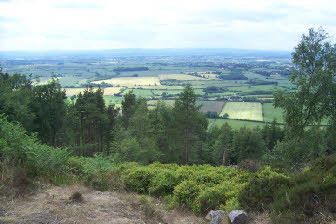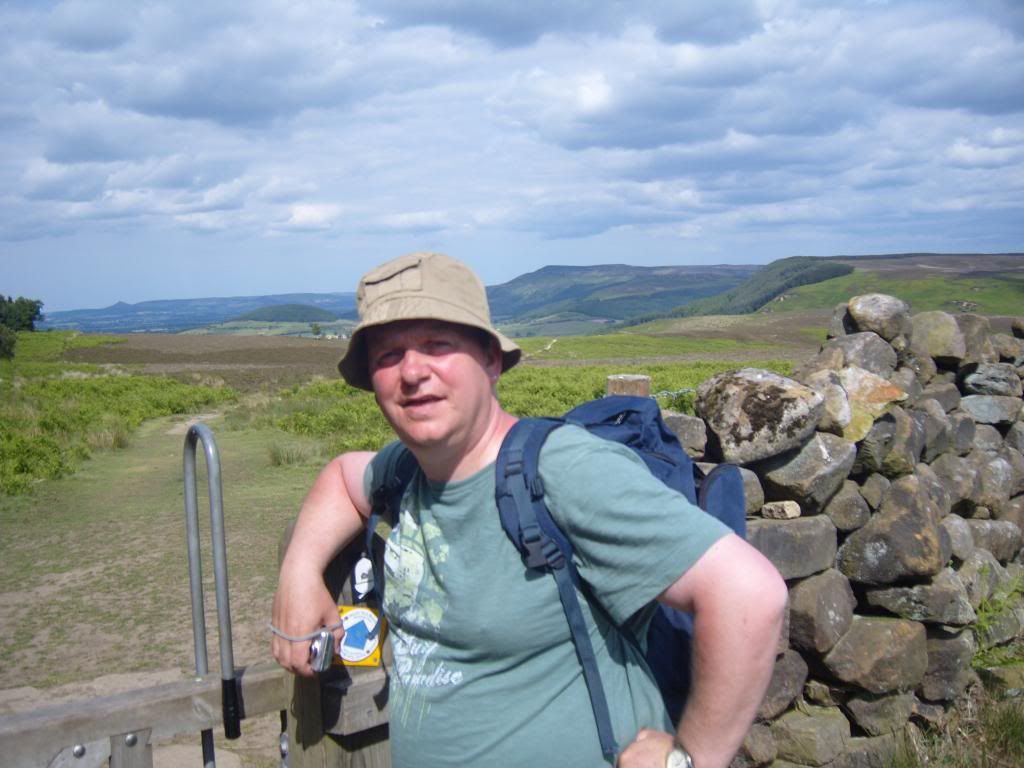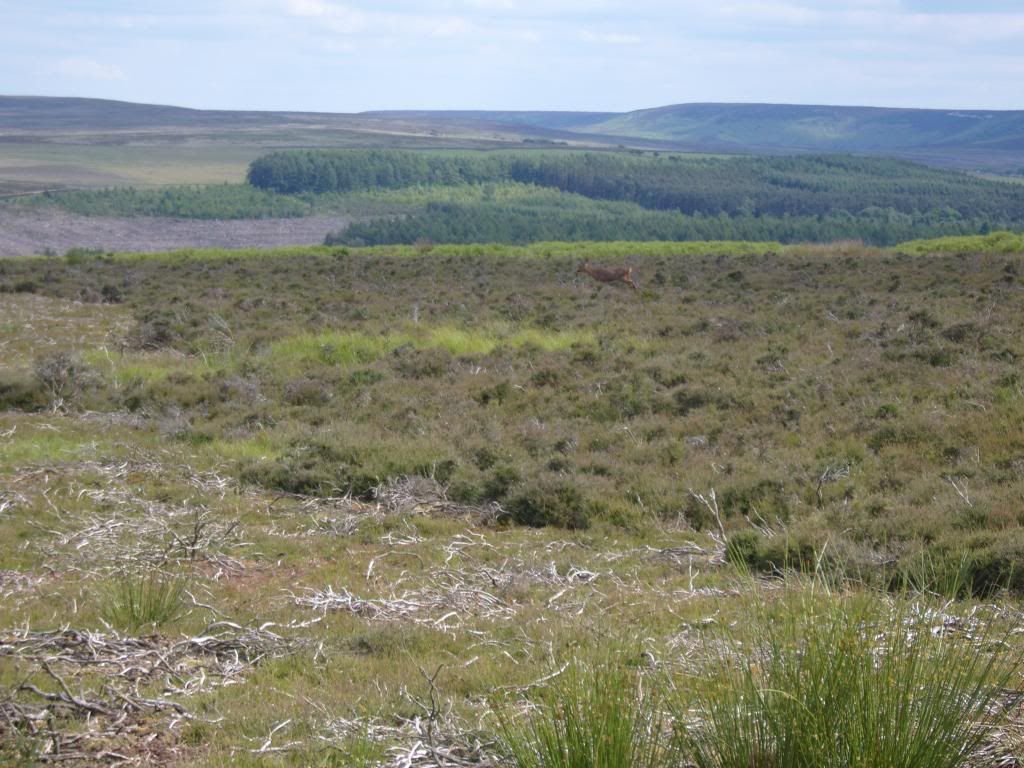 We had arranged with our B&B in Faceby to be pick up at Lord Stones Cafe, Carlton Bank. However when we reached Huthwaite Green we were conscious that time was moving on as it was 6:30 with still 2¾ miles walk and another biggish climb to do to reach Carlton Bank, so we rang our B&B landlady and asked if she could pick us up there which she agreed would be no problem.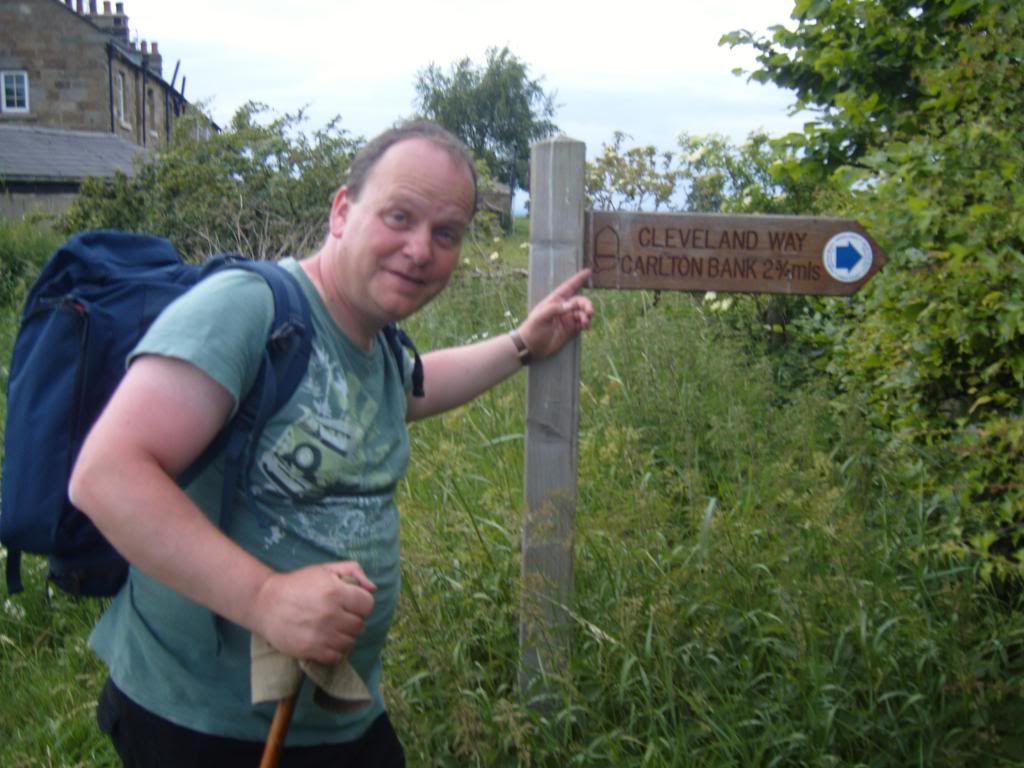 Our landlady arrived and took us to her B&B at Four Wynds B&B, Faceby. After a quick shower and change, Ian had to apply running repairs to his first blister. Our landlady Sue took us to the pub at nearby Swainby where we enjoyed a sumptuous bar meal. We were picked up at 9:30 and taken back to the B&B where a good nights sleep was had.
Day 3 Saturday 25th June 2010 Huthwaite Green to Blakey Ridge (18½ miles)

Breakfast at 8:00 and we were dropped off at Huthwaite Green by 8:30. The climb up on to moor again through the wood was fairly steep and we both agreed it would have been too much the night before. On reaching the moors panoramic views of Cleveland were on show and we could see our B&B in the distance. Ian realised he had left the hat he had borrowed off his brother-in-law at the B&B. Another sunny day was forecast and walking along the well paved Cleveland Way section to Carlton Bank was quite pleasant with quite a diverse selection of wildlife being sighted including Curlew, Wheatears and many Grouse with chicks.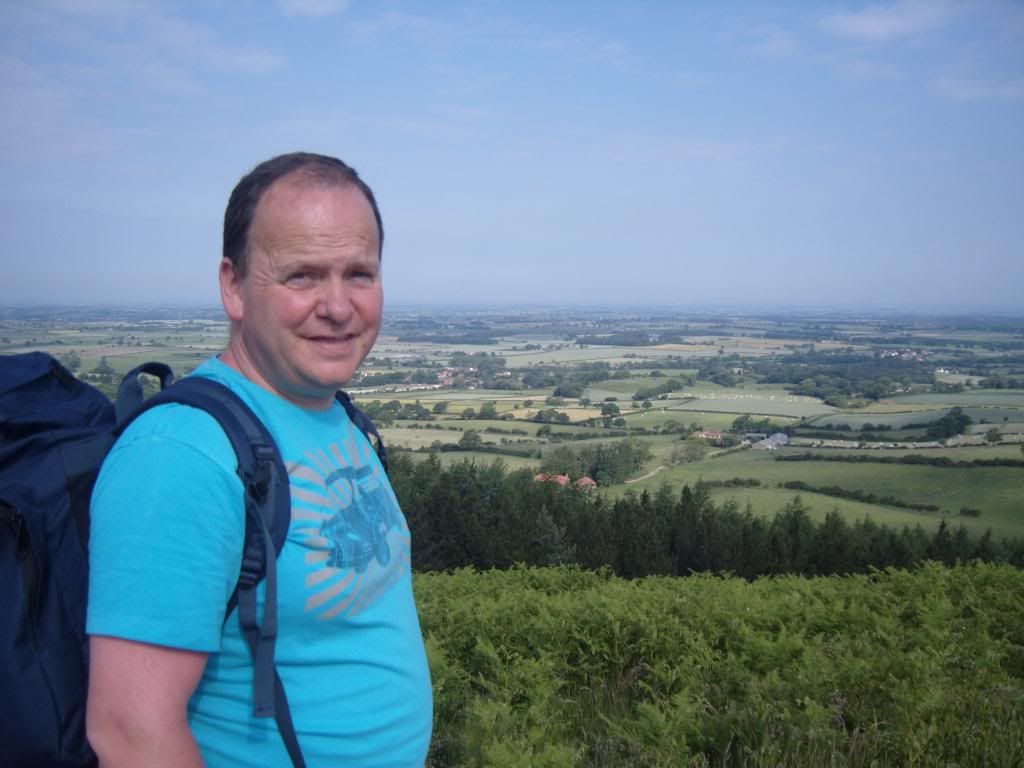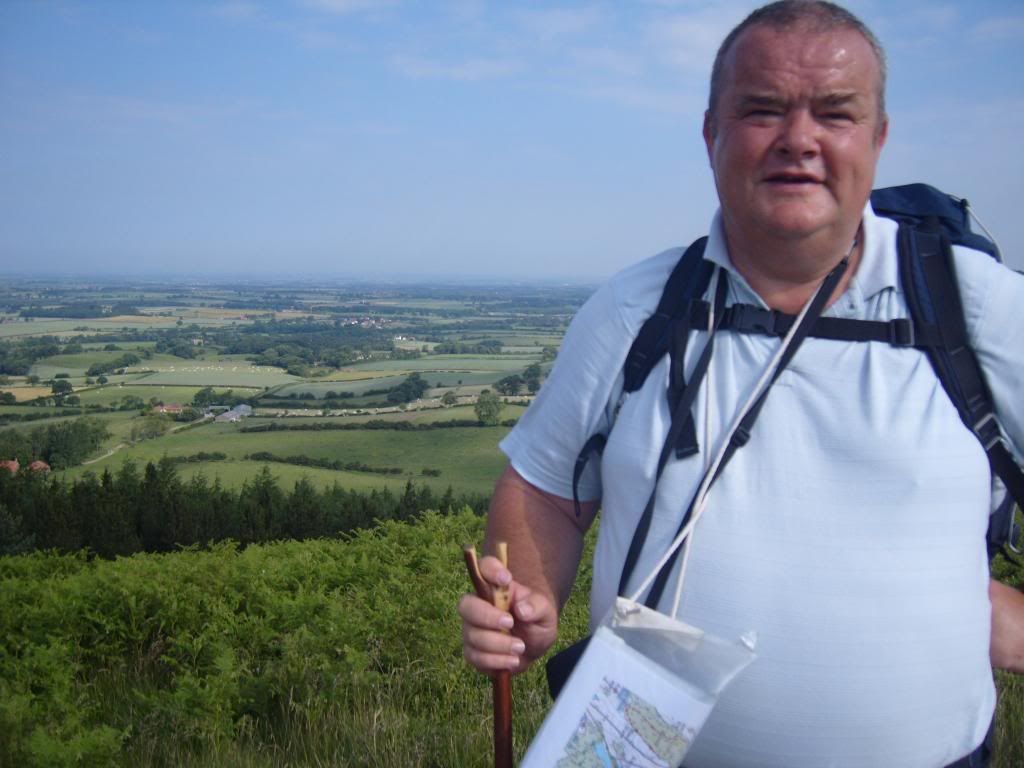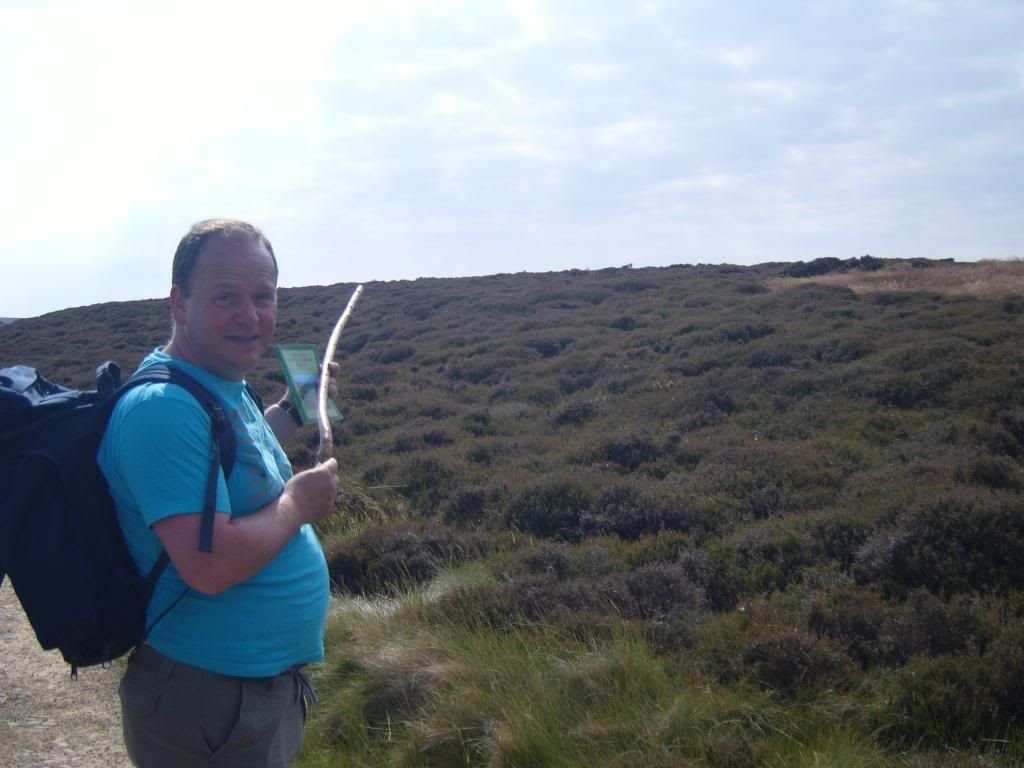 The Gliding club could be made out off to our right and a large cairn was encountered just before we made the long descent to the road at Carlton Bank and my feet and knees were again beginning to suffer.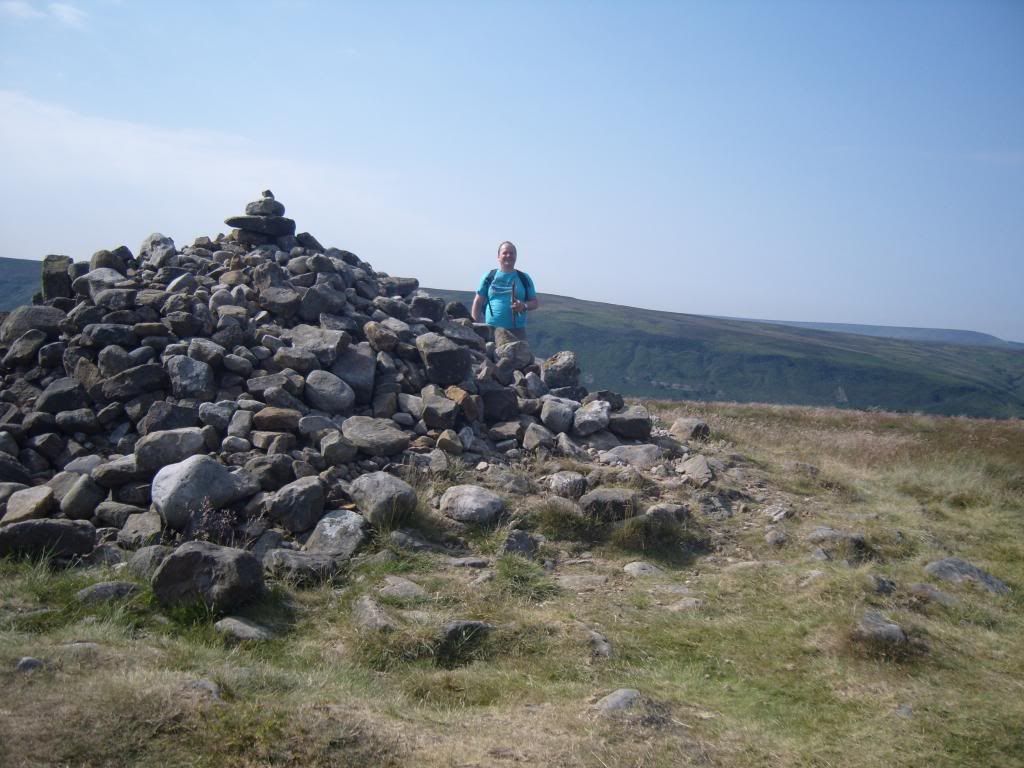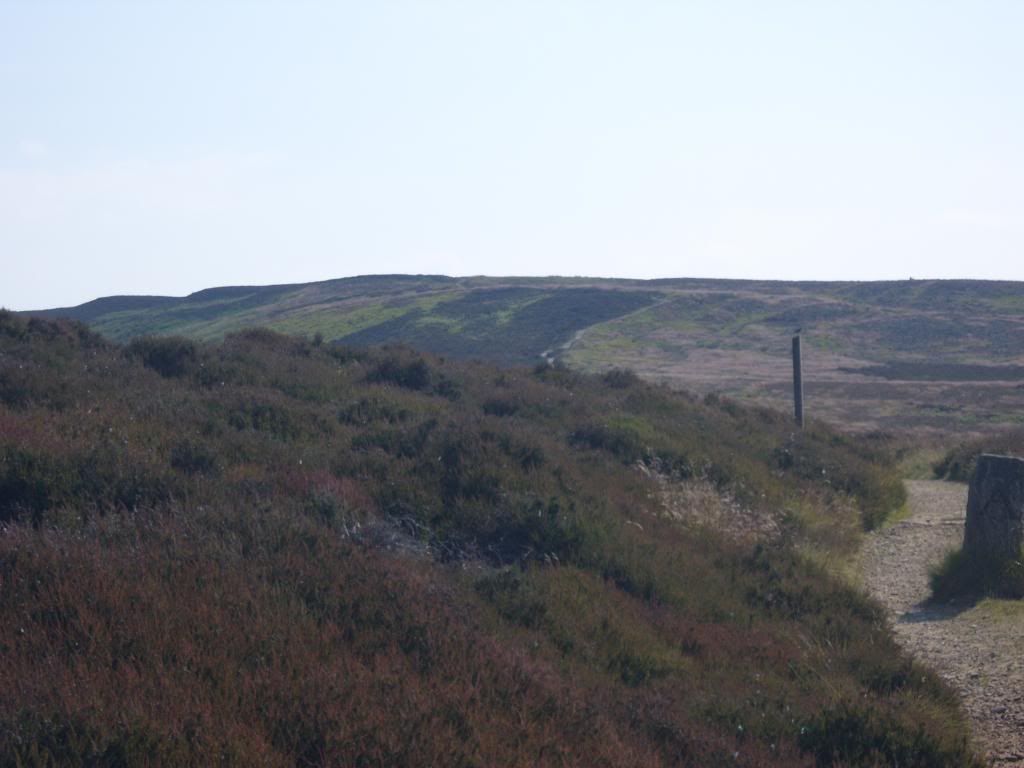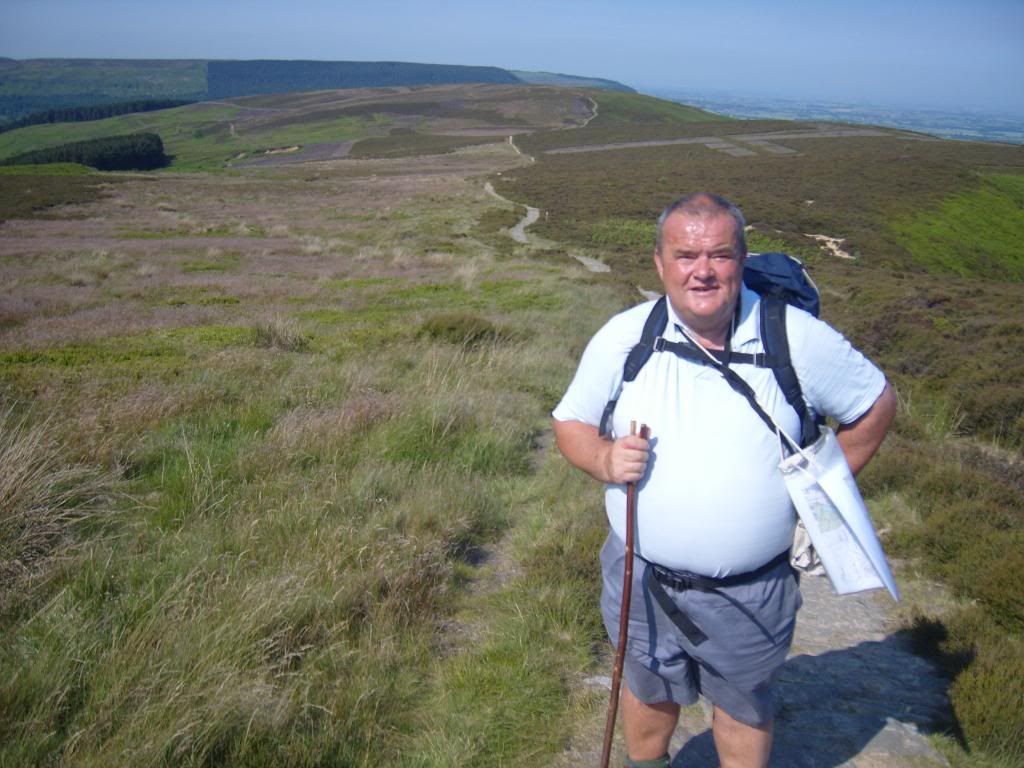 Lord stones Cafe was reached at 11:00 and a sign provided us with the opening hours of 11:00 to 5:00 and we were both agreed that yesterday was wise to cut short. We both ordered a cooked sandwich and a welcome pint. The seating outside Lord Stones was now filling up with cyclists, hikers and bikers but we seemed to be the only customers taking alcohol. A bottle of lucosade and a flapjack was bought for later and we headed back for higher ground.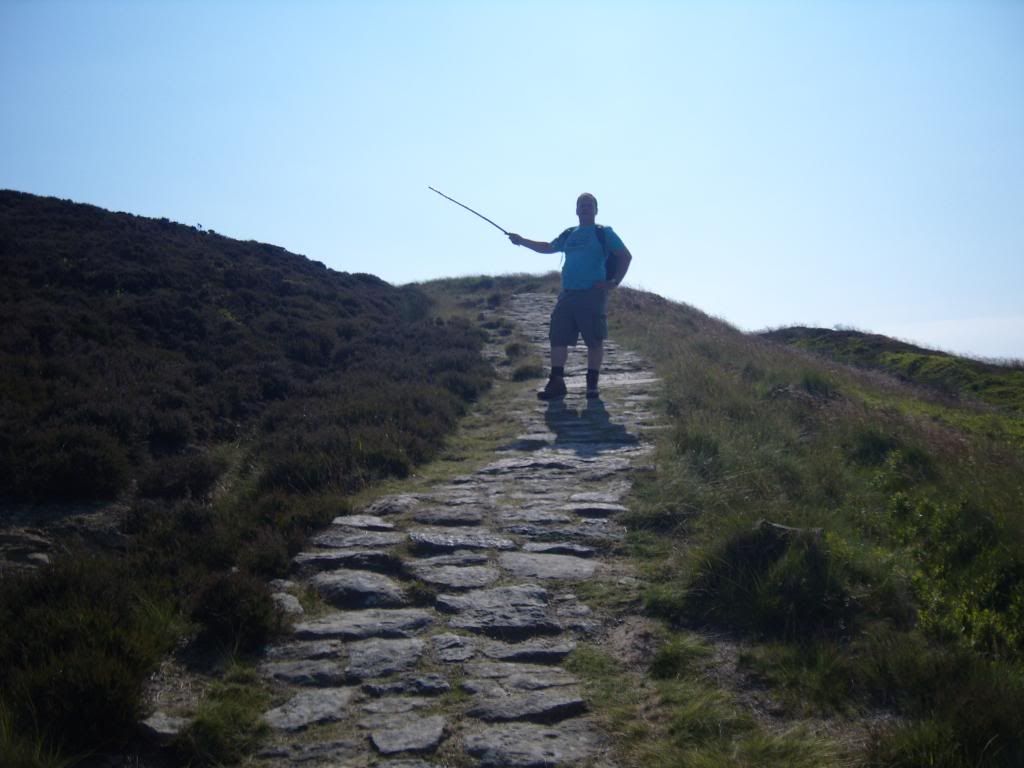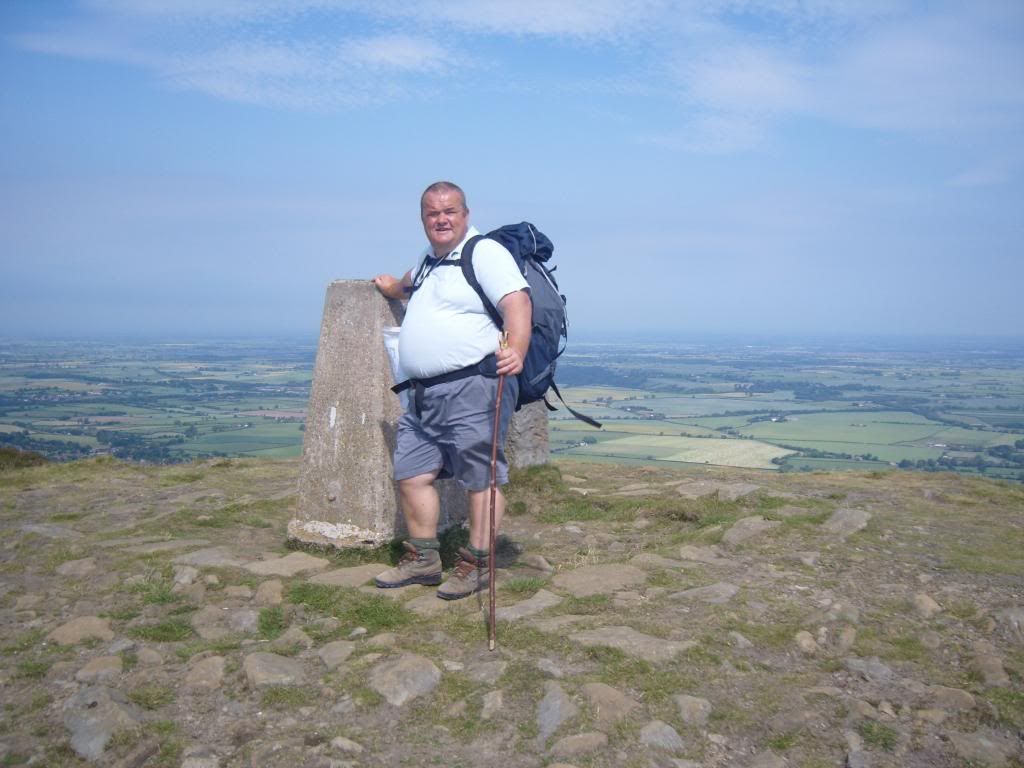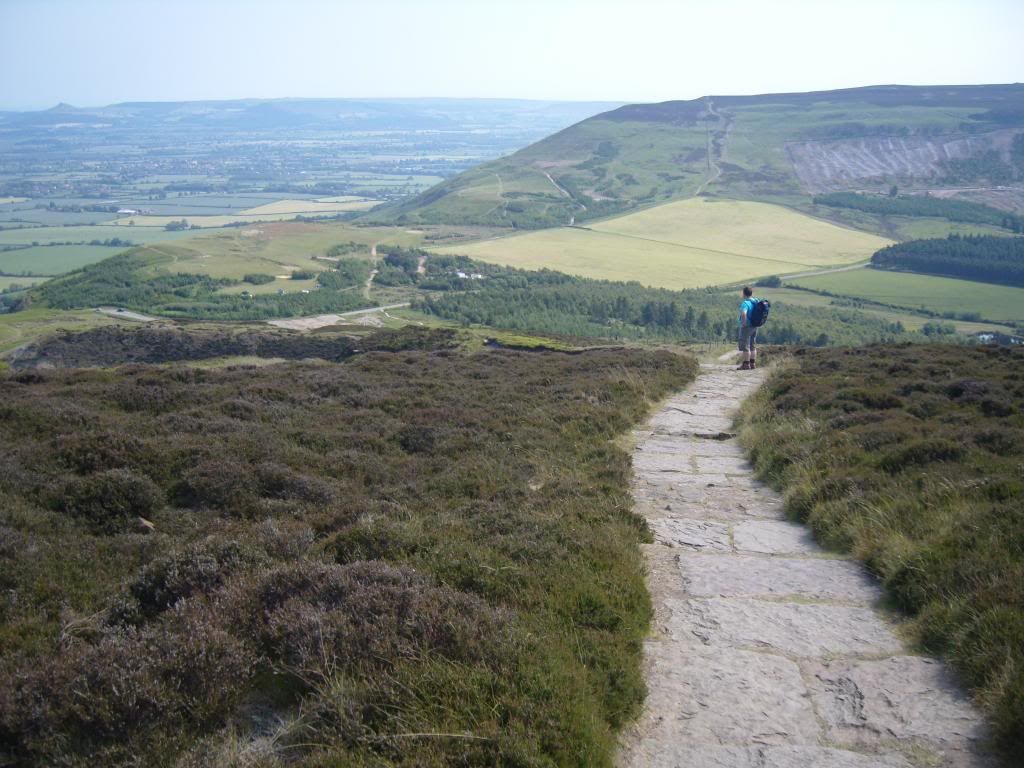 This section of the route was a series of energy sapping ups and knee hurting downs. The ups were rewarded with spectacular views and we were delighted to spot a hen harrier looking for prey. I resolved to take a more level route to Clay Bank as we approached the Wainstones. Ian carried on and scrambled up through the stones whilst I took the less tiring forest track. We met up at Clay Bank Top at 3:00 and stopped to consume our flap jack and lucosade. Then we began another steep climb up to Urra moor where we trekked on for several miles in the hot sun. We were beginning to realise that our water supplies were dwindling and with nothing available to replenish them other than very brown peaty water which we decided to avoid. We reached Blowarth Crossing at 5:15 an met a cheerful father and daughter who informed us that they had just walked from The Lion Inn, Blakey ridge 1½ hours earlier and we should be there in no time.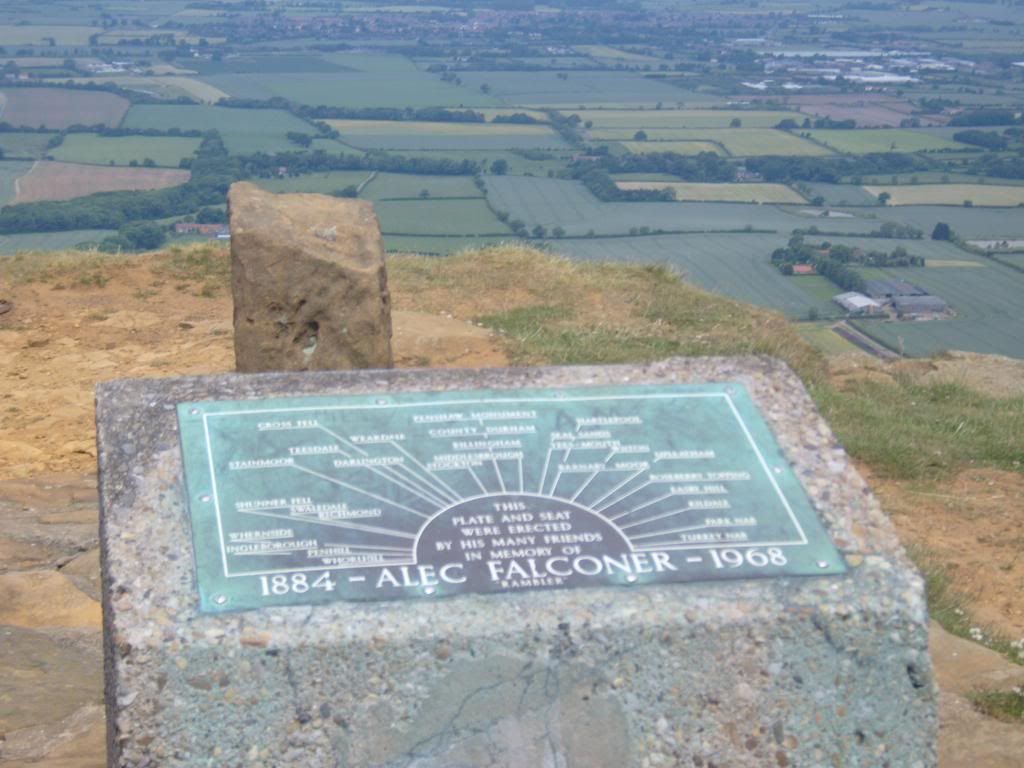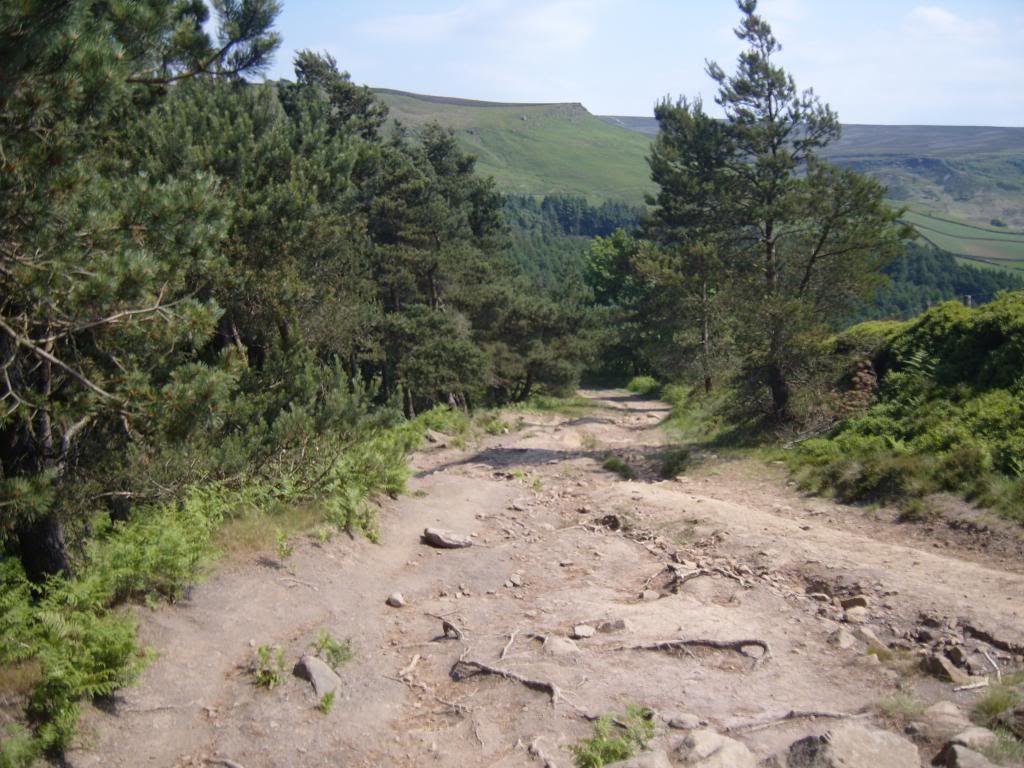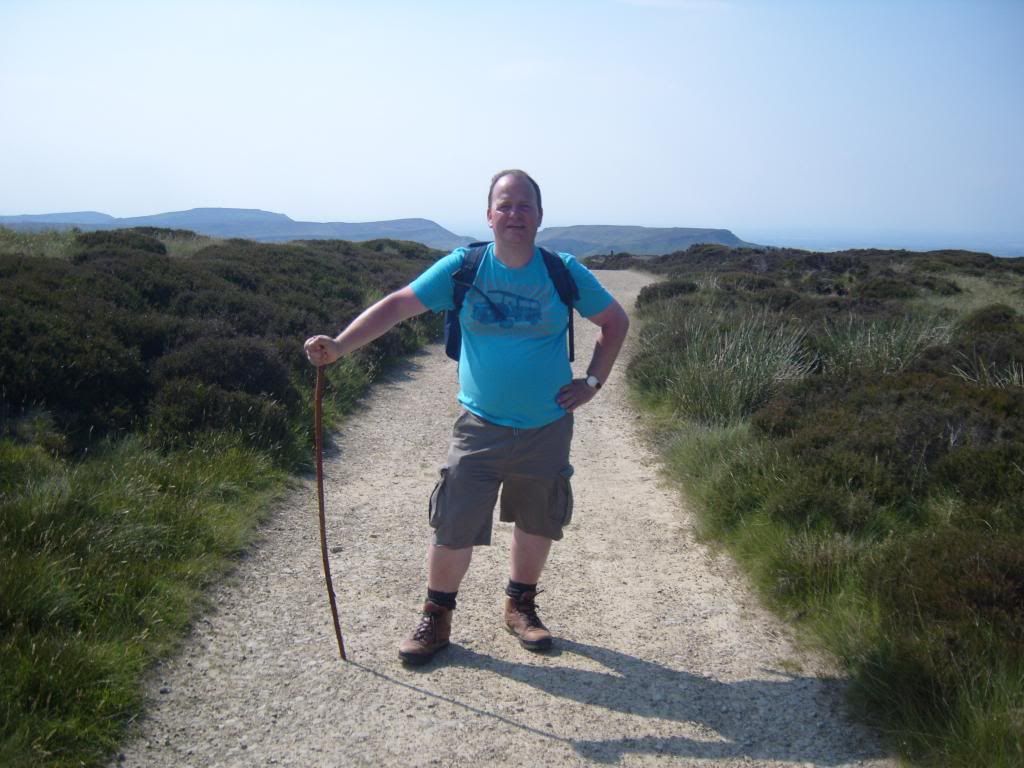 The level mineral railway trackbed made for easy walking but our shortage of water was beginning to tire our weary legs and as we reached one horizon we were disappointed to see the track disappearing over the next horizon. 2½ hours later The Lion Inn came into view and Ian sped ahead to get our room and order some drinks. 15 minutes later I staggered through the pub doors totally exhausted to be mercifully met by Ian holding a lifesaving glass of amber nectar for me. We ordered food and enjoyed a hearty meal. We had a chat with a couple who were doing the route with their parents in a camper van. The parents did not walk but met them at the end of each day.with their baggage. They found that many pubs allowed them to park up overnight provided that they dined and drank in the pub. Our room was a pleasant family room with a single and double bed which I won after tossing a coin. Ian discovered that that skin on the side of his heel had become detached prompting more repairs in the morning.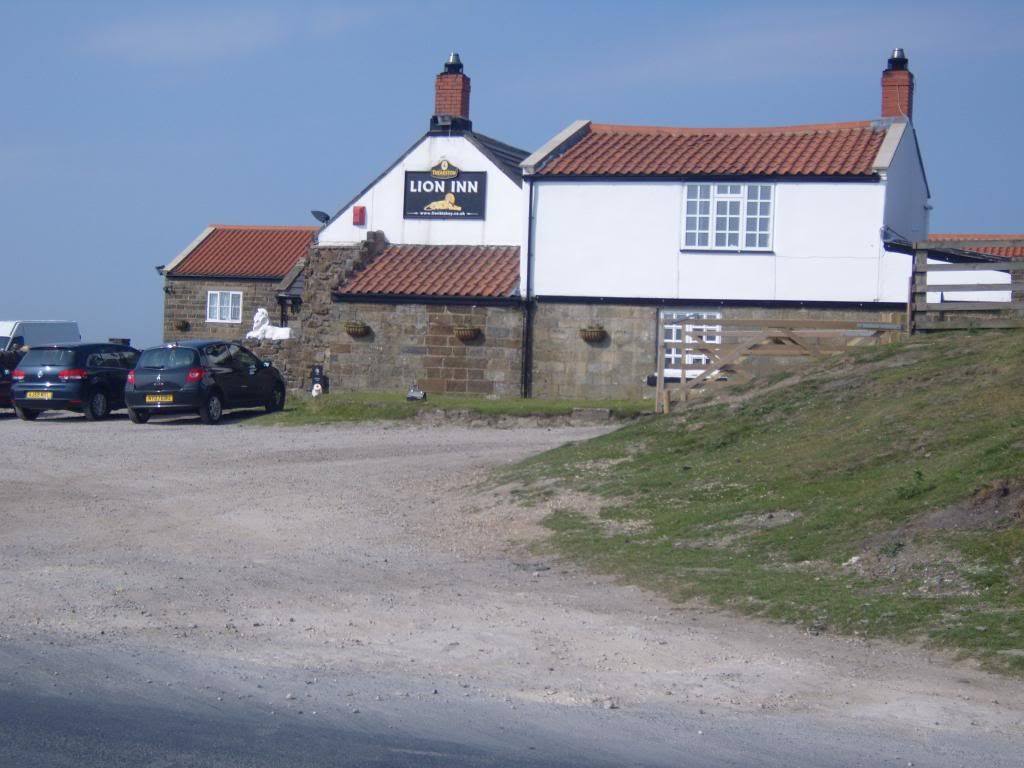 Day 4
Sunday 26th June 2010 Blakey Ridge to Grosmont (13 miles)
Painful start to the day as I managed to stub my toe on the end of the bedpost whilst going to the bathroom. Breakfast at 8:30 and on the road for 9:00. Ian's head was suffering a little from the sun so I lent him my cap. England were playing Germany this afternoon in the World cup and we planned to reach Glaisdale for 3:00 and stop to watch the match before heading on to Grosmont. 2 hours later we had reached the track to Fryup Dale and could still see the Lion Inn across the valley in the distance.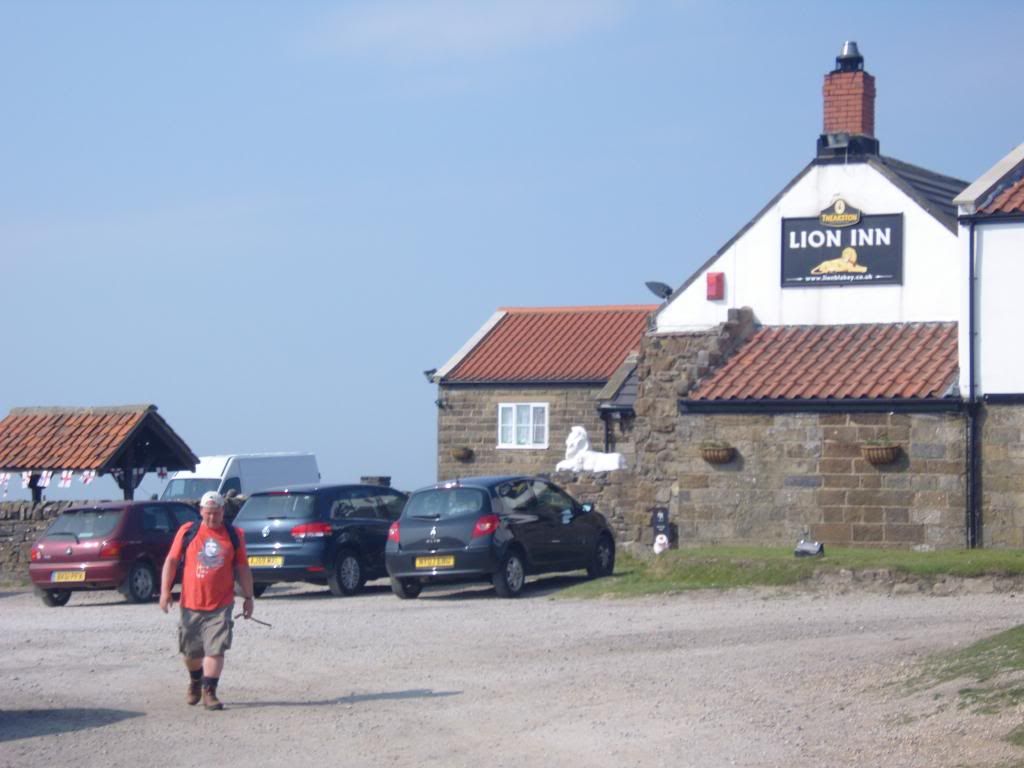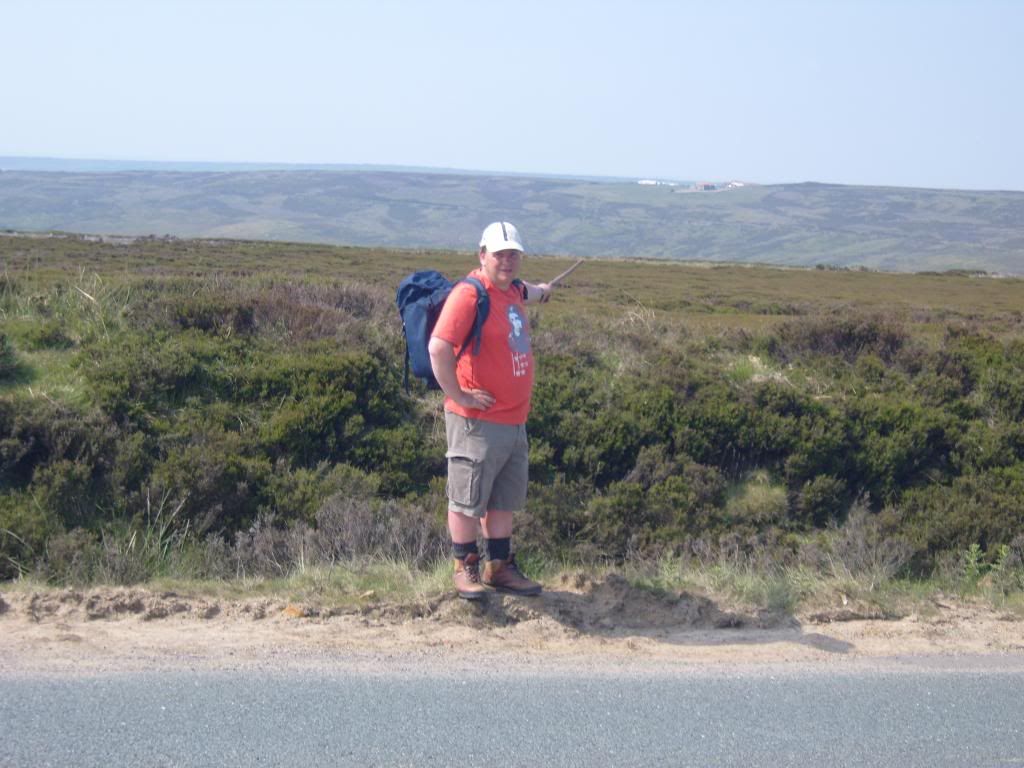 The track was quite rocky and I it seemed like I could feel every stone under foot with my increasingly sore feet. Soon the path became more forgiving as we crossed Glaisdale moor. Ian was lucky to find a "new" hat to replace the one he had lost.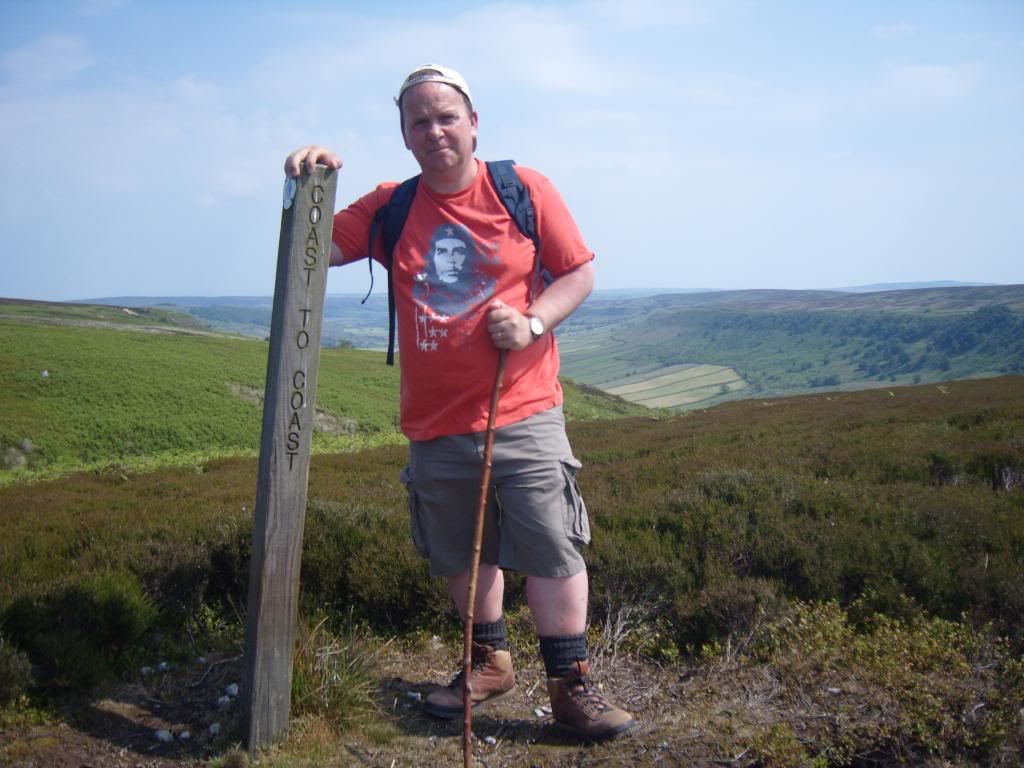 We struggled onwards towards Glaisdale constantly checking our watches as the 3:00 kick off drew nearer. We reached the village and found that the pub was a mile further on at the other side of the village. I was unsure that my aching feet would make the forced march at increased pace. However we managed to stagger into the Arncliffe Arms just in time for the kick off. The pub had installed an extra TV but the pub was so full we could not see either screen. We left the pub at half time feeling very disappointed both with the score and our failure to secure a view of the match. As we passed the railway station I decided my feet needed saving from the agony I was feeling and I resolved to take the train on to Grosmont. I relieved Ian of his rucksack and he marched off with a spring in his step having no rucksack to haul. The train arrived and I had about 10 minutes to admire the scenery form the windows before arriving at Grosmont.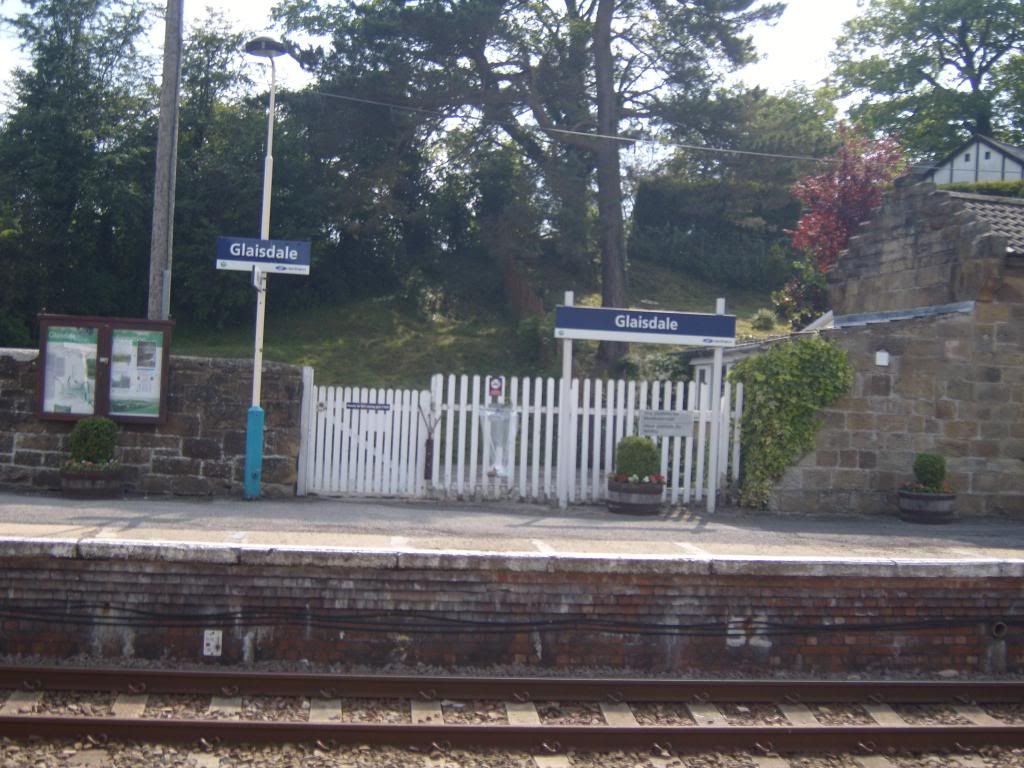 I was greeted with the sight of the "Sir Nigel Gresley" building up a head of steam in the North Yorkshire Moor railway station which adjoins the British rail station. I bought a refreshing pint at the Station Tavern and had a game of darts with one of the locals who turned out to be the brother -in-law of my B&B landlady. I then sat in the sun outside to admire the views and wait for Ian who arrived at 5:30 fresh as a daisy after his stroll with no rucksack. We ate in the Station Hotel that night and had a chat with 2 coast to coasters who we discovered had bought their packed lunch at Ian's shop earlier in the walk in Richmond.


Day 5 Monday June 26th Grosmont to Robin Hoods Bay (13 miles)
I discovered my toe that I had stubbed the previous morning was now badly bruised. Up for an excellent breakfast and a quick visit to the shop for provisions for the day then off to tackle the notorious steep ascent out of the Grosmont.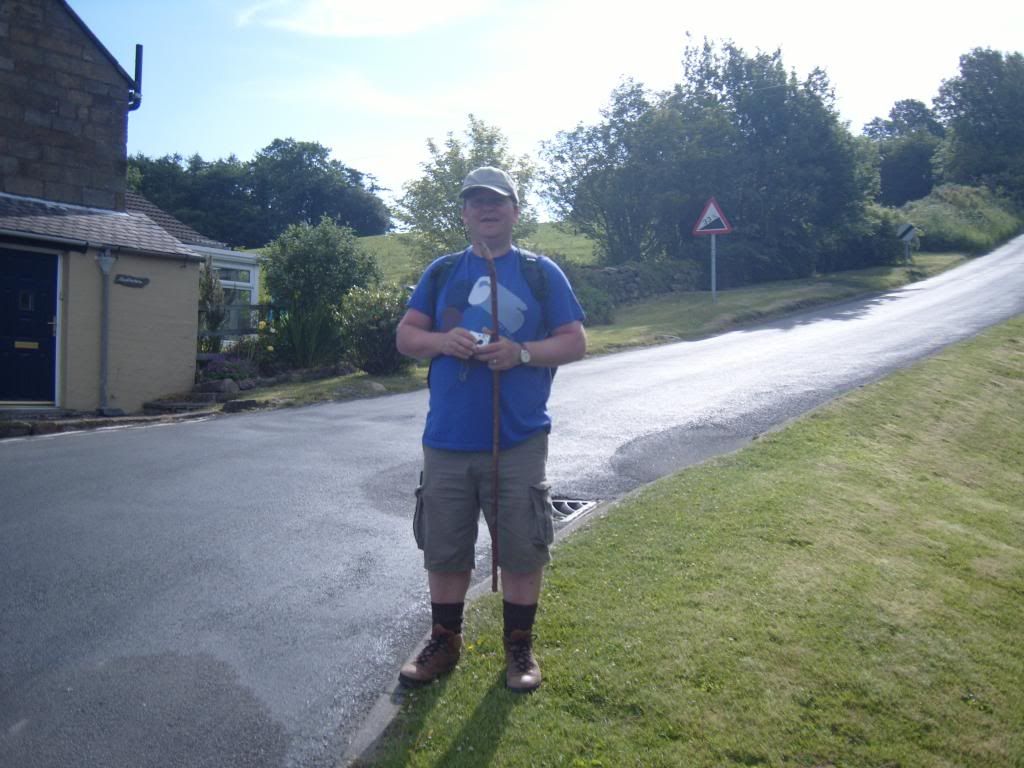 With sore feet and heavy packs this 33% climb seemed to go on for ever. 3 miles later after much huffing and puffing we reached the top of the hill and were grateful for the reasonably level walking across Sleights Moor. Several hikers passed us as we ambled along the roadside path. We were intrigued by the number of dead adders we spotted squashed on the road. I came to the conclusion they must have fatally chosen the road as a sunning place to take in the heat and succumbed to the passing traffic. As we reached the A169 we were overtaken by the two guys we had been chatting to in the Station hotel the previous night.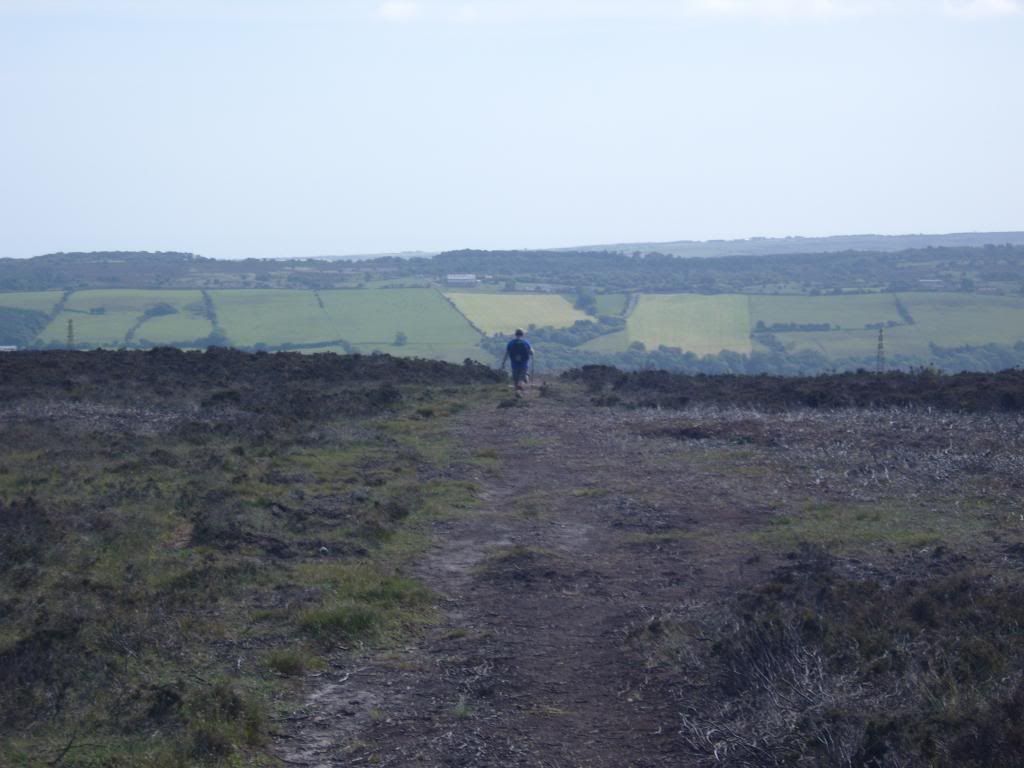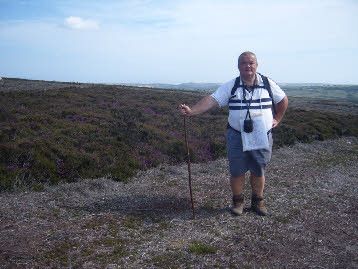 We made our way down to Littlebeck and looked for a tap in the local church to supplement out water supply which were dwindling fast in the heat of the day but to no avail. We crossed the ford and decided to miss out Wainwright's meander to the Hermitage and pressed on up a 1:4 hill for about a mile and a half up Lousy Hill lane until we met the B1416 where we walked along the pleasant grassy verge. We paused for a 20 minute rest at the point were the Waingright route meets the road. We then took a path on the left which took us through the heather to road to Robin Hood's Bay. My feet at this stage were in agony and we both agreed that Wainwright's extra loop up to Hawkster and back along the cliff tops was being avoided. Ian justified this decision by pointing out he had already walked that section a few years previously. We pressed on towards Robin Hoods Bay which had briefly been sighted on our way down towards Flyingthorpe.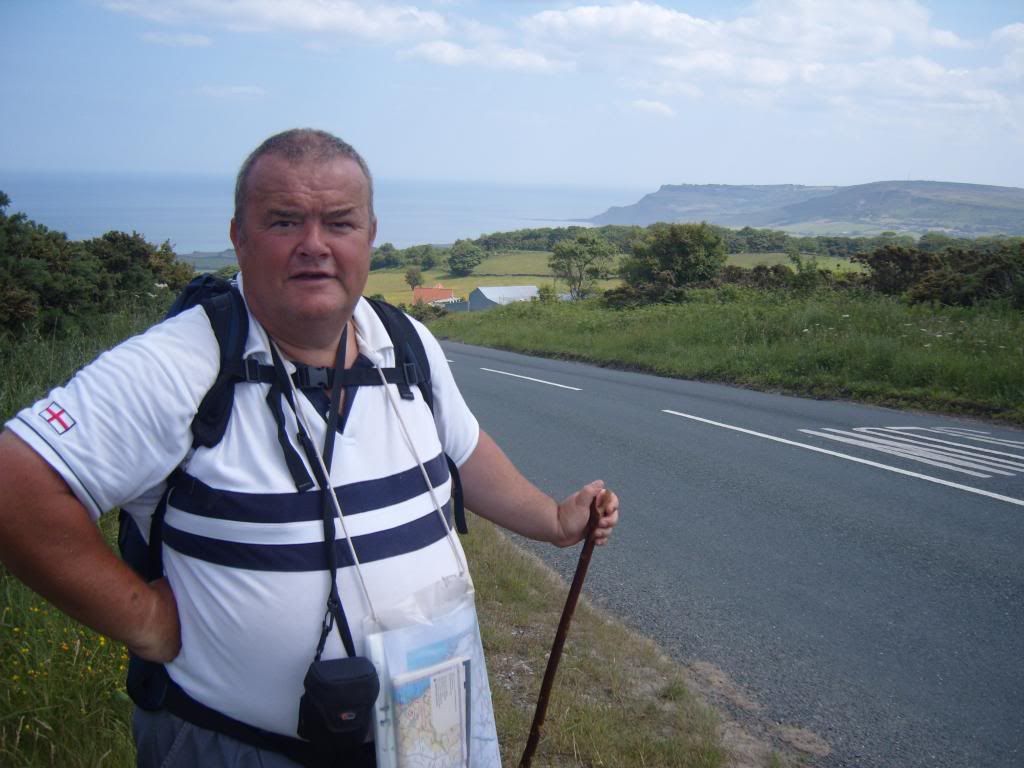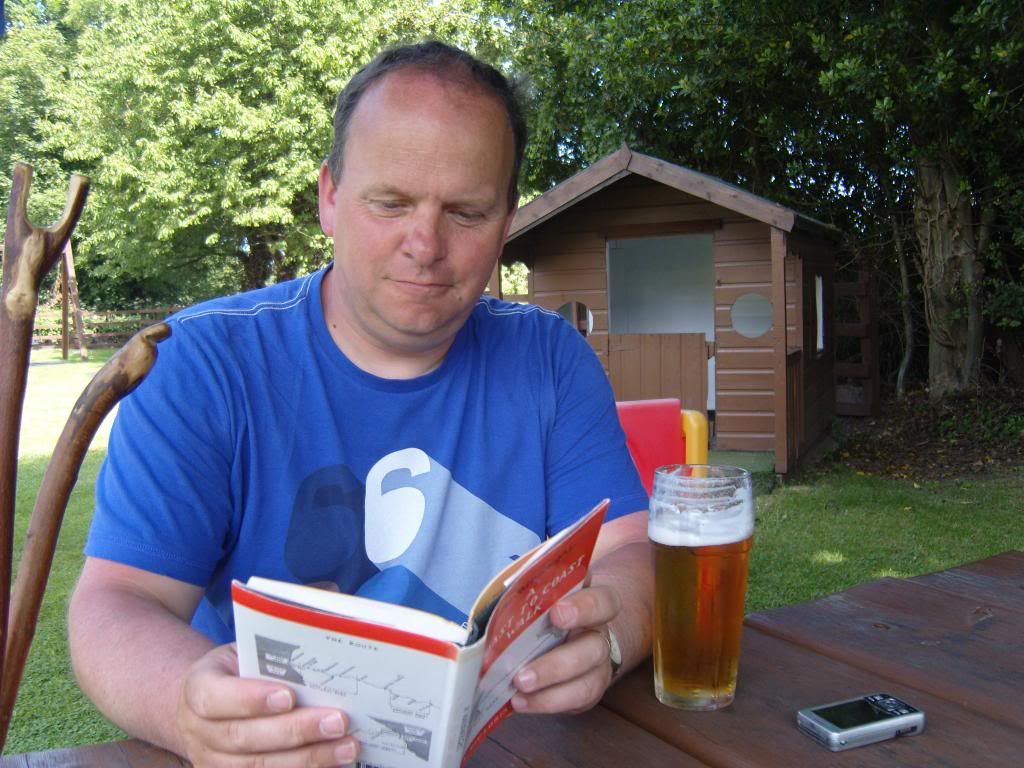 On finding the pub open in Flyingthorpe we decided that we needed to re-hydrate and refuel before the last 1½ miles down the steep hill to the bay. Spirits lifted we continued down towards our goal and reached the sea at 3:30. After the traditional toe dipping we headed for the Bay Hotel and rang my wife Cath to come and pick us up from her brothers in Scarborough and then settled down to enjoyed the liquid refreshment. Cath arrived at 4:30 and had asked if we could meet her at the top of the hill. This request was respectfully declined and she carefully made her way down the narrow road to the Bay Hotel and sped us off home. My extremely sore feet prompted me to promise myself some new boots and to lose a few pounds before tackling the rest of the walk next year.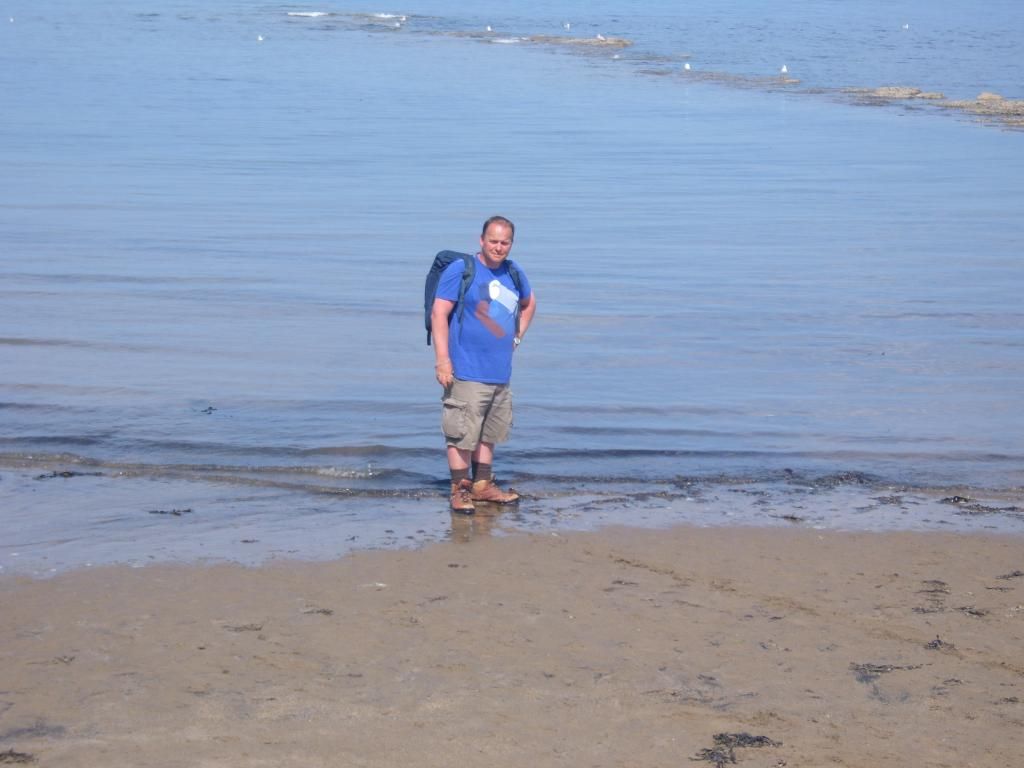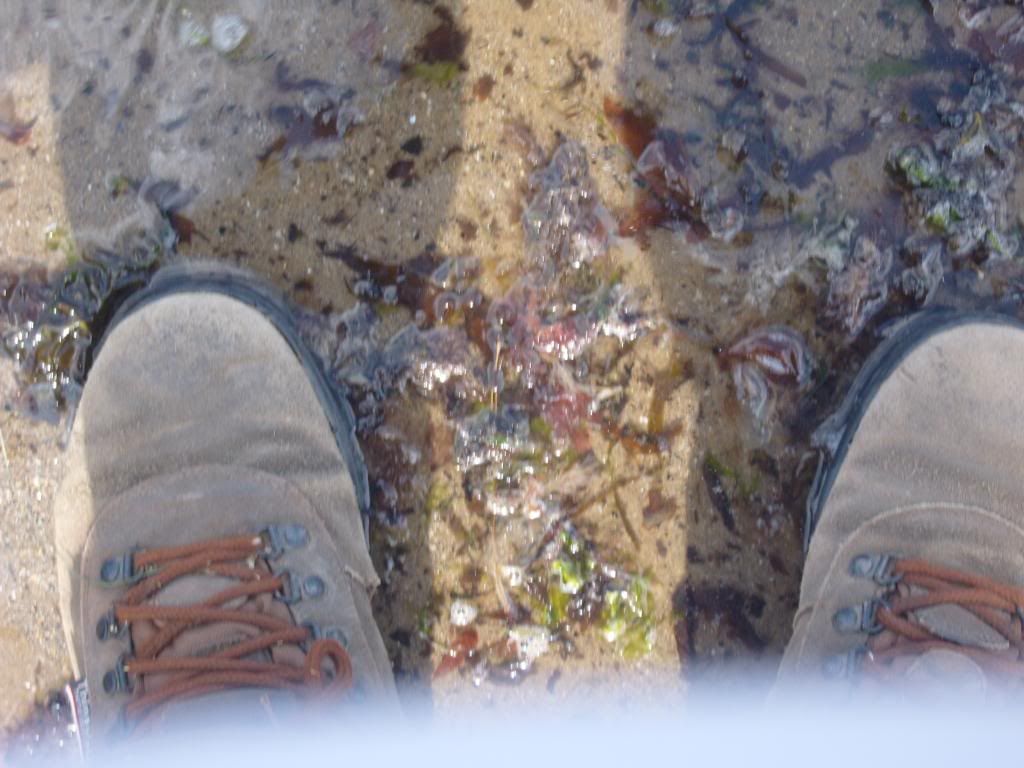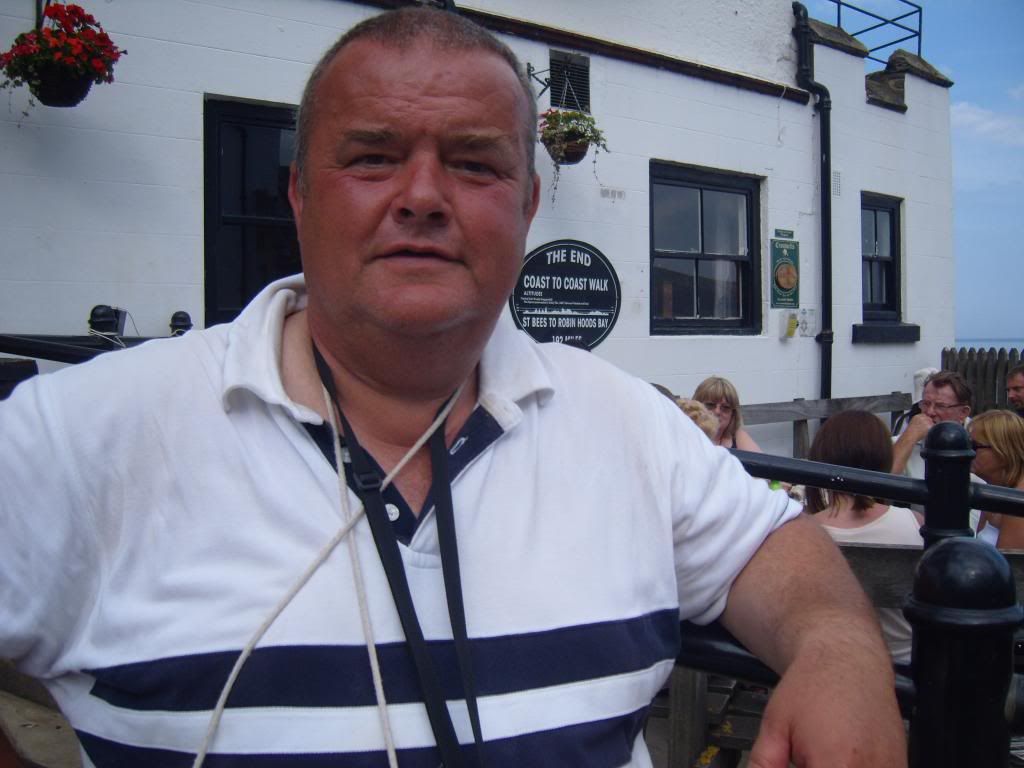 .
Home