Coast to Coast Part 2 2012
St Bees to Richmond
In 2010 my brother Ian and I completed our first section of the Coast to Coast from his house in Richmond to Robin Hoods Bay. Unfortunately Ian had to have an operation on his heel in 2011 so we postponed this completion of the journey until 2012.
Preparation
Plans began in October 2011 when I booked all our accommodation and began printing off maps from Streetmap.co.uk at 1:2500 for our route. A few days before our departure I discovered that for £12.50 I could buy 750 sq miles of OS 1:2500 mapping on the free Memory map App which I had downloaded on my iphone. I believe you now have to pay £4.99 for the iphone App. This allowed me to download all the maps we would need for our route and so have GPS backup as well as our printed maps. I even bought myself a map holder complete with compass from Aldi for the grand sum of £1.99. Using treasury tags and A4 plastic wallets, cut to the size of my new map holder, I made a back to back booklet with all our necessary maps in walking order. Ian booked our baggage transfers from Sherpa in Richmond. I stocked up on cereal bars, chocolate bars, nuts, flapjacks, crisps and fruit for packed lunches. I took the train from Wigan to Darlington and was picked up on Saturday evening by Ian and taken to his house in Richmond.

Day 1 Sunday 24th June 2012 St Bees to Ennerdale Bridge (10½ miles)

After a large egg and bacon barm, we left Richmond at 10:00am with Marie, Ian's wife. Ian then drove us to our first B&B, The Cloggers in Ennerdale Bridge, where we dropped off our bags at 12:30 and then drove on through Cleator Moor to the beach at St Bees to begin our walk. The no pies shop in Cleator was open. We had passed through sun, torrential rain and more sun on our drive but luckily it was sunny again for the start of our weeks walking. Our boots were donned and our packs were decorated with England car flags as the football team were playing in the Euro 2012 that night. We said our goodbyes to Marie after she had taken our photos by the Coast to Coast plaque and then she drove off back to Richmond. Next job was the ceremonial toe dipping in the Irish sea and collection of a St Bees pebble.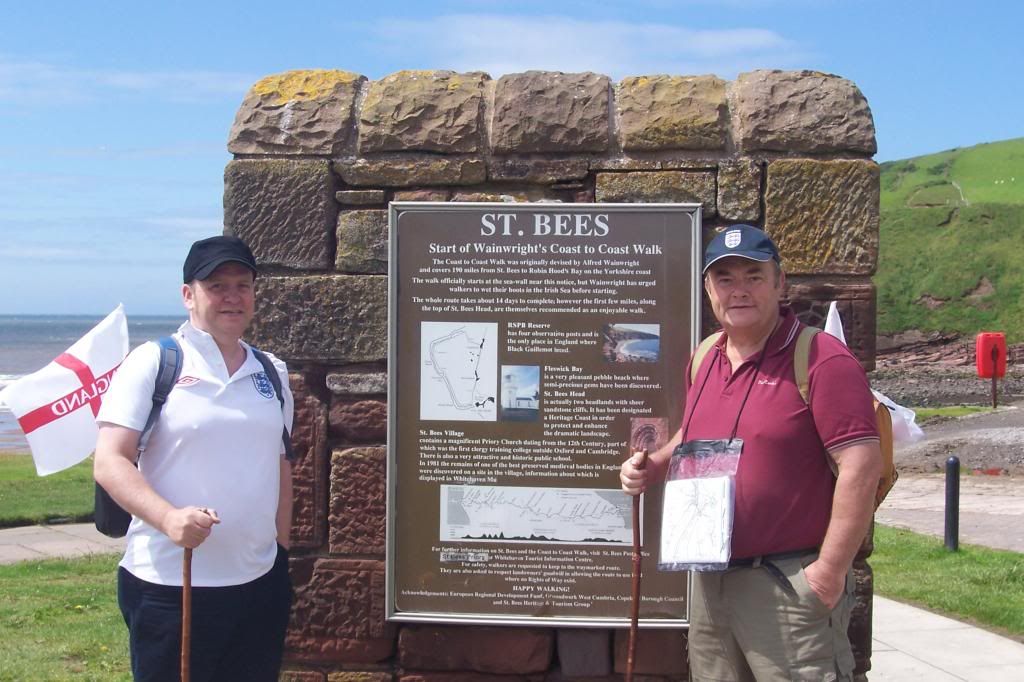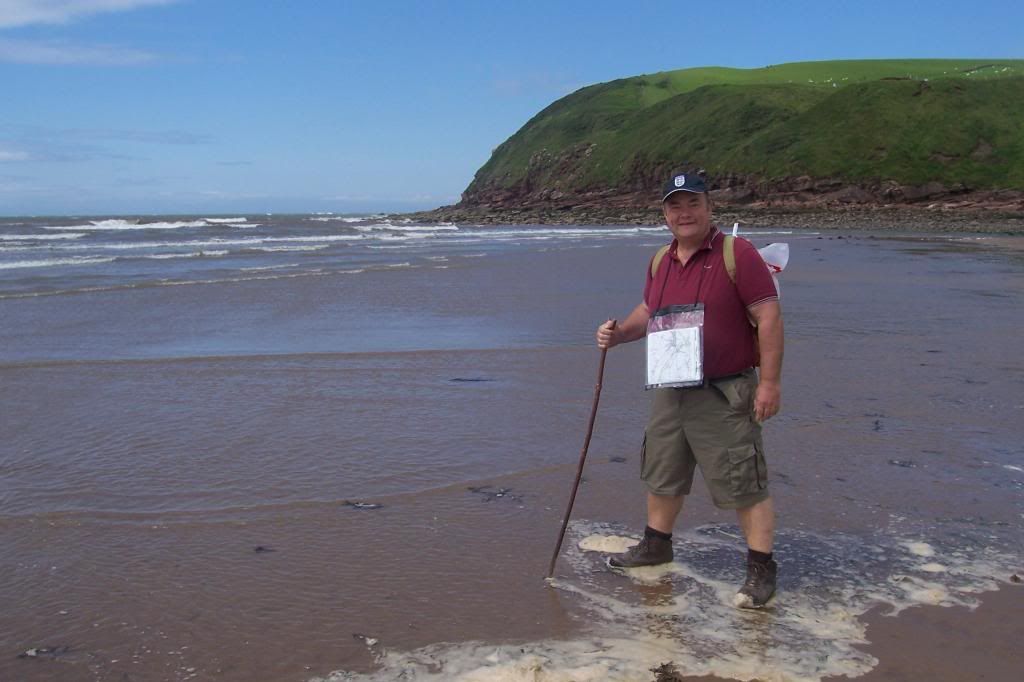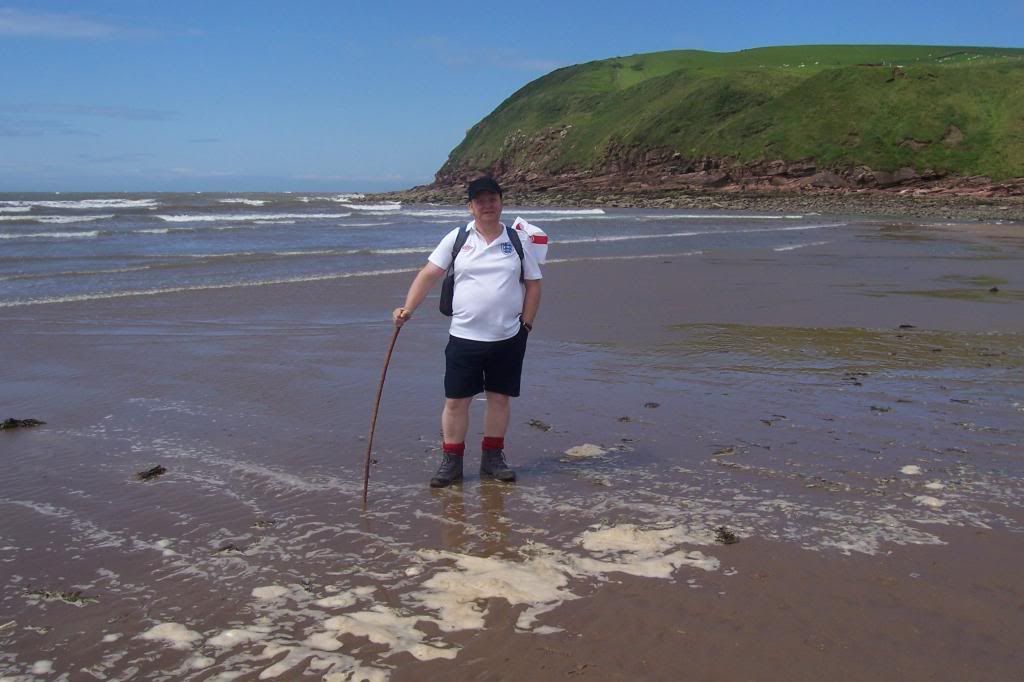 We had decided to skip the cliff walk and headed into St Bees and then took a path past St Bees School and through the fields alongside the railway to the bridge under the railway where we re-joined the Wainwright route. The path soon disappeared under water due to the heavy rain and some delicate treading was needed to avoid getting our feet wet with 8 more miles still to walk. We soon arrived at the old disused mineral rail track path and made our way towards Cleator Moor stopping briefly to eat the sumptuous packed lunch Marie had provided. We left the pleasant rail track and onto Wainwright's Passage towards Cleator Moor. The no pie shop was shut by the time we reached Cleator Moor. We found the route down to the bridge across the river and made our way towards Dent Hill for out first climb of the week. This soon brought out a sweat from us as the sun was quite strong.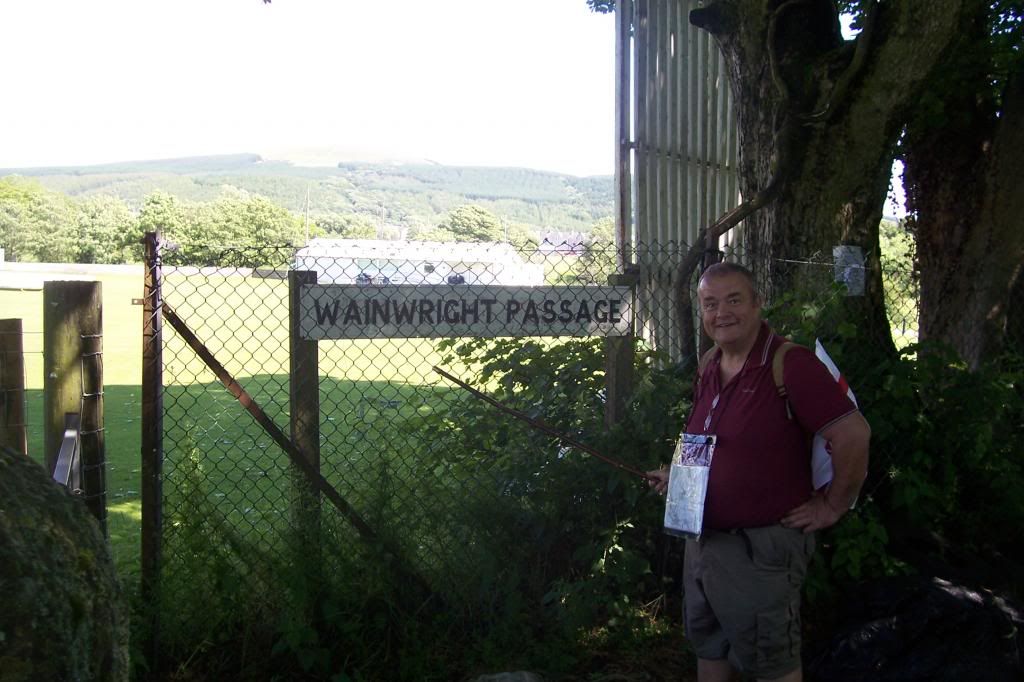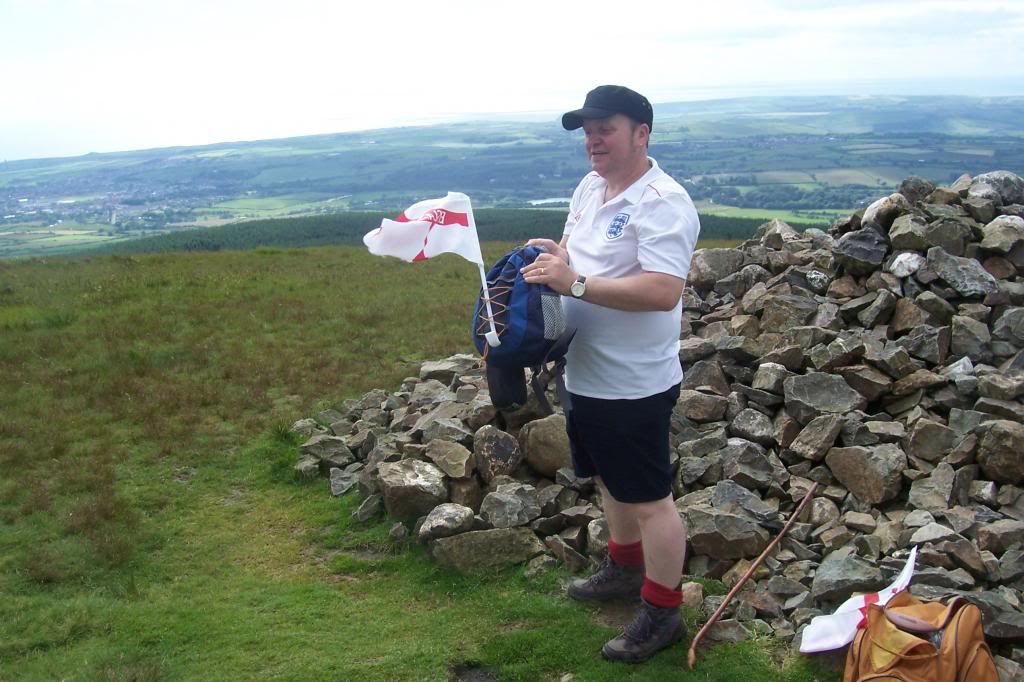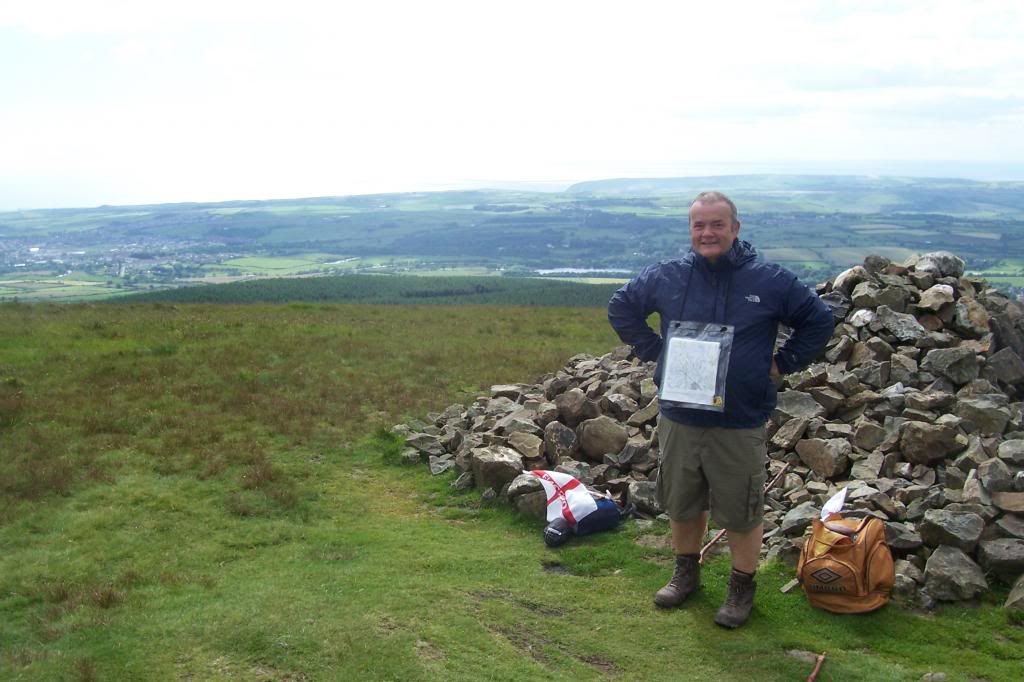 From the cairn at the top of the hill we enjoyed views of Scotland and the Isle of Man. The path along the top of the hill soon developed into a swamp and careful treading along the top of an old sunken wall was necessary, as our sticks sank at least a metre deep into the mire on either side. We headed straight over the hill and decided not to take the Wainwright meander through the woods. This was our first of many mistakes as the descent proved to by extremely steep on very smooth damp grass and began to tweak my dodgy knees. The recent rain had turned the path below into a raging stream and after some deliberation it proved necessary to race through about 12 feet of a 9" deep stream to reach the continuation of the path. We then made our way through Nanny Catch gate and up through our first pleasant lakeland valley. At the head of the valley we encountered several grazing horses. The road down gave us our first glimpse of Ennerdale. A refuelling stop at the Fox and Hounds was made before heading for our B&B.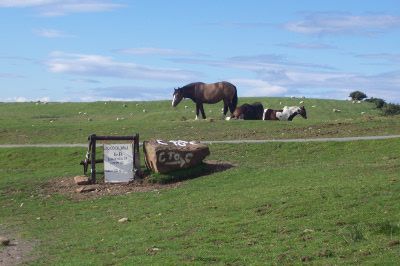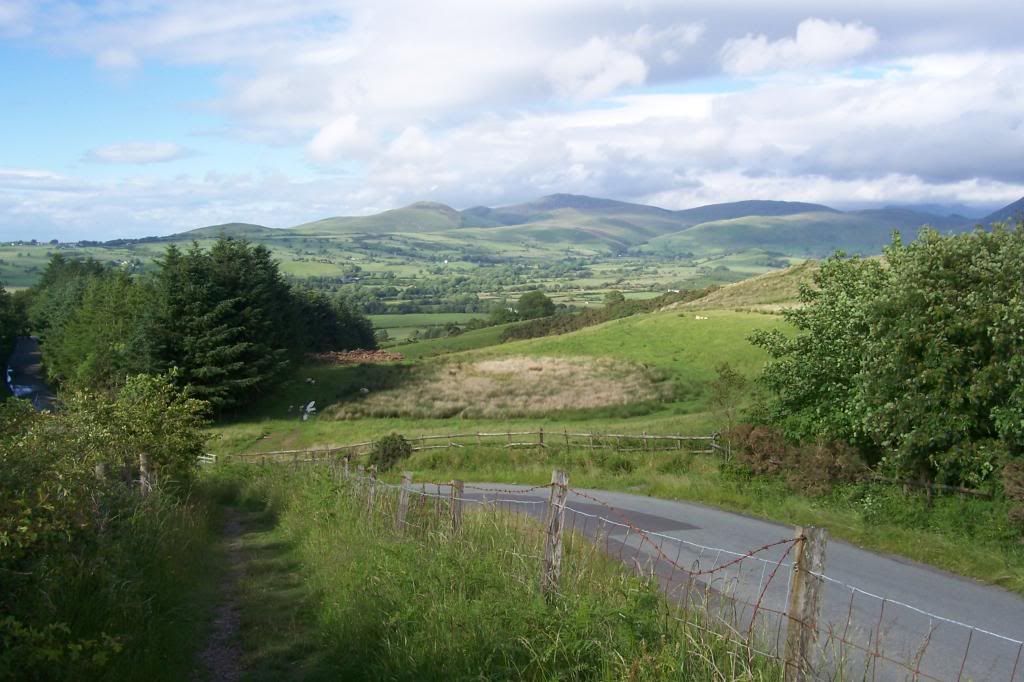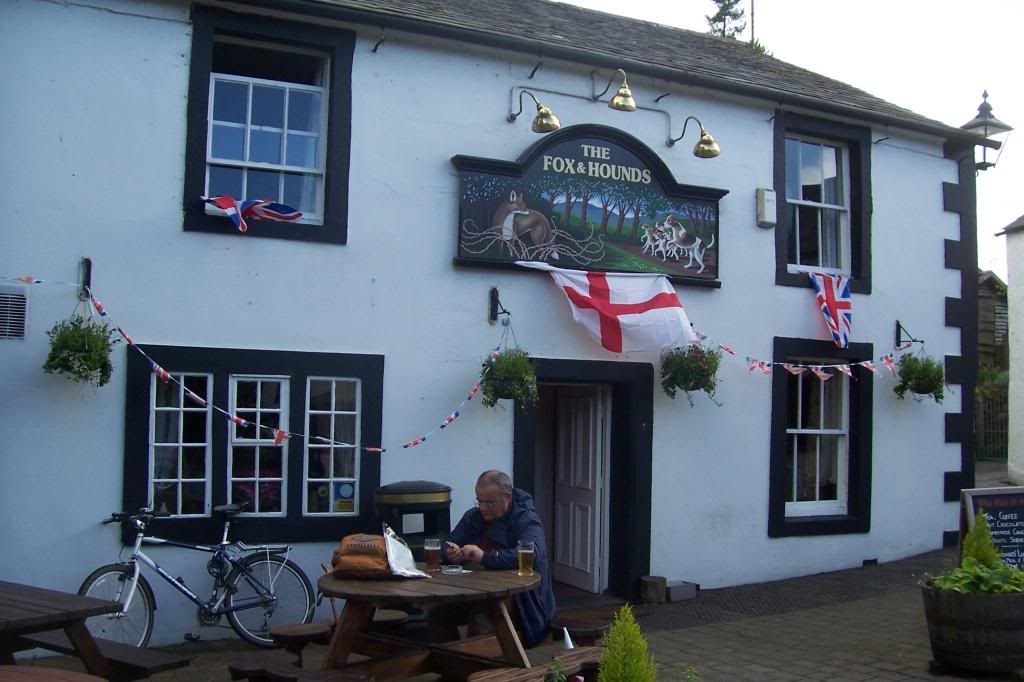 A quick shower, England shirts worn and off back to the Fox and Hounds for the match. We made use of the pubs free wi-fi to communicate with our wives via Skype as no phone signal was available on any of our 3 mobile phones ( 3, Virgin and O2) The pub was packed with a large group of teenagers who were on a weeks holiday in the camping barn. We decided that we didn't need a full meal and began to fill up on crisps washed down with Ennerdale Brewery's best ale. A conversation with the chap next me revealed that the Ennerdale Brewery was in the nearby hamlet of Croasdale in a barn on his farm. We informed him that our surname was Croasdell but requests for discount fell on deaf ears. England performed their usual nearly men role and we made our way back to the B&B for a good nights sleep well sedated with the local brew.


Day 2 Monday 25th June Ennerdale to Stonethwaite (14½ miles)
An early rise at 7:00 am and packed lunches prepared and backs packed, together with our neatly furled England flags which were put away for the rest of the journey, and then labelled ready for collection by Sherpa. As my walking routine is to wear a clean shirt at night and then walk in it the next day I had to bravely venture out in my England shirt after last nights exit from the cup. I then spent a few minutes filling in my Wainwright diary with the events of the previous day whilst Ian caught up on the news and weather forecast on our in room TV. Fair weather was forecast for today. Down for breakfast at 7:50 where we helped ourselves to a choice of 3 cereals and orange juice. This was followed by egg, bacon, a meaty sausage, tomato and fried bread washed down with coffee and topped off with toast and jam. On the road for 8:25 we stopped for a photo under our nearly surnamed road sign. We had decided to take the path on the north shore of the lake as we were told the southern Wainwright route was all ups and downs and a scramble at times. After following a clear path toward the lake we found ourselves in a narrow path between two strands of barbed wire only to discover a lone bull in the field to our left with only a single strand of wire for protection. We gingerly made our way along this path until we met a lane which led to the car park at the end of the lake.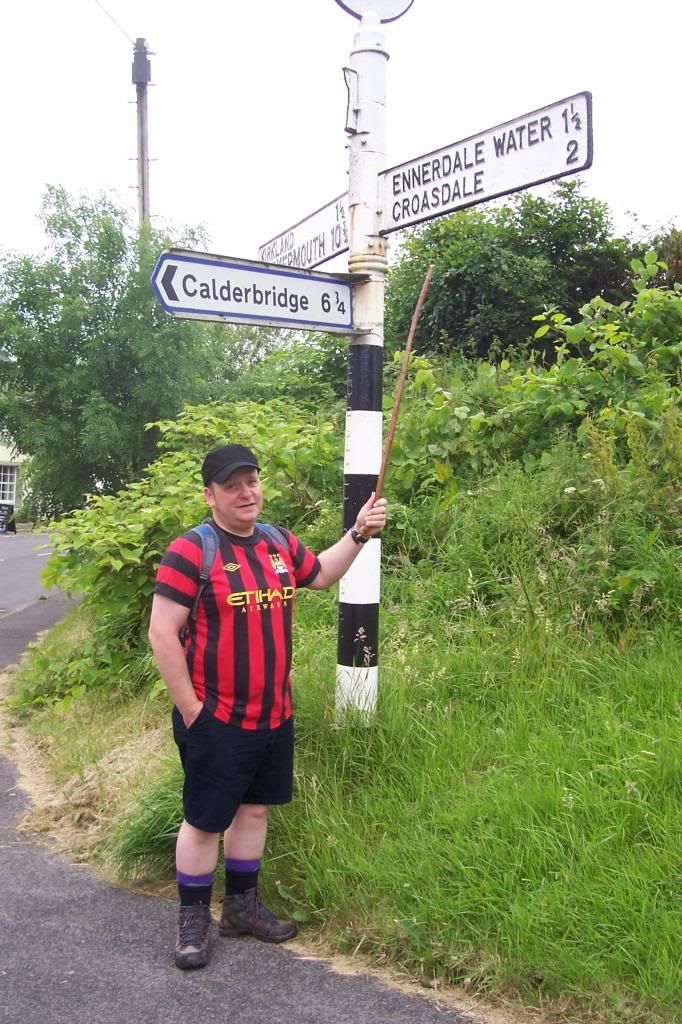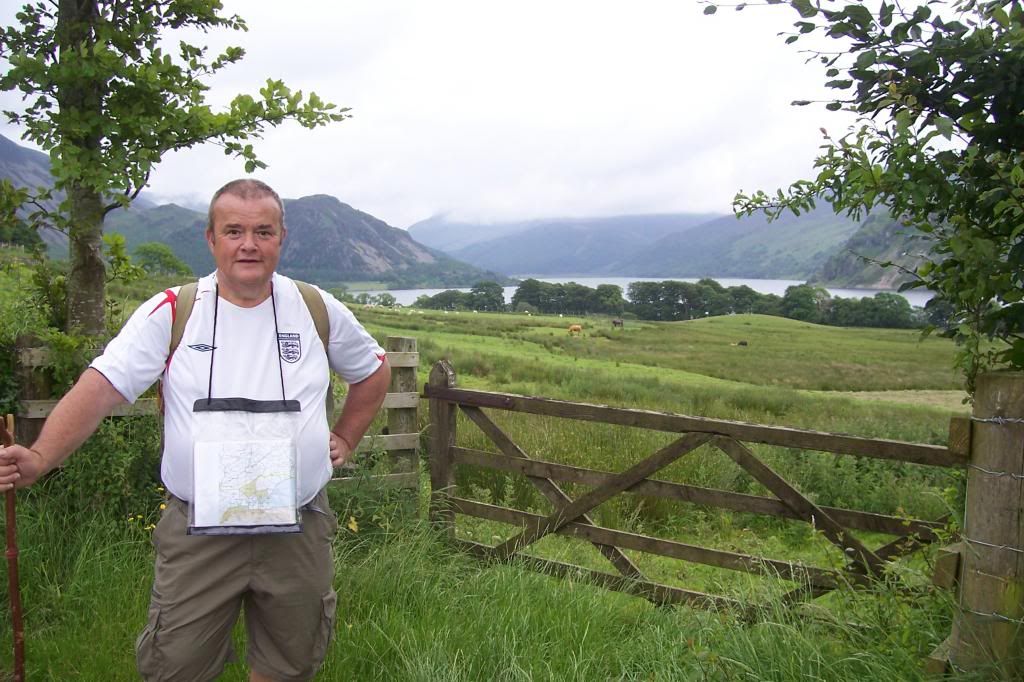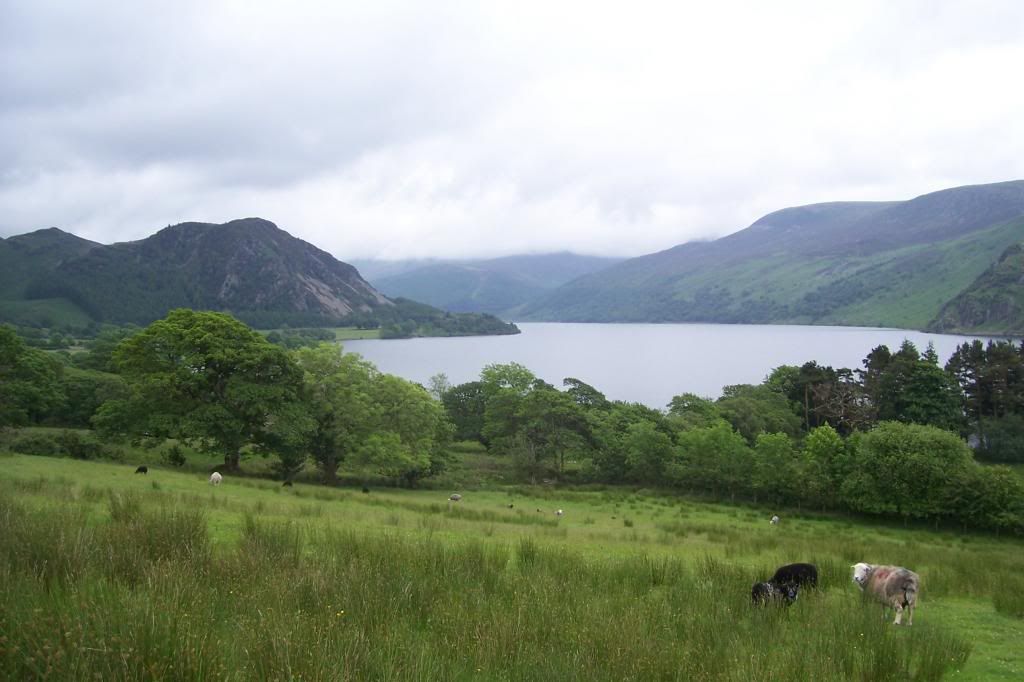 As we approached the car park we observed a man getting out of his car and assembling his wheelchair.The man soon passed us on the forest road and sped off towards the head of the lake We continued steadily up the forest road and were surprised by the number of vehicles that passed us presumably going to and from Gillerthwaite hostel and field centre.
Eventually we passed the head of the lake and headed up towards Black Sail hut. As we reached the hut at about 12:00 we were met by the man in the wheelchair on his way back down. He had obviously worked up a sweat as he was now stripped to the waist. We stopped for lunch at Black Sail and waved off a young Amercian guy off to climb Pillar. An older chap arrived and we found out he was originally from South Shields but now living in Australia. He was just completing this section as he had had to miss it out on a previous crossing due to ill health. A man and woman arrived and were delighted to find tea making facilities of which they took advantage. Lunch over, we headed off toward the Loft Beck path and began the steady climb out of Ennerdale on the well made path which was almost like a staircase at times. Half way up the chap from South Shields overtook us closely followed by a young german couple carrying massive rucksacks which they informed us were not too heavy. On reaching the top after much stopping for rests on the pretext of admiring the view, we were treated to spectacular views back over Ennerdale water and Crummcock water with Wainright's beloved Haystacks between. The couple we had seen at Black Sail caught up and passed us after stopping to take a picture for us and telling us they were also coast to coasting.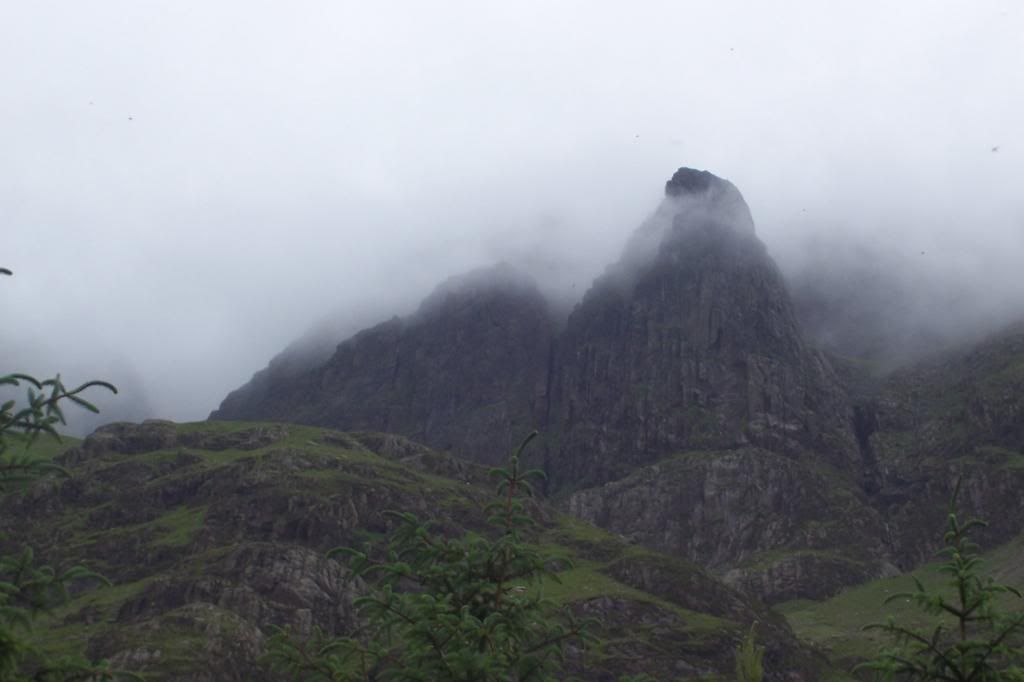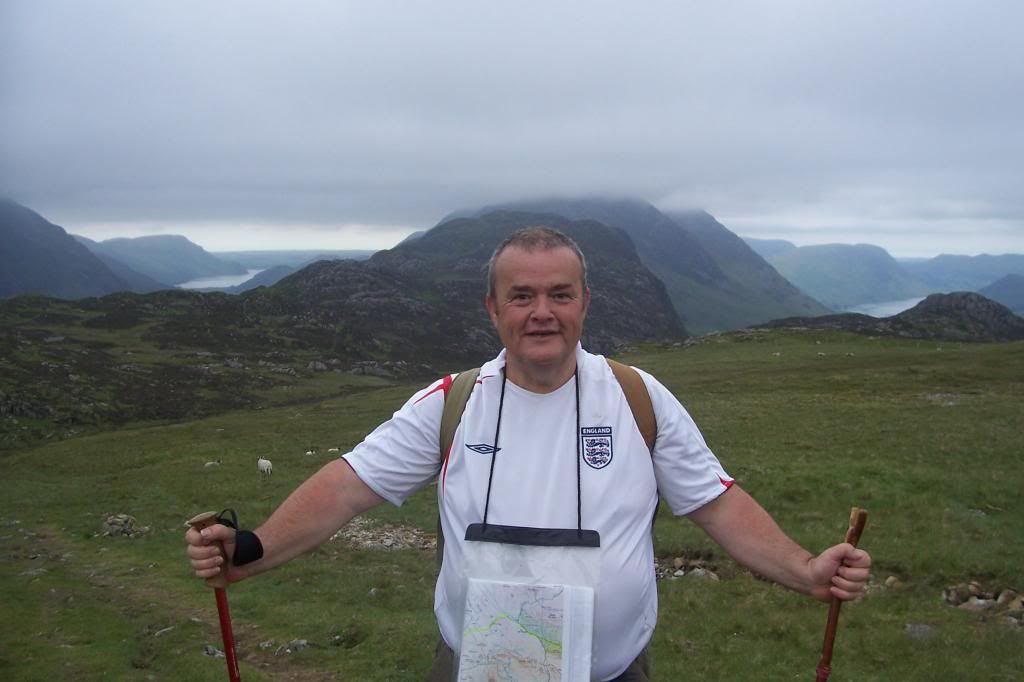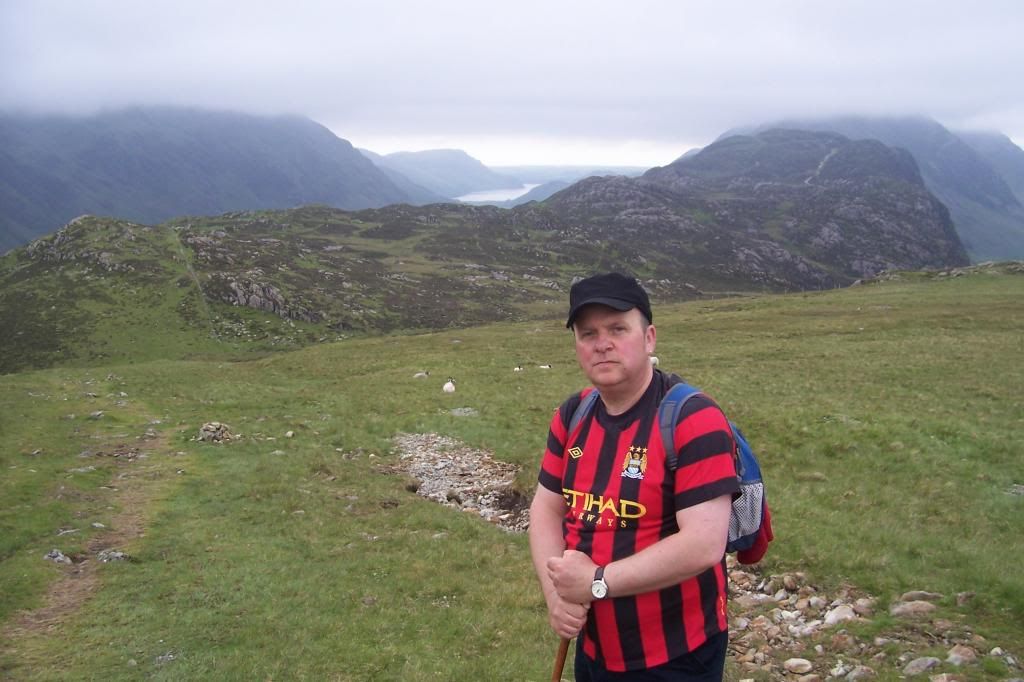 As we followed the path towards Drum house we noticed some students ardently carrying out a survey of the flora and were rapidly passed by a fell runner who seemed to be a little older than us. He reached the tramway in the distance and then began running back. It was then we noticed the couple we had met earlier who were heading off in the wrong direction along the tramway. We tried shouting to advise them of their mistake but got no answer. This couple were henceforth known to us as the Wongwayers. On reaching the tramway we were caught up by a couple from Derby who informed us that they had also seen the couple going the wrong way and that they had dined with them the previous night. You must now have realised that I walk slowly as everyone passes us. At the end of the tramway we began the descent to Honister slate works and my knee again began to ache with every downward step.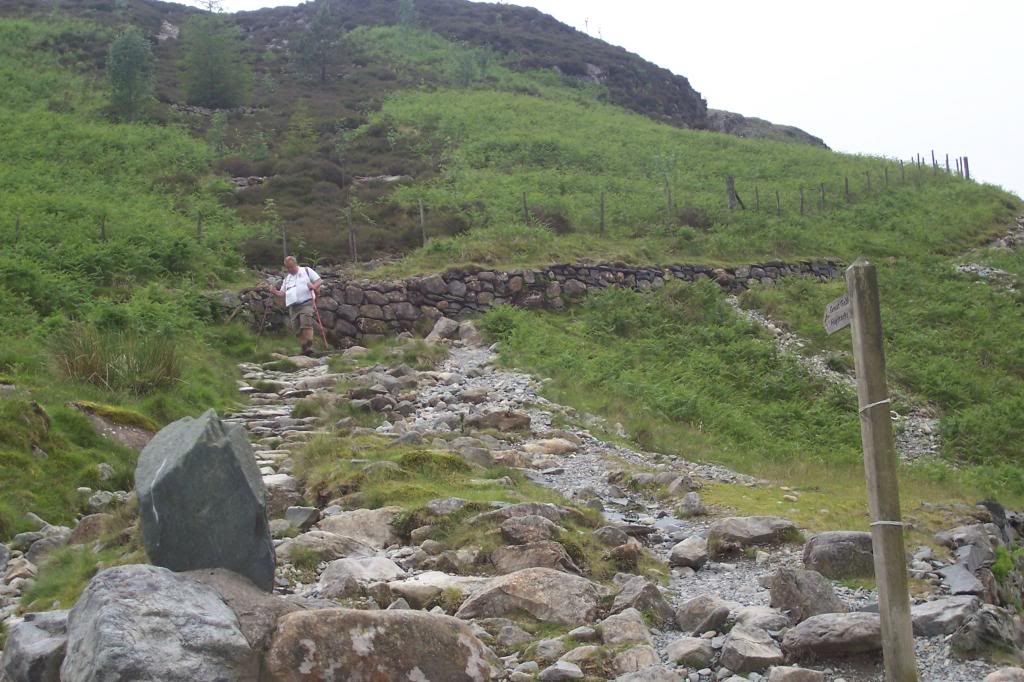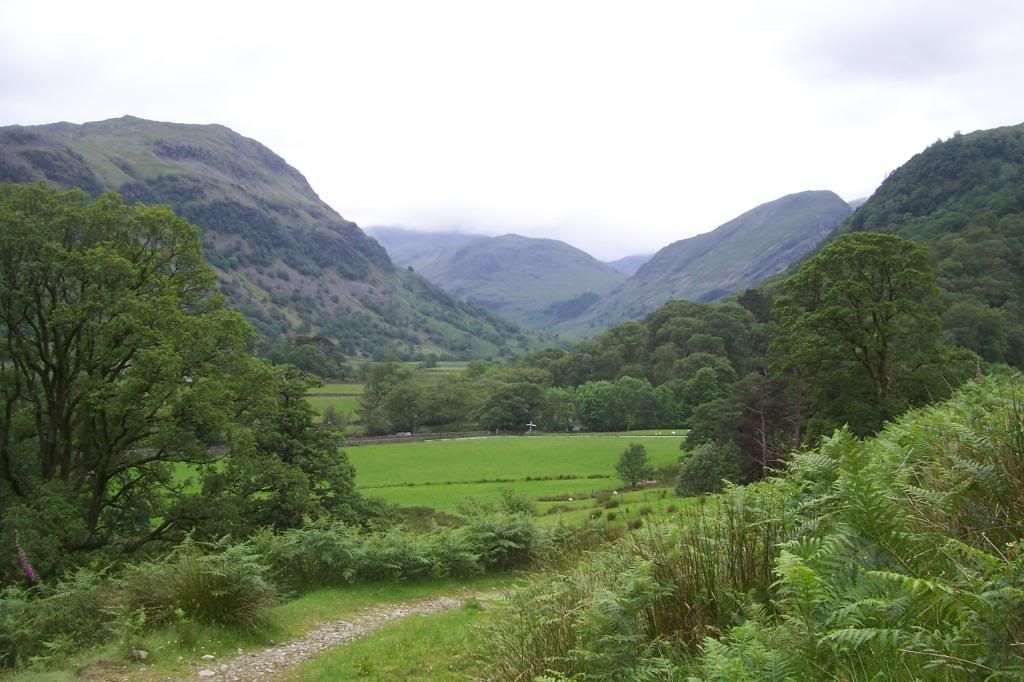 We passed the slate works and made our way down the old track beside the road. Ian was delighted to find and old bottle in a stream beside the road which had obviously been unearthed by the recent heavy rain. We were then passed by the fell runner who was now leading a small group of Dutch coast to coasters whom we nicknamed the Cloggies. We were then passed again by the Wongwayers who had got to the other end of the tramway before discovering their error. About 15 minutes later we caught up with the Cloggies who were mostly showing some concern to a young man in the party who had apparently sprained his ankle. As the problem seemed to be under control we carried on only to be passed by the group, a few minutes later, who had left the young man to make his own way down to Rosthwaite. As they sped past the athletic leader muttered that he couldn't walk slow and that the young man was ok. Eventually the delightful Borrowdale came into view and our days walking was nearly done. We made our way to Stonethwaite and arrived at our B&B at Stonethwaite Farm at 5:15 and were pleased to find Sherpa had delivered our bags. We relaxed on the bed with a large mug of coffee and rested up for an hour. After a quick shower we then headed for Rosthwaite to find some dinner as the Langstrathdale Hotel pub right next to Stonethwaite Farm does not open on Monday's. Half an hour later we reached the pub, the Scafell Hotel, after an unecessary detour through Rosthwaite village. A home made burger and chips was ordered by both of us which, when it arrived, turned out to be frozen chips and a slightly browned assembly of steak tartar between two bun halves and no greenery. After a couple of varying quality pints we decided to head back to the B&B only to be met by the Wongwayers together with the couple from Derby we had met on the tramway, who insisted we stopped for more beer. As the lady was a smoker she asked if we could stay in the beergarden. This proved to be a mistake as we were worried to death by midges. Two more pints later we made our excuses and headed back to Stonethwaite. Ian, unfortunately, managed to fill the gaps in the soles of his trainers with sheep droppings.

Day 3 Tuesday 26th July Stonethwate to Grasmere (6 miles)
8:00 We ate a full English breakfast at Stonethwiate Farm B&B of egg, bacon, sausage, beans and mushrooms plus toast, cereal and yogurt and were on the walk by 8:25. A steady climb began up towards Greenup Edge. We were soon passed by the couple from Derby who had stayed in Rosthwaite overnight. As they were heading for Patterdale that day we said our goodbyes and watched them stride off into the distance. Ian spotted a plaque by the side of the path in memory of Gordon Hallworth who had died on that spot. A sobering thought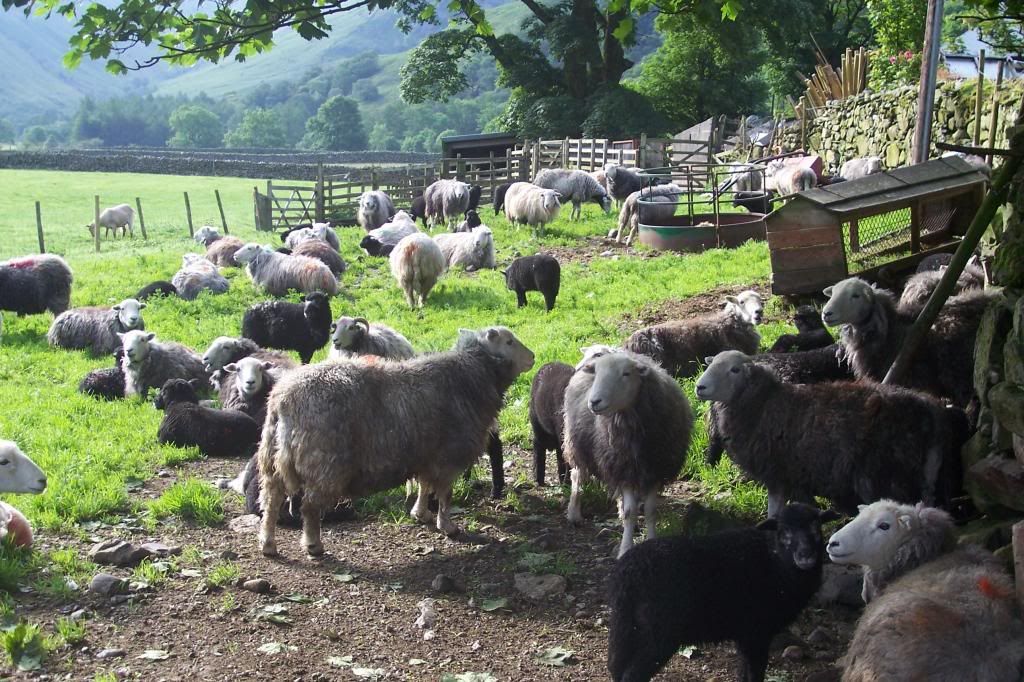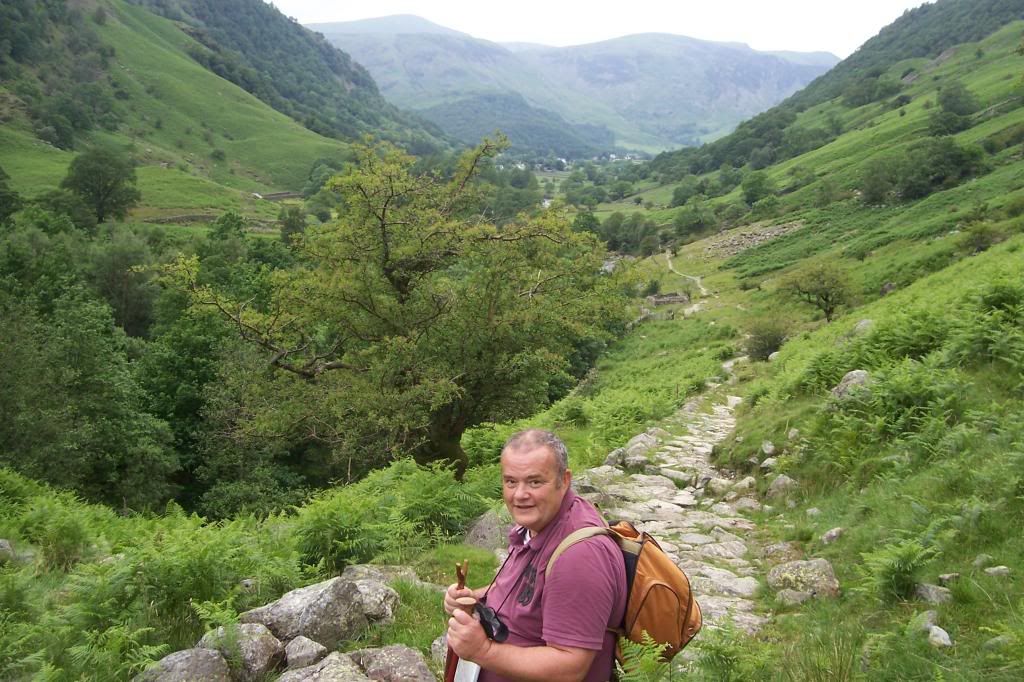 .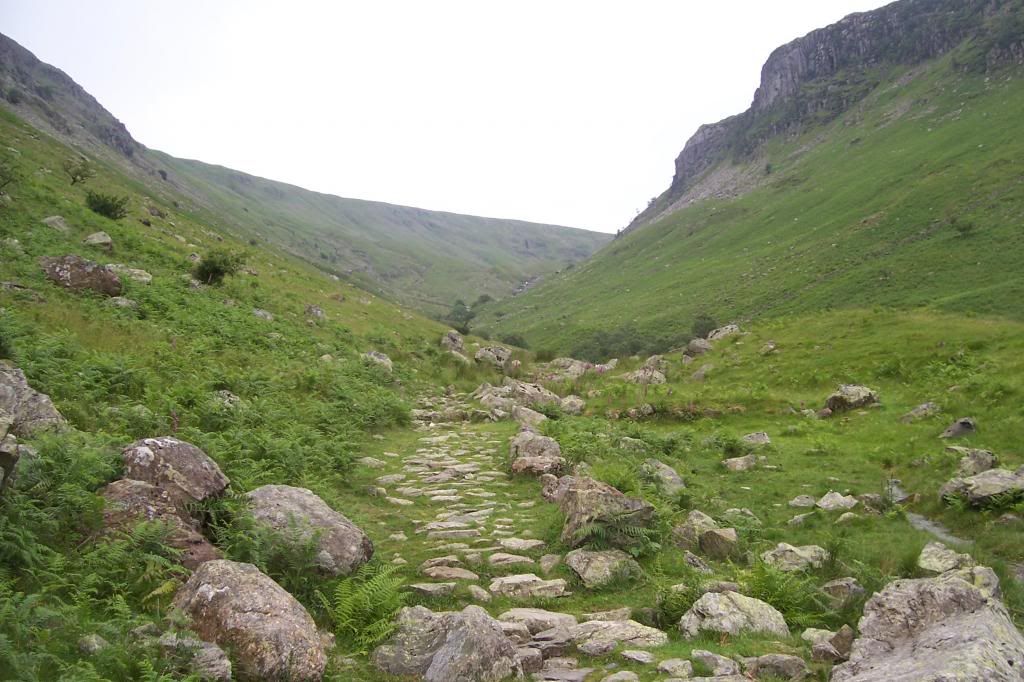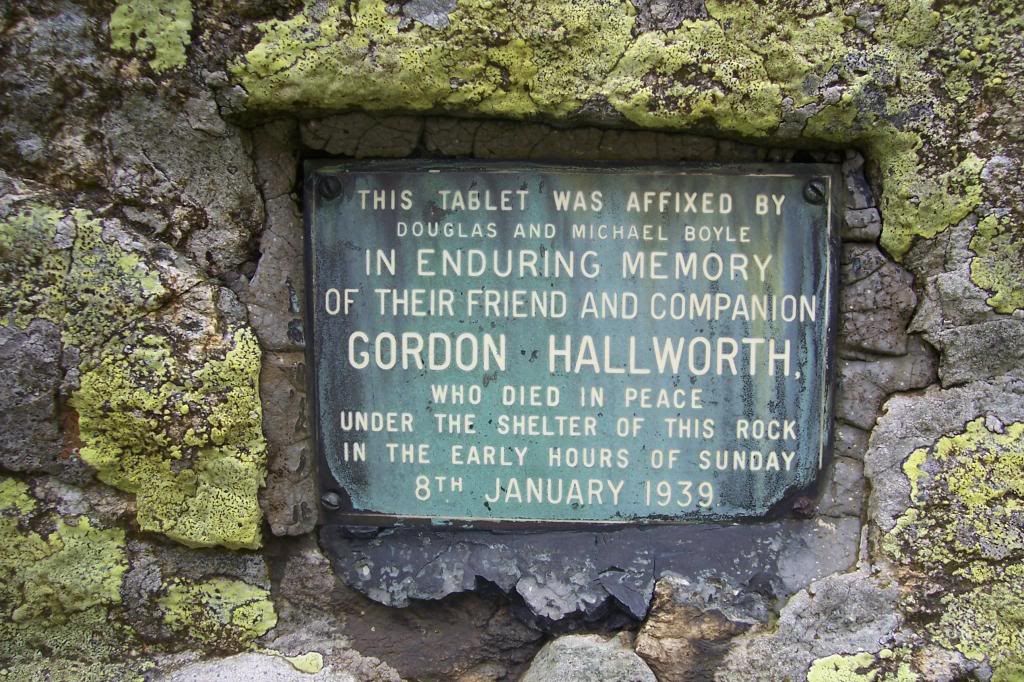 As we made our way up the steep path we were passed by the young German couple we had seen yesterday with massive backpacks which they assured us were not that heavy. Sooner them than us and thank goodness for Sherpa. Eventually the good if steep path became a scramble up a section of boulders to be rewarded with excellent views pack down the valley into Borrowdale from the top of Lining Crag.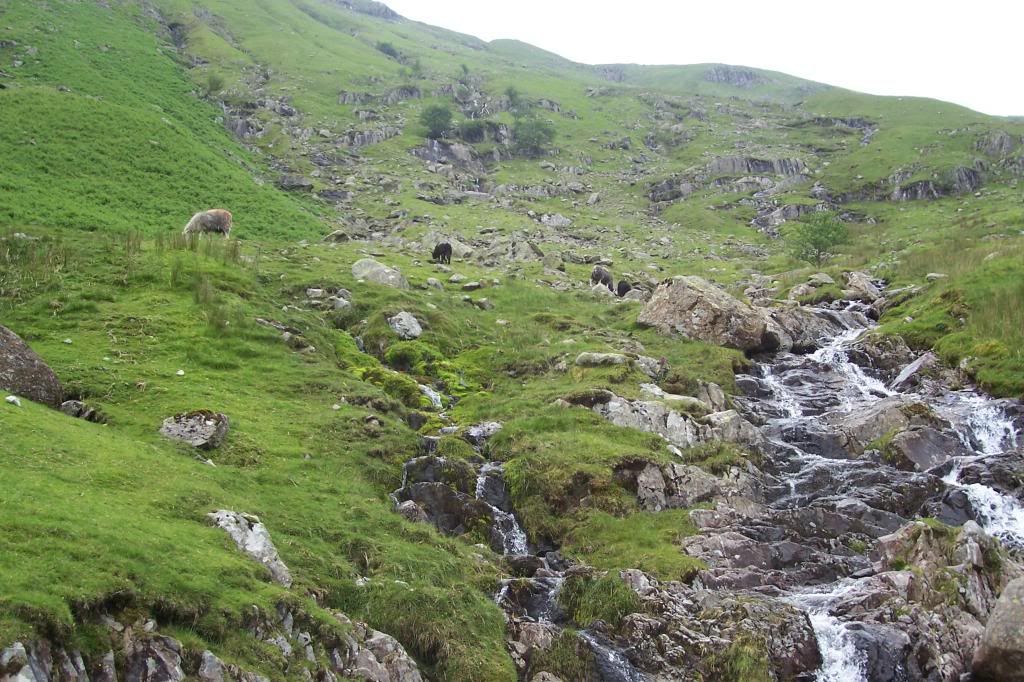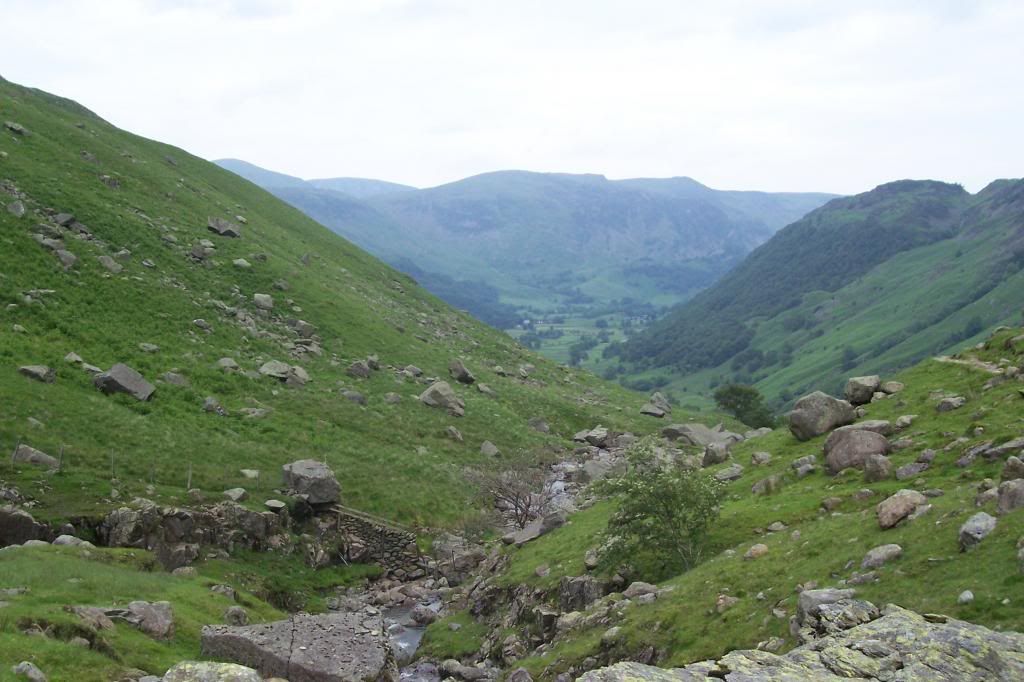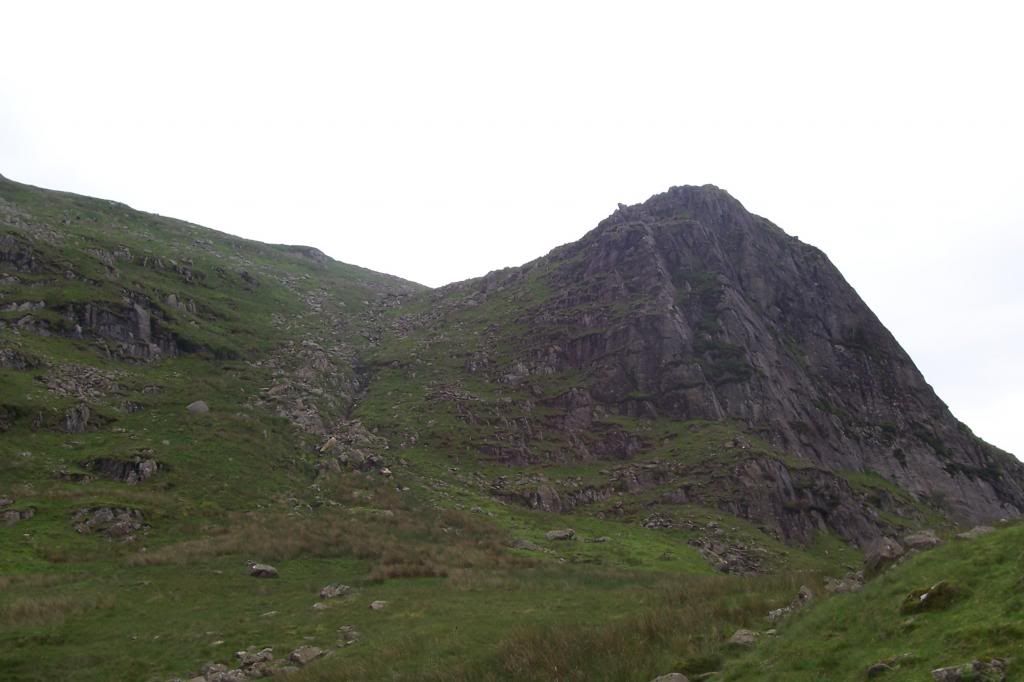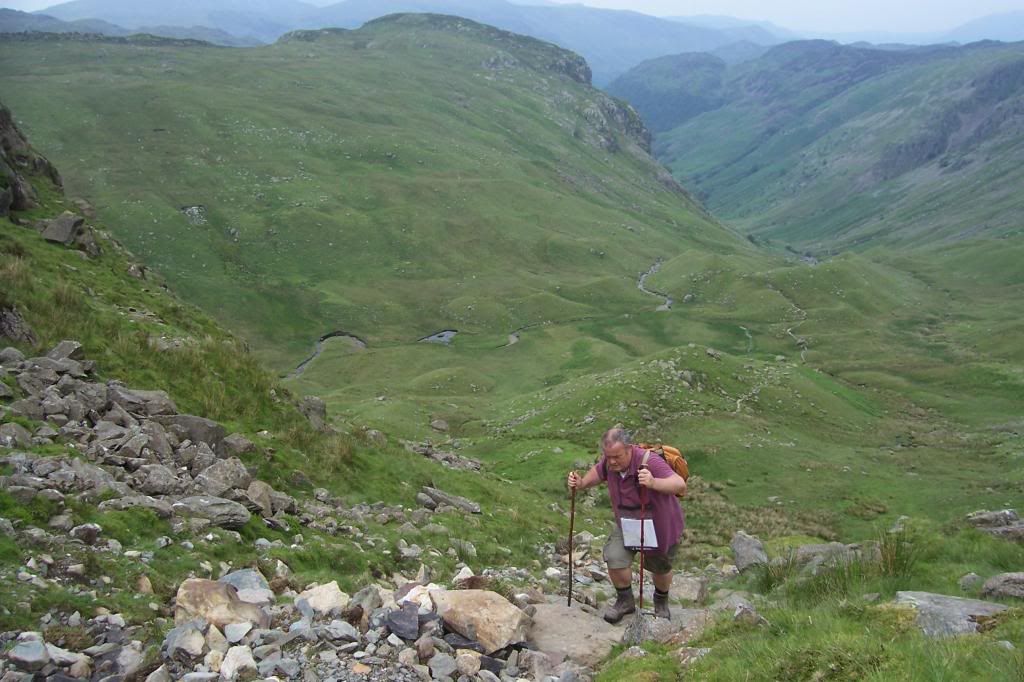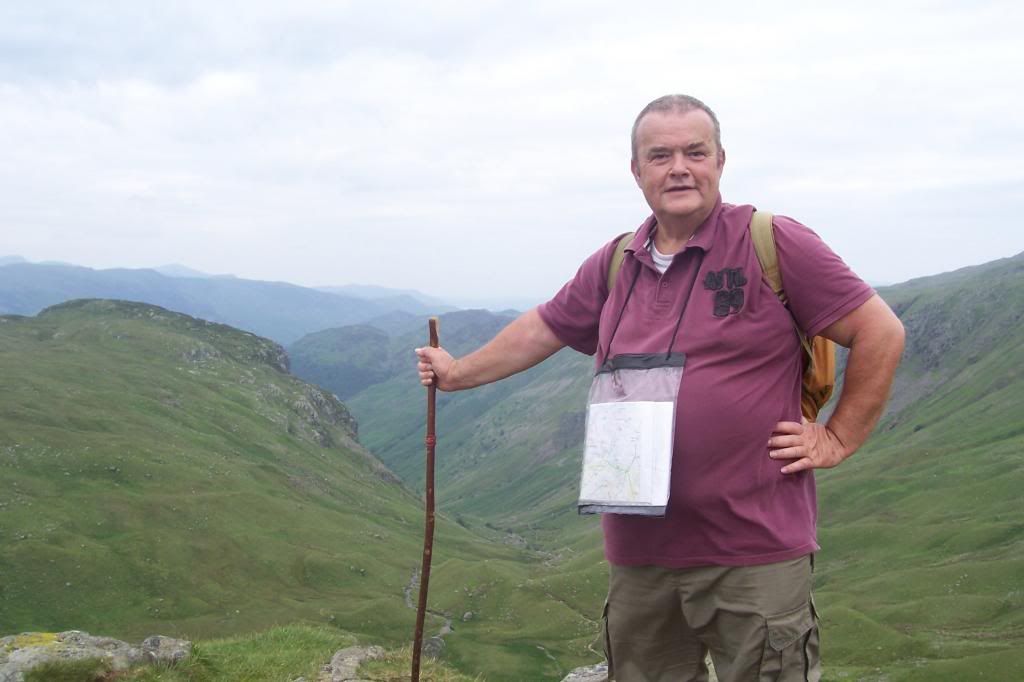 When we reached the top we walked down across Greenup edge and decided it was time for lunch. This section was almost swarming with hikers of all ages going in all directions. We were overtaken by the Cloggies and when we enquired about the young mans ankle, the group leader told us that he was fine and a bit a of a drama queen. He did seem to be walking ok but we both thought he was a bit harsh. Lunch over we made our way up to the high level route which forked off to the left. The walk along the ridge was more of an up and down trek than a ridge walk and our visibility was spoiled by the clouds that rolled in with our first rain of the walk. My knee was now giving me considerable pain with every downhill section. Our B&B for the day was at Town Head farm, about a mile north of Grasmere, so we took a path to the left just before the climb up to Helm Crag.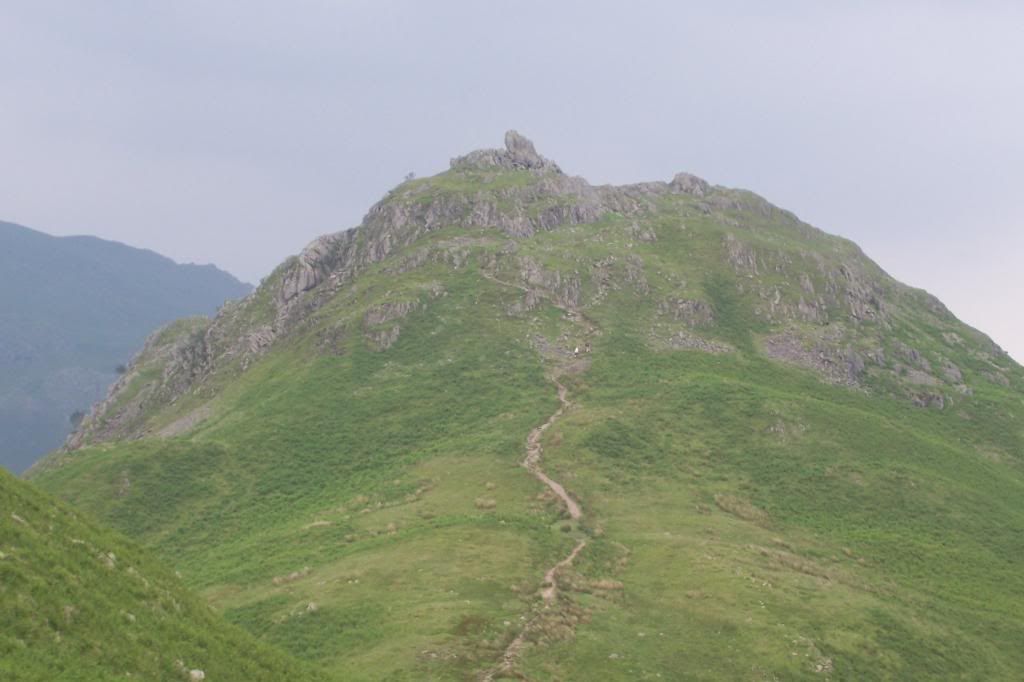 A lot of work had been done on this path allowing us to zig zag down the steep slope to the beck at the bottom. A short stroll along a lane and we were finished hiking for the day at about 3:00 pm. We were greeted with coffee and cake which was most welcome. Shower and a rest whilst writing up the days events then a cup of tea and more biscuits whilst watching the numerous different birds feeding at the bird tables in the garden. A debate ensued about what the green birds we saw were Ian insisting what I thought were Greenfinches were actually Siskins. Ian's smart phone was unfortunately used to prove himself correct only to be backed up by the landlady. At 6:00 we donned out raincoats and trudged through the rain down the busy A591 to the Travellers rest where an excellent meal of cumberland sausage and mash was consumed, along with several pints of Snecklifter. Just as we were about to leave the Wongwayers arrived so we had a couple more pints with them then headed back to the B&B on a detour along the lanes to avoid the traffic. Still pouring down with rain. The landlady welcomed us back and hung our coats above the fire to dry out. In bed for 9:00 and soon sound asleep
.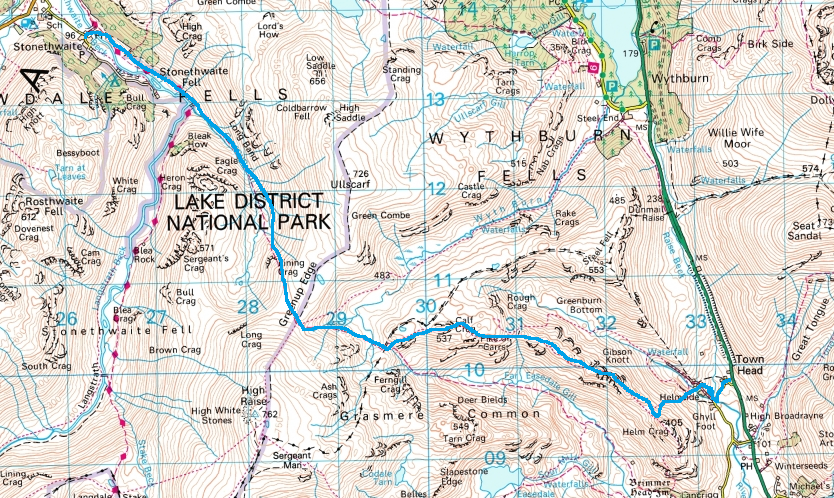 Day 4 Wednesday June 26th Grasmere to Patterdale (8 miles)
Up at 5:00 and an upset stomach 2 visits to the loo and immodium taken with panicky thoughts about finding an outdoor loo later in the day. Downstairs for an excellent breakfast of mixed fruit and yogurt followed by egg, bacon, 2 sausage mushrooms tomatoes and fried bread. I decided to strap up both knees with crepe bandage to try to relieve the pain during steep descents. 8:25 began walking in the pouring rain. A long wet slog up Tongue Gill began. We decided to take the left hand path which continued to climb steeply before turning right along an easy traverse back to the main path up to Grisedale Tarn. On reaching the tarn we were both disappointed due to the extremely low clouds making the tarn barely visible. Any thoughts of taking the higher level path to Patterdale were quickly dismissed and we pushed on down Grisedale valley.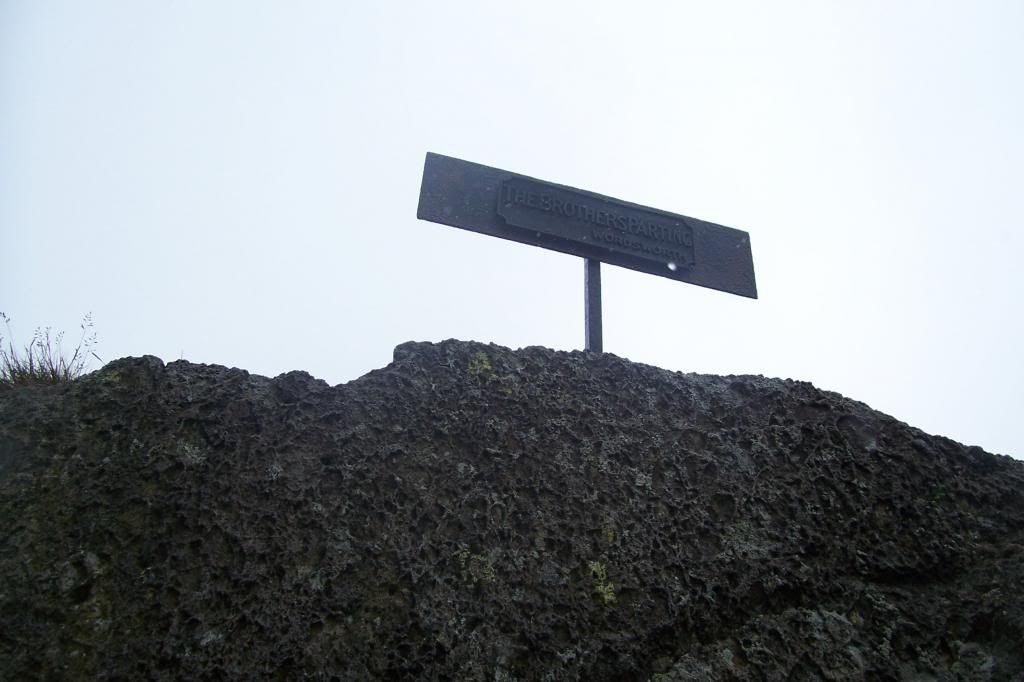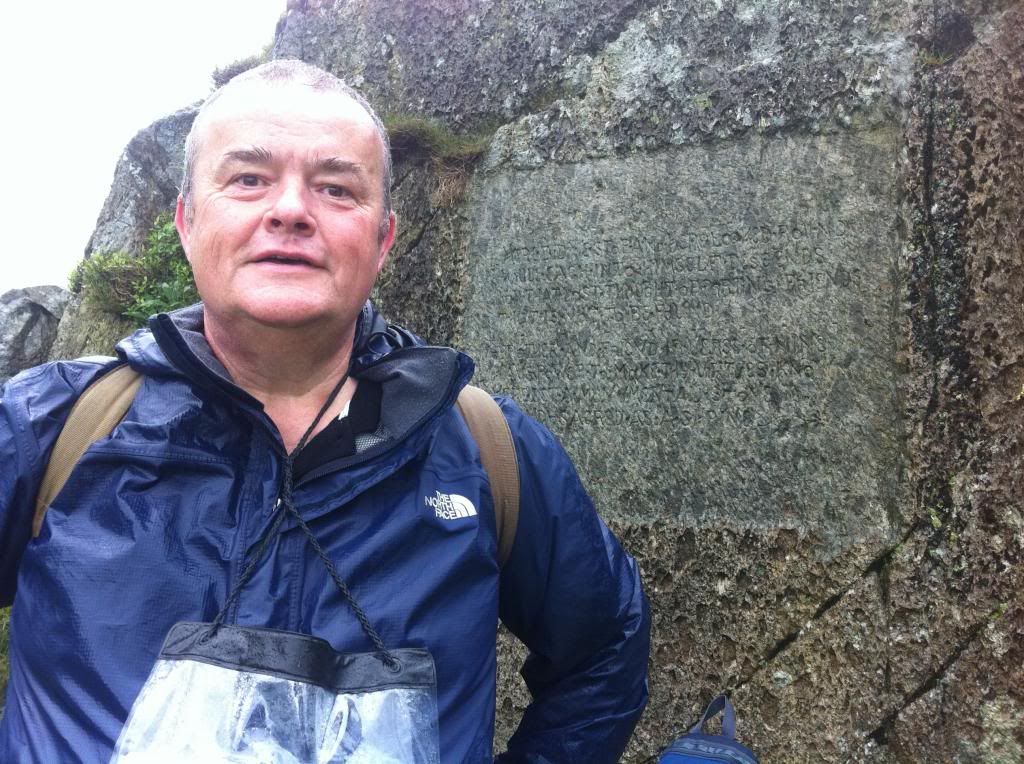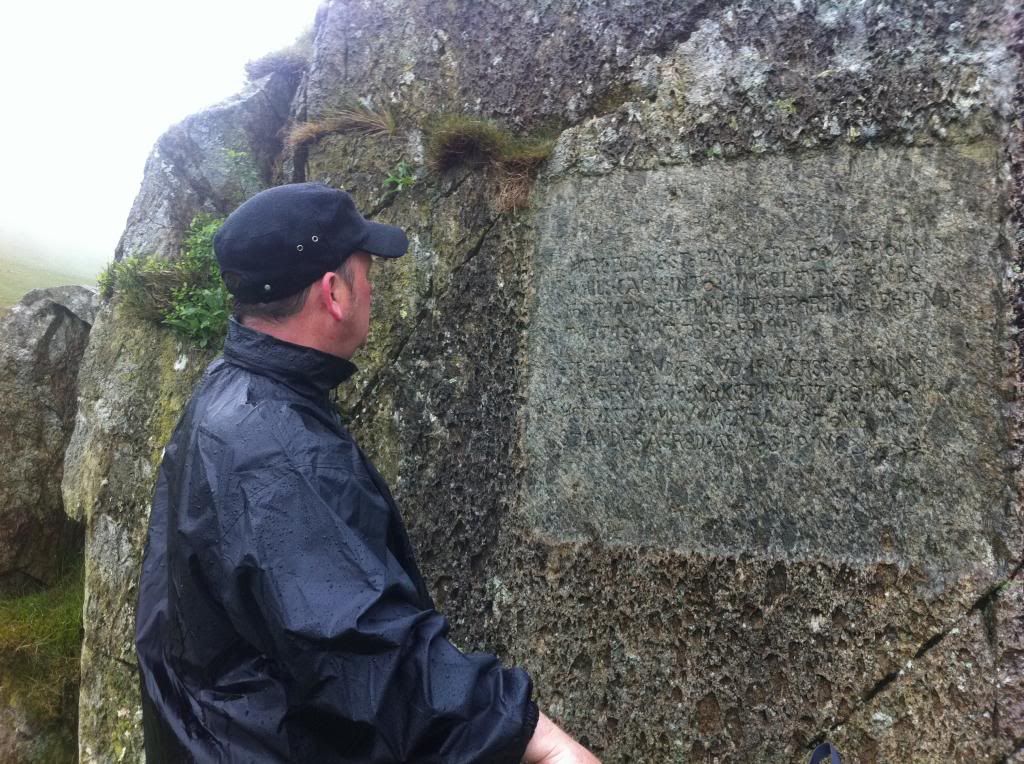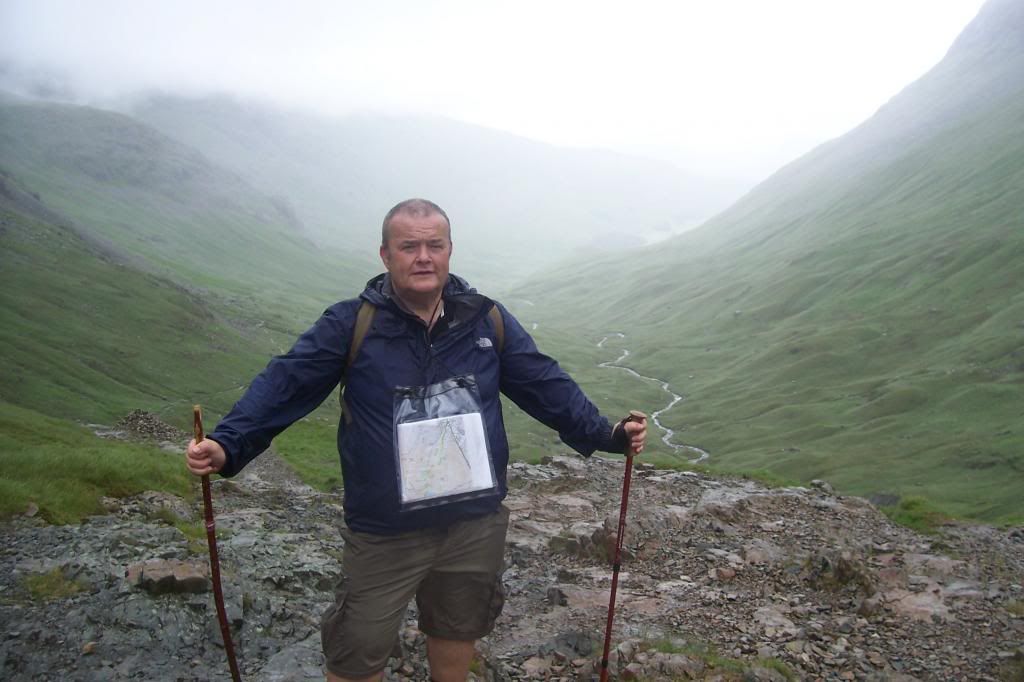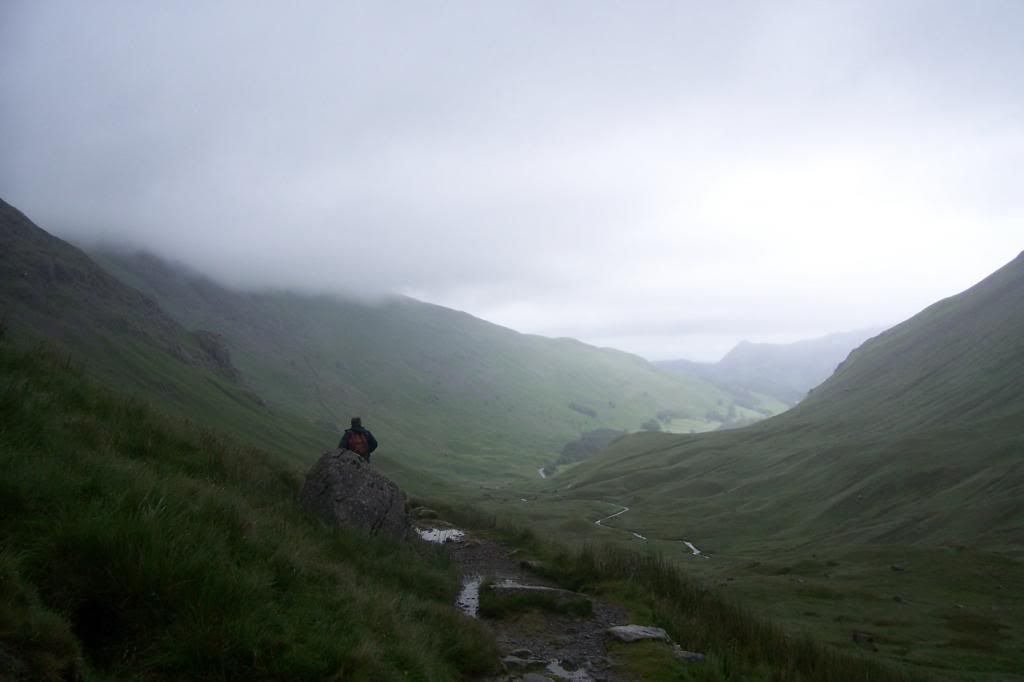 A brief detour to the brothers parting stone where Wordsworth had inscribed a memorial to his brother, then onwards to Ruthwaite Lodge which was locked up but provided a little shelter to have lunch at 12:30. Stomach seemed to have settled down and my knee was a lot better. A look back up the valley showed that the weather was still miserable at the head of the valley but down near Patterdale a tiny patch of sunshine could be seen
.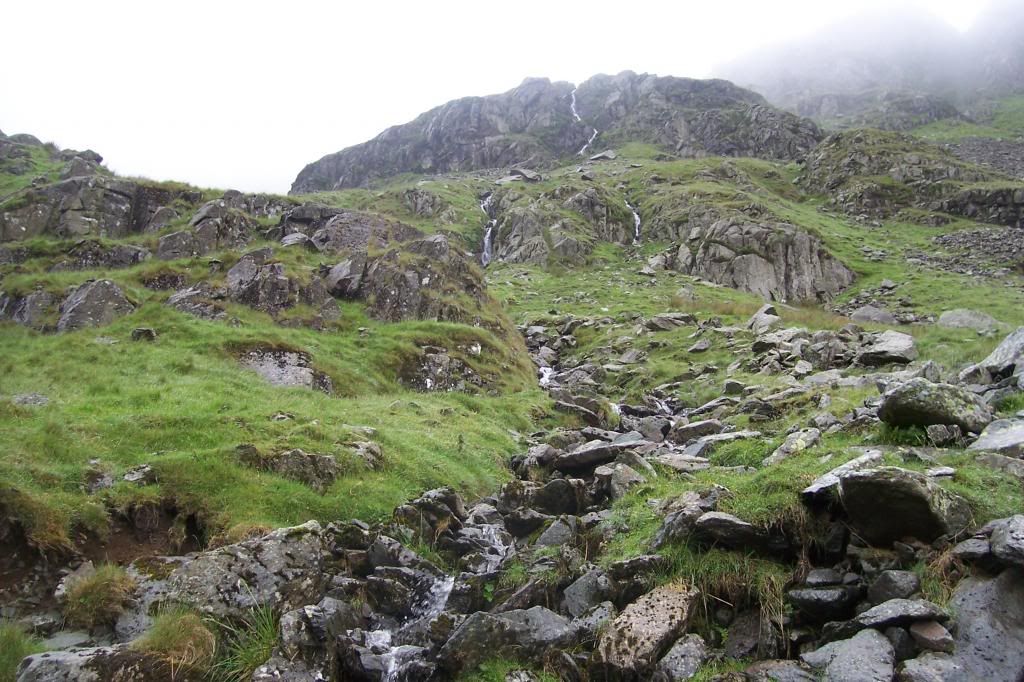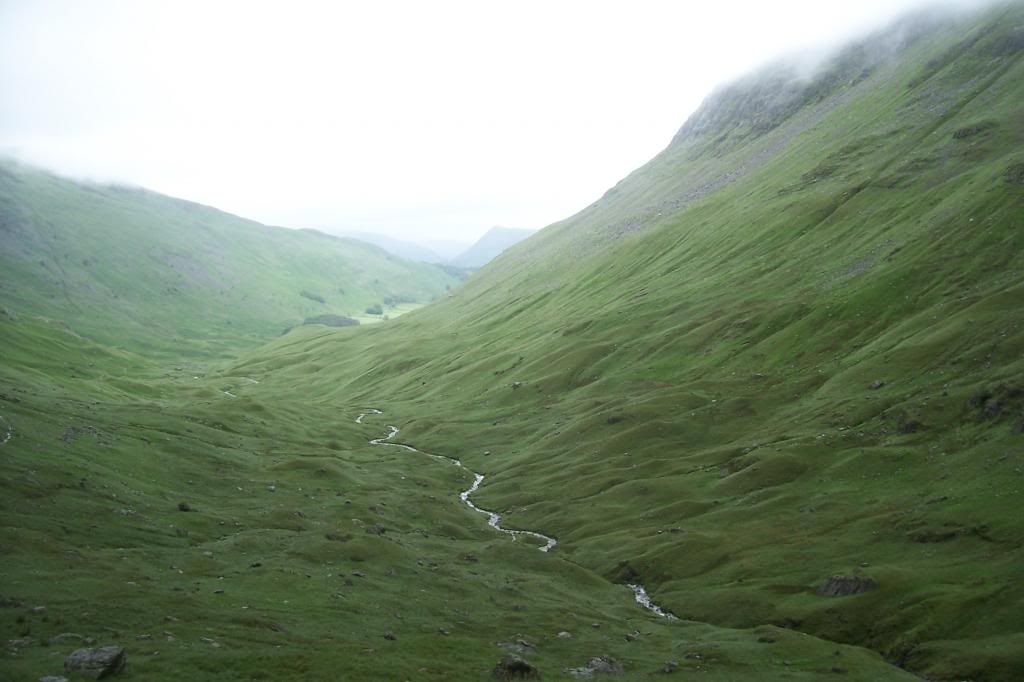 We pushed on down the valley and the rain ceased. We were met by several people coming up the valley who told us they had had no rain at all. We were passed again by the Wongwayers who provided us with sweets and then pushed on ahead. In the distance we could see them taking the wrong path again which led steeply up to the right onto the fellside. As we approached Patterdale we were surprised to see a small deserted bungalow with the doors wide open. As we met the road leading to the heart of the village the sun broke out. We were again passed by the
Wongwayers who had realised their error and then raced ahead to the White Lion pub. We soon caught up with them and enjoyed a refreshing pint of cider with them in the sun for half an hour before pushing on to our B&B at Greenbank Farm. As we approached the farm we were met by several large noisy farm dogs that greeted us with a few sniffs whilst trying to lick the salt from our sweating brows and then escorted us up to the farm
.
Ian commented that there seemed to be a pattern immerging with our B&Bs being over a mile from an open pub. I explained that exercise was needed to justify the consumption of beer. Wet socks were spread on the radiator which unfortunately seemed to be off. Ian managed to get 30 minutes snooze when we reached our rooms but I had no chance due to the caucophony of noise from Ian's snoring. I thought I would take advantage and head for the shower but was just beaten by the only other guest. This chap had been camping and had walked over from Rosthwaite that day but had decided that he needed to recover in the B&B as his tent and gear was soaking wet. Eventually found the shower facilities to be excellent. Headed back to the White Lion for some food at 6:00. The pub was packed with many weary hikers some of which were hobbling. A young couple with massive rucksacks headed off to their campsite as our Steak and Kidney pie and chips arrived. We were joined by the Wongwayers for half an hour before they headed back to their B&B for their dinner. The English fell running leader of the Cloggies announced that he didn't leave Grasmere until 11:00 and they had had good weather all the way. After a couple of pints of expensive moderate beer we made our way back to the farm . We commented on the number of squirrel roads signs we had seen and Ian found the Greenbank sign swinging at a jaunty angle held up with baler twine quite amusing.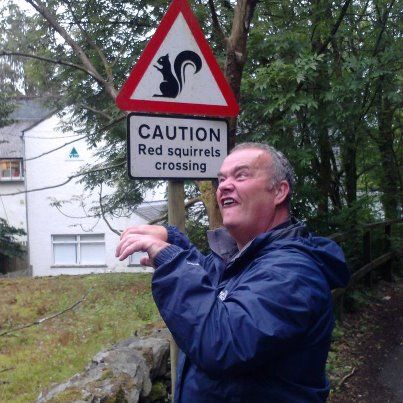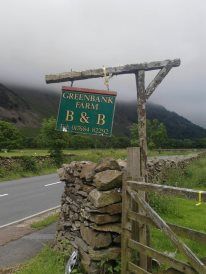 We noticed all the dogs were "kenneled " for the night in two landrovers parked in the farm yard. We found our room was toasting hot and our socks were nearly dry. Ian suggested we leave the radiator on and open the window open a bit. This was an extremely poor idea as I had a draught on my neck and was woken at about 1:45 by many barking dogs. Eventually the dawn chorus of sheep and birds made us rise at 6:00 for some coffee and cake.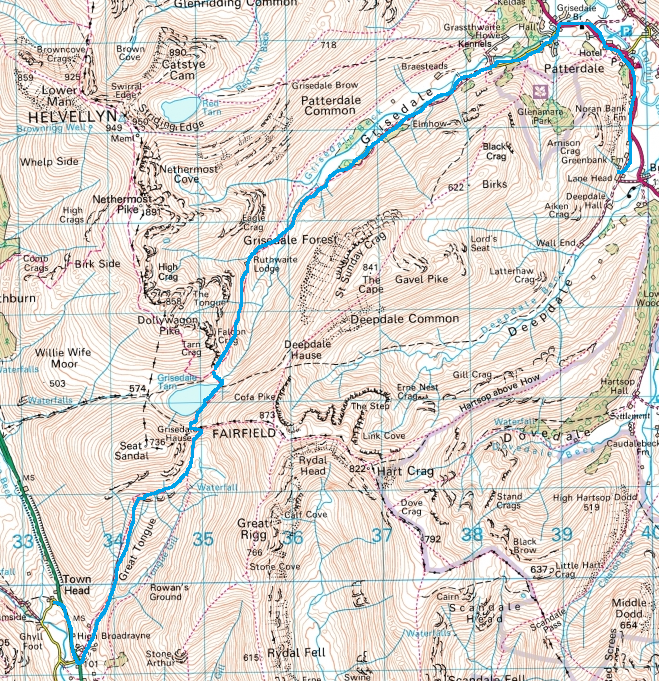 Day 5 Thursday June 27th Patterdale to Shap (15 miles)
Eventually went down for breakfast at 7:30 . Slight panic as we were donning our boots as the lone camper had left an identical pair of Brasher boots next to mine. After reaching for reading glasses I realised that his were actually size 8 whilst mine were 8½. As our B&B, Greenbank Farm was about a mile and a half south of Patterdale we had decided to take an alternative route up Hayeswater Gill to reach the Wainwright route behind The Knott. We were out walking in the rain by 8:00 and were immediately attacked by a horde of clegs (horseflies) that bit us mercilessly. The rain became heavier as we approached Hartsop village and we decided to take shelter under a tree to be joined by a local dog walker who gave an account of a chap he had found wandering about one night in the previous week. The unfortunate man had left Patterdale in the morning, got lost and disorientated on the fells and had come down Hayeswater Gill thinking he had reached Haweswater. The rain ease a little so we pushed on up Hayeswater Gill towards the tarn.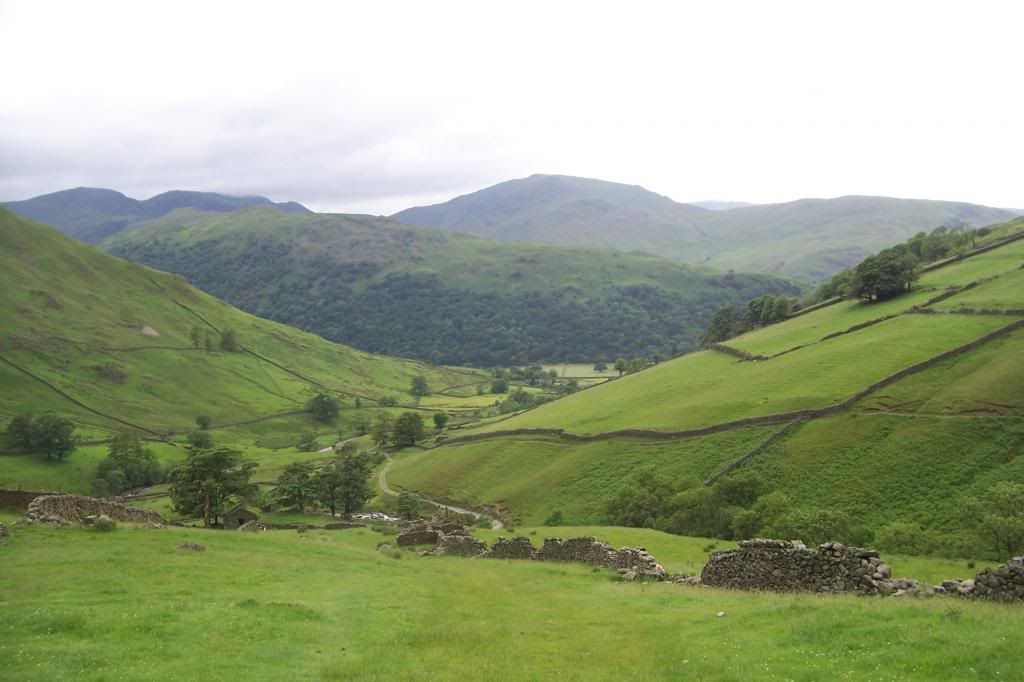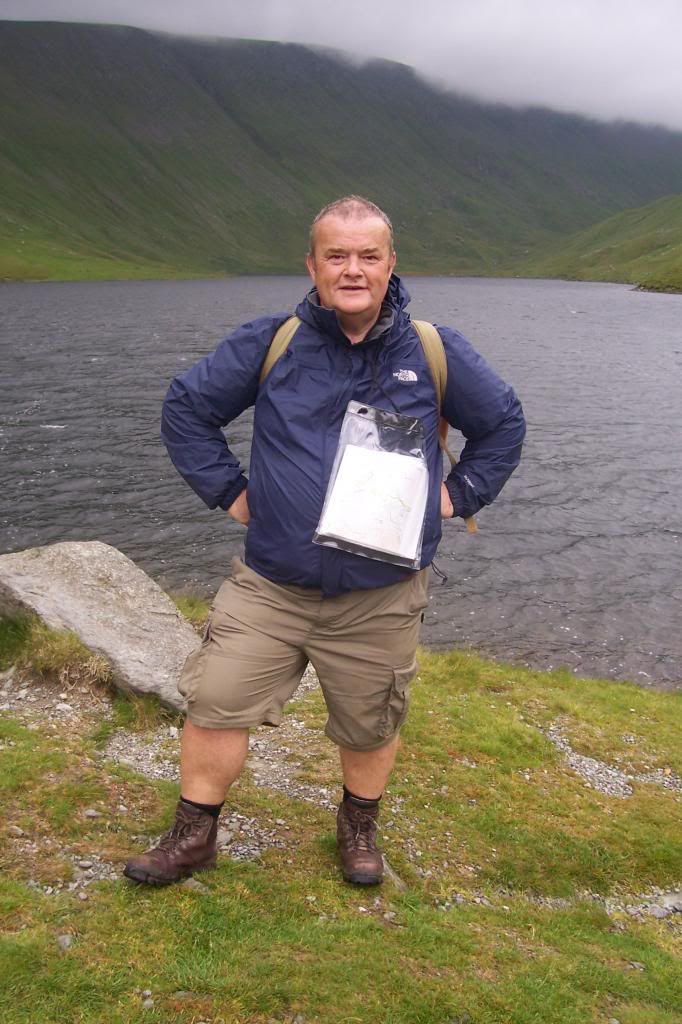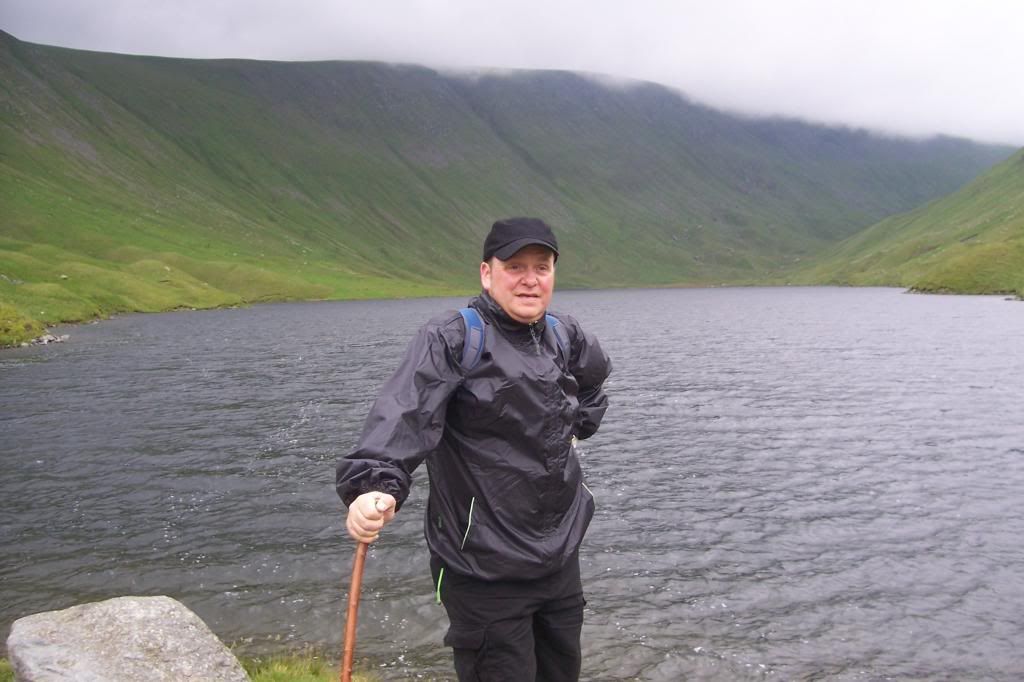 The rain became heavier as we approached Hayeswater, so we pushed on ever onwards and upwards. The path from Hayeswater tarn up to the Wainwright route was a bit of a scramble but as we reached the top behind The Knott we saw our first fellow walkers trudging through the rain towards High Street. The visibility got worse and as we reached the straits of Riggindale we came upon the Cloggies who were consulting maps and compasses trying to decided if the path leading off to the left was the way to Kidsty Pike. The visibilty was now no more than about 10 metres. A quick consultation of Memory Map GPS an my iphone showed that this was indeed the correct path so off we trudged through the rain and mist. By this time we were soaking wet. The Wongwayers passed us in the mist with worried looks on their faces We reached Kidsty Pike at the same time as a large group of Irish hikers looking very much like gorillas in the mist and we could see nothing through the clouds. Our potentially best viewpoint of the whole days walk had fallen foul of the wet summer. The rumbling of thunder and flashes of lightning sent shivers down our spines as we determined to get off the top of this mountain as soon as possible.We continued onwards down towards Haweswater and the visibility began to improve but the rain was incessant. Incredibly as we sped down the mountain to the safety of lower altitude we were met by a man heading up the hill with his teenage daughter and wife. When we enquired where he was going he announced that he going to Bampton via High Street. We told him he was mad as the weather up there was atrocious but he ignored us and trudged off up into the clouds saying he would see what it was like.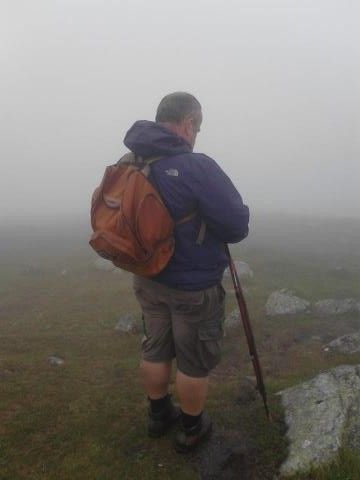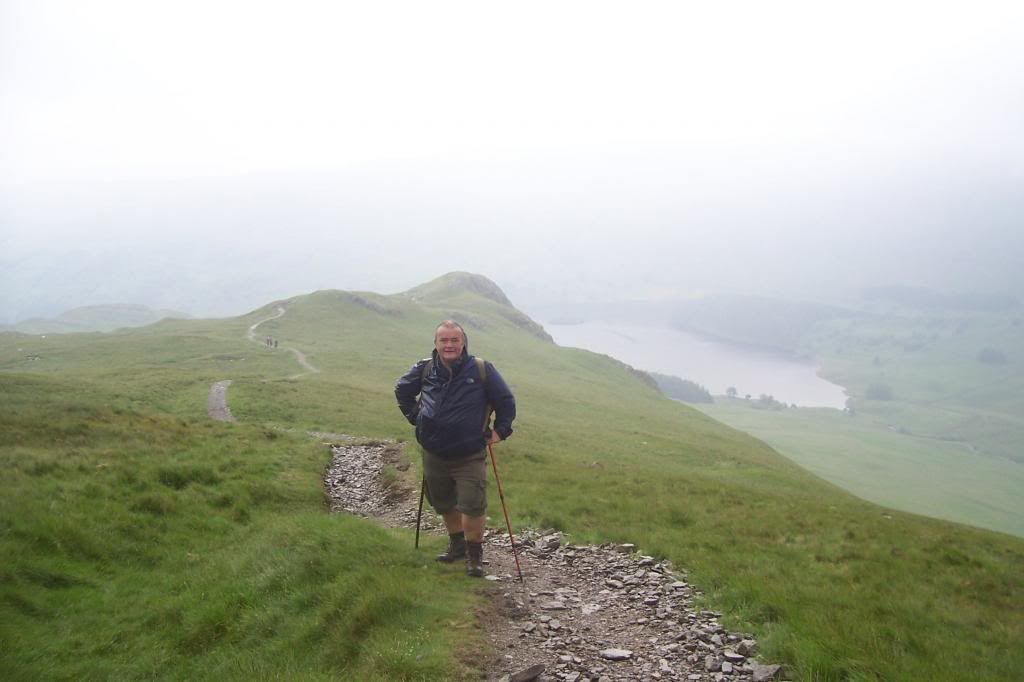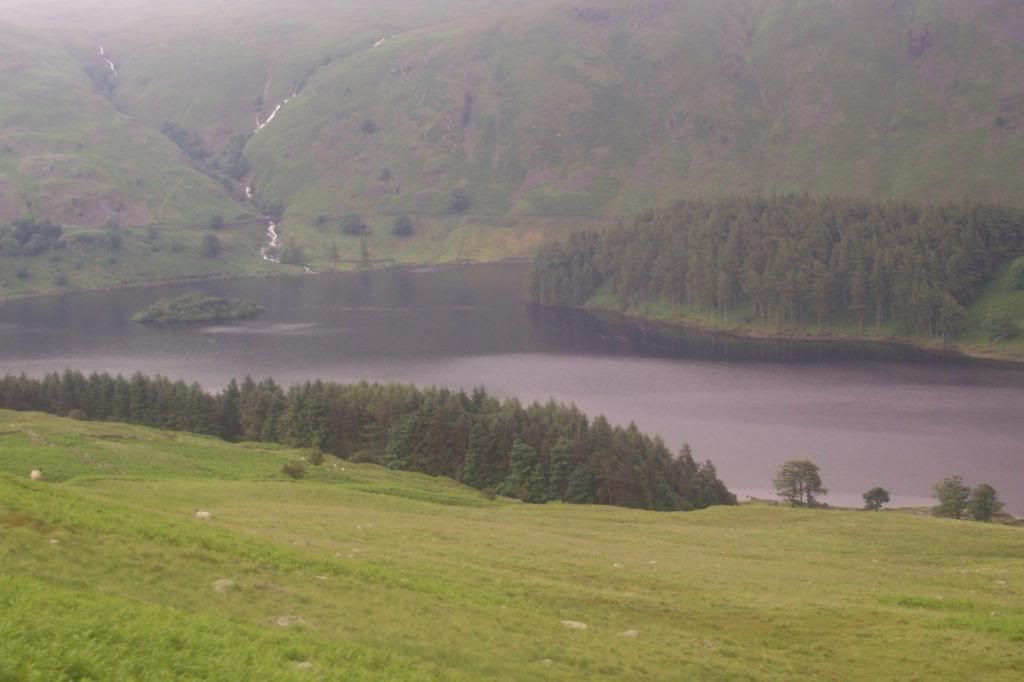 When we reached the lake I took what shelter I could under a tree and changed my soaking wet socks for a dry pair. I swear I wrung half a pint of water from each sock. The luxury of dry feet lasted about half an hour in the driving rain as we plodded on along the up and down scramble along the lake. We stopped for lunch during a brief respite in the rain and then ploughed on towards the dam at the end of the lake which did not seem to be getting any closer. Every little stream off the fellside had changed into a rushing torrent which we waded through relentlessly with already wet boots. I vowed to invest in some waterproof gaiters when I returned home. The highlight of the day was spotting a red squirrel on a wall beside the path which scurried off before our cameras could be uncovered. The rain ceased as we reached Burnbanks and trekked through the fields in a brief outbreak of the sun towards Shap. Our path was halted for a while by an extremely deep if relatively narrow rushing stream. Eventually we found a slightly narrower section and jumped across with thoughts of falling as we scrambled off the opposite bank. Ian informed me that the rain had stopped his camera working. I told him that my iphone was struggling with the wet and kept switching itself off. After a brief photo stop at Shap Abbey we passed through a gate to find a much welcome plastic bucket full of cans and bottles of beer,cider, pop etc. with an honesty box attached.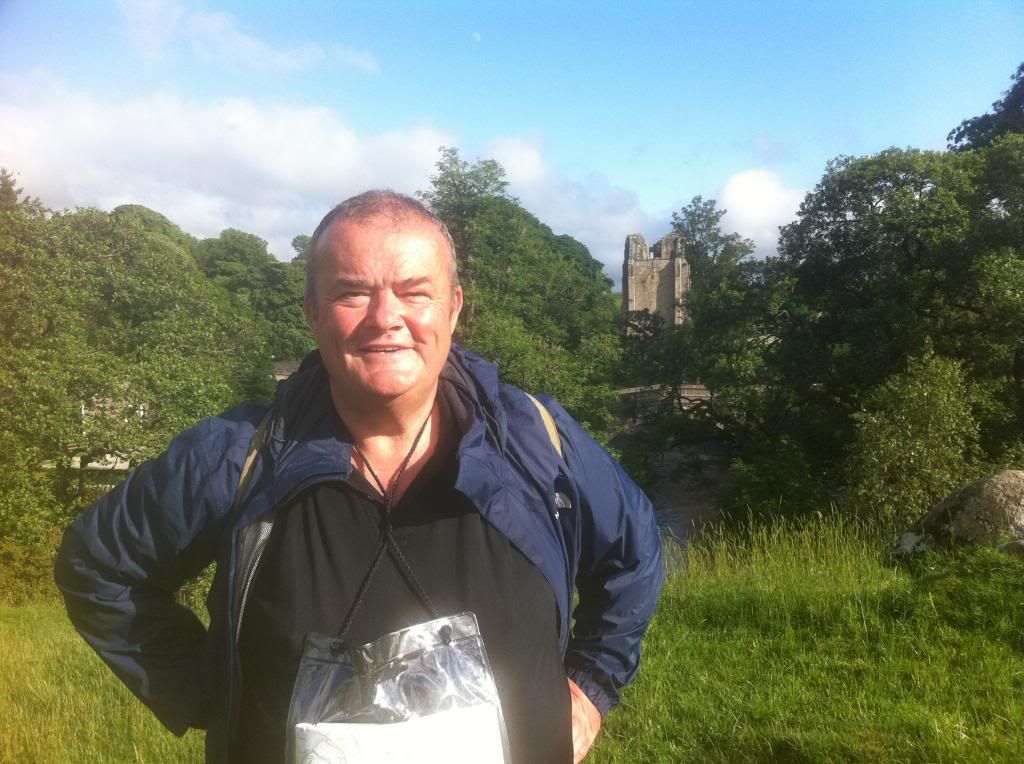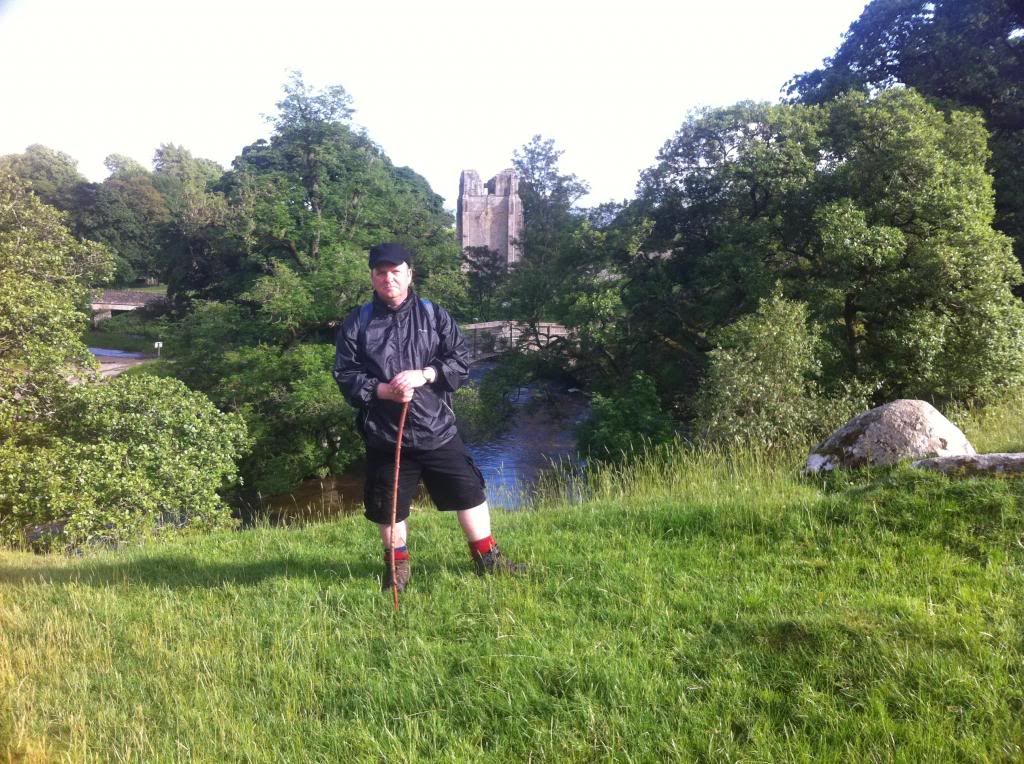 We continued onward over a river which was in a raging torrent of brown water and made our way along quiet lanes to Shap to our B&B at Ings Lodge. We were given large wad of dry newspaper to stuff our soaking boots and line them up with about 20 others pairs by a raging fire. We went to our room and removed our wringing wet clothes and dived into a warm showers to get some warmth into our bodies. Ian's knees and my upper thighs had been rubbed red raw with walking in wet shorts. Liberal amounts of vaseline were applied and we dressed and rushed off to find somewhere to eat. As it was now approaching 8:30 we went into the first pub we found which was ominously empty apart from the resident drunk and the village idiot. The barmaid appeared and we ordered and paid for two chilli con carnes which was the only food available. The barmaid scrutinised the £20 note I proffered which had been dyed red from a notelet that had been in my soaking wallet. We ate, drank a couple of moderate pints and made our way quickly back to Ings Lodge where we enjoyed a bottle of real ale in front of the fire. The Irish guys we had almost seen on Kidsty Pike appeared and told us they had found a pub further down the street with an excellent choice of food and beer. We changed the wet paper in our boots for dry paper and headed up to bed for a much welcome sleep.
Day 6 Friday June 28th Shap to Newbiggin (14 miles)
Our sitting for breakfast was 8:15 and when we went down we found our boots were nicely dried by the fire. Mueslii followed by a good fry up of egg, bacon sausage and beans, Off to the supermarket to stock up on a packed lunch and on the road for 8:45. We had to refuse a lift to Orton by a scouse expat Shappite who thought we were mad. Headed off down the main street and then across the railway bridge and M6 footbridge past the quarry and off onto the moors. We were passed by many groups of Coast to Coasters including the Wongwayers. Half way across the moor we came across a massive erratic and of course posed for the obligatory pushing the boulder photo.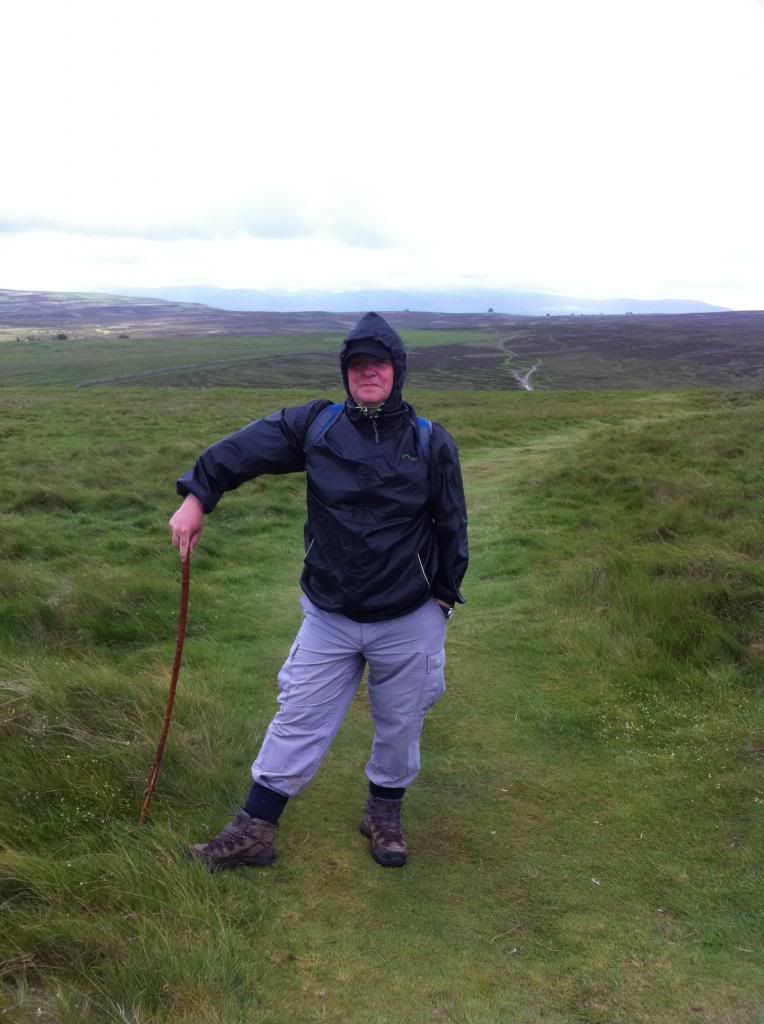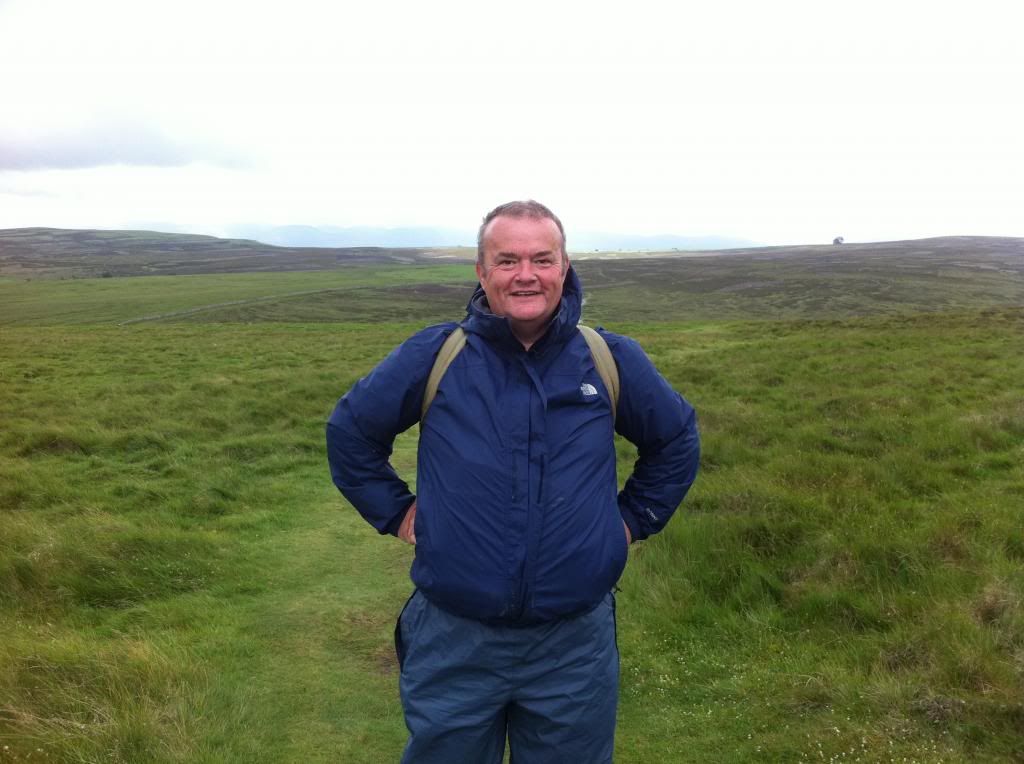 We stopped and sheltered in a broken down sheep enclosure at 11:00 and had a snack of banana and chocolate. As we headed off towards Robin Hoods Grave we were met by a dog walker with 4 greyhounds who suggested we should go to the chocolate factory in Orton. We respectfully declined and headed across the moors to the fell road. As we carried on our way we surprised to see some Jacob sheep in field near the B&B at Scarside Farm.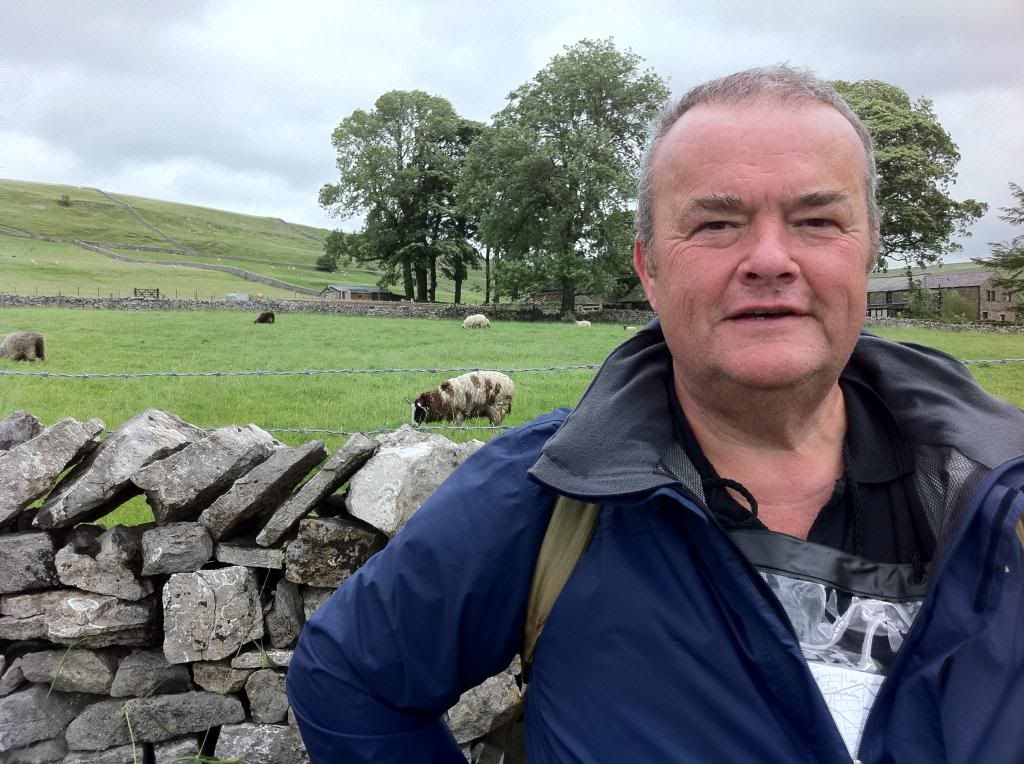 We had a long chat with a farmer who told us that he had sold off his lower fields and only farmed the high fells. We carried on towards Sunbiggin looking for somewhere to shelter from the wind to have the rest of our food. After finding a less than suitable leaning wall with very little cover we quickly devoured our remaining food and carried on to the moor. We then took a path too early and ended up trekking through grimp and mire to get back on the correct path. We took a path across Ravenstondale moor which led straight to Newbiggin. We later discovered this path formed part of the Dales High way. When we arrived at our B&B we were shown to an excellent room with its own ensuite almost as big as the bedroom. The landlady had booked us a table at the Black Swan, Ravenstondale for 7:00 and after a quick shower and change she gave us a lift to the pub. The food and Black Sheep beer, at the very busy pub, was excellent. At about 9:30 the landlady picked us up and took us back to the B&B and gave us a tick box list to choose what we wanted on our fried breakfast. Of course we ticked every box.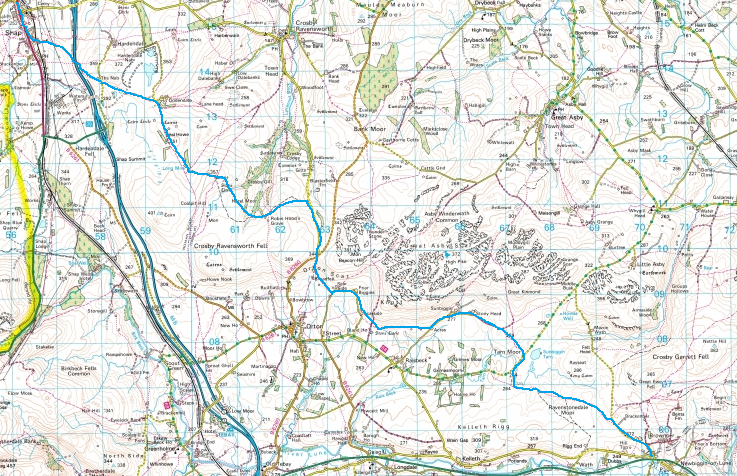 Day 7 Saturday June 29th Newbiggin to Muker (20 miles)
Breakfast at 7:30 grapefruit, strawberries and muesli followed by a fry up of egg, bacon, beans a rather average sausage tomatoes and toast. Walking by 8:00 straight on to the old Smardale Gill disused railway nature trail, now managed by Cumbria Wildlife Trust. Rejoined the Wainwright route at Smardale bridge where we made our way up onto Smardale Fell with magnificent views of Smardale Viaduct. Unfortunately the rain started much earlier than forecast and full waterproofs had to be donned.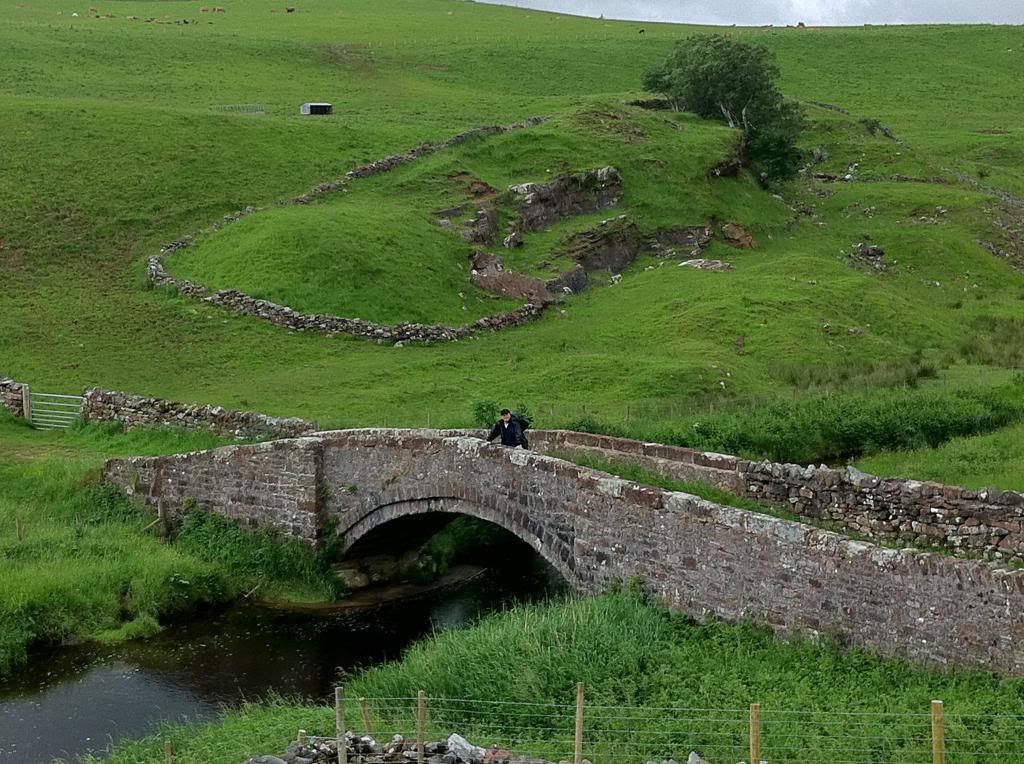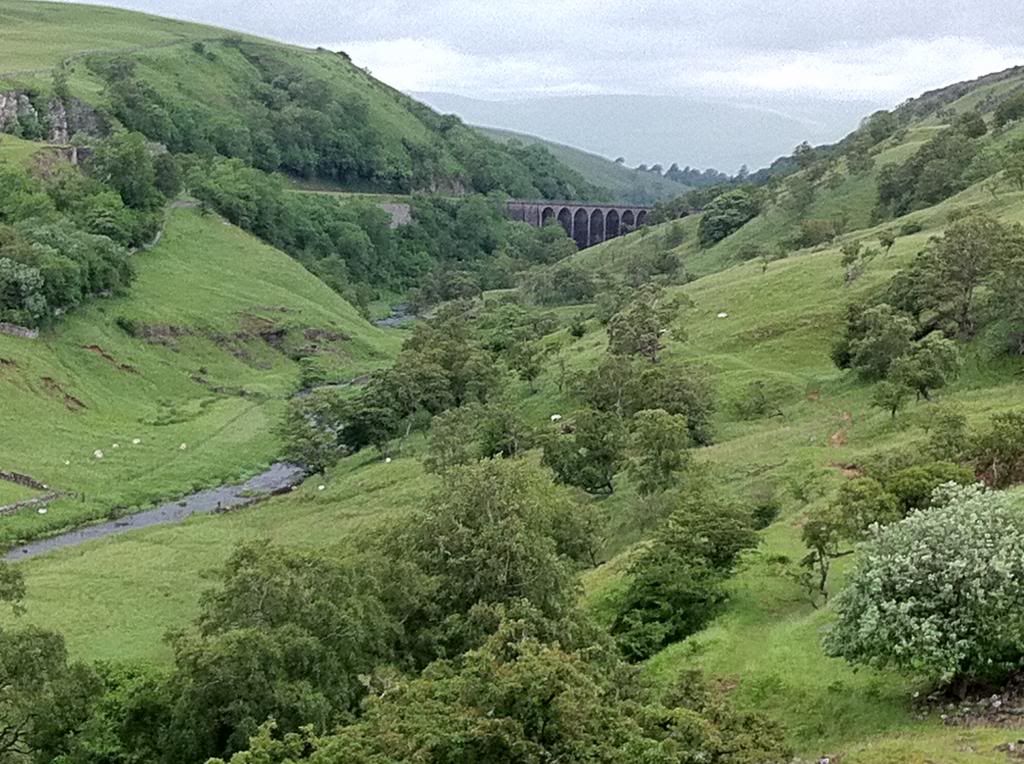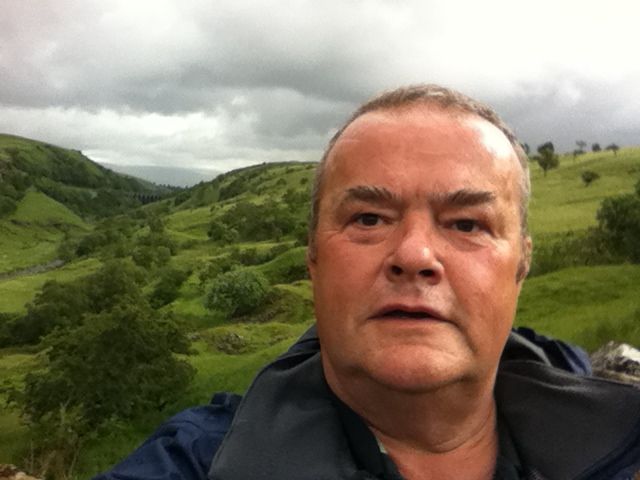 We continued our trek up Smardale Fell and had our first glimpse of 9 Standards Rigg on the horizon. The incessant rain dispelled any thoughts of tackling the dreaded peat bogs beyond the 9 Standards and we were resolved to take the bad weather route along the fell road. Eventually Kirkby Stephen came into view during a brief break from the rain.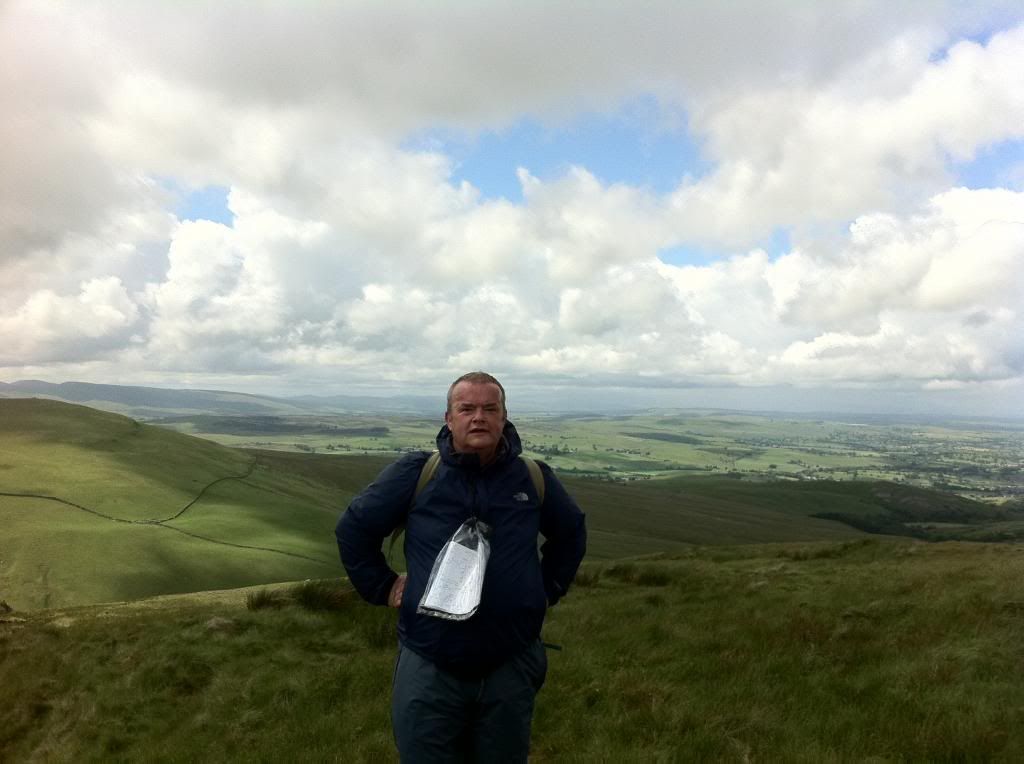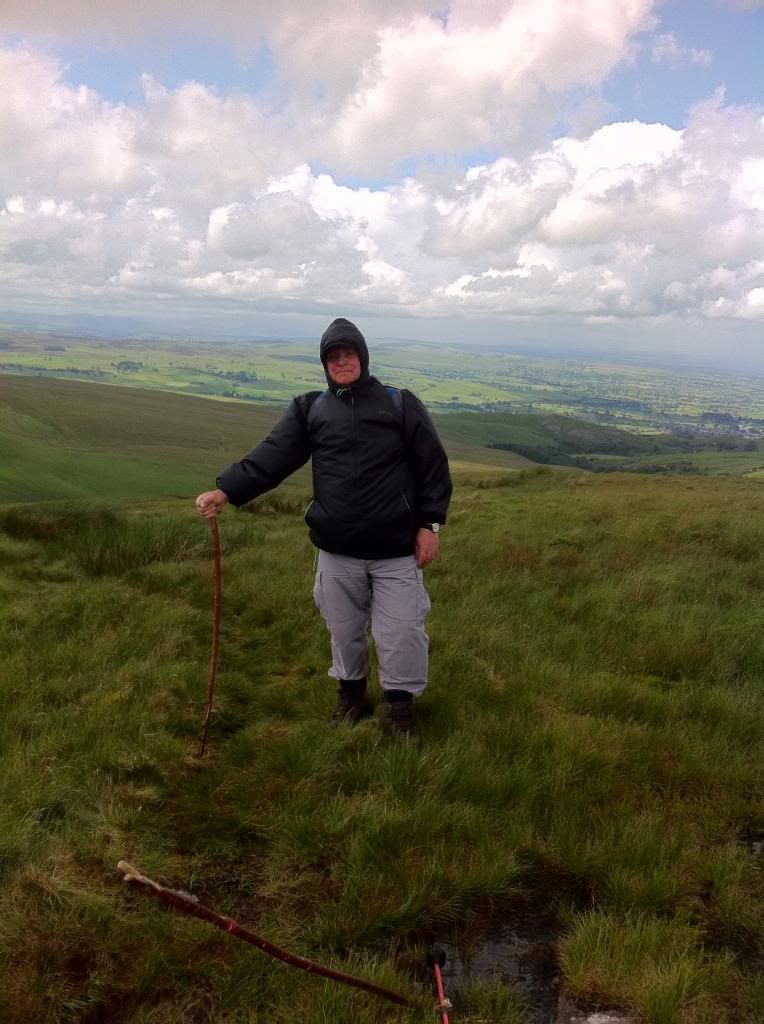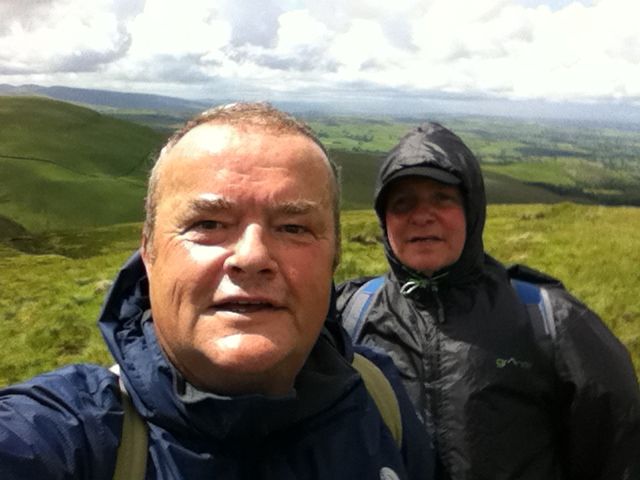 We arrived in Kirkby Stephen at 11:00 and purchased 2 individual quiches and cans of Tango to take for lunch. Straight on to Frank's Bridge as we were conscious of the 15 miles we still had to cover. The rain paused for a while as we made our way through Hartley. Amazed to spot a selection of wild birds including a Tree Creeper, a Gold Crested Wren and a Lesser Spotted Woodpecker. We ploughed onwards behind the quarry and up to a welcome seat looking back down towards Kirkby Stephen at 12:15 and decided to stop for lunch. We were caught up by a young couple of campers we had first seen in the White Lion in Patterdale and discovered that they had camped at the back of Ings lodge in Shap the same night as our stay and they had walked form Rosthwaite to Patterdale with our lone camper from Greenbank farm. We told them that he had posted his tent home and was continuing the journey by B&B. We advised them that we would be taking the route back down to the fell road and they decided to do the same as their massive packs would no doubt make the boggy moorland crossing torturous. They continued onwards and we followed a few minutes later. The impressive 9 Standards Rigg came closer and closer into view as the rain became heavier. As we reached the path which led off to Rollinson Gill on the right we decided to leave a closer inspection of the Standards to another drier day and headed off to see the young couple about half a mile ahead making their way up to a cairn at the head of the gill. Our route soon also developed into a mire and we agreed that crossing the moors beyond the Rigg in this sort of terrain would have been a nightmare. We reached the cairn from where the path down towards the fell road could just be made out with our young couple way ahead. On we pushed as the rain continued to dampen our spirits. On reaching the road we cheered up a little as the solid grass verge at the side of the road was a welcome relief from the bogs we had traversed.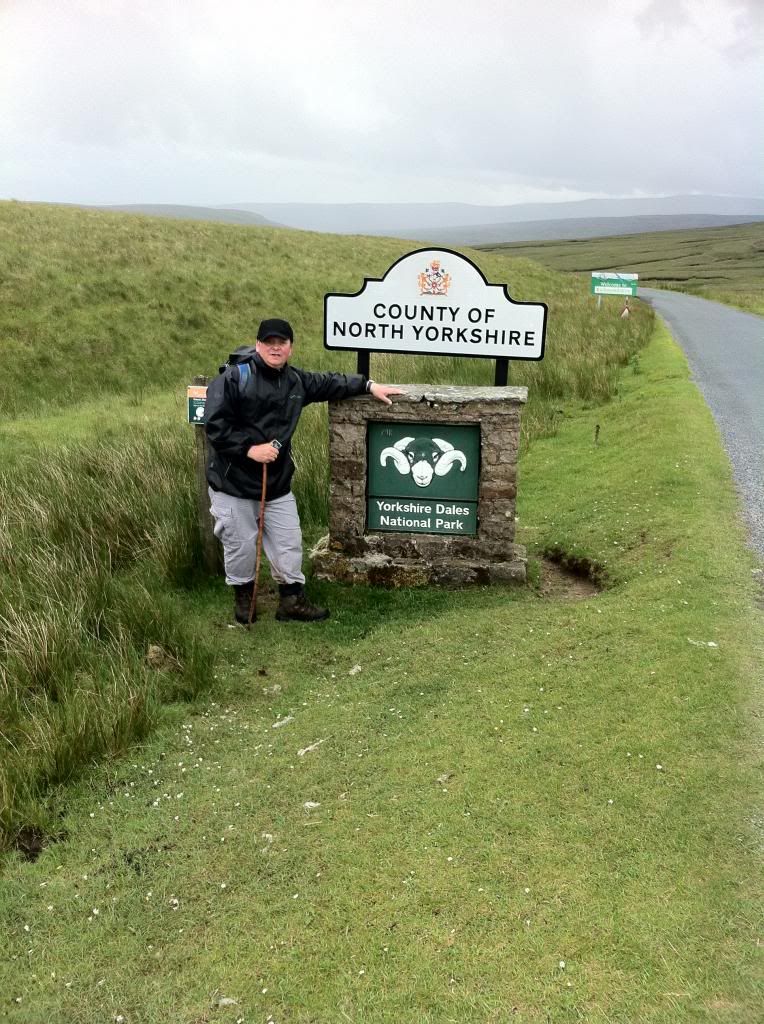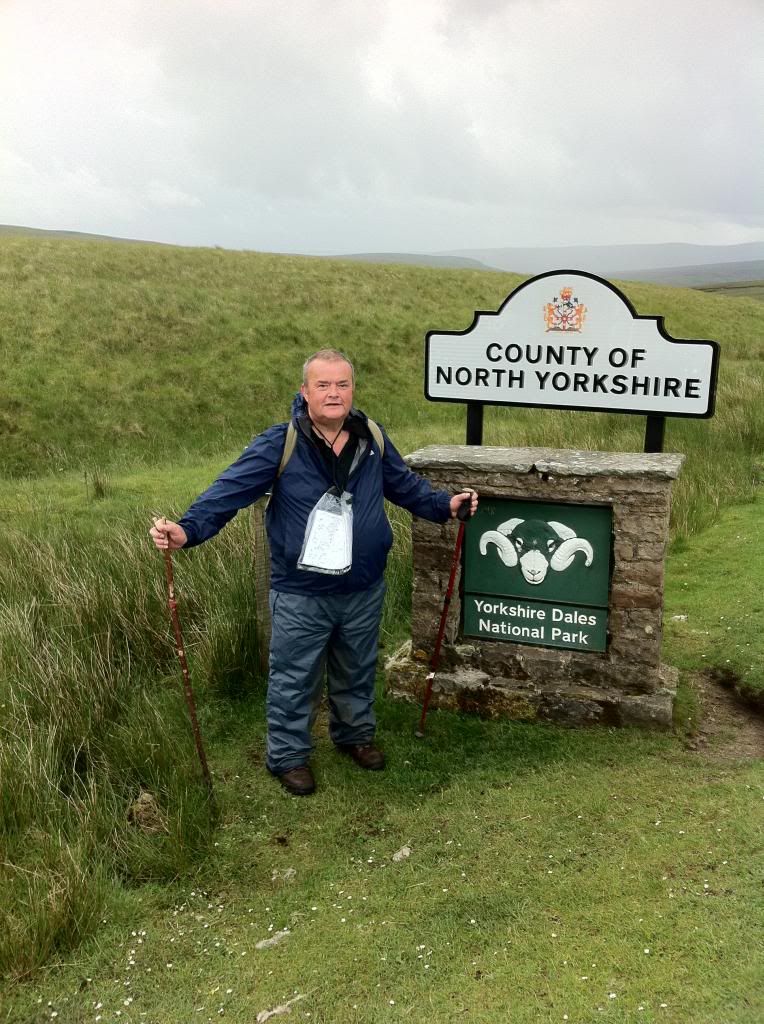 We plodded on for another 7 miles along the fell road and our first glimpses of the head of the Swale came into view. The rain was heavier than ever and I could not stop thinking of a well known Chris Rea song "The road to Hell" as we reached signs of civilisation about 2 miles before Keld we had to rest up for a few minutes on a welcome roadside bench and admire a local who was pedaling ardently up the steep hill we had just descended. Onwards again and Ian pointed out the waterfall where he and his daughters had been wild swimming earlier that year. Eventually we reached Keld and were met by Helen, the female Wongwayer with a glass of wine in hand outside the Keld Lodge. She informed us she had had to miss today's walking as the walk from Shap to Kirkby stephen had taken the skin from her feet and that she had taken the taxi today and left her husband to walk with some others they had met in Kirkby Stephen. We told the landlord who had just appeared of our intention to take the corpse road over Kidson Fell to Muker and he suggested that we follow the Pennine way route down to a lower level path to Muker. We took his advice and made our way onwards towards the river and the Pennine way route. Ian has never forgiven me for my next mistake. We then continued on the Pennine way instead of taking a well signposted path to Muker. We continued to climb up the fellside on a path that was more of an obstacle course with every foothold needing to be searched for with our tiring legs. We had now been walking for 10 hours with a couple of very short breaks and the pleasant meadow path to Muker we could see below continued to taunt us. Eventually we reached our B&B, Swale Farm in Muker, at about 7:45 and quickly changed and rushed to the pub to try and get a table for some food. The pub was packed and we ordered 2 pints of Black sheep and joined the queue for tables with a numbered wooden spoon. 2 pints later we managed to obtain a table which we shared with an older couple who were extremely friendly. Our meal, of Steak pie chips and vegetables, was very good when it arrived. Fed and watered we made our way back to our B&B and were in bed for 9:50 and asleep by 9:51.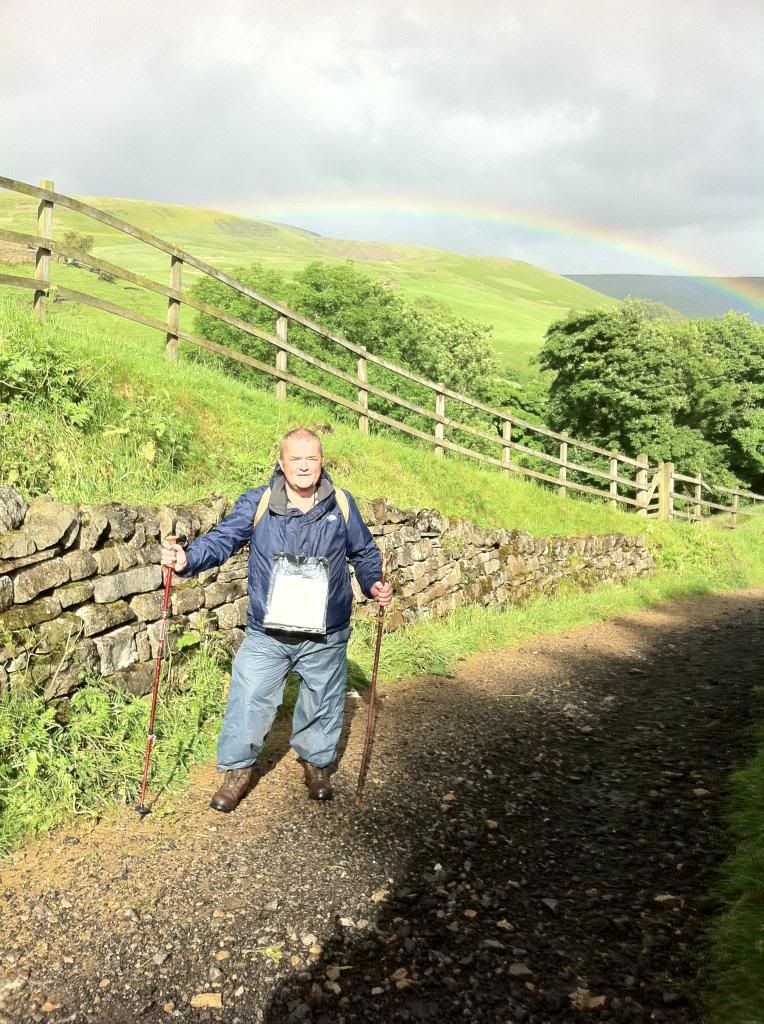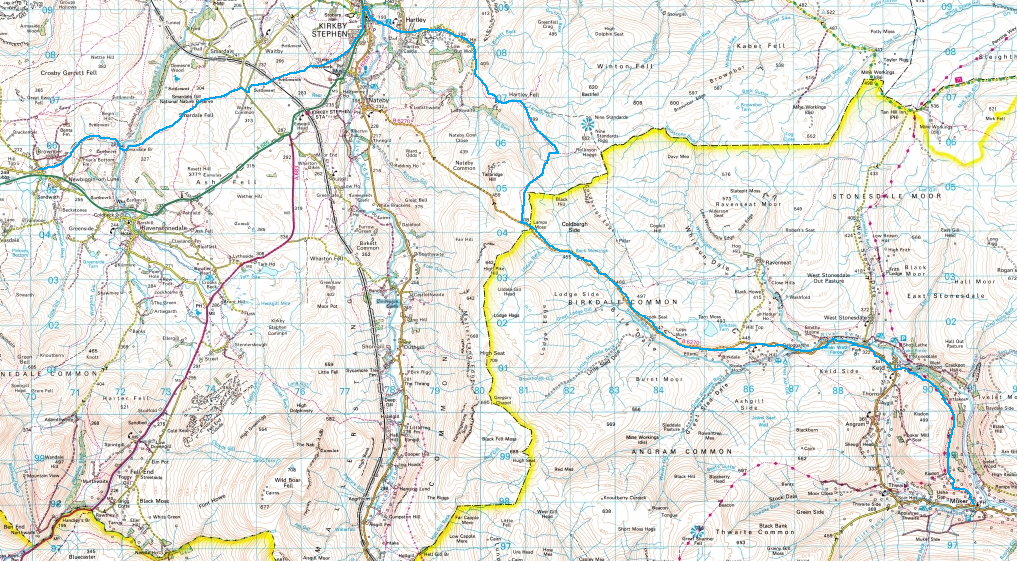 Day 8
Sunday June 30th
Muker to Richmond (20 miles)
8:00 the best breakfast of the walk consisting of thick bacon, meaty sausage, black pudding, egg, mushroom and tomato with toast grapefruit and cereal. Out walking by 8:30 through gentle drizzle. As we were planning to walk approximately 20 miles to Richmond today we followed the extremely picturesque paved path through several meadows back up the Swale to a footbridge across the river. Ian pointed out many times that this should have been our finishing stretch yesterday at the end of a 20 mile trek. On reaching the other side of the Swale we made our way downstream through a steady drizzle of rain. We continued on this path for about a mile and a half to Gunnerside bridge where we crossed the Swale to the right hand bank and continued on a pleasant track, called Dubbing Garth lane past a makeshift gypsy camp. Several cyclists passed us on this track and were surprised to find 2 loose horses, presumably from the gypsy camp, grazing on the verges just before a closed gate across the track. We continued along this pleasant track for a while and then stopped for a snack on an old roller parked by the track. It was then we realised we had not filled all our drink bottles and resolved to do so at Reeth. We came off this track onto a short stretch of surfaced road where we turned left and crossed Isles bridge to the left bank of the Swale. We continued down the bank on an unusual path built on top of a wall presumably built as a flood defence. Eventually this became a path through several meadows until we had to leave the riverside track and join the B6270 which we followed for about 200m before taking a footpath on the left through the fields towards Healaugh. No sooner had we left the road that a procession of about 20 antique tractors came trundling along at about 15mph followed by a queue of frustrated car drivers

.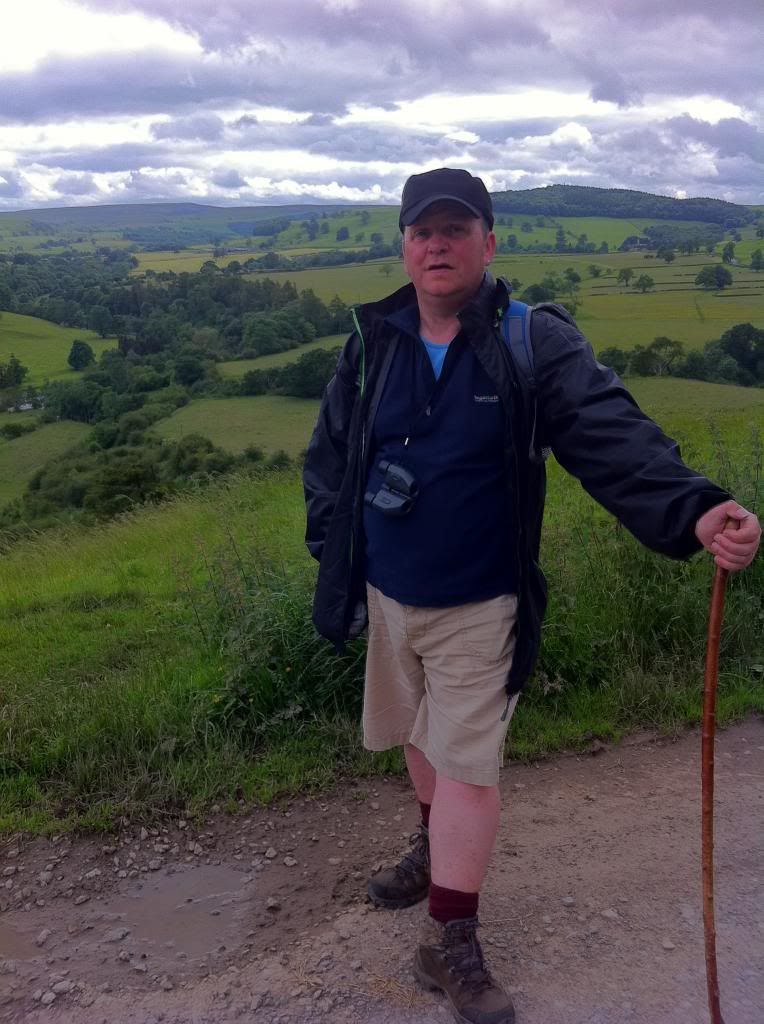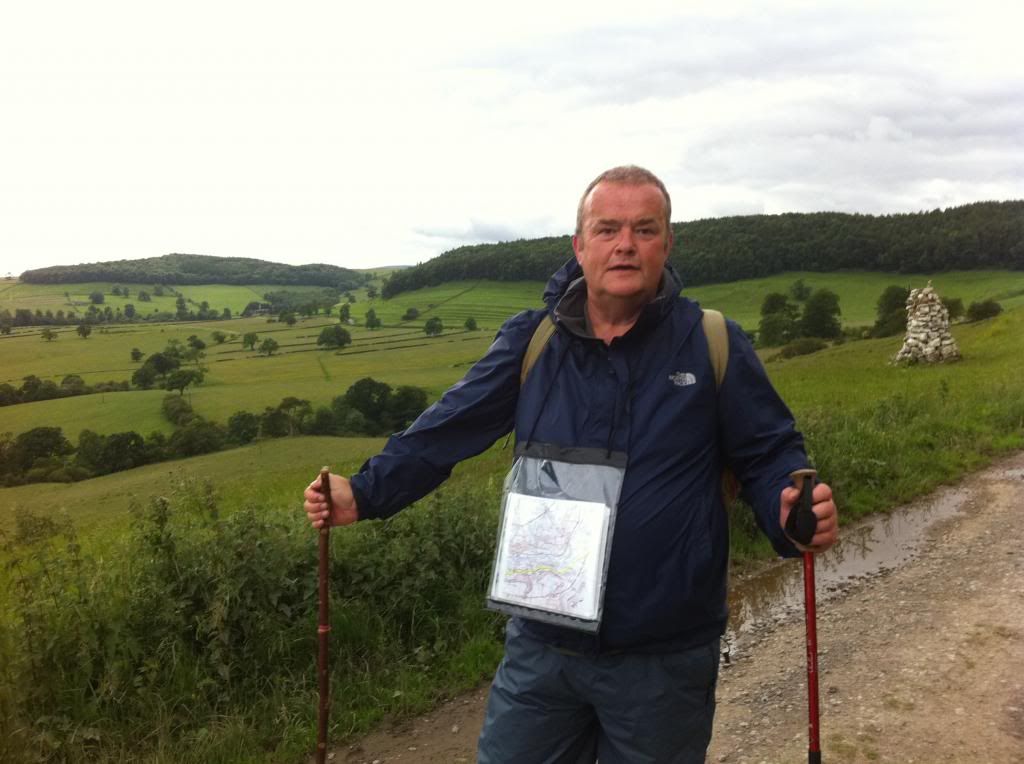 As we passed through Healaugh we noticed several houses with names like "The Old School House" and "The Old Post House". Another village that had lost its heart in the modern need for efficiency. We left Healaugh and took the footpath to Reeth on the right . Unfortunately we made the common mistake of following the track too far down towards the river and having to find our way back up to the footpath which stays closer to the road. We reached Reeth about 1:30 and stopped for a welcome couple of pints of cider and a pickled egg at the Black Bull. Then we set off for Richmond not realising we had forgotten something. We crossed the fields on the path to High Fremington and decided we would miss out the path through Marrick Abbey and head straight for Marske. This proved to be quite a long road walk and when we stopped for a snack and drink just before Marske we realised we had not stocked up on drinks as we had planned in Reeth. As we passed the place where the Wainwright route from Marrick joins the road to Marske we were surprised to see a large ring nosed bull looking over the stile at us. This gave us some justification for avoiding that section. We continued down into Marske, on a toe crunching steep descent, hoping to find somewhere to get a drink to no avail. Leaving Marske we soon found the path across the fields towards Applegarth Scar. Dehydration was now beginning to take its toll as we crossed Paddy's footbridge and climbed up to the White Marker stone on the track to West Applegarth farm.
We trudged on for another mile past West Applegarth farm before collapsing in a heap for a rest on a grassy bank through shear exhaustion accelerated by lack of water. 10 minutes later we got up and made our weary way towards Whitecliff wood. The track path through the wood was quite muddy in parts due to the recent heavy rain. We left the woods a carried on towards High Leases.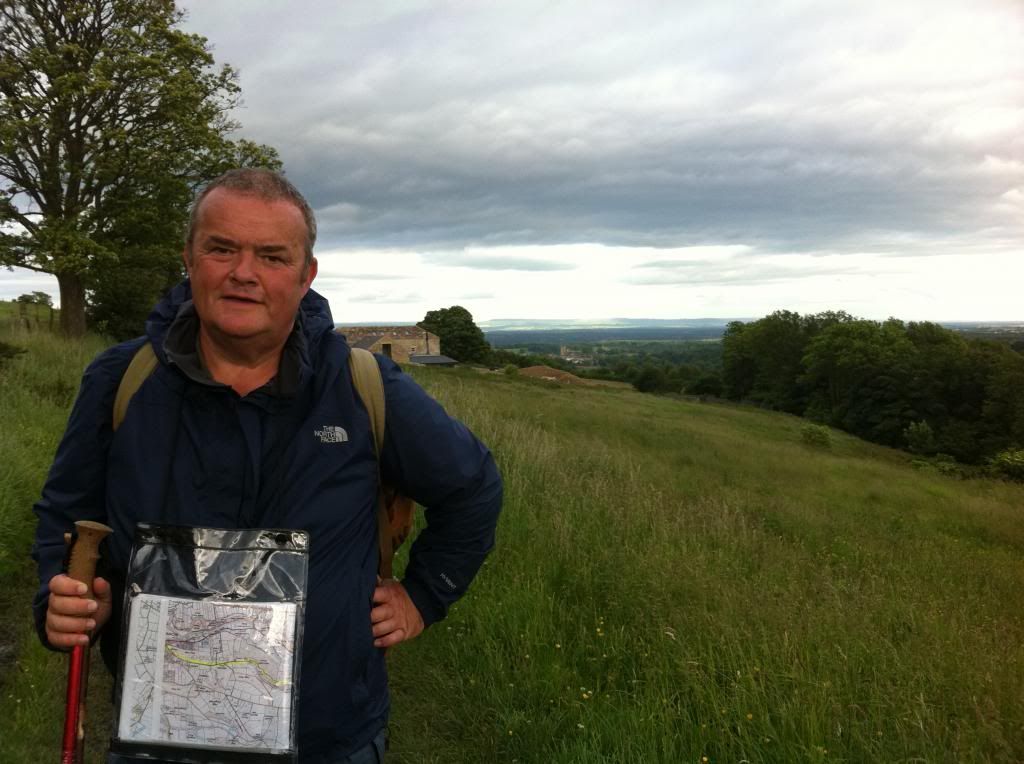 Ian commented that the large new house that had been built here had caused much damage to the road due to many heavy construction vehicles that had brought building materials. This was evident further down the lane where the side of the road had collapsed into the ditch. We passed the sign for Richmond and head down the track and into Westgarth field for the last half mile of the journey. We were met outside Ian's shop by his wife Marie who welcomed us home and took our finale pictures in front of the well photographed plaque which Ian displays for Coast to Coasters on the side of his shop. Another 20 miles had been covered today with the unforgivable mistake of not carrying enough drinking water. I made a sign of dissent at the plaque and we both headed inside for a welcome beer and hot meal. Feeling a great sense of achievement we both vowed to never again attempt two 20 mile walking days back to back without sufficient supplies of water. However we both remarked on the excellent standard of health of our feet with not a single blister. This was no doubt helped by our lack of heavy backpacks for the first time. Baggage transfers for us from now on.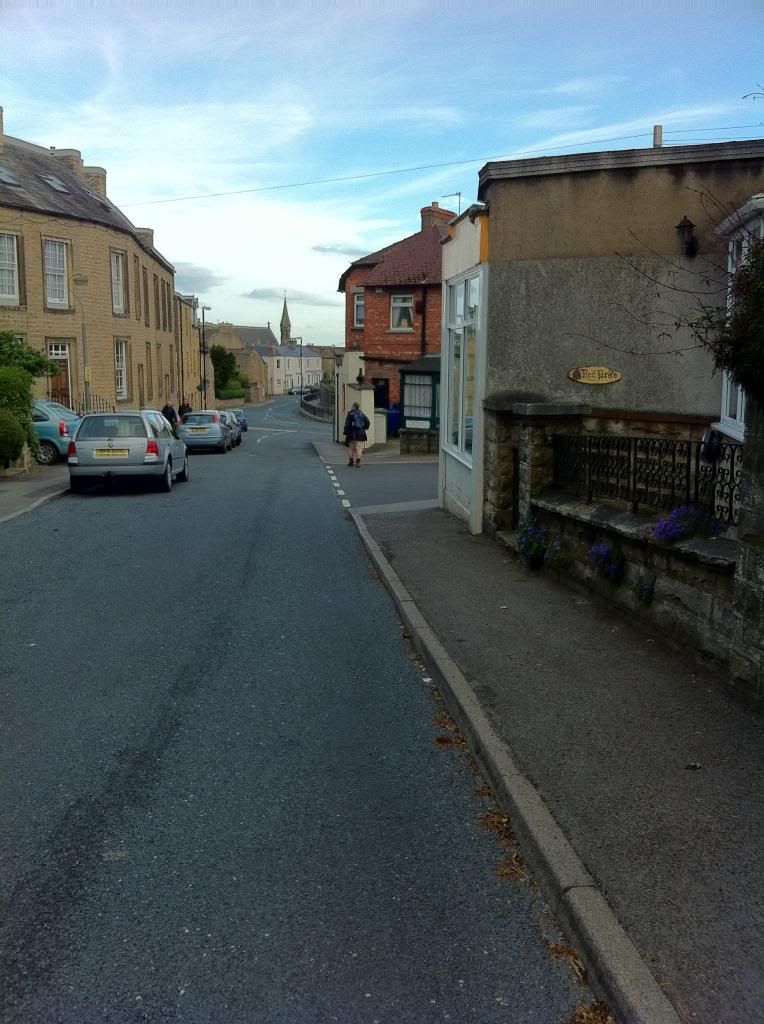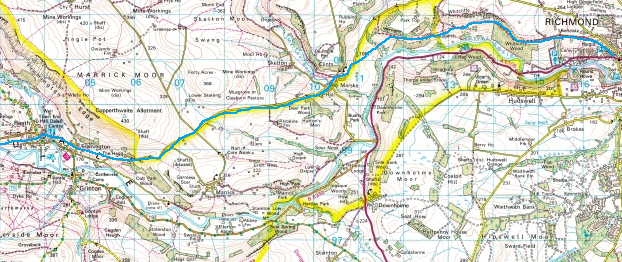 Home