The Cumbria Way August 1995


This was our first long distance walk we had made together. It seemed to make sense that we should tackle the route which began in our home town of Ulverston and led us through the heart of the beautiful lake district. As myself, Ian and my brother Dave were both teachers we planned the walk for August during our school holidays. We booked overnight stays in Coniston, Langdale, Keswick and Caldbeck and planned to take 5 days to cover the route from Ulverston to Carlisle. I picked Dave up from his home in Ashton-in-Makerfield on Sunday afternoon and set off up the M6 to Ulverston. As we neared Ulverston Dave got a call from his wife to inform him he had left his boots in his front porch. When we arrived at our parents house in Ulverston Dave was offered an old pair of Dad's boots to wear which he foolishly chose to use. Ian Croasdell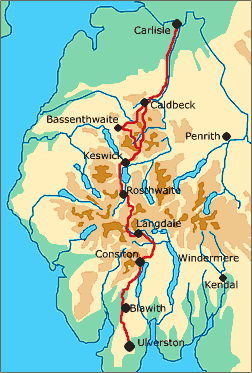 Day 1 Ulverston to Coniston Monday 14th August 1995
At 8:30, myself, Ian Croasdell my brother Dave and our father Alec set off on the Cumbria Way. Despite the fact that it was one of the driest summers on record, the day was overcast. After a rather inauspicious start, with my brother forgetting his boots, we set off with much merriment to the official start in Ulverston Gill where we called upon a local resident to take our picture. We travelled with speed and enthusiasm, observing that someone was already ahead of us from a wet footprint on a stile. Gradually we became accustomed to our heavy packs and chuckled at the miserable faces of some walkers coming the other way. We were amazed to discover routes and areas which had gone unnoticed to us despite being brought up in my fathers home town of Ulverston. At High Staveley we met what my father described as a "fellsider" feeding her cat. She said "a bit cooler" to which my father replied " Aye, better for warkin". We all smiled and went on our way.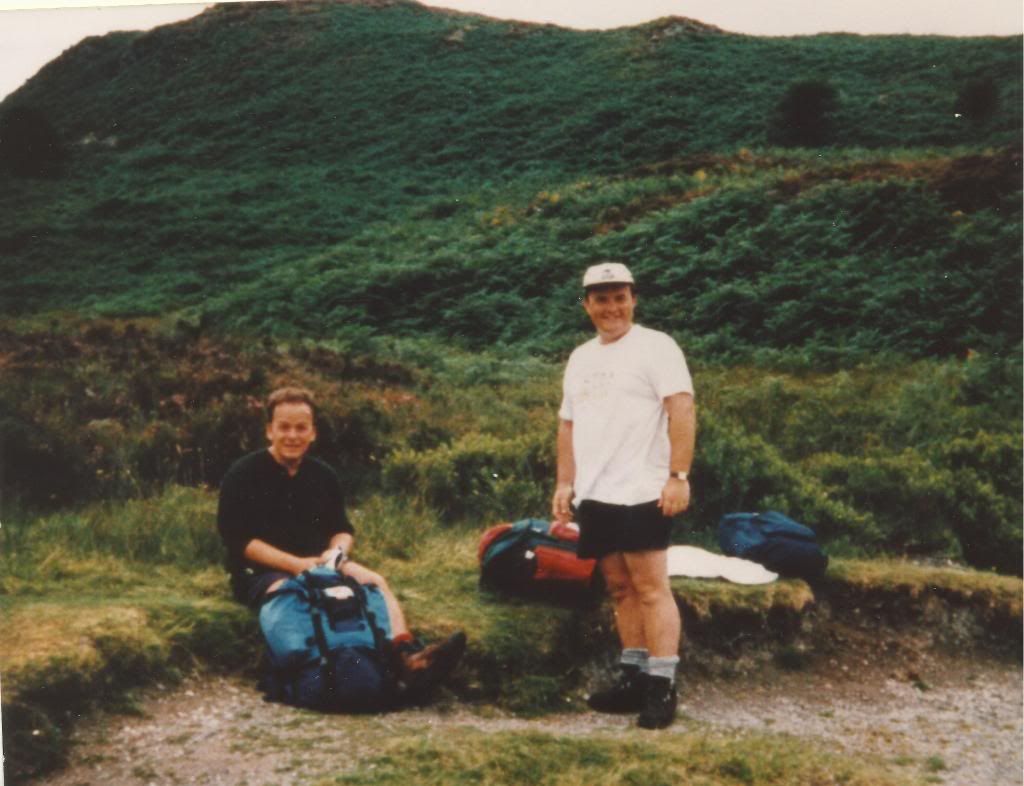 After a quick packed lunch on the shore of Beacon tarn we made our way down to the path on the shore of Coniston Water, which Dave noted that for a lakeside path was rather unduly undulating.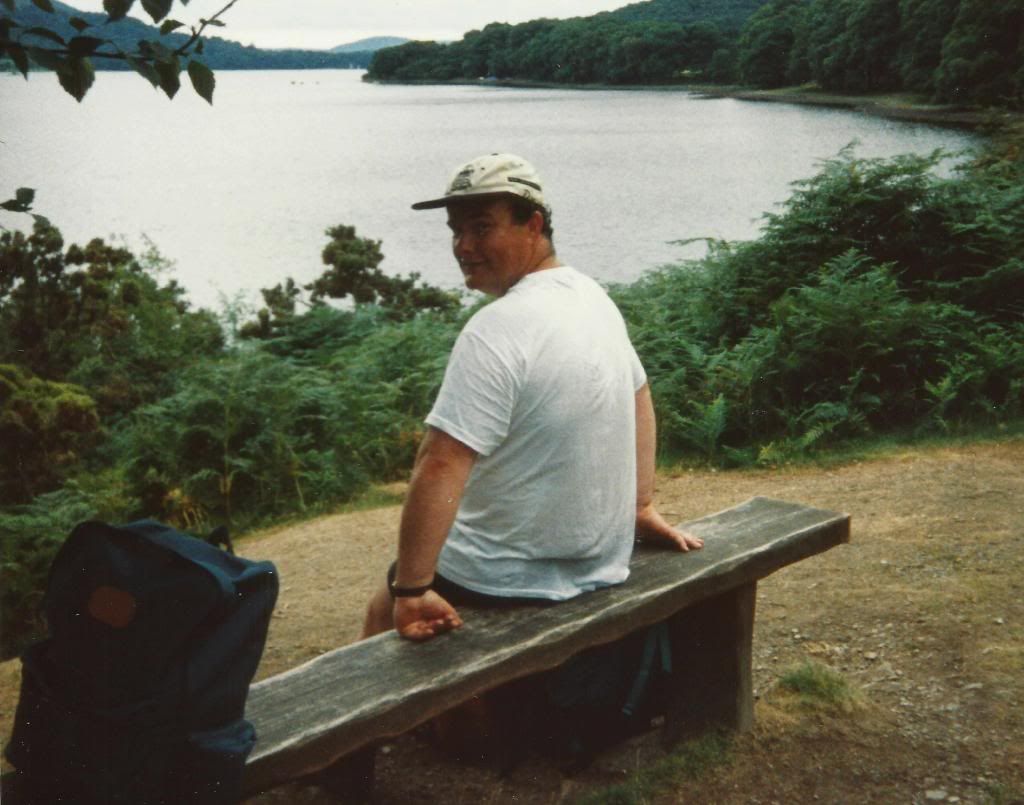 We arrived in Coniston at about 4:30 and our thoughts immediately turned to beer at the first pub we saw. This was the Black Bull and was the most expensive round of the trip at £5.40 for pints of Jennings, Theakston's Old Peculier and a Castelmaine XXXX but it was most welcome as the day had grown increasingly hotter. We made our way to our guesthouse "Lakeland House" and I lost the toss for the best double bed and settled for a single by the window. We all showered and made our way into the village for some food and bought some chips from the local chippy and sat on a nearby bench and tucked in Wainwright style. After a few minutes we spotted three Buddhist monks leaving the chippy to eat their food sitting on a nearby low wall. Dave remarked that the sausage they were eating did not appear to be vegetarian! 80P for a chip butty was definitely the best value meal on the trip. After eating, we set off for The Swan. A party of Army walkers were sat outside preparing for an ascent of the Old Man. Dad asked if they had left any beer in the pub! After a pint each we walked back to the Crown where we settled for the rest of the night playing 5's & 3's dominoes. We then retired early ready for the next day's walk. Dave discovered his first blister and I stuck my feet out of the window to cool, only to be laughed at by people below walking back from the pub
Day 2 Coniston to Langdale Tuesday 15th August 1995
After an early mist and some light rain it was a blisteringly hot afternoon. This was our shortest and easiest section of the walk and, despite taking the wrong path at Tarn Hows, we made good progress stopping only for sandwiches at Skelwith Bridge and a pint at the Britannia in Elterwater.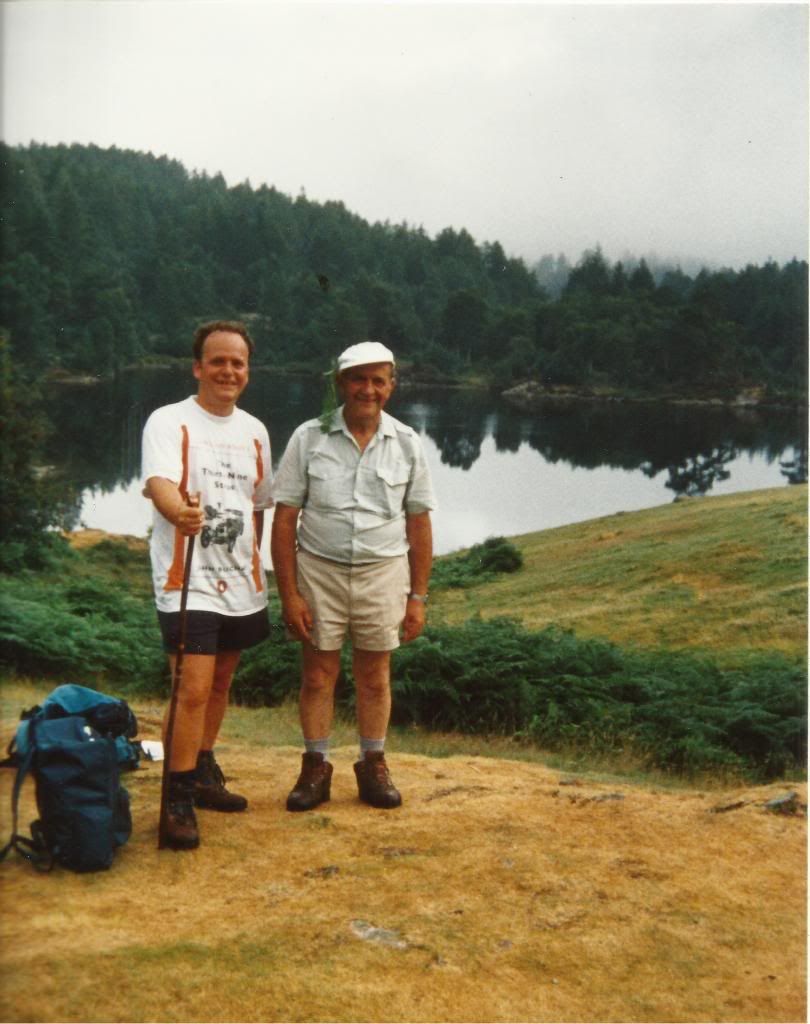 We finally arrived at
the New
Dungeon Ghyll at 3:30 p.m. We expected this to be our best accommodation but it was in fact the least satisfactory. We had all been put in one room and I lost the toss again and had to sleep on a camp bed which had been squeezed into the room which was obviously only meant for two as only two cups etc. had been provided. Dad called the maid back three times to have various items supplied and then realised that he recognised her as a girl who used to work in the Bingo Hall in Ulverston. We made our way across to the Sticklebarn and after Dad requested that they topped up our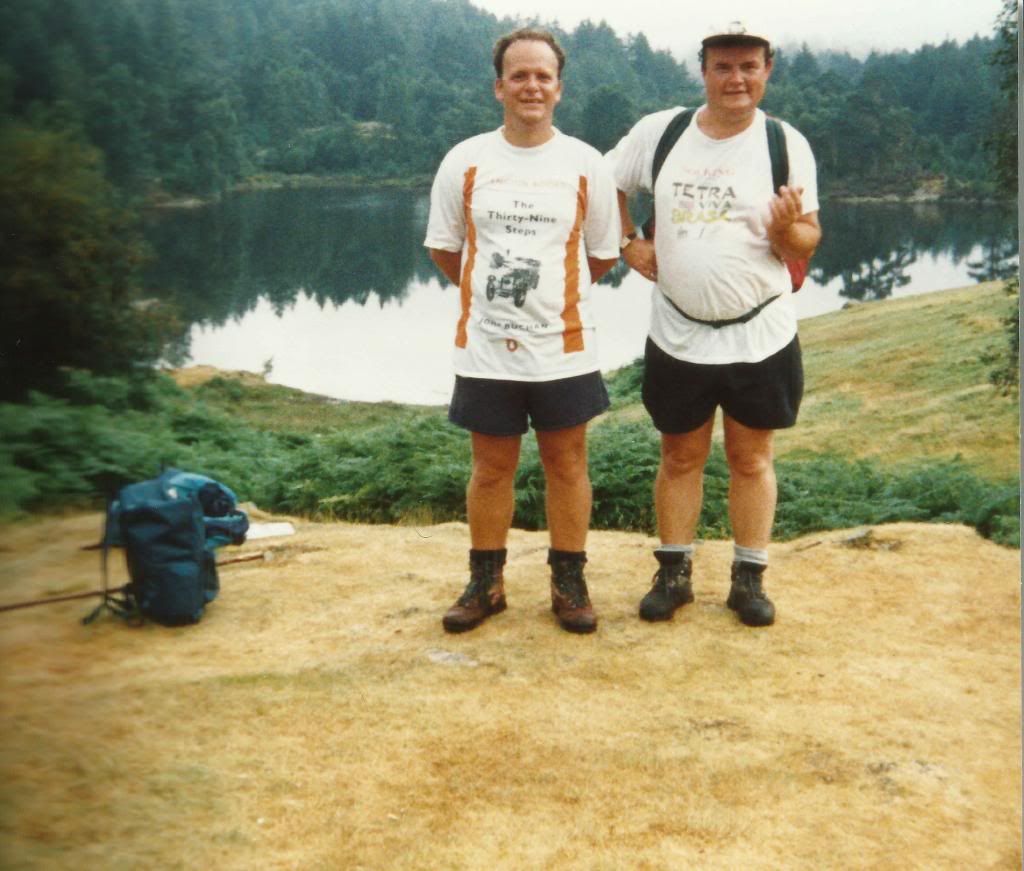 glasses to be proper pints Dave and I settled for burger and chips at an extortionate £5.95 each.
Dad only had a bowl of soup and a roll at £1.95. After another pint we returned to the new Dungeon Ghyll for some more beer before retiring to bed.
Day 3 Langdale to Keswick Wednesday 16th August 1995
We awoke early and refreshed to a thick ground level mist.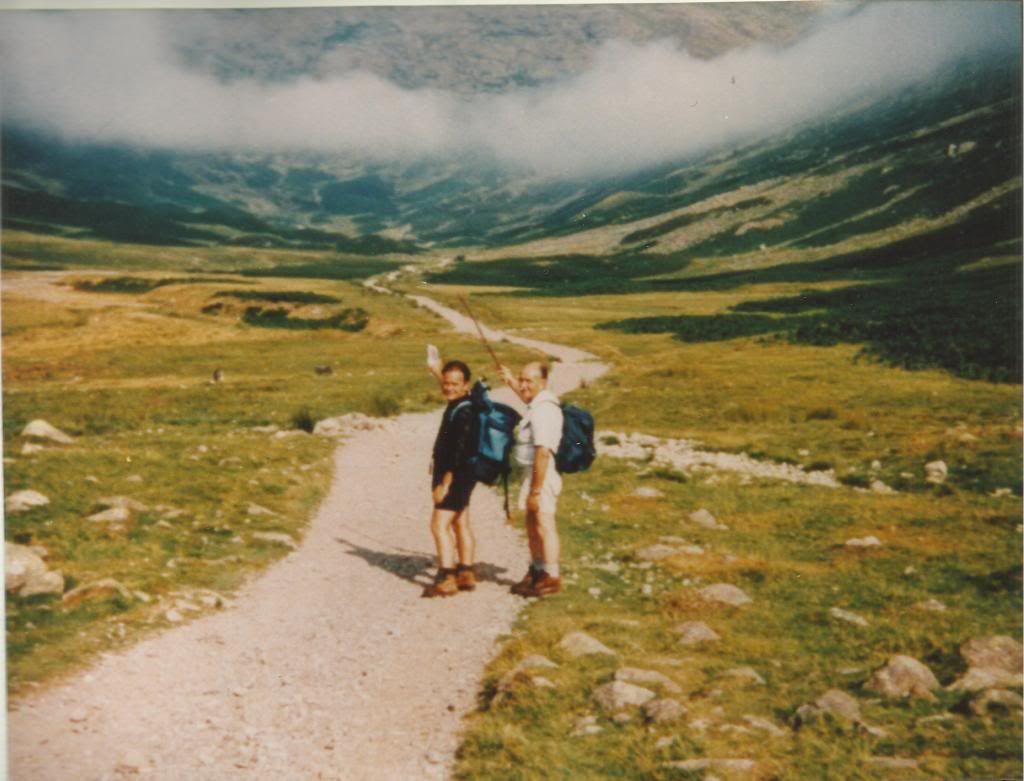 We were full of trepidation about the
notorious Stake Pass at the head of the Langdale valley. When we reached the Old Dungeon Ghyll we spotted a couple up ahead taking the same route. We commented upon the woman who appeared to be drying her knickers by hanging them from the back of her rucksack.
The sun burnt away the low mist and Stake Pass proved to be not too problematic.
Dad even showed off by rushing ahead.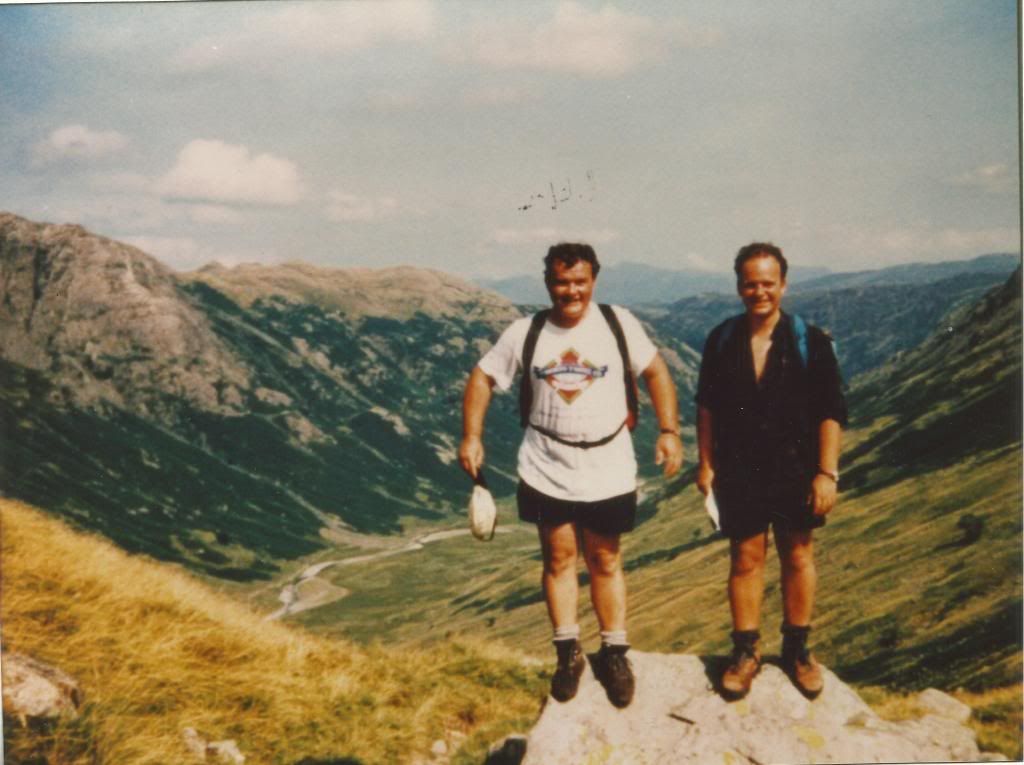 At the top of the climb we were treated
to spectacular views of much of the Lake District. We remarked that this was a watershed and that all rivers North of here fed into the Solway Firth.
The descent was rocky, steep and very hard on the feet. We stopped halfway down to bathe and drink in the mountain stream. The water was both delicious and cold. When Dave removed his boots and socks, to soak his feet in the stream, all the skin fell off his heel and he spent several minutes patching up his sore feet with blister dressings and sticking plaster.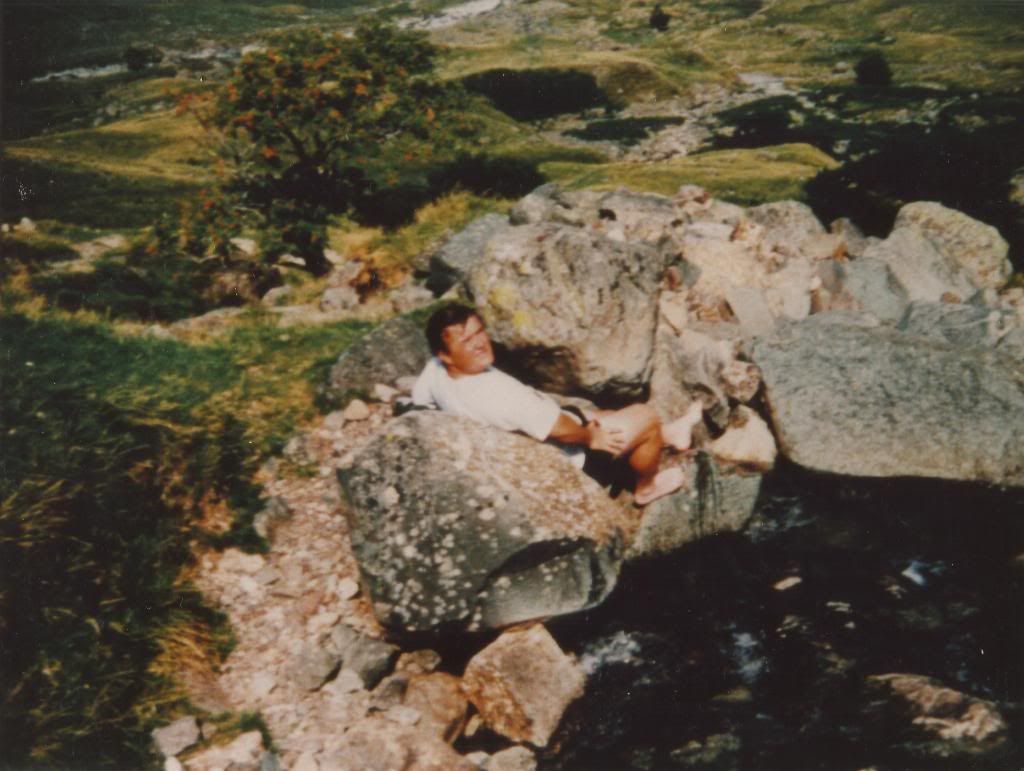 Dave also became a little anxious when I pointed out Skiddaw on the skyline as being our destination. The walk down Langstrathdale was beautiful and we were envious large group of people swimming in a deep steep sided natural pool in the river. A welcome pint of Black sheep was consumed with a sandwich at The Langstrathdale Hotel in Stonethwaite and then we began the long trudge to Keswick along the western shore of Derwent water. It seemed never ending. Dave's feet were now giving him great discomfort and he was complaining of knee pain brought on by walking on the sides of his feet . A highlight of the tramp was to see a slow-
worm which is a rare sight these days. On reaching Keswick we enjoyed a pint at the Oddfellows and then made our way to the Melbreak House guest house only to be informed that we we were on the fourth floor with no lift. Dave confided with me as he collapsed on the bed that he was f#####

.

Day 4 Keswick to Caldbeck Thursday 17th August 1995
This was a tortuous day for Dave who had been ready for giving up due to the lack of skin on his feet. We suggested that he tried to get a bus to Caldbeck but he decided to try to walk it with us. Progress was slow up the rocky track and we were passed by a group of all ages and races whom we nicknamed "the united nations". We were to see them many times later. We also spotted a Red Squirrel. Dave's knees were now giving him more trouble so we decided to take the low level route round the back of Skiddaw.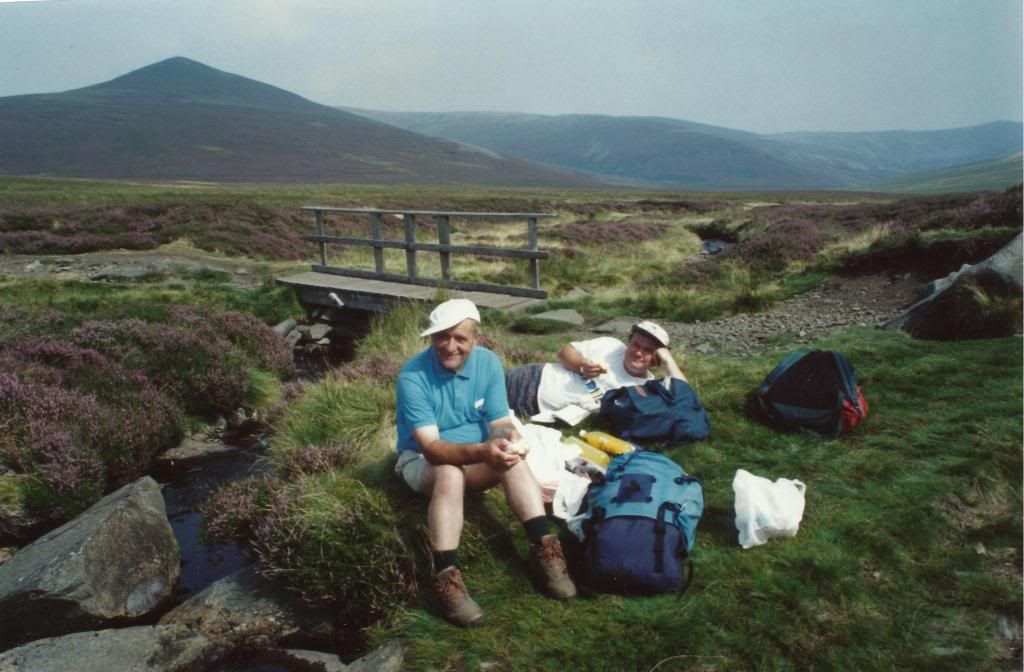 By this time I had already developed four juicy blisters.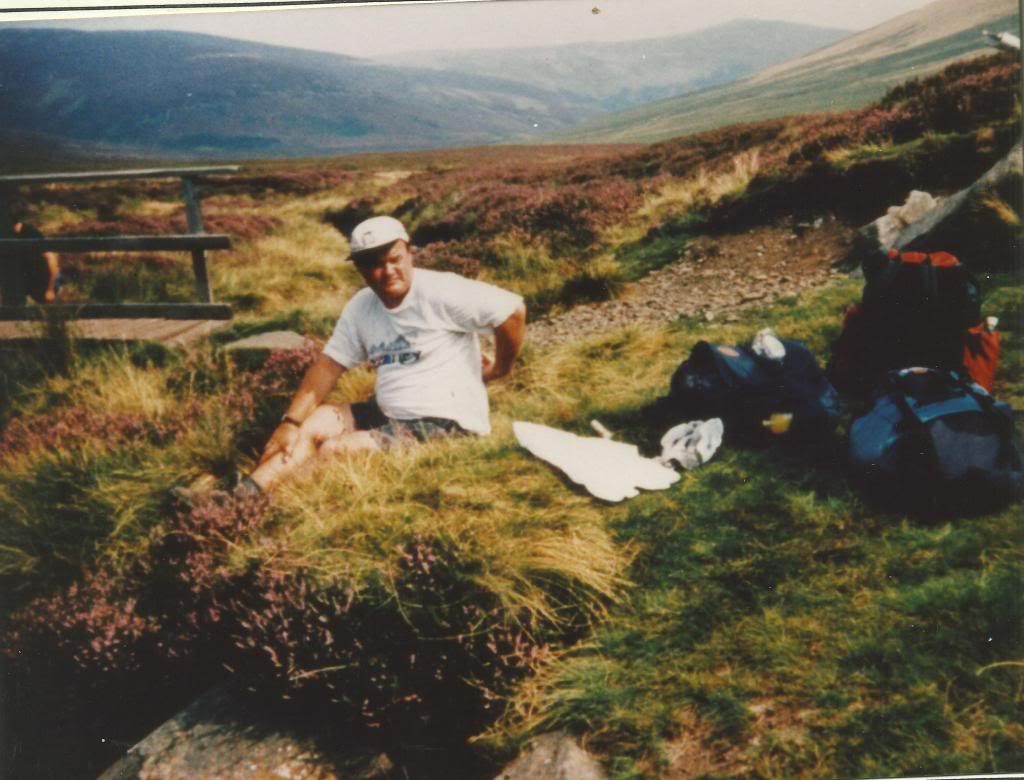 The journey seemed to take forever in the hot sun. When we reached Longlands we asked two youths how far it was to Caldbeck and were told it was still 5 miles. Dave was now walking with a stick and had tied an elastic bandage round his knee to try to relieve the pain. He decided he would try to thumb a lift and so we temporarily parted company and Dad and I continued to make our way over the fell. Dave said he would go to a farm and ring the landlady in Caldbeck to tell her we would be late. We later found that he had hailed the only car he saw in an hour with a fine display of distress pointing to his injured knee. This caused us much merriment. Dad and I then made rapid progress over the fell despite being attacked by a plague of flying ants which Dad tried to beat away with his cap. We arrived exhausted at 7:30. Dave had decided to abandon the hike by this time and asked the lady what time the buses were tomorrow to Carlisle to which she replied that there were no buses until Saturday but he could get a bus from Dalston on Friday which was about 7 miles further on. We went for a pleasant meal at the Oddfellows and then retired to bed and slept soundly
.
Day 5 Friday 18th August 1995
We ate a hearty breakfast and went to see John Peel's grave in Calbeck church graveyard and then went slowly on our way.
On the way we met the couple who had been just ahead of us since that first wet footprint in just outside Ulverston. We also discovered that the "United Nations" group were also completeing the Cumbria Way. We came across a cow about to give birth and spotted numerous buzzards. On the way we had to cross a field with a lone bull and gingerly made our way along the edge of the field ready to leap over the fence at the first sign of attack. Dave was looking extremely wary as he hobbled along with his sore feet and knee. The couple we had seen were making themselves a brew with a small calor gaz stove on the other side of the fence near the river. We arrived at Bridge End just after lunch and ordered a pint each. On receiving the beer a bus appeared with Carlisle as its destination and Dave downed his pint in one a scampered over to the bus shouting his goodbyes over his shoulder. We later found out that the bus driver turned out to be one of Dave's old mates from Ulverston. Dad and I had another pint and then made out way onwards towards Carlisle.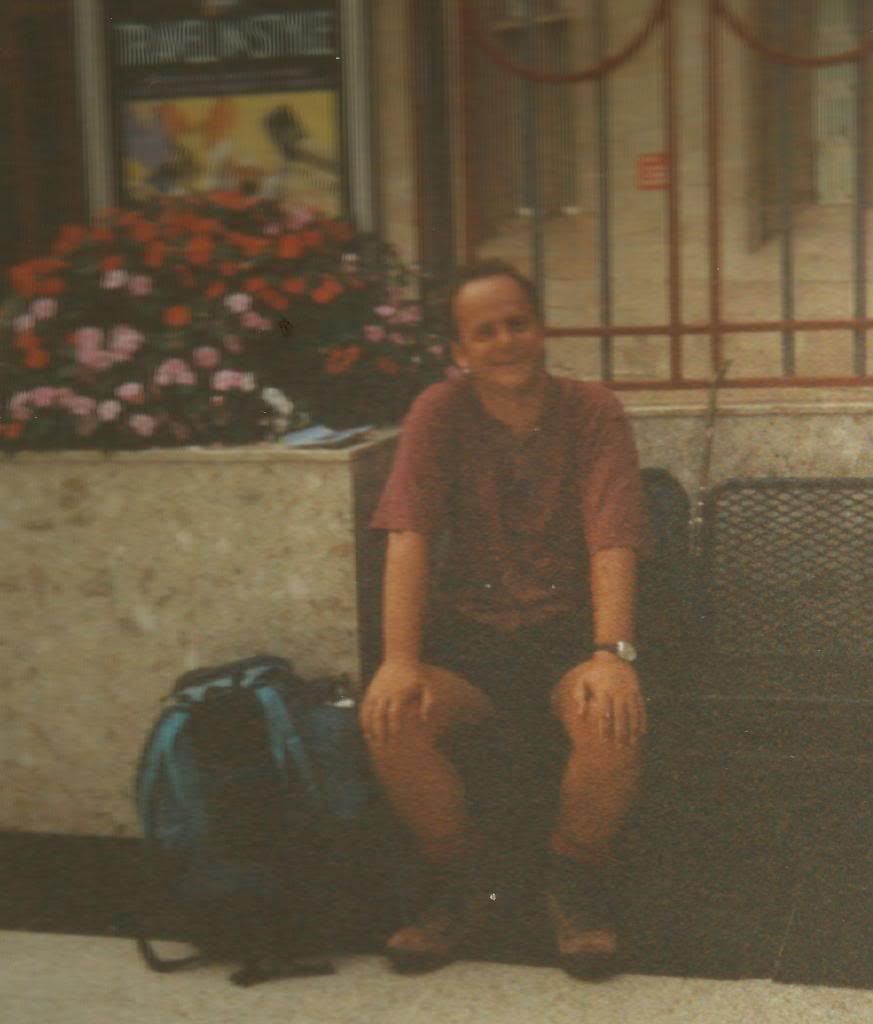 The scenery was rather uninspiring and we were glad when we reached the station, especially as in the last mile or so we had speeded up and overtook the "united nations" group on our way into Carlisle.
We caught the train down the West Coast line changing at Barrow.
We
walked from Ulverston station back to Mam and Dad's house on Birkett Drive and arrived at 8:30
Home