We decided to do this walk on completion of our Coast to Coast Walk, partly because we could carry it out from starting with a short bus ride from Ian's and also because it takes in the high level Keld to Reeth route which we bypassed because we were doing 21 miles from Muker to Richmond that day and chose the Swale riverside alternative route to Reeth. Also the route was broken into 4 manageable 13 mile stages which would make for good days walking without being too exhausting as our consecutive 21 mile days last year had been, Planning began with research of the route on www.herriotway.com and the purchase of Stuart Greigs "Walking the Herriot Way". A GPX file of the route was downloaded from the website to use on my iphone and I printed a set of maps covering the route using streetmap.co.uk. B&B's were booked for the last weekend in June at Aysgarth (Yoredale House), Hawes (Old Board Hotel) and Muker (Swale Farm). We had stayed at Swale farm on out C2C walk and found it to be excellent. Then just before Christmas I got the amazing news that my first grandchild was due to be born at the end of June so I managed to re-book the same B&B's for the end of May.Ian booked our baggage transfers with Sherpa at their agents office in Richmond.
My wife's friend from Canada arranged to visit us over this period so I managed to work in a lift to Richmond for the night before our walk whilst she and her friend visited their relatives in Hartlepool and then to pick me up again on the day after our walk was completed. At about 6:00 pm on the Thursday we drove to Yoredale House and dropped off our large bags and told the proprietor we would probably arrive around 5:00pm
Suggested route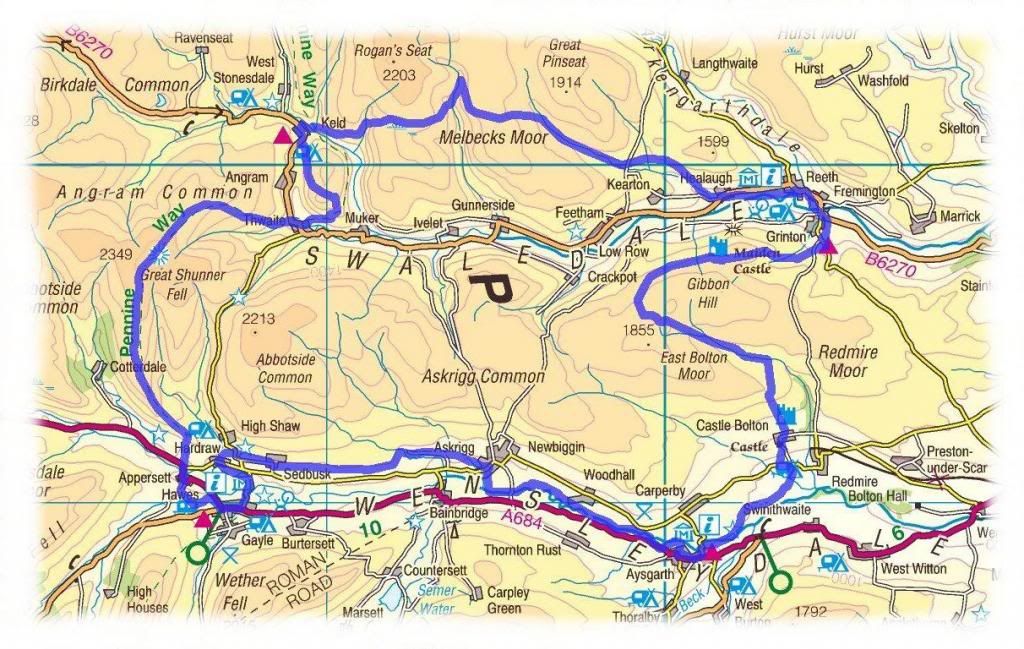 We planned to start our walk at Grinton as a bus was available for Richmond at 9:30 to allow us to start walking the 13 miles to Grinton at around 10:00am gpx file

Day 1 Friday 31st May 2013 Grinton to Aysgarth 13 miles
Ian was up early to sort the papers and attend the counter for the first 2 hours in his shop (West End Stores on C2C route) then after a breakfast of
sausage sandwiches, toast and coffee we made our way to the bus stop
for the
9:30 bus to Grinton.
This cost us £3.55 each for the 25 minute ride. We left the bus outside The Bridge Inn at Grinton and began our walk on a clear blue sunny day, which was extremely welcome after last years wet walking days.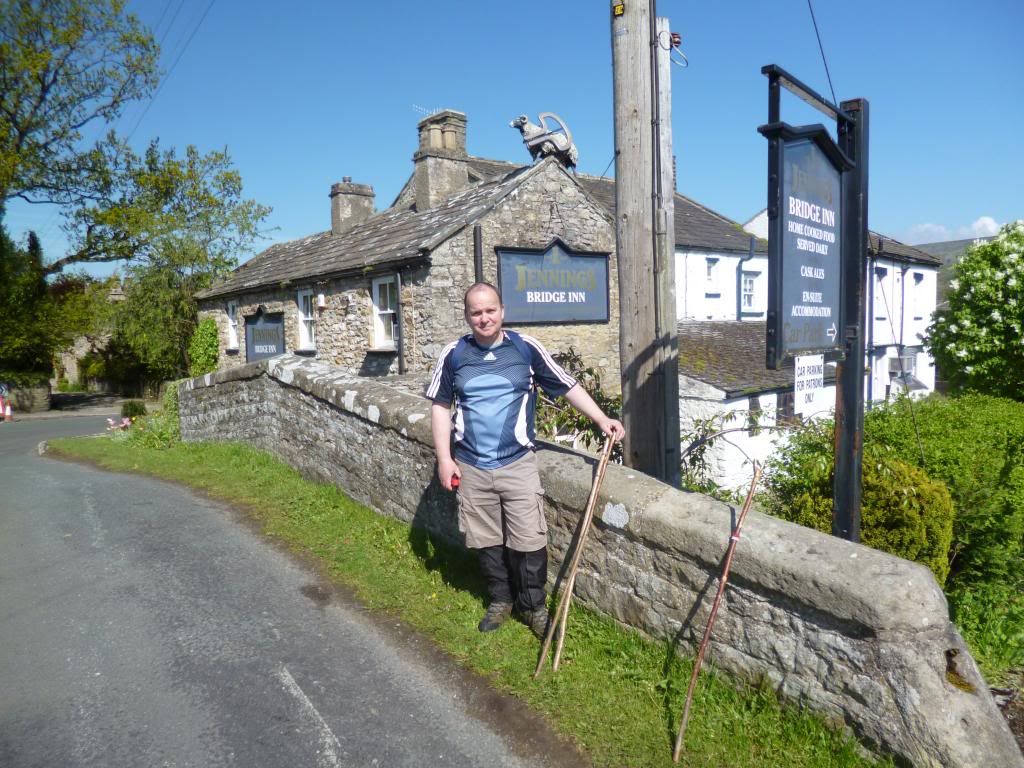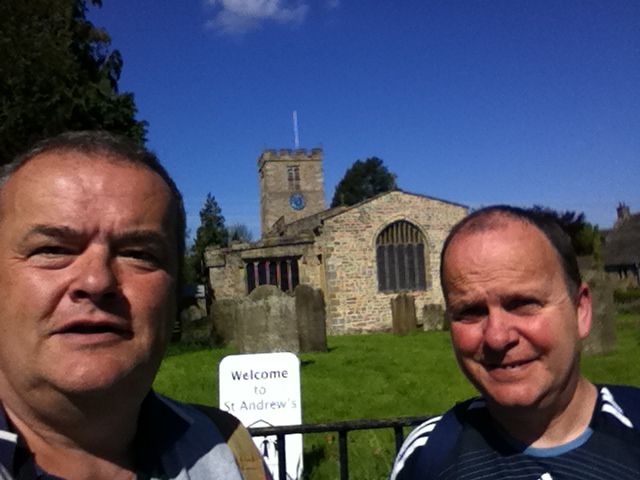 We made our way up the road towards Grinton Lodge past the church and left the road on the right after about 50m to take a pleasant tree lined footpath parallel to the road up past the last house on right. We then followed a path which took us SW to meet up with the well metalled grouse track near the base of Low Harker Hill. The village of Reeth could now be seen well below us. The climb in combination with the hot sun made us both begin to perspire profously.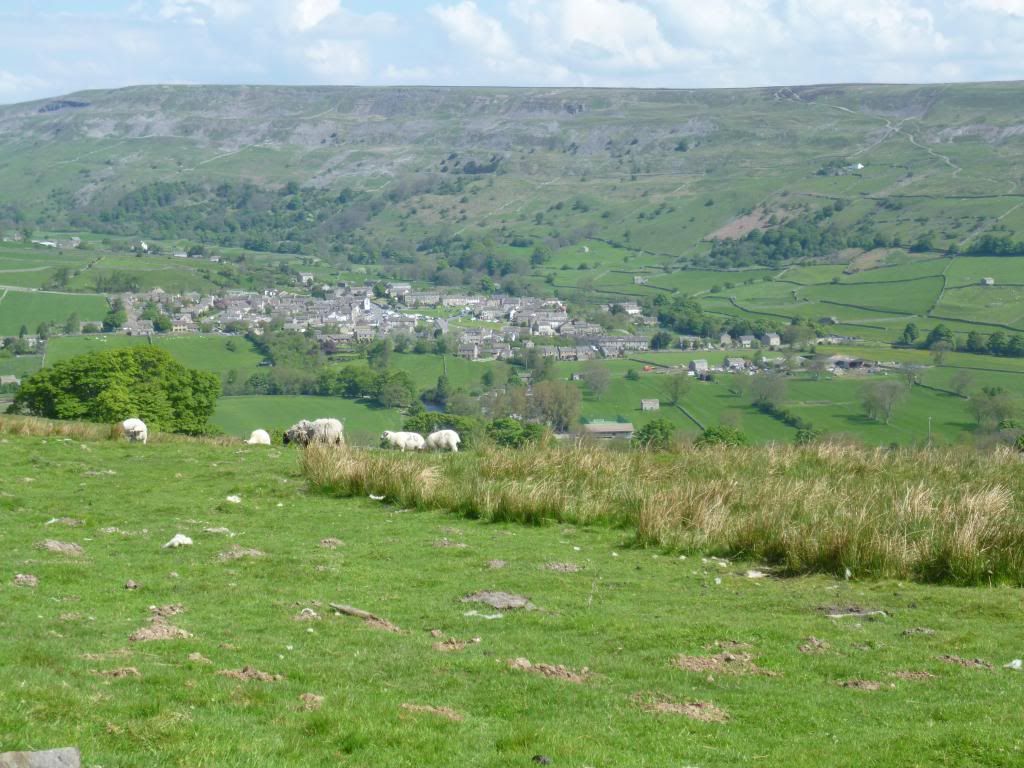 A lone walker with a large white hat and a large light brown dog could be seen ahead of us and another lone walker passed us as we began to climb the track up the hill. He said hello but just carried on walking and seemed to ignore us when I asked him was he going far, maybe he was not an English speaker. The track soon became less steep as we steadily made our way to up to the top of High Harker Hill. I paused on the track in the hot sunshine for Ian to take a picture to promote Stuart Greig's Guide book.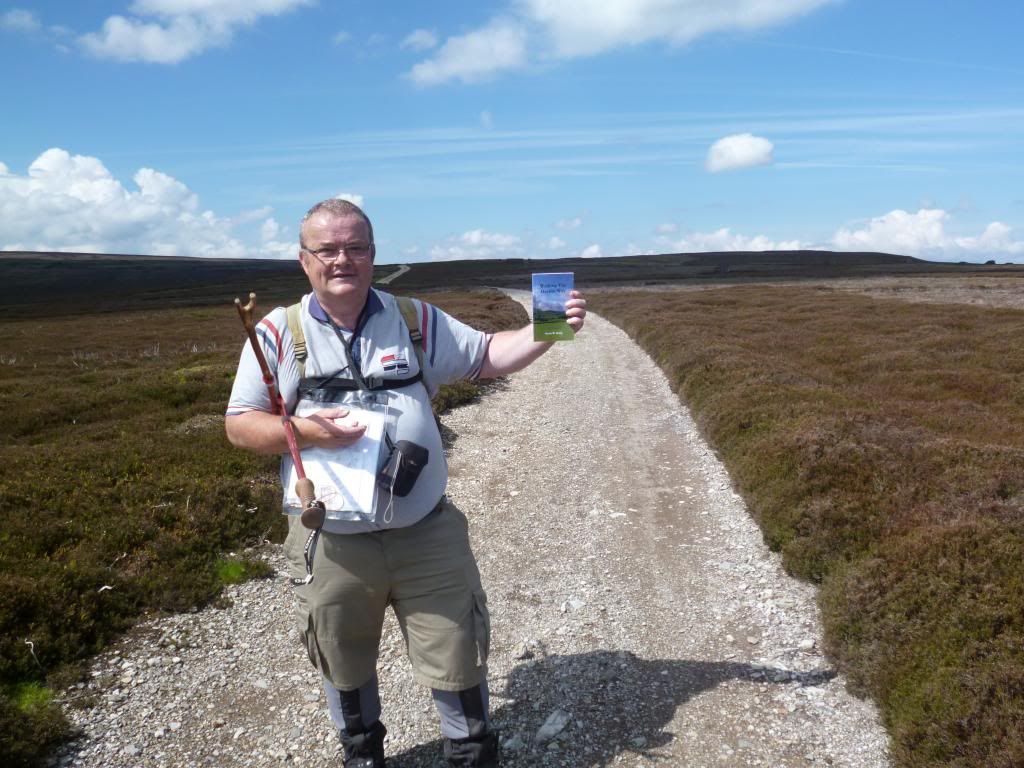 There were now splendid views both up Swaledale and Eastwards to the North Yorkshire moors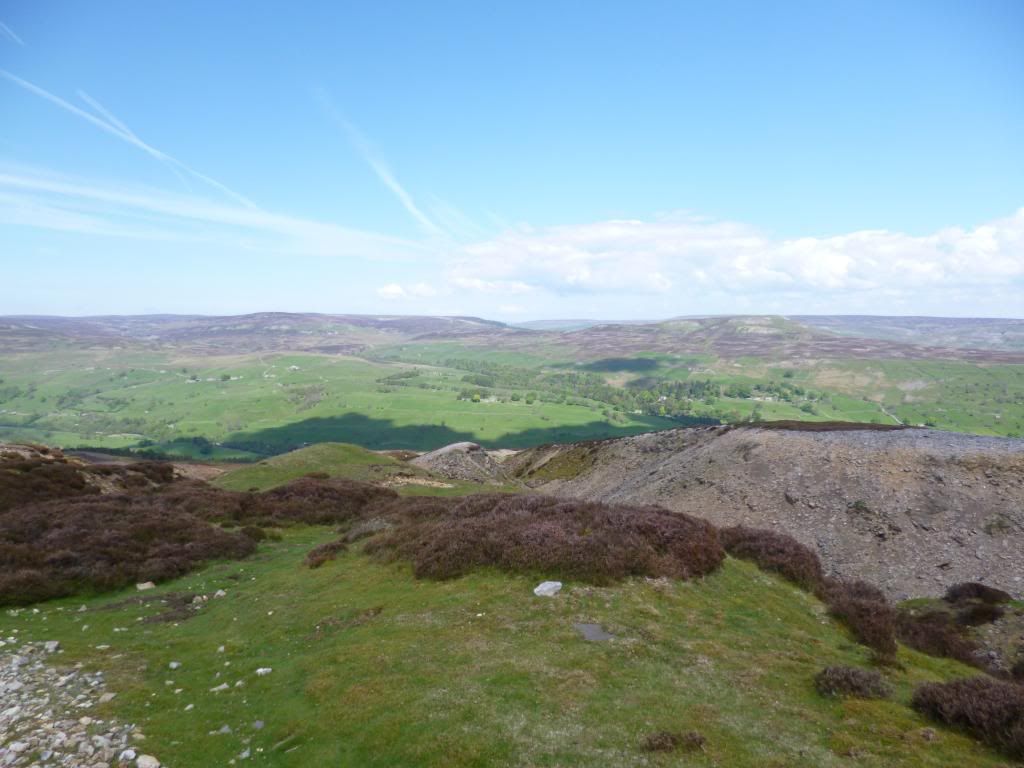 As we reached a gulley on our right just past a shooting lodge we spotted the chap with the white hat and dog taking a lunch break.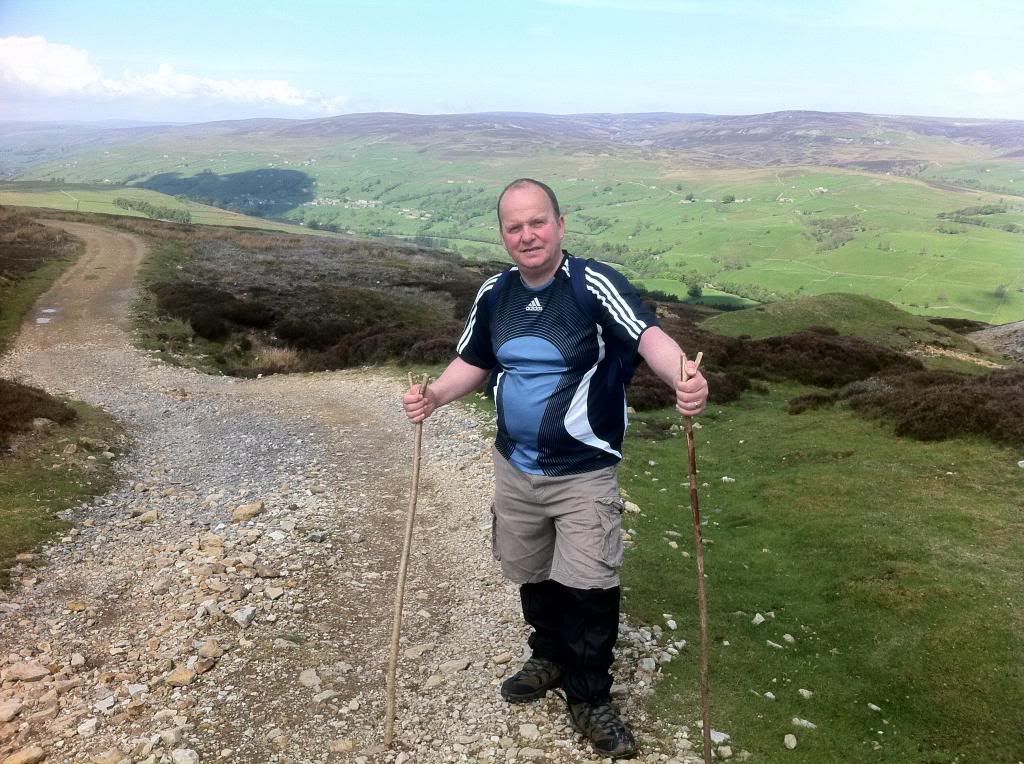 We were then surprised to have to stand aside to let a Land Rover using the track to drive past us. The track then began to turn south and then south east and we made our way to a cairn near Morley's Folly where we stopped for a lunch break at 1:00pm.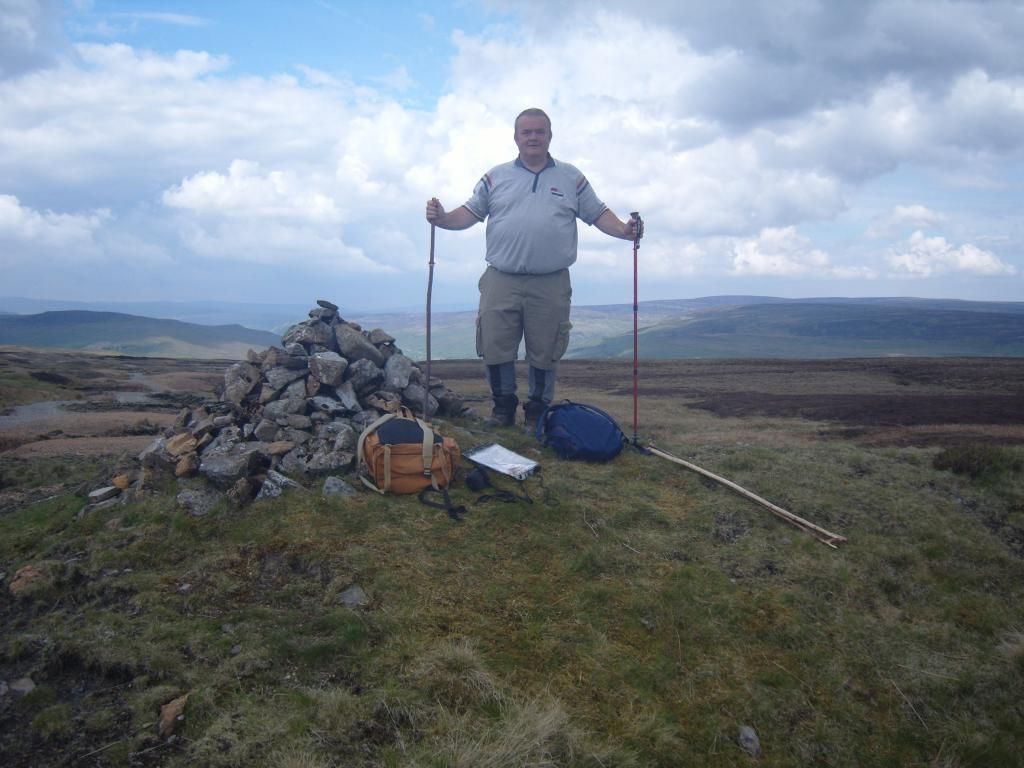 We then took the path through a stile over the fence onto Apedale Road track where we were passed by a lone elderley female walker walking the opposite way.We made our way down Smithy Gill where we were approached by several mountain bikers struggling uphill in the heat of the day.The land on either side of the track was peppered with rabbit holes and numerous live and dead rabbits were to be seen. Attempts had been made to plant numerous trees in the gill but many of them appeared to have been vandalised. I told Ian that Dent houses was not for ahead where I believed shelter and a toilet could be found. Ian treated my remark with scorn as he could not envisage a toilet in the midst of this moorland. Eventually Dent Houses came into view.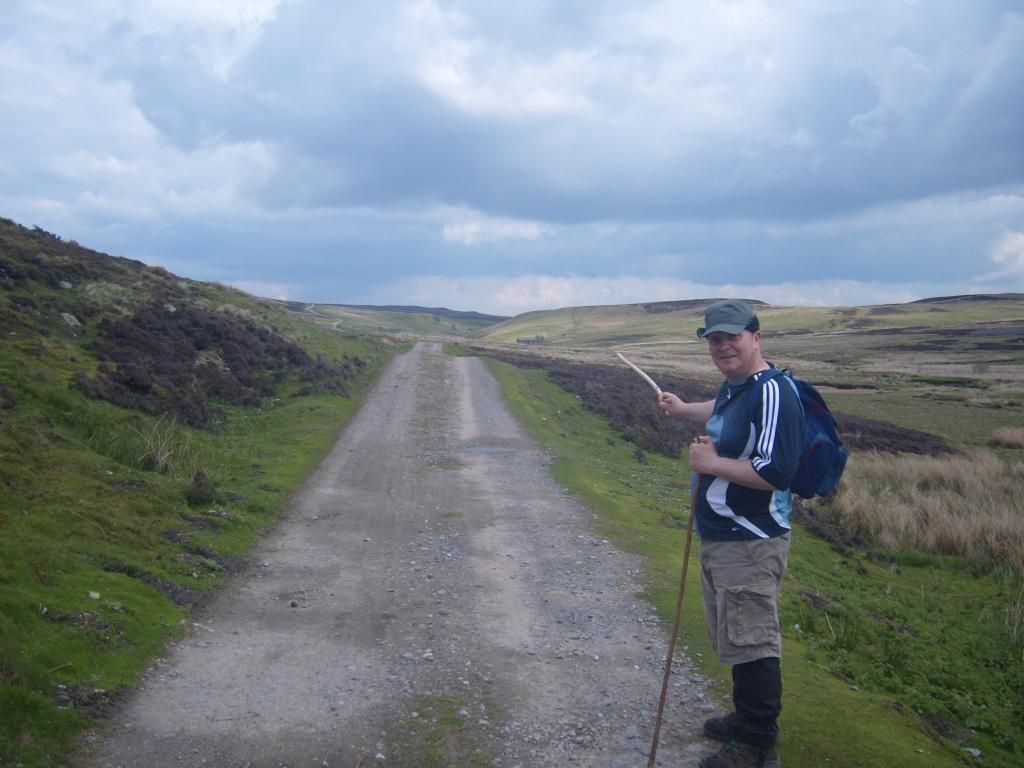 We were pleased to find the door unlocked and I then could point out the sink and toilet to Ian. The water supply being fed from a very large cistern which collected rain water from the roof. I was amazed to find a stove and a supply of wood and charcoal to aid travellers in cold wet weather. Someone had left a can of tomatoes and a packet of "microwaveable" soup. No, there was no microwave. However we decided to pause a while and and drink some of our cordial and eat some crisps and chocolate.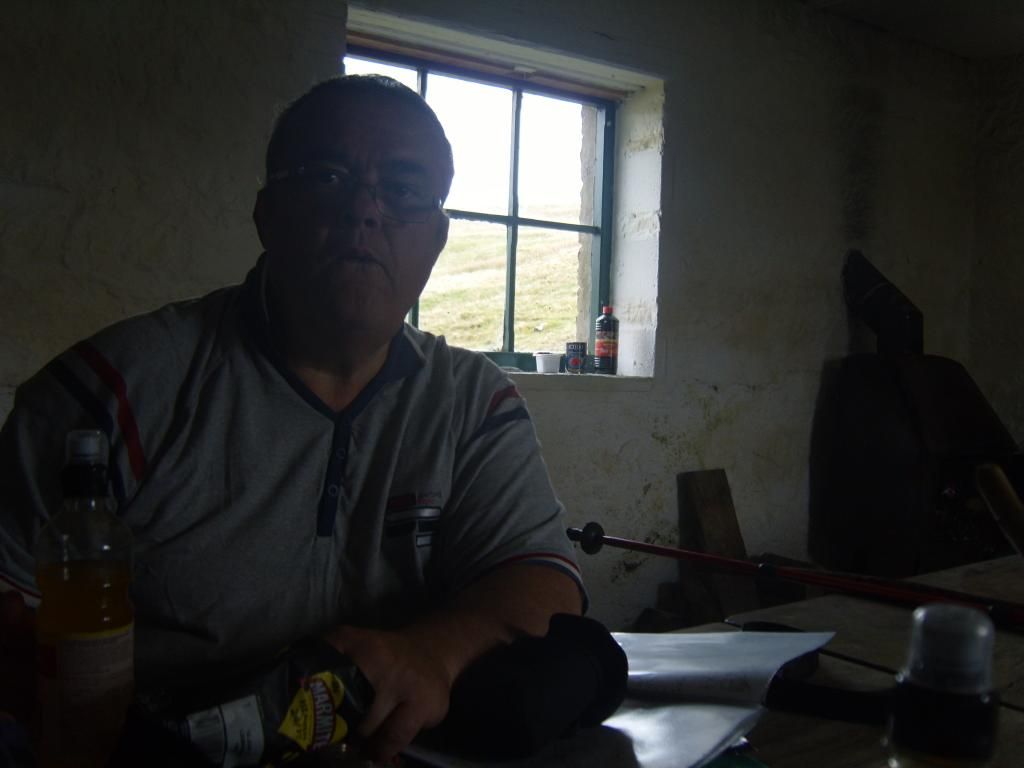 The visitors book was very interesting especially the grateful comments of the walkers who had taken shelter here in the winter months. Ian discovered a peacock butterfly trapped inside one of the windows which he photographed and then released.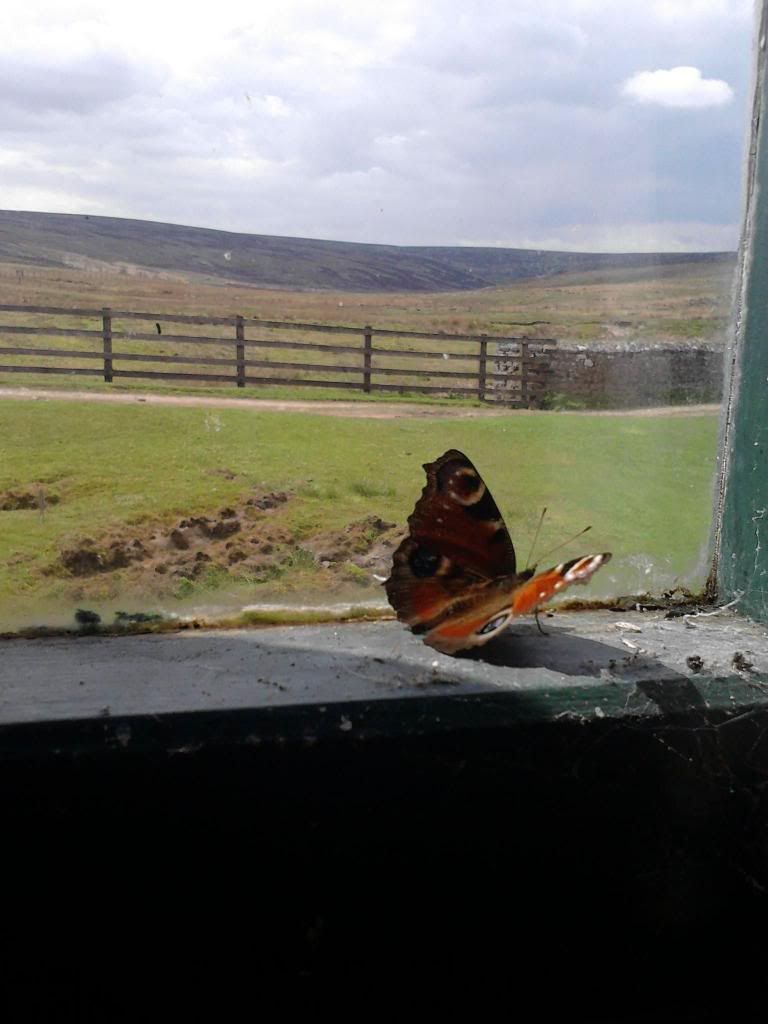 Unfortunately 2 French Partridge suddenly appeared and promptly gobbled up the groggy butterfly.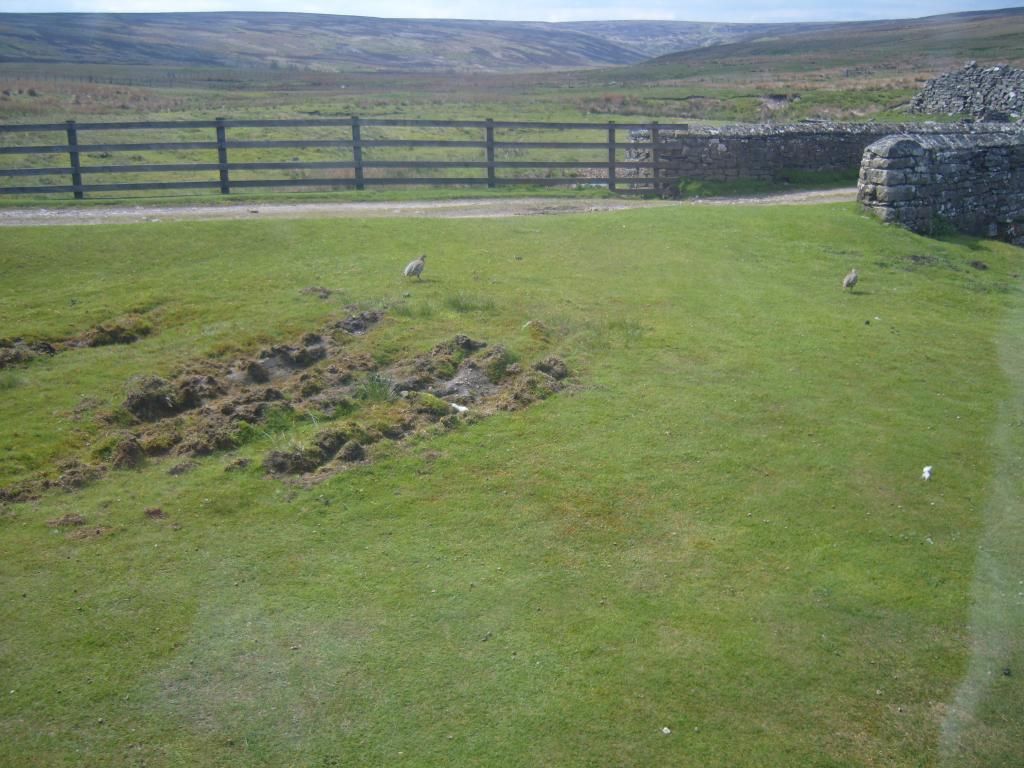 Our thirst quenched we continued over Black Hill where Castle Bolton came into view. We were met by 2 couples coming up the hill who told us we could get a beer in the Castle cafe. This spurred us on down the slope in the hot sun where we came across our first boggy section of the walk which briefly tested our boots and gaiters. Ian explained that the castle had been used to imprison Mary Queen of scots.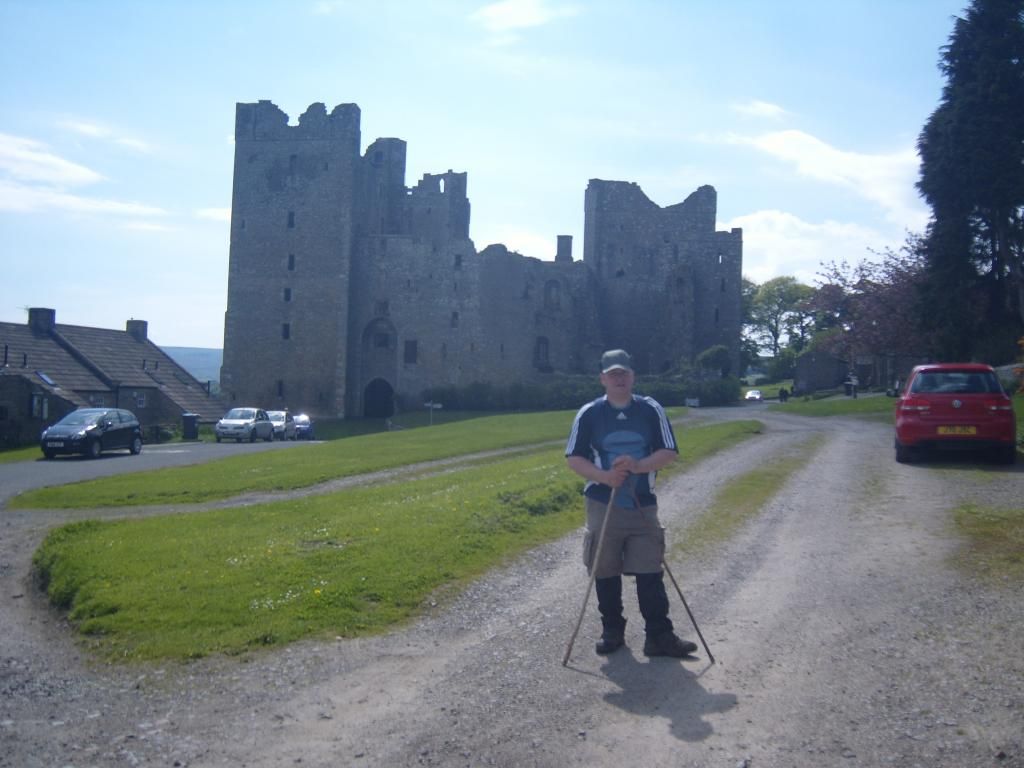 We made our way into the cafe and I bought myself a pint bottle of Wensleydale Gamekeeper and a 330ml bottle of Peroni for Ian. I nearly fell through the floor when I was asked for £6.80. However it did taste good. Thirst quenched we made our way onwards towards Low Thoresby farm where we joined a pleasant green lane called Thoresby Lane. This made way for a pleasant stroll through the fields towards St Josephs wood. It was here where we spotted an unfortunate rabbit with myxomatosis which probably accounted for the numerous dead rabbits we had seen. Aysgarth Lower Falls could now be heard and soon came into view.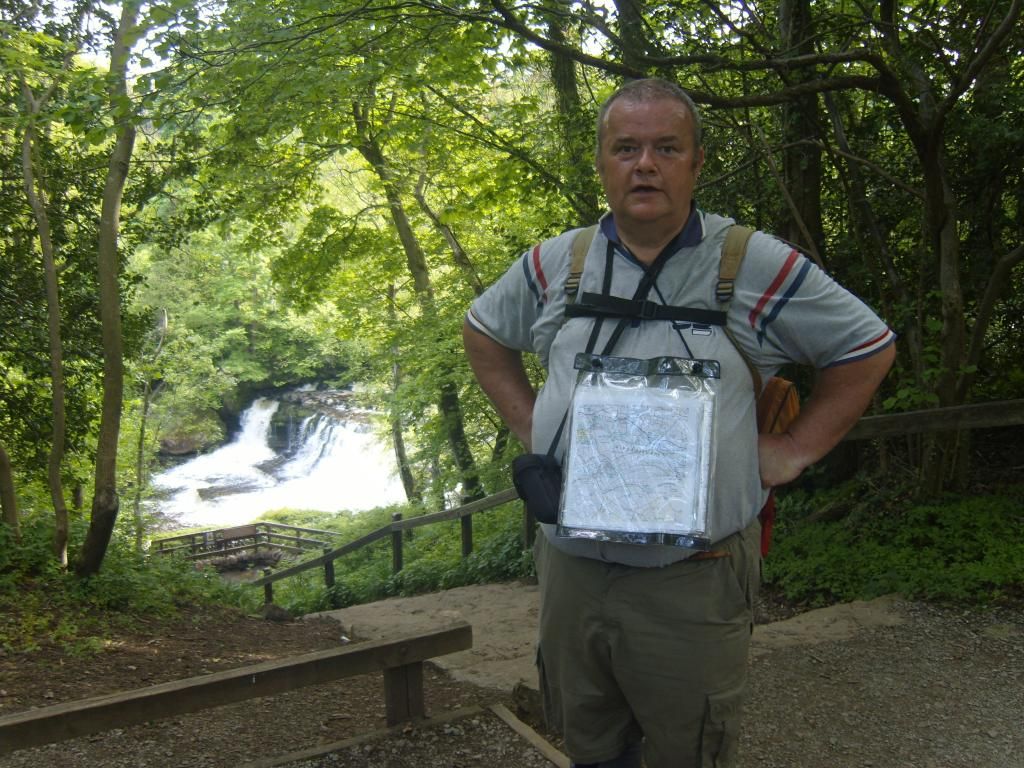 We continued our way out of the wood and across the Bridge near an old Mill where many holiday makers were taking full advantage of the warm weather paddling above the upper falls.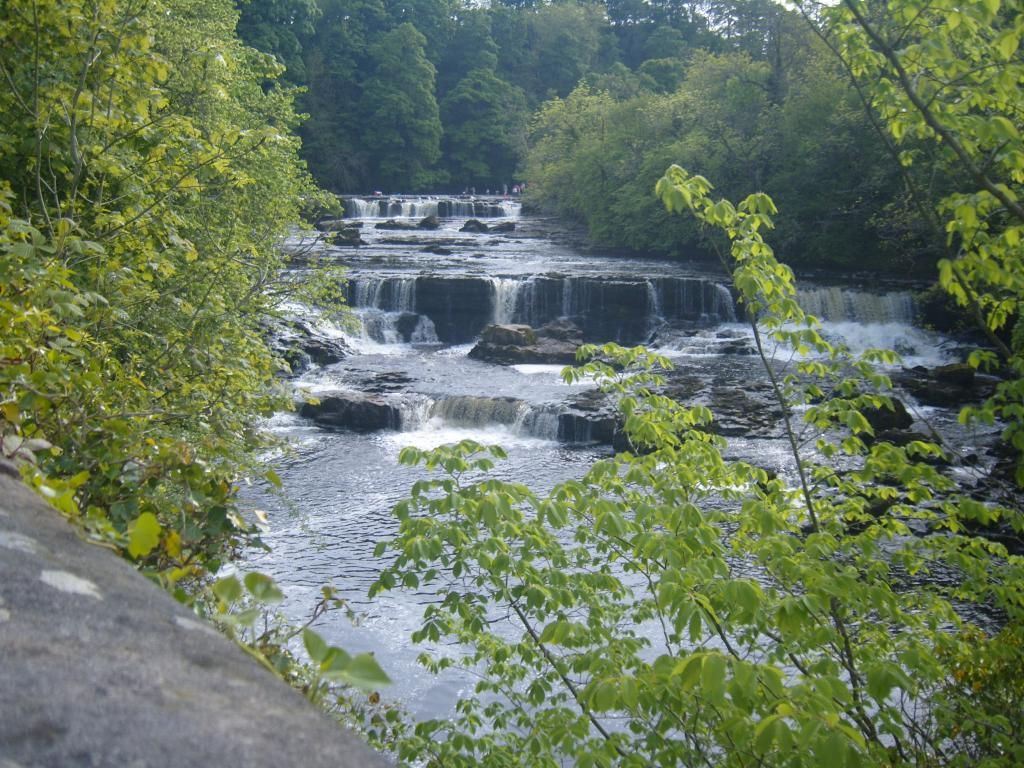 Our path then took us through a stile into a crowded campsite where many campers were taking full advantage of the improvement in the weather. I commented that the stile was a bit of a tight squeeze to which a young man behind us commented that it would be a tight squeeze when his girlfriend tried to get through. Unfortunately for him she heard him and was not amused. As we passed through another stile into the next field Ian pointed out a large bull in the next field with an entourage of cows. We waited for him to make his way into an adjacent field though and open gate before cautiously crossing his field. Aysgarth village now came into view and we arrived at 6:00pm to be welcome by our host at Yoredale House who jokingly reminded us we had estimated 5:00pm. Our twin ensuite room was excellent with a large shower cubicle in a roomy bathroom. As it was busy our host booked us a table for 7:30 in the village pub, The George and Dragon. After a shower and rest made our way across to the pub at 7:15 and ordered 2 pints of Black Sheep and studiied the menu whilst our table was being readied. We both ordered home made Tomato soup followed by Sausage with Colconnon mash and vegetables. The food was excellent if a little pricey at £15.45. A few more pints of Black Sheep and we made our way back to the B&B at 9:30 and a good nights sleep.


Day 2 Saturday 1st June Aysgarth to Hawes (13 miles)


Awake early in the warm sunshine at 6:00 and spotted a horse drawn Gypsy caravan passing our window probably heading for Appleby horsefair. Down for breakfast at 8:00 for an extensive selection of fruit, yoghurt, fruit juice and cereal followed by a full English Breafast topped off with toast and coffee.Excellent value for money. We were on the road for 8:35 and made our way down the road towards a footbridge over the River Ure where we were passed by several high speed motorcyclists. The riverside path was extremely enjoyable with many different type of ducks and geese to be seen. We also spotted sandmartins flying from nestholes in the opposite riverbank. We were amused by a set of stepping stones across a stream seemingly made by filling oil drums with concrete.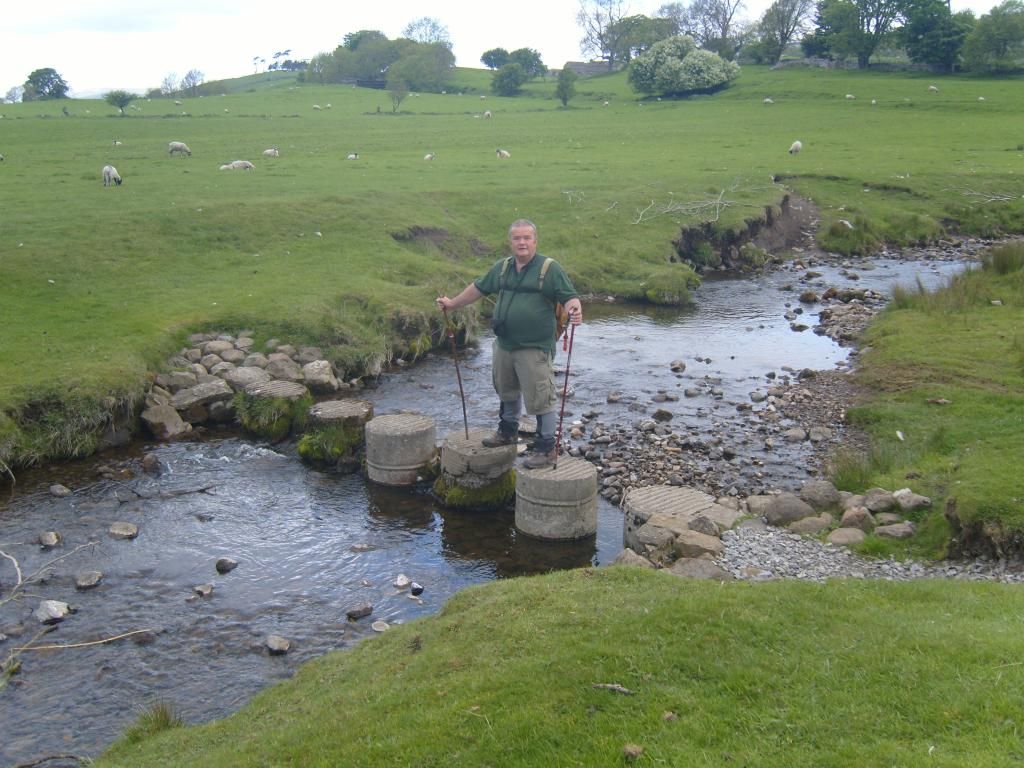 Eventually our path left the riverside and headed across a large field to join a path on the old disused railway. This field was full of cows and calves and rather worringly a very large Black Bull. Fortunately the bull was lying down enjoying the morning sunshine so we nervously made our away along the edge of the field ready to leap over the fence if necessary. When we reached the railway path we both spotted a white rabbit about 40m ahead but it hopped away before we could ready our cameras. Our path soon left the railway and made its way through the fields and via a lane near Nappa Mill to a pleasant path through more fields to Askrigg which we reached at 10:30 and stopped for a drink and packet of crisps by the old village pump outside Skeldale house which was used as Tristans front door in "All creatures great and small".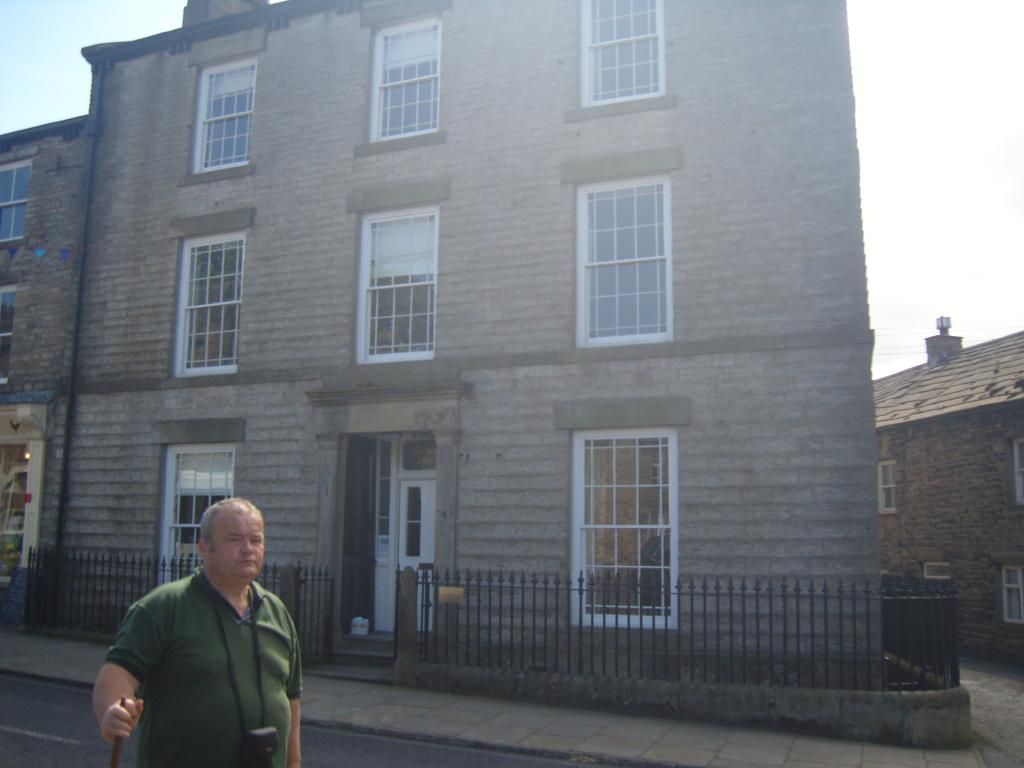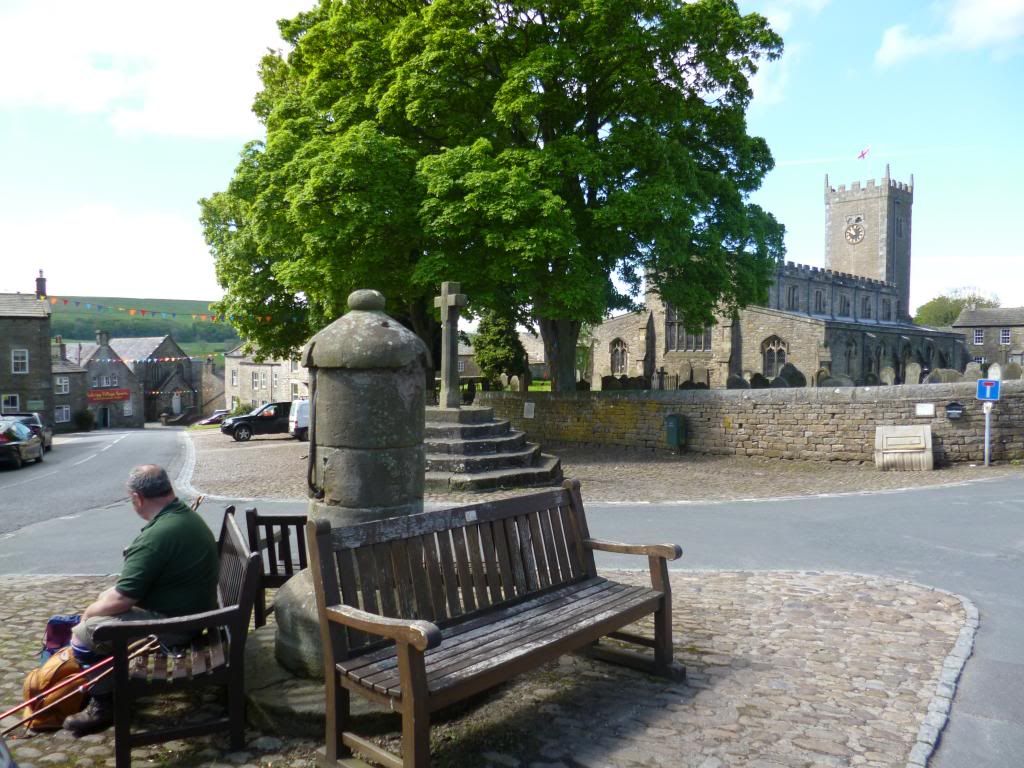 Thirsts quenched we made our way out of the village towards Mill Gill Force. We were both amused by the garden decoration of a house on the way out of the village dedicated to a molecatching championship.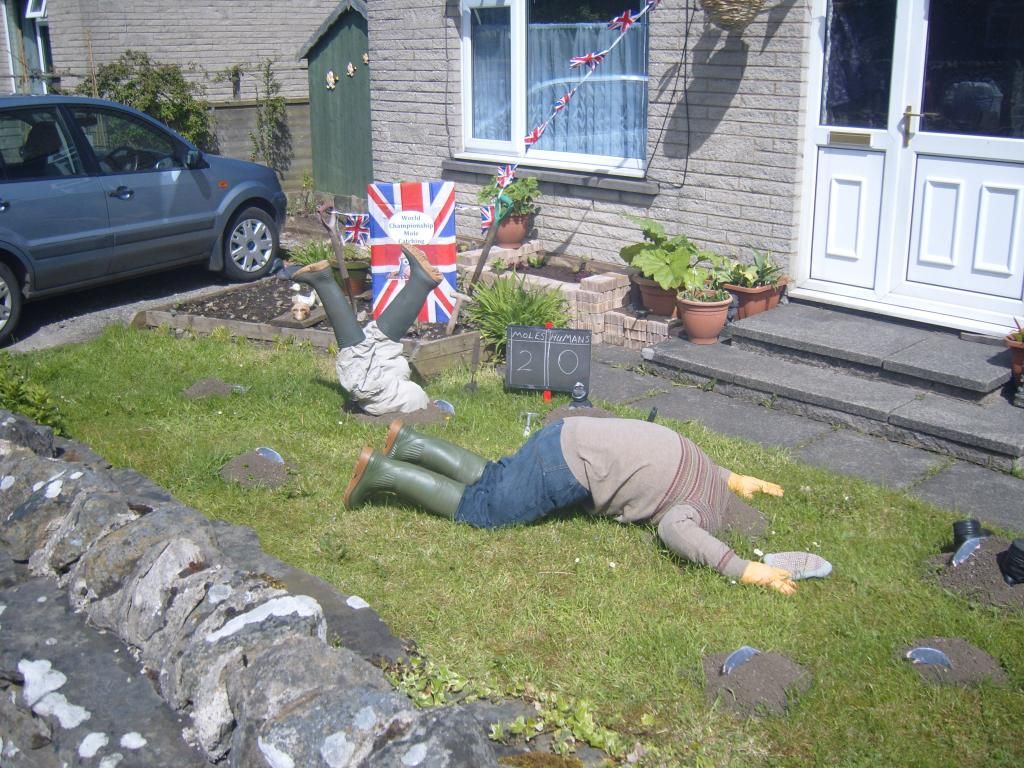 As we left the lane at the end of the village we joined a beautiful flagged meadow path.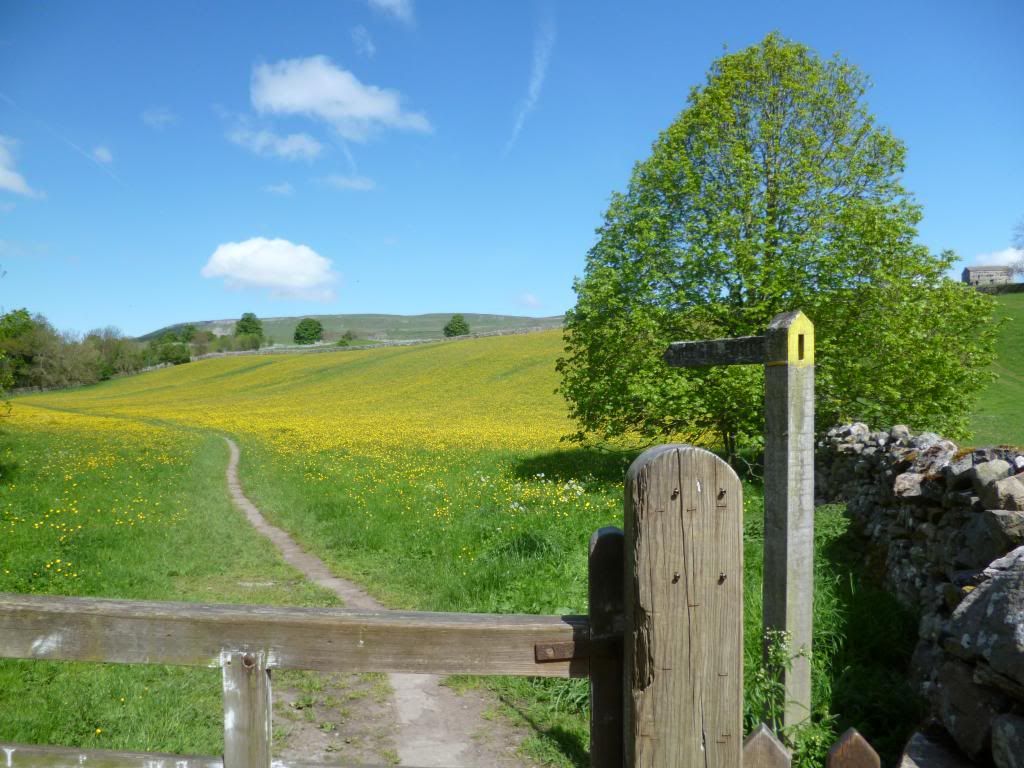 Our path the began to climb up towards Mill Gill force along the pleasant wooded gill. I walked down to investigate a limekiln near the path down to the force.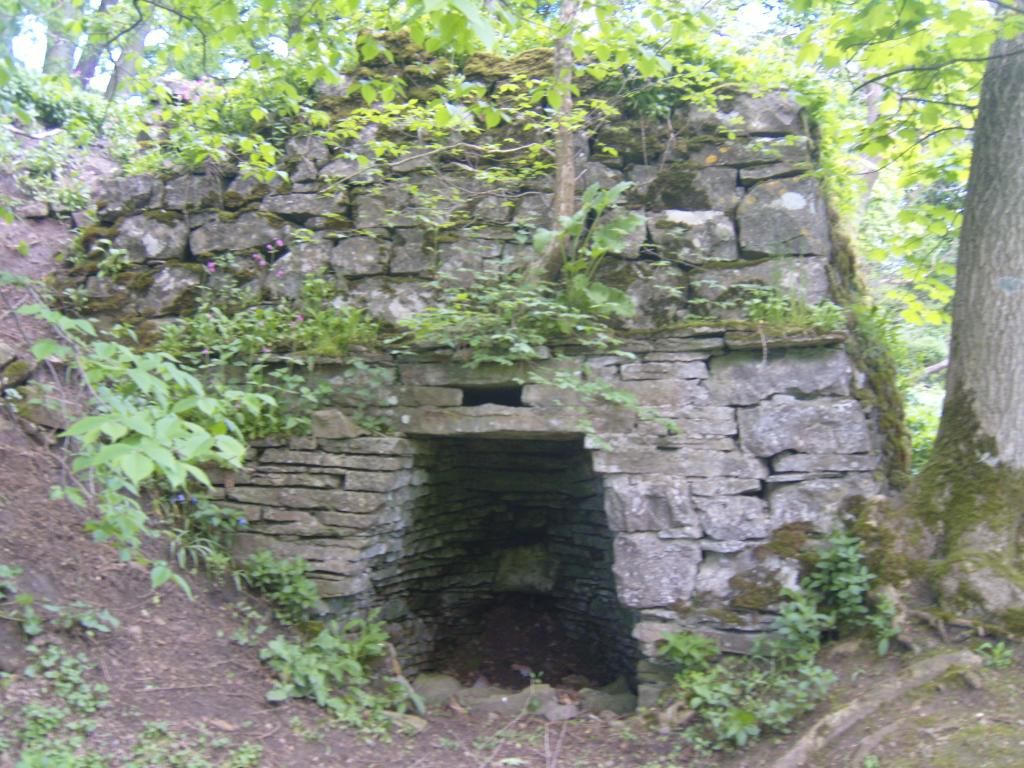 I then scrambled back up to the path through a bank of bluebells.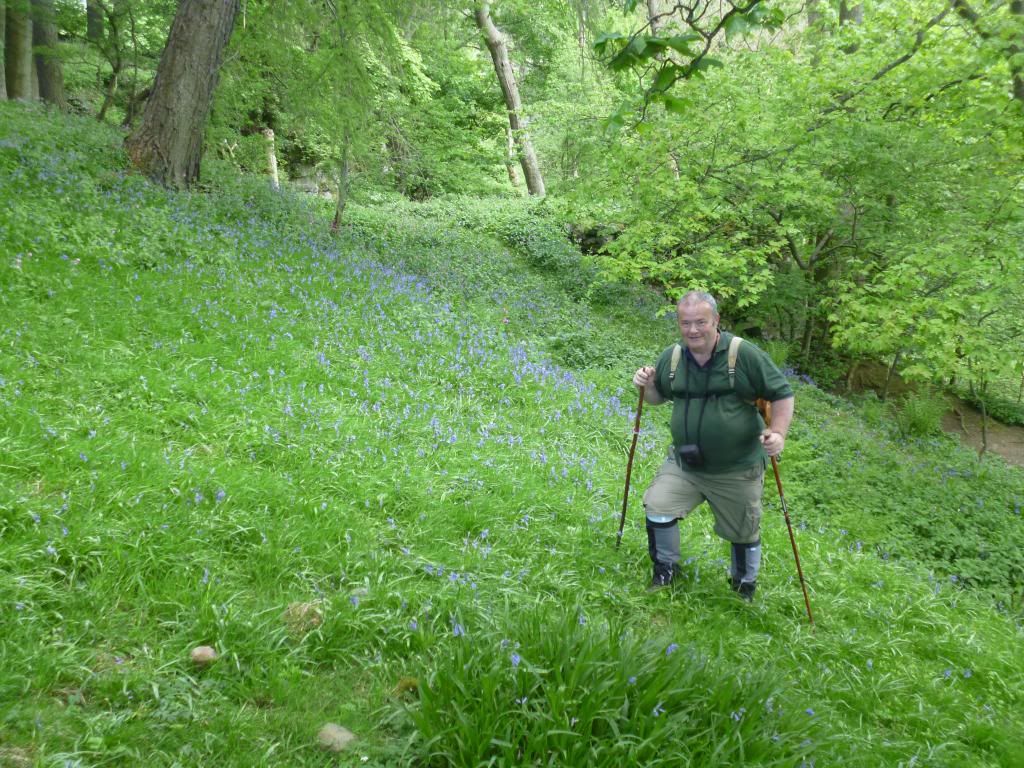 Our path then left the gill and headed off across the fileds towards Skellgill lane. It was here we got our first glimpse of Pen-y-Ghent on the horizon.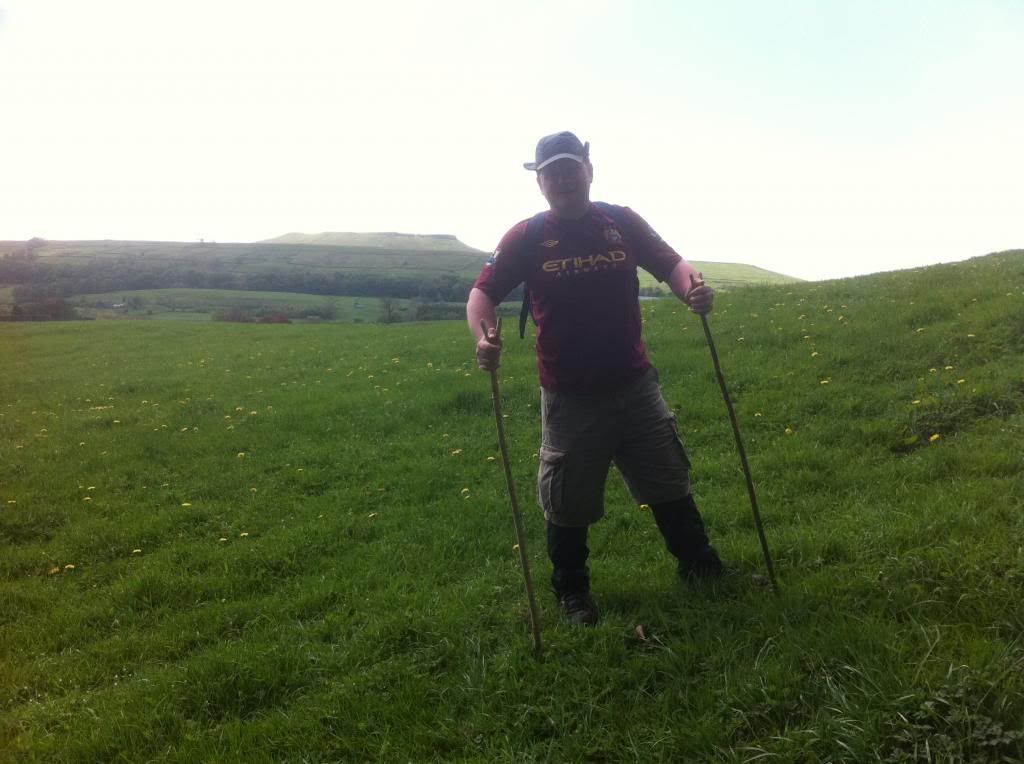 We observed a group of well supervised special need students enjoying themselves in an adventure playground of swings and zip wires. We had to make way for a small herd of young cows being led down the lane from the farm. Our path then re-entered the fields and we continued on towards Litherskew. Eventually we got our first view of Hawes in the distance.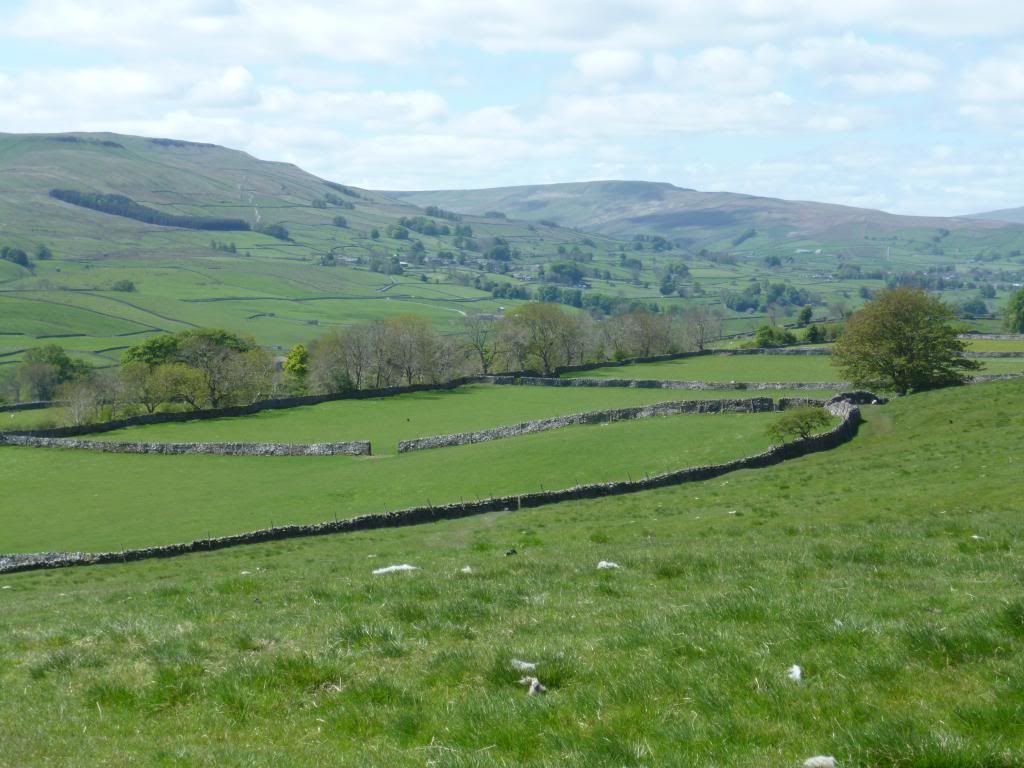 As we continued through Litherskew I was amused to see a sign confirming that the footpath through a now walled up stile was no longer in use.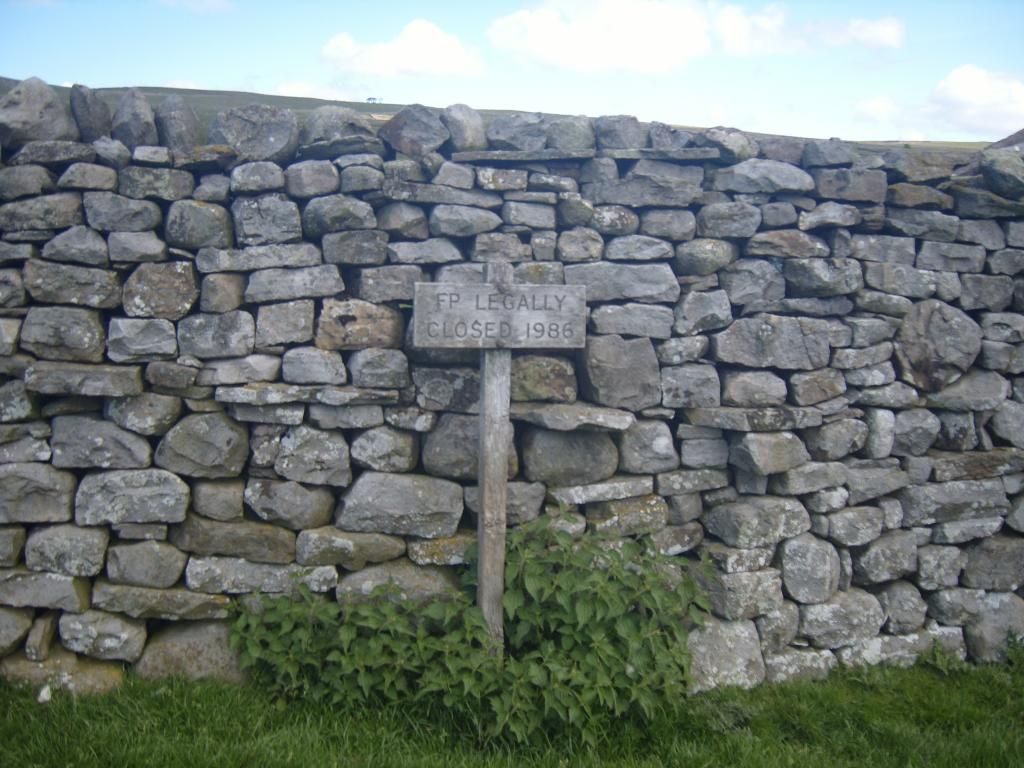 As it was now approaching 12:30 we decided to stop for lunch by the end of a derelict stone wall from which we fashioned a couple of seats.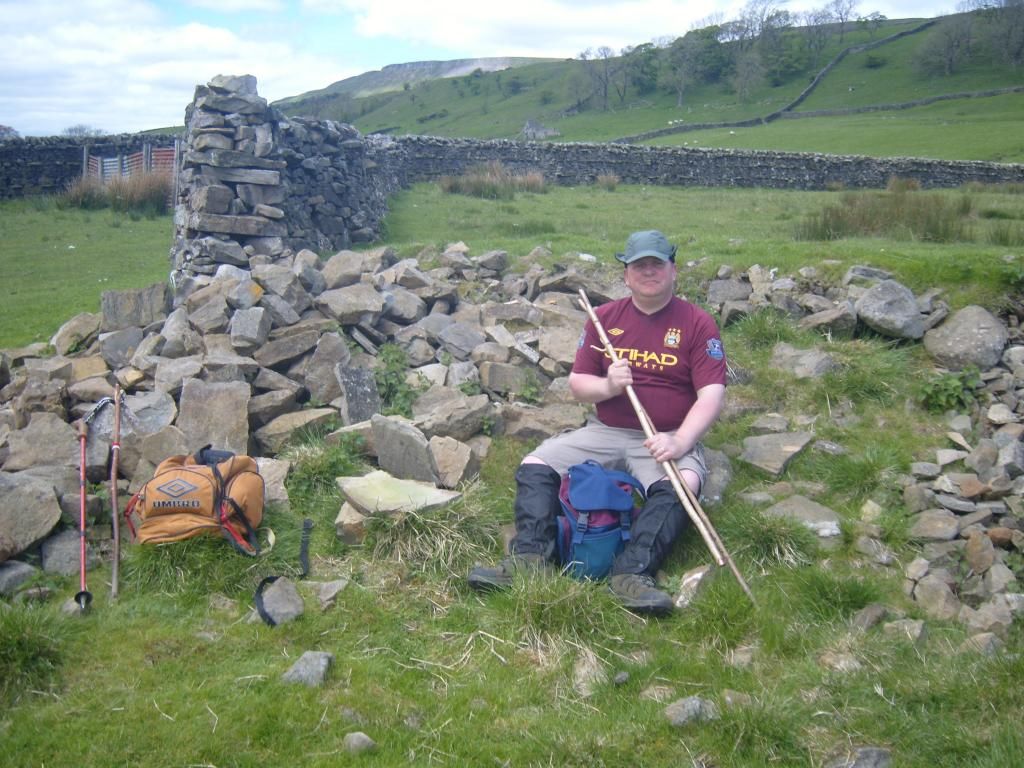 We were soon surrounded by a flock of sheep that presumably thought we were going to feed them. They were unlucky! We carried on through many narrow stiles to the small hamlet of Sedbusk. The last stile was even narrower than the rest. I am convinced these Yorkshire farmers must be anorexic.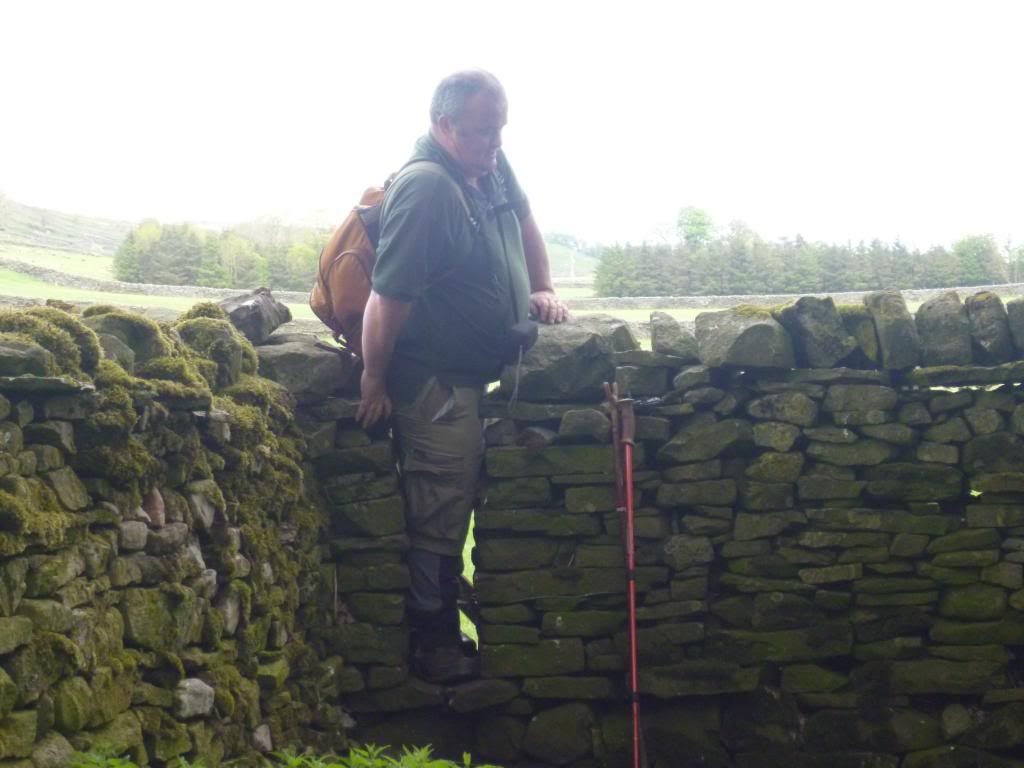 On leaving Sedbusk we decided to take the quiet lane and avoid the field path through many more narrow stiles. We met a group of walkers coming the opposite way up the lane who also agreed they had taken the lane to avoid the narrow dales stiles. We soon reached the Green Dragon at Hardshaw where a pint of Taylors Landlord was enjoyed in the bar in front of a log fire which normally would have been a welcome sight but was a little superflous in this unusual British heatwave. Thirst quenched we paid our £2 each to visit Hardraw Force and made our way up to the fall observing several brown trout in the stream below the fall. I did my Robin Hood Prince of Thieves impression and we headed off for Hawes.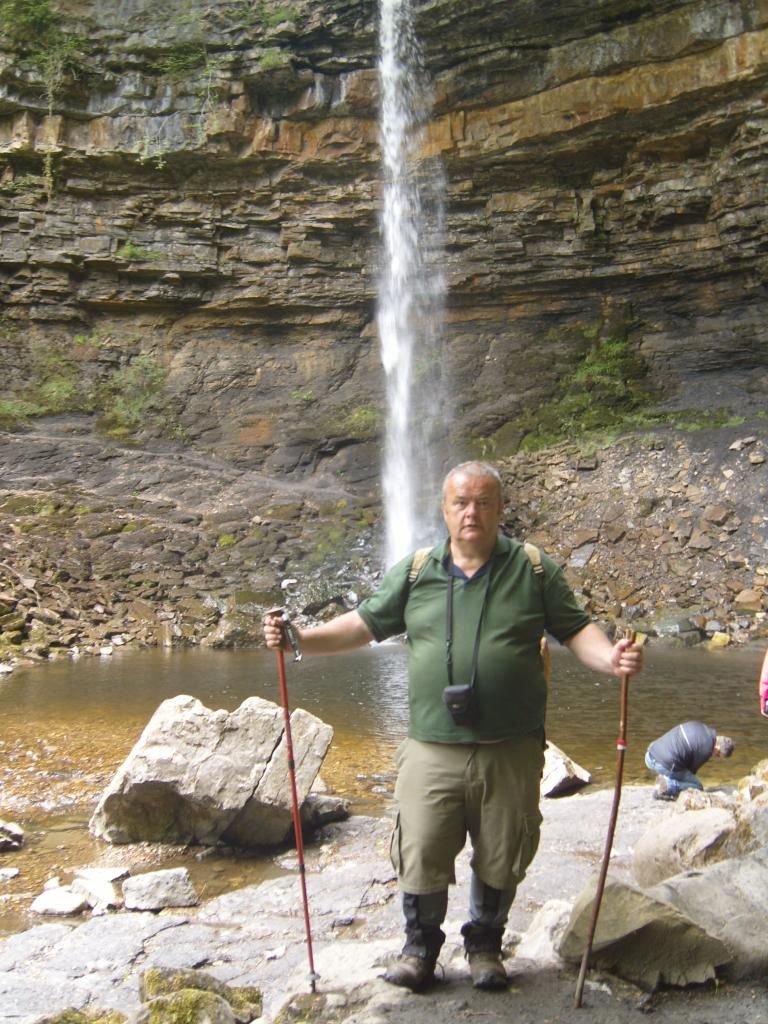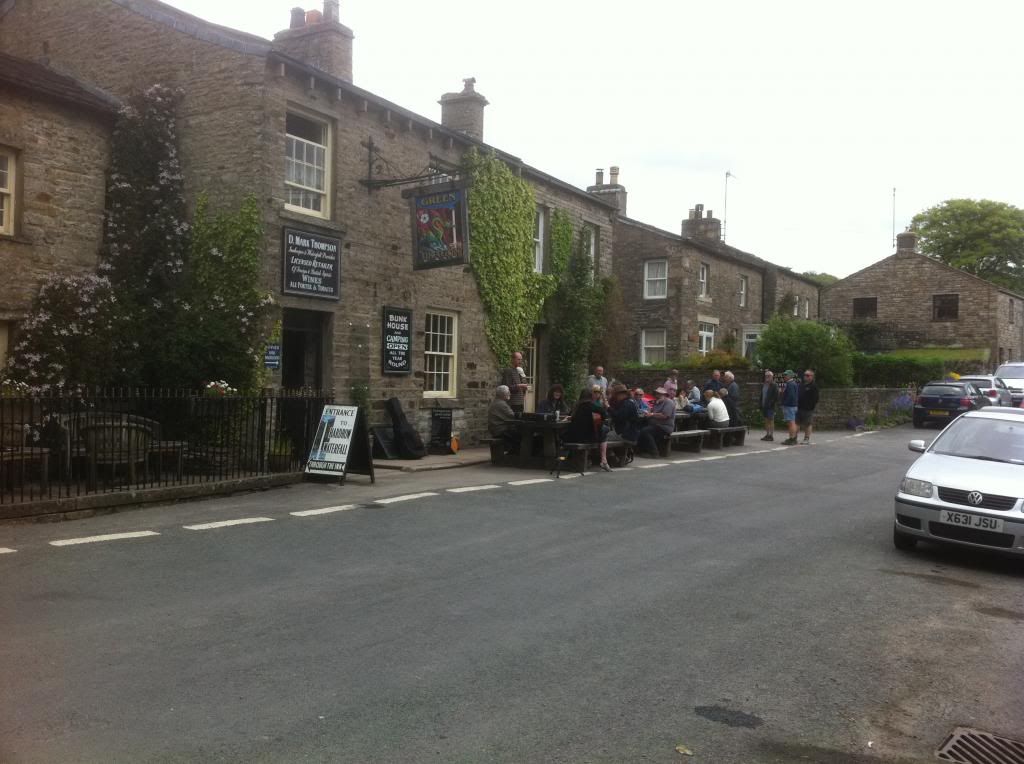 As we left the Green Dragon we were serenaded by a group of folk musicians playing outside the pub. Our path continued along the riverside to the bridge over the Ure leading into Hawes.
On reaching the village we treated ourselves to a cone of fantastic homemade icecream. I nearly had a disaster when the end broke off my cone and had to perform some extreme juggling to prevent my ice hitting the floor. Eventually with icecreams consumed and fingers licked clean we presented ourselves at the Old Board Hotel and were shown to our rooms where Sherpa had delivered our bags to the landing outside our room. The room was good with nice soft wide single beds. I put my iphone on charge and we both showered and rested for a while before heading to the Fish and Chip restaurant opposite the pub where we were extremley satisfied with the Wainwrightesk fare of Cod, Chips and Mushy Peas, Tea and bread and butter for a very reasonable price of £8.15. We decided to avail ourselves of 3 other pubs in the village before heading back to our hotel to conclude our evenings refreshments. Unfortunately for us the pub appeared to be the young locals haunt and the jukebox was on full volume. We attempted to retire to bed at 10:00pm but after about 15mins lying on top of the bed picking out the tunes from below we decided if you can't beat them join them and returned to the bar for a few more pints to anaesthetise us. We eventually retired at 11:30 and fell soundly asleep.
Day 3 Sunday 2nd June Hawes to Muker (13 miles)
Unfortunately our liquid consumption required a toilet visit at 5:00am and although I can usually sleep on a closeline I found it impossible to return to sleep because of the drone of an extractor fan somewhere in an adjacent room. Ian snored away in the next bed unaware of my frustration. To add to my frustration, I discovered my iphone charger had stopped working and I only had 20% charge. I decided to leave it switched off today and save any charge for the last day
to use my
memory map GPS where there was more chance of getting lost. We eventually went down for breakfast at 8:00 and enjoyed cereal, fruit juice, full english, toast and coffee. We were on the road for 8:40 and headed off out of the village towards Appersett our path soon left the busy road on a track on the left an across several fields towards an old disused railway bridge over the river and lane to Appersett.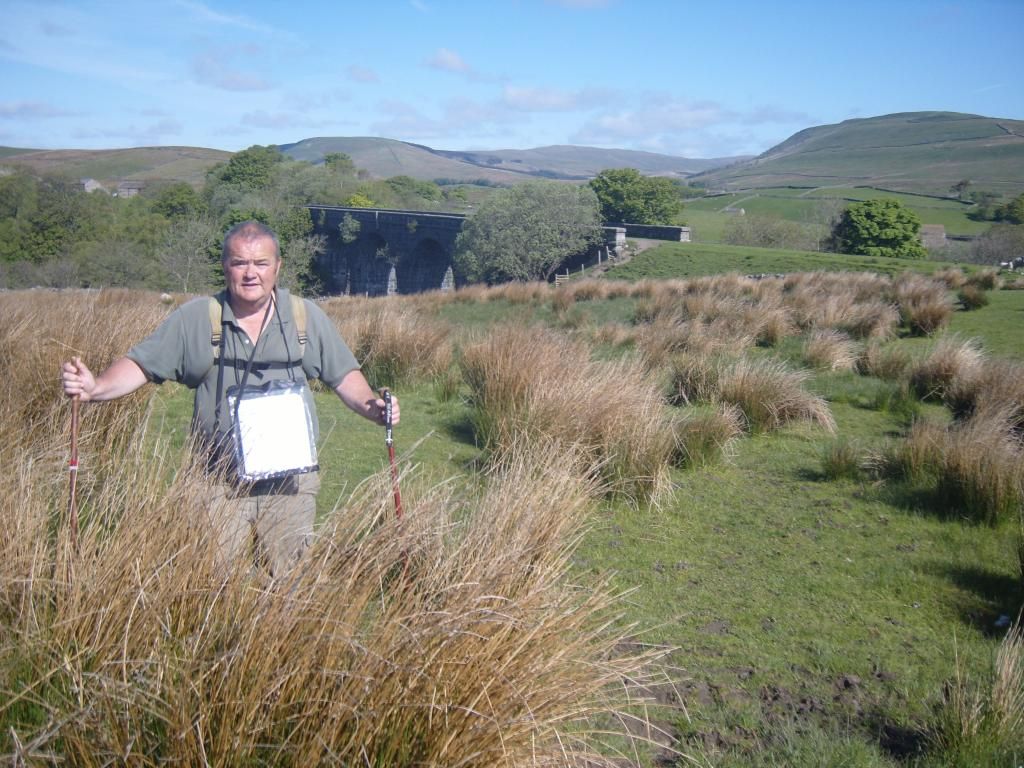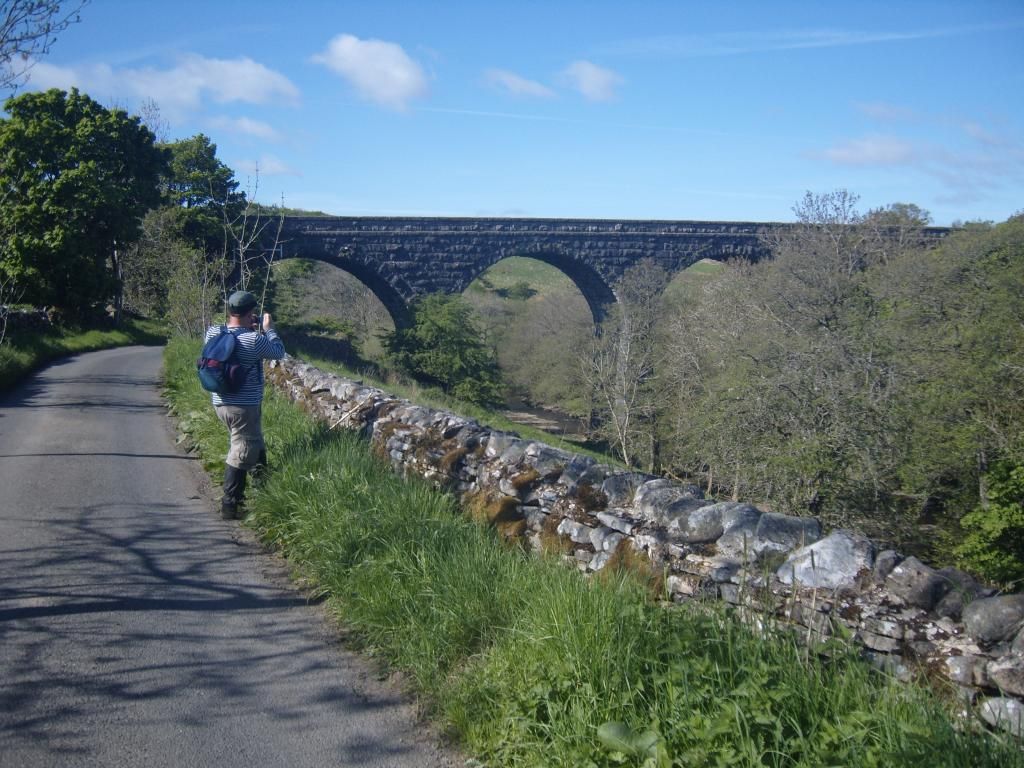 We headed past Appersett where several travellers caravans with horses grazing were parked just off the road. After a short busy road section we head off throught fields and up toward the Pennine Way route towards Great Shunner. This was our first climb of the day.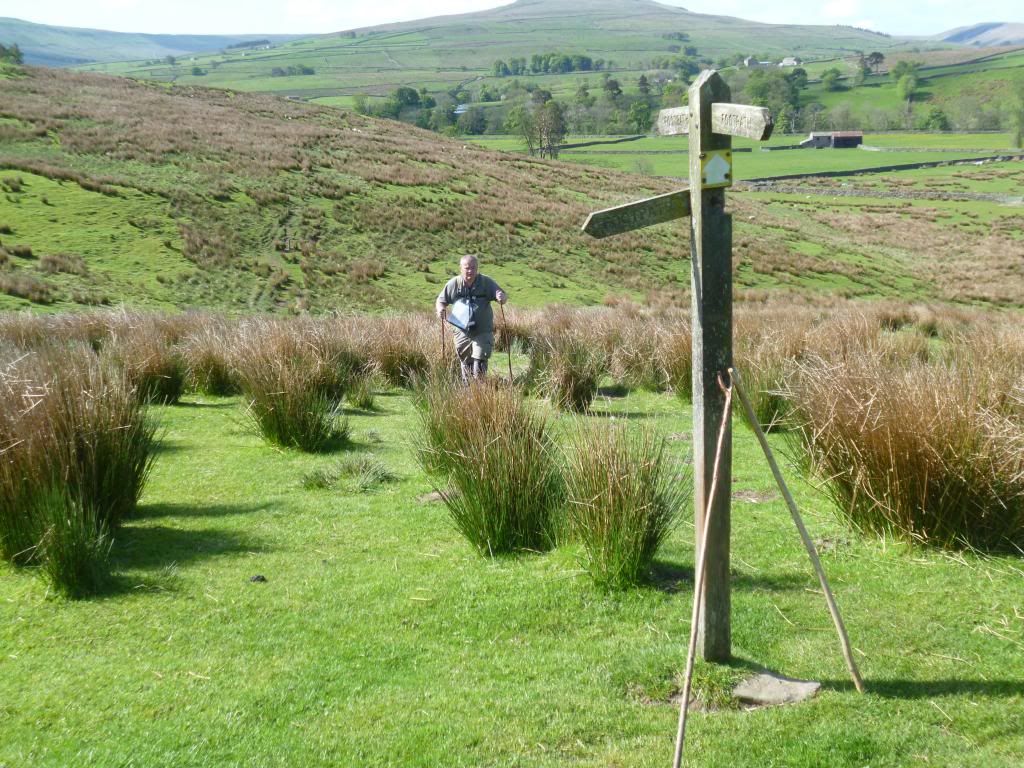 Eventually we reached the Pennine Way route and began our steady slog upwards. As we continued upwards Whernside came into view in the distance off to our left.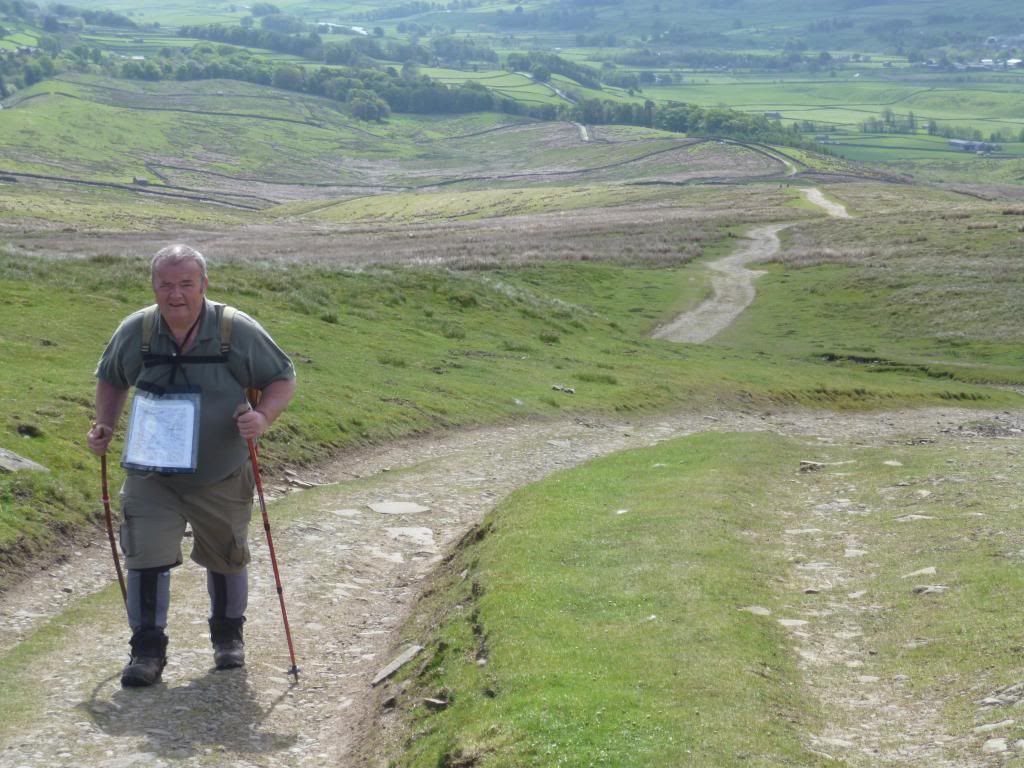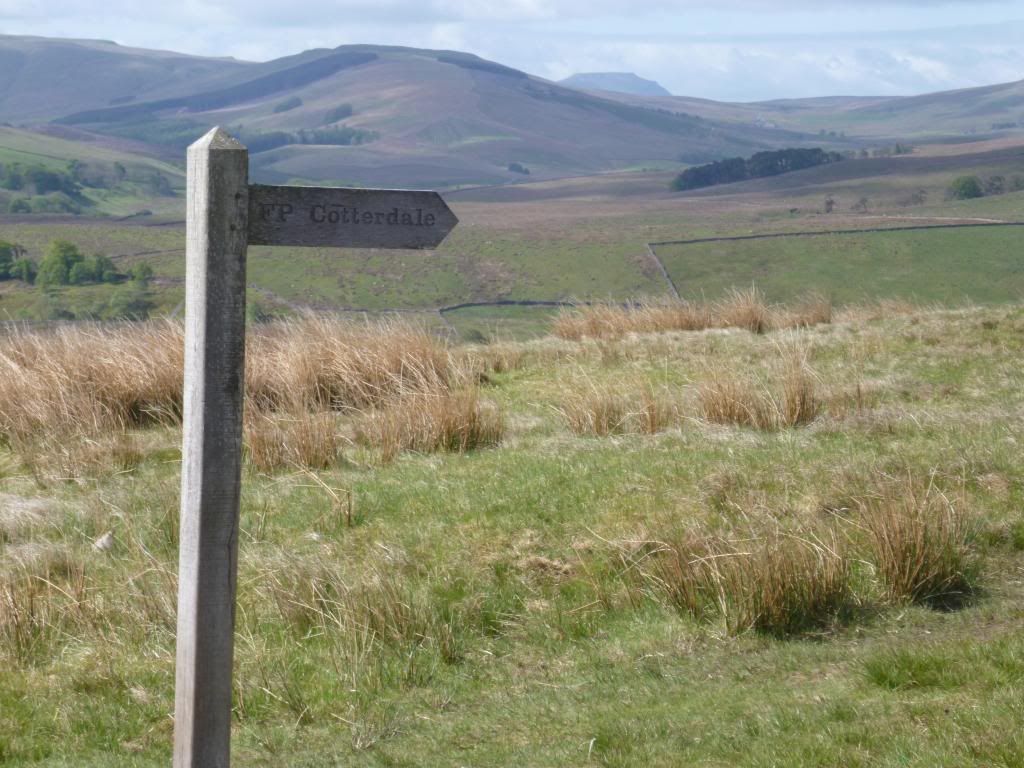 We decided to stop for a drink and banana on a pile of stones near Hearne Top and were passed by a man and woman heading up the path. Thirsts quenched we continued upwards and were again passed by 2 couples of men and women who strode out ahead of us. One last look back to see Hawes nestling in the dale below.We soon reached some pallets of stone slabs ready for path repair on Black Hill Moss. The shelter at the summit of Great Shunner was now just visble as a dot on the horizon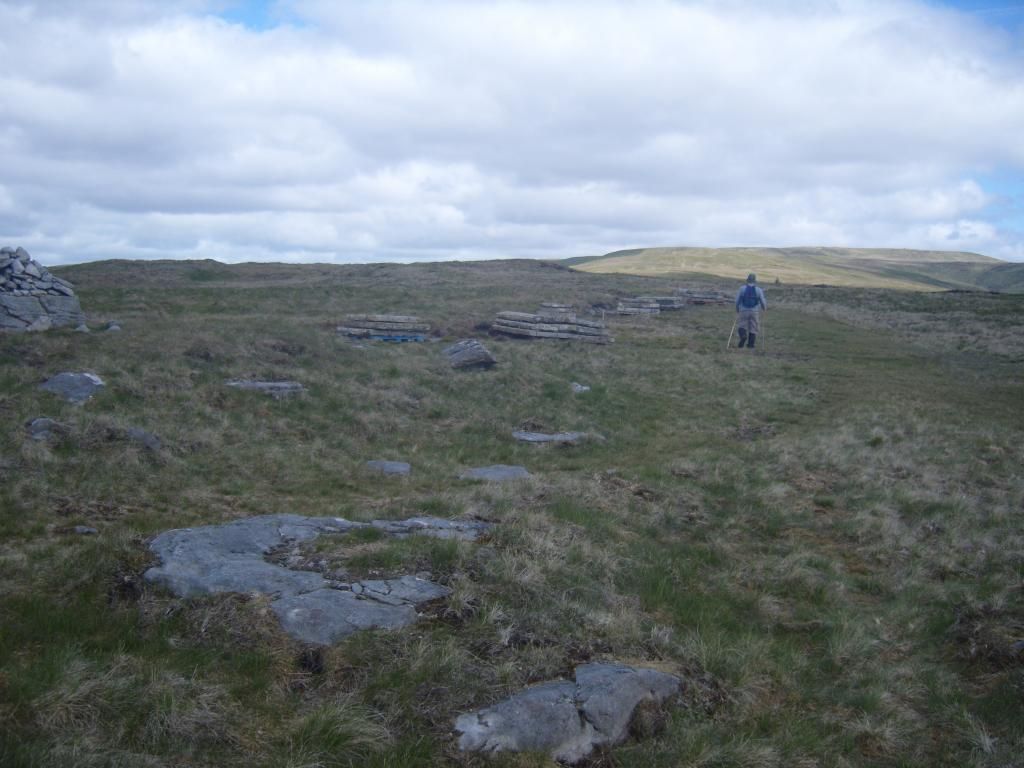 Our path soon changed into a pleasant paved moorland trek with evidence of the mire at times on either side. I dread to think what this route was like before it was paved.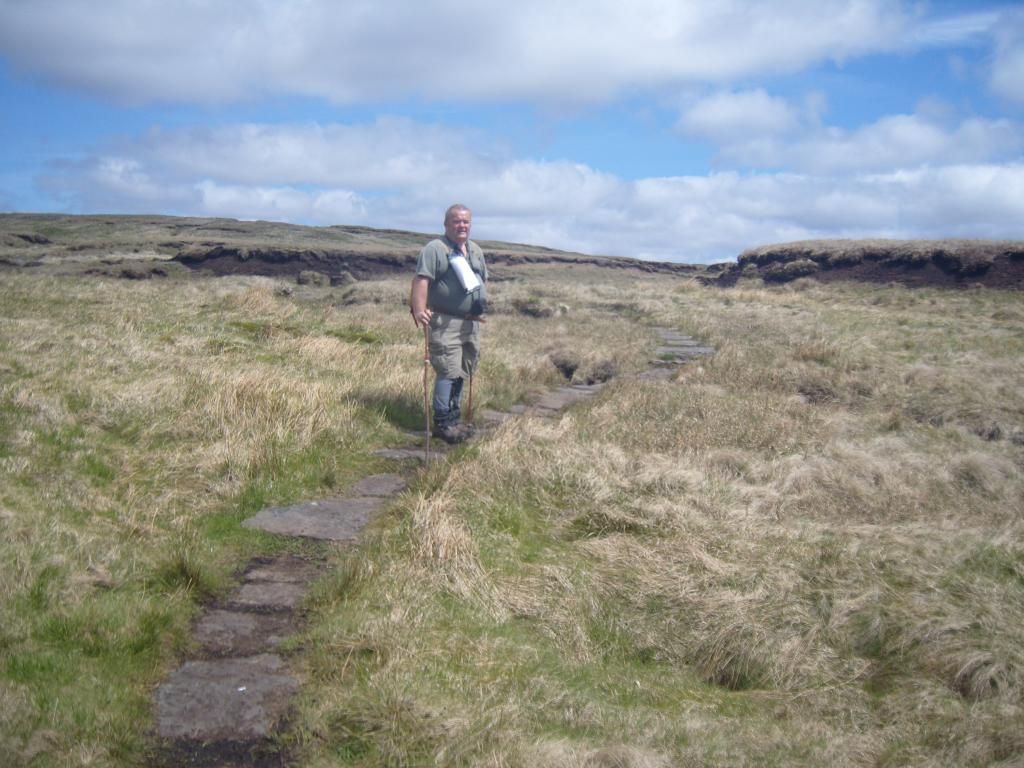 Eventually the shelter on Great Shunner came into better view and we were passed by the couple we had been passed by whilst having our drink break heading back down. They told us they had previously done Great Shunner from Thwaite and were now going back to Hardraw and then driving home to York.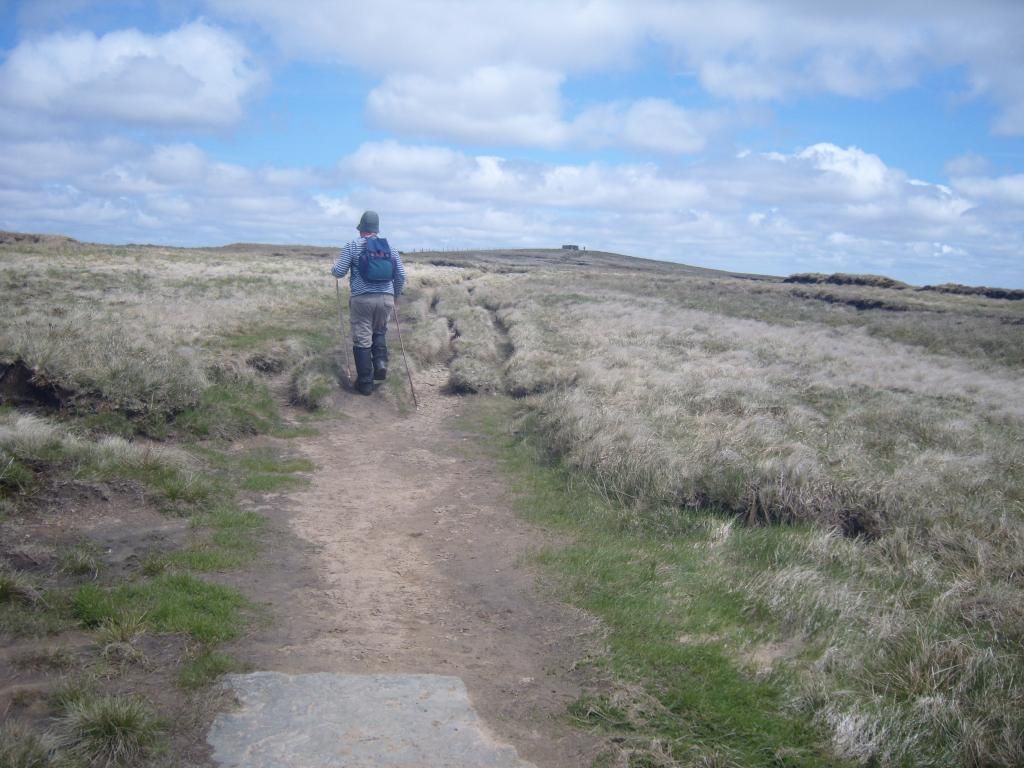 Just before reaching the shelter we were passed the opposite way by the lone elderley woman we had seen on the first day. I commented that she was doing the Herriot way anticlockwise to which she replied in a sarcastic American drawl that she was doing the Herriot Way the correct way. No Comment! The shelter was quite full but we managed to find a seat out of the wind and settled down for our lunch at 1:00pm. Whilst there we chatted to a lone young female walker from London who had started out on the Pennine Way with her friend who had had to packit in a few days earlier. She commented that she thought the accomodation and food had been very cheap, but she was comparing to London prices. Hunger and thirst quenched we headed off down towards Thwaite. I pointed out that Birkdale Tarn and Ravenseat were now visible.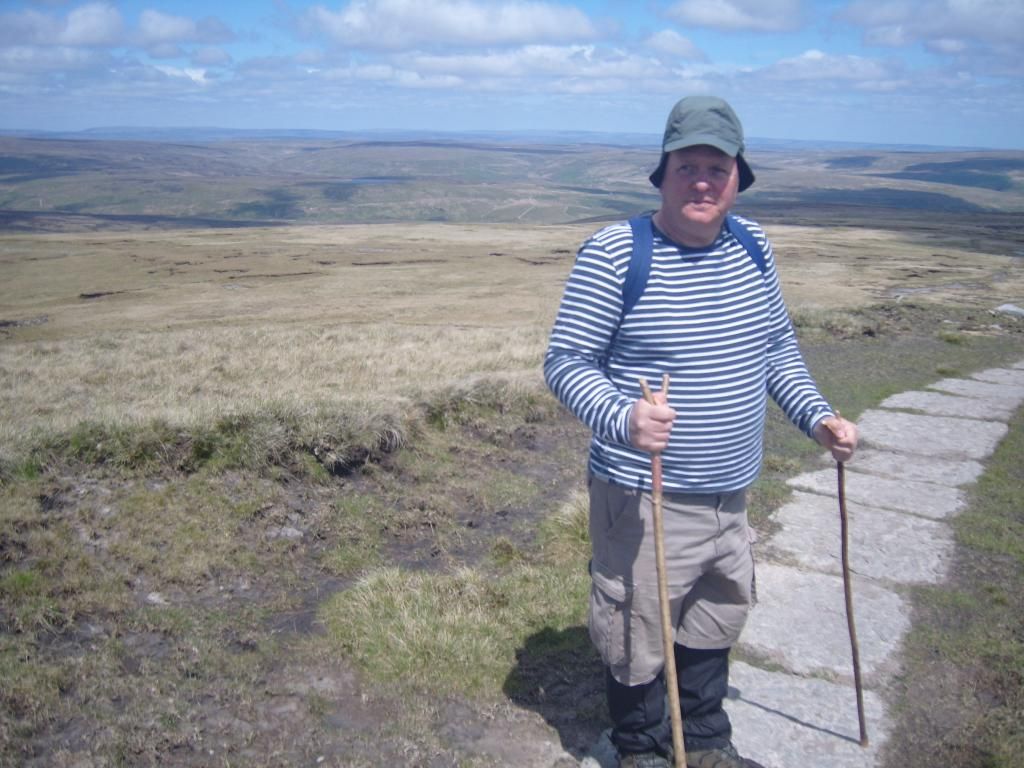 We were soon overtaken by the lone London girl who strode off at a great rate of knots. Muker quickly came into view and we met a trio plus a dog sheltering from the breeze behind a large cairn whilst taking their lunch. They commented that they were in the restaurant with the best view in the dale.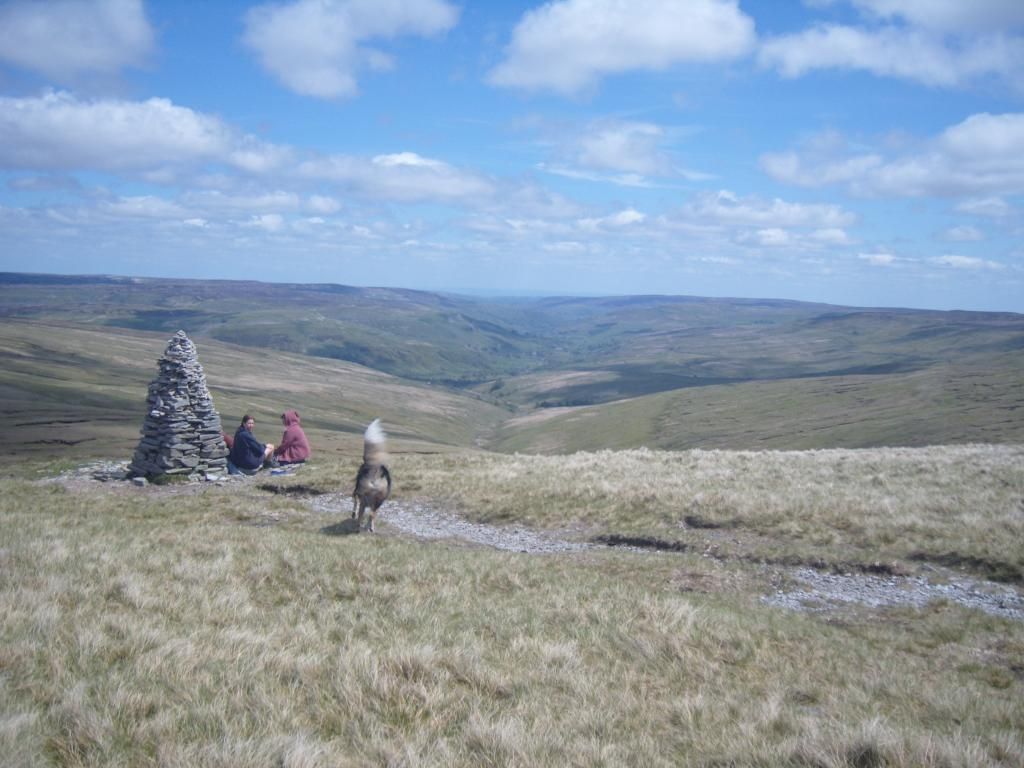 Eventually our path led to a stony lane heading down to Thwaite.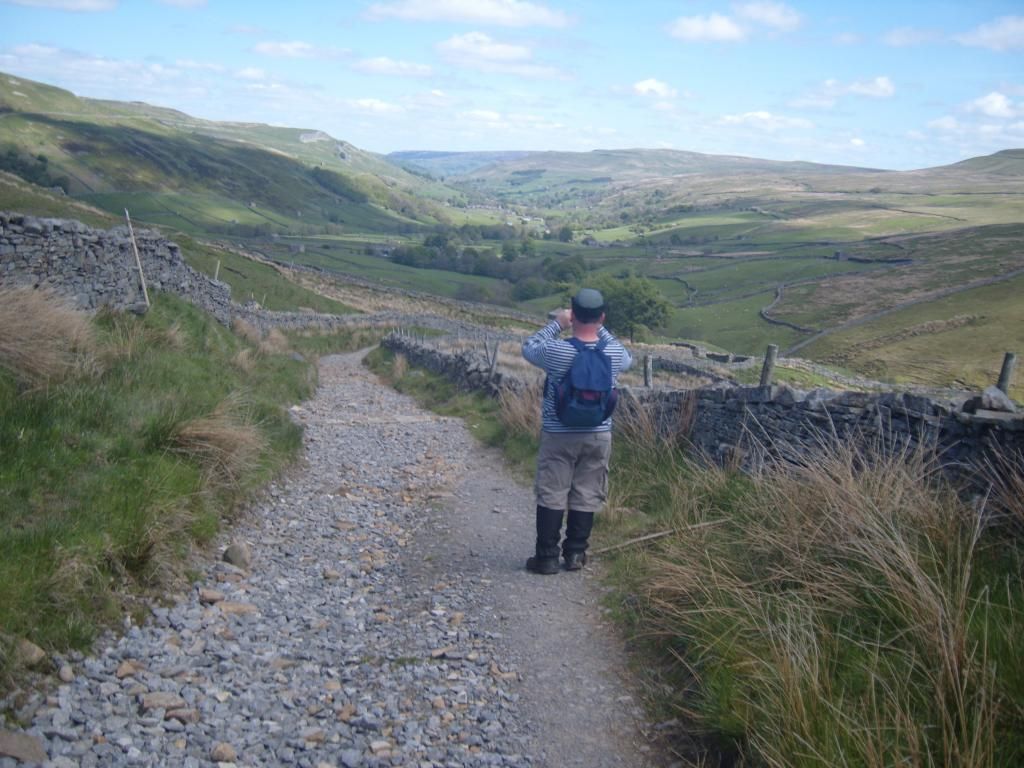 On the way down we came upon a weatherbeaten female farmer repairing a dry stone wall which had been washed out with the winter rain. We soon reached the road and headed down to Thwaite where we found the girl from London enjoying a drink in the Tea room. We headed off along the easy meadow path to Muker.
I think the information painted on the wall was for the path as the stile was clearly single file.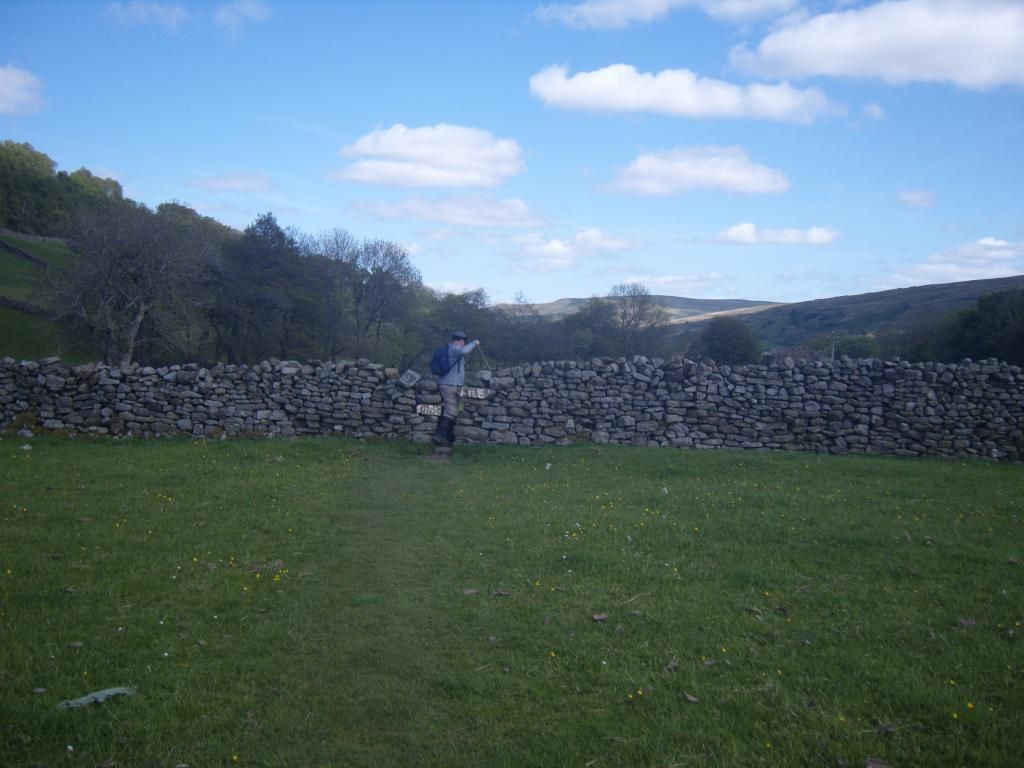 Eventually the path developed into a beautiful paved meadow path with Great Shunner still visible on the horizon behind us.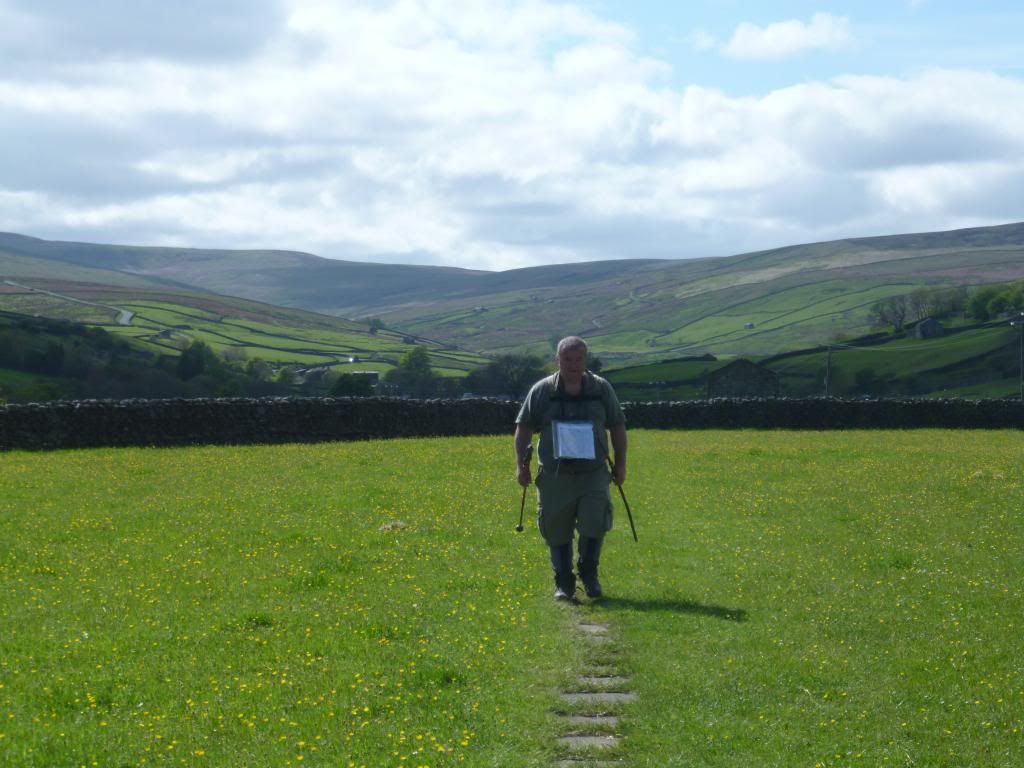 We reached Swale Farm in Muker at 4:00pm and were met by our host who showed us where our bags were and led us to the excellent room we had used last year. As the pub had no TV we decided to go for our evening meal early at 6:00pm and return to the B&B to watch the Brazil v England friendly at the newly refurbished Maracana stadium in Rio de Janeiro. Curried parsnip soup and liver and bacon mash for me and sausage and mash for Ian at a reasonable £11.00 plus a few pints of Black Sheep to top it off. Back to the B&B and straight to bed to watch the match. The first half being like the seige of the Alamo with Brazil peppering Englands goal with endless shots but Joe Hart holding firm. Half time came and we both dozed off. I awoke a minute after Brazil had scored and watched the rest of the match to see Englands unexpected 2-1 turn into a 2-2 draw in the last few minutes. Ian then awoke briefly to realise he had missed 4 goals. Full time and TV turned off and a deep sleep for us both.

Day 4 Monday 3rd June Muker to Reeth (13 miles)
Down for breakfast at 8:00. Best of the walk again with cereal and fruit followed by 3 rashers of very thick cut bacon a meaty sausage, egg, mushrooms, black pudding and tomato followed by a mountain of toast marmalade and coffee. As he did last year the host insisted we took some fruit for the days walk so we took an orange each. When we asked how much it was this year we were told the same as last year £30 each. The best and cheapest B&B of our trip as the other 2 were both £35 each. Ian was now quite sore with sunburn on the back of his neck and decided he needed to cover up his neck with a turned up collar so he wore his fleece. We were on the road for 8:30 and headed up the Swaledale Meadow path towards Keld.
We decided not to cross the Swale at the first footbridge which was a mistake on reflection and continued up the dale.The path on the otherside of the river looked much better than our path. The river was very low this year and we really should have crossed here.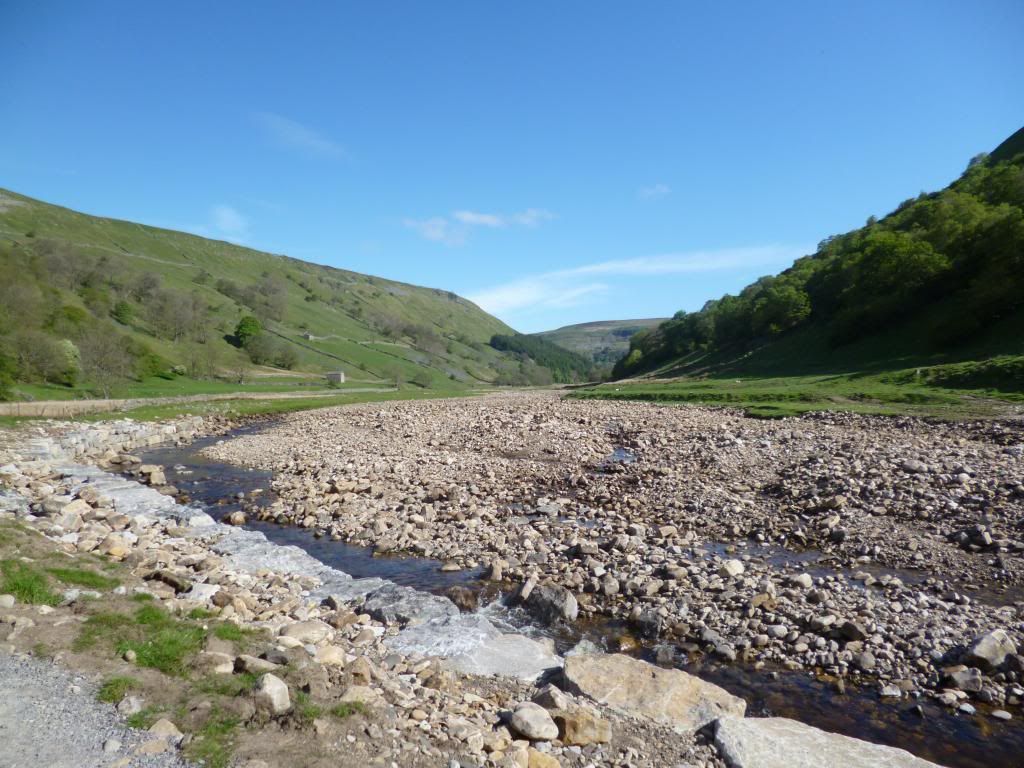 However we pressed onward towards a footbridge I had seen on the OS map. We passed the exit of Swinner Gill and continued upstream towards the footbridge which turned out to be a flimsy suspension bridge so we decided to cross one at a time.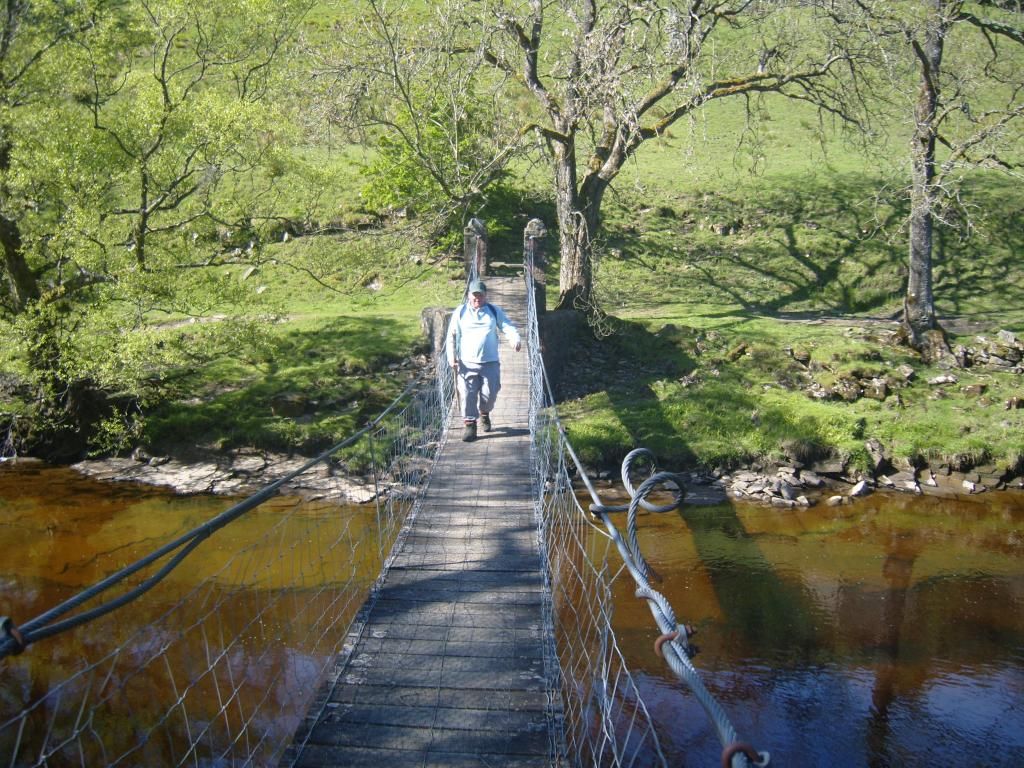 On leaving the bridge we discovered that the bridge was infact private and not open for public access. We made our way back downstream towards the path at the base of Swinner Gill.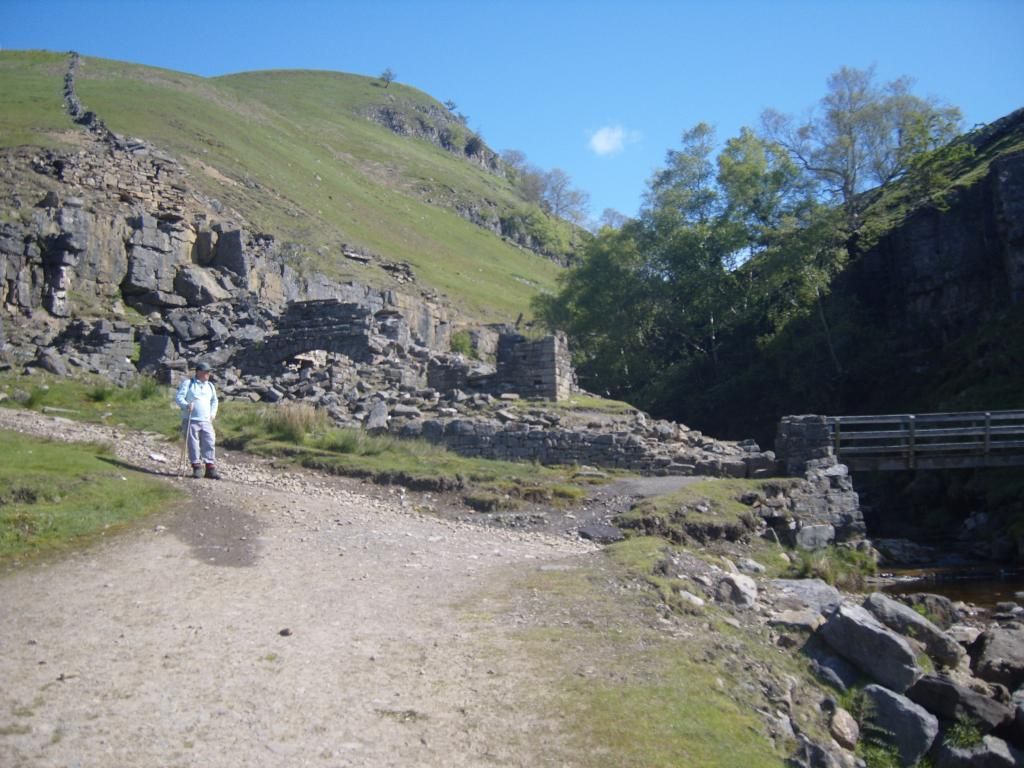 A short hike up the path and we reached the now derelict Crackpot Hall. We stopped for a snack and a drink break in the old kitchen where Ian freshened himself up in and old tin bath in front of the fireplace.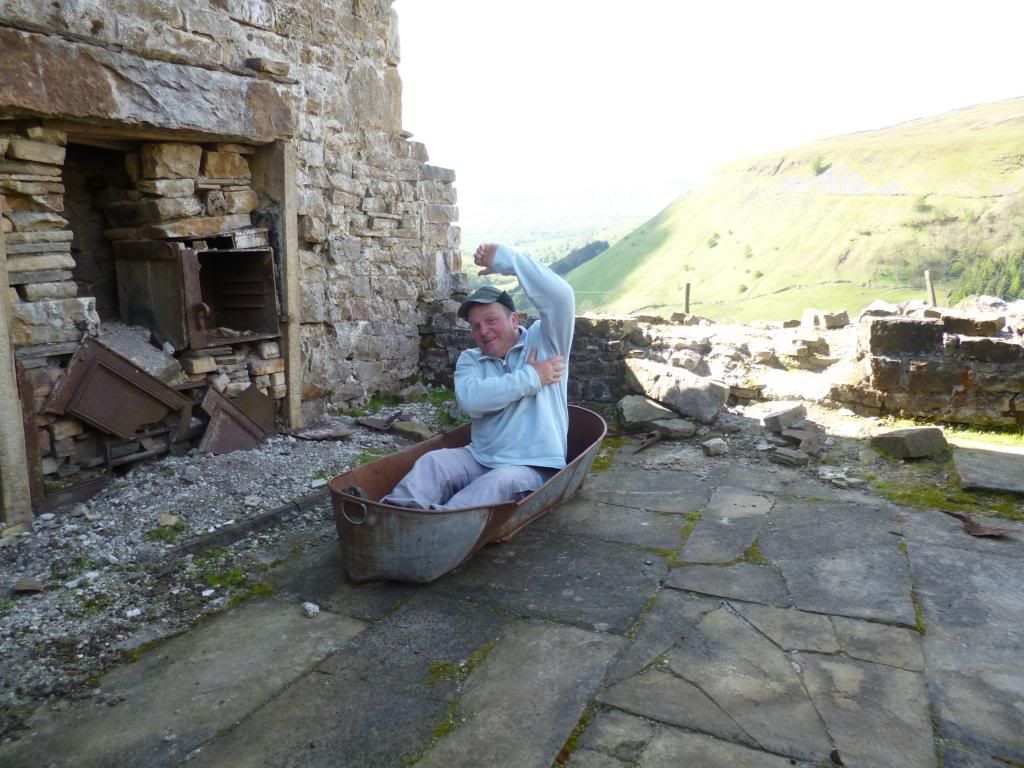 One last look down Swaledale to Muker and then we headed up Swinner Gill.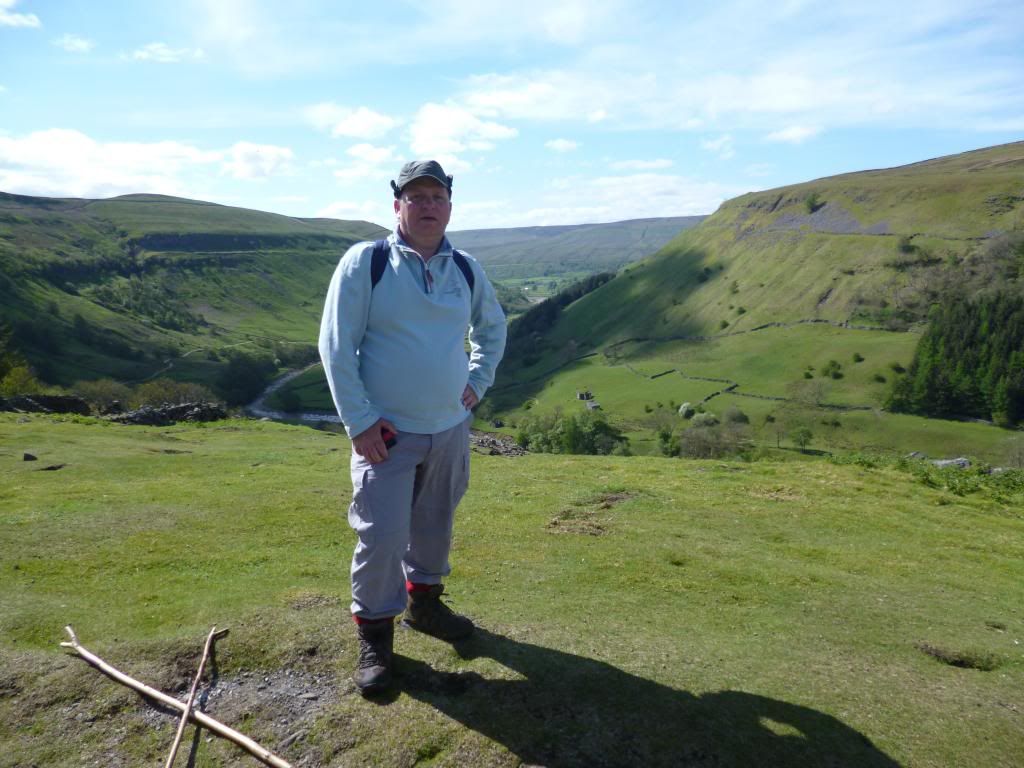 The path began to climb steeply on a narrow track that resembled a goats track.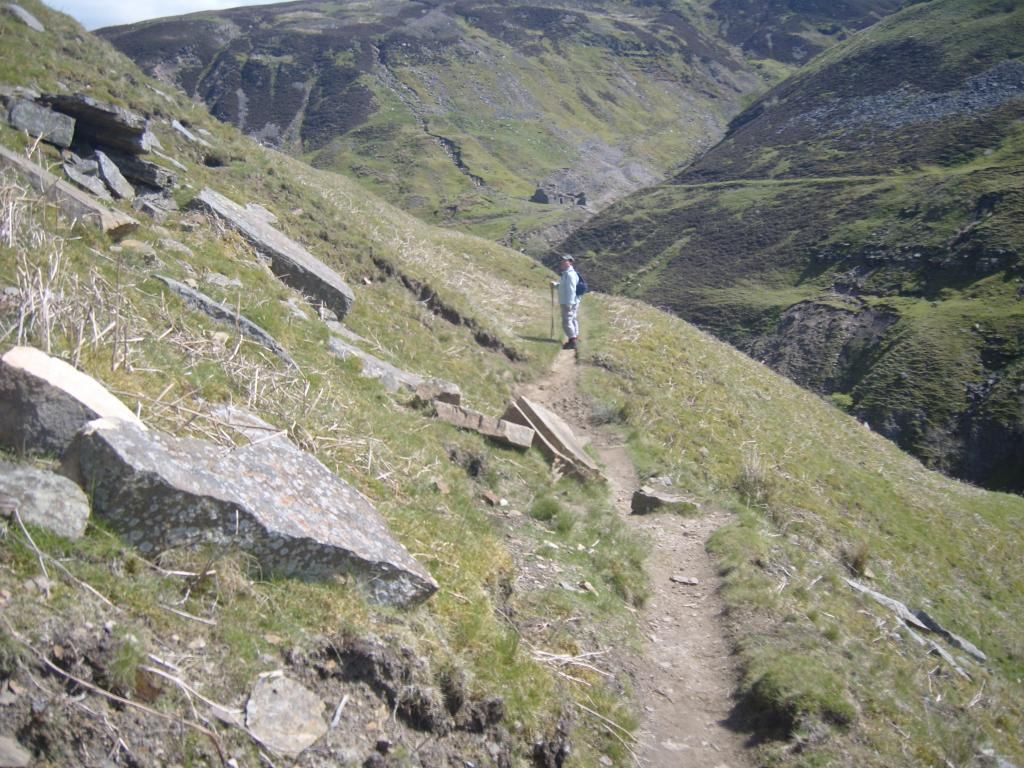 Soon the old smelt mill of Swinner Gill came into view
.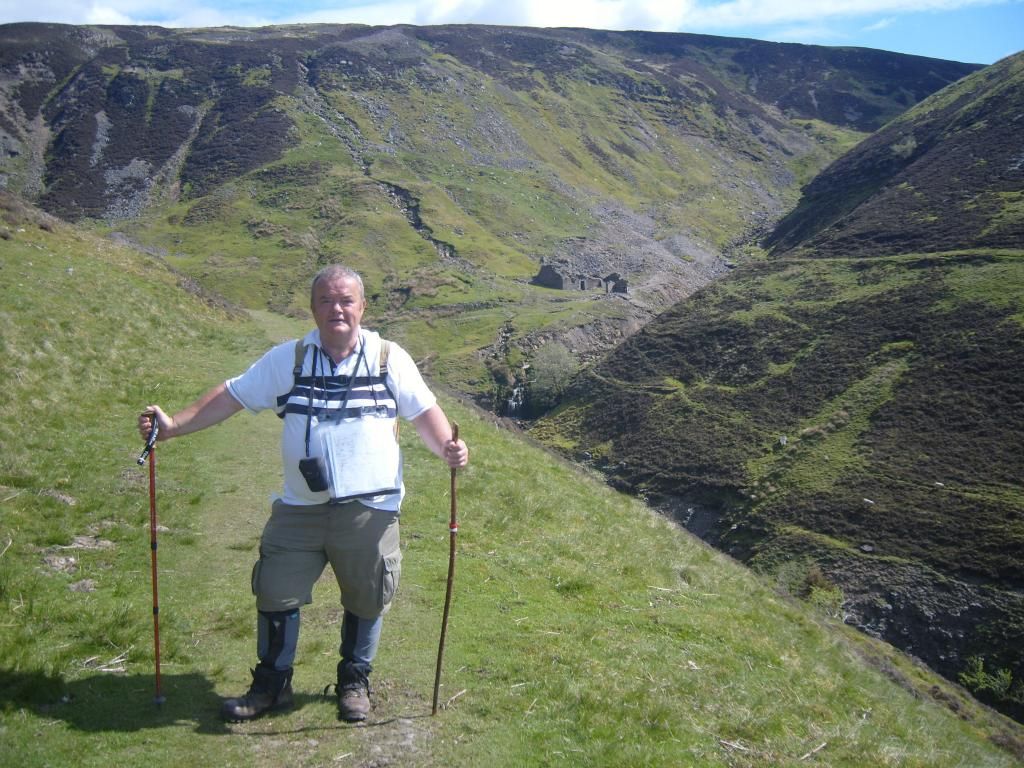 We continued up the gill and crossed the arched stone footbridge to East Grain
.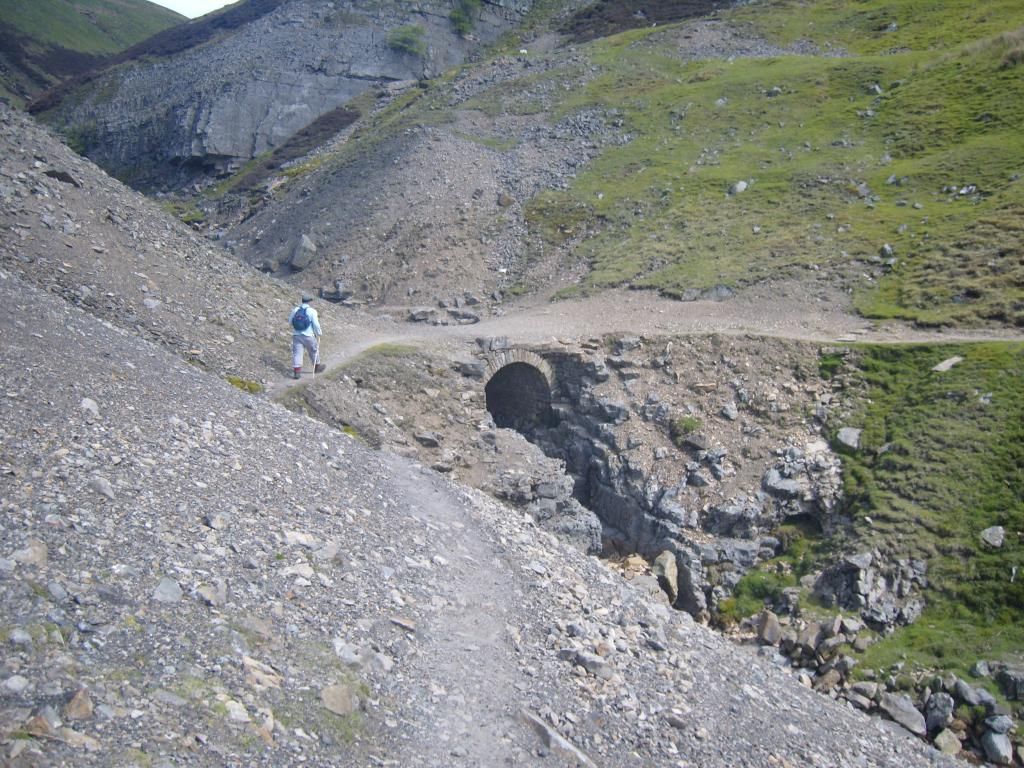 A steep indistinct path led us to the top of East Grain.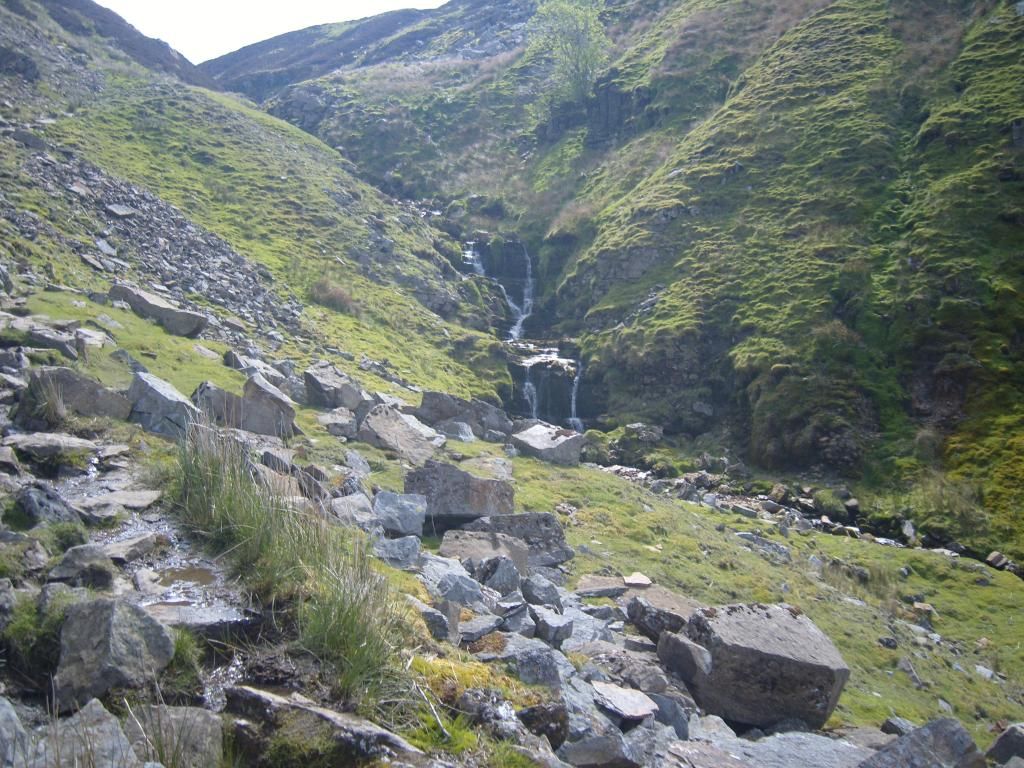 A quick look back down the gill gave us a distant view of Shunner Fell where we had been the previous day
.
The path at the top of the grain led to a well maintained grouse road where I managed to spot a Black Grouse which raced into the heather before I could turn on my camera. Eventually we left the grouse road between 2 cairns on the left and made our way towards the head of Gunnerside Gill. The devastation caused by the 18th/19th century lead mines becoming even more evident.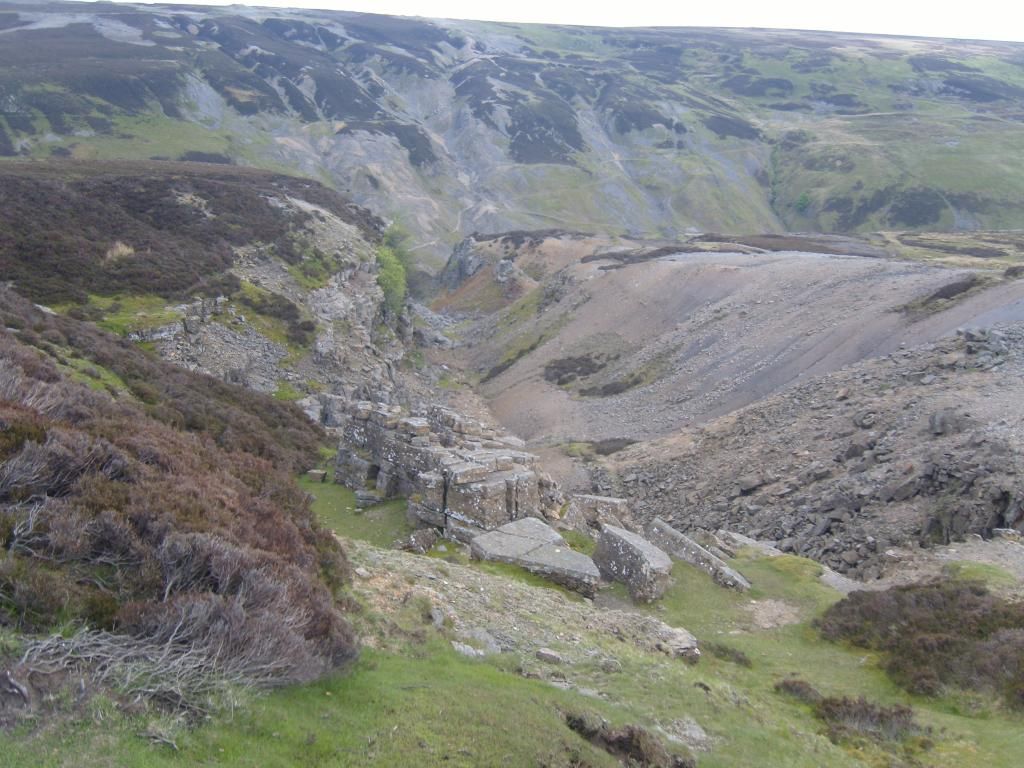 Our path led steadily down the side of the Gunnerside gill to the old smelt mill.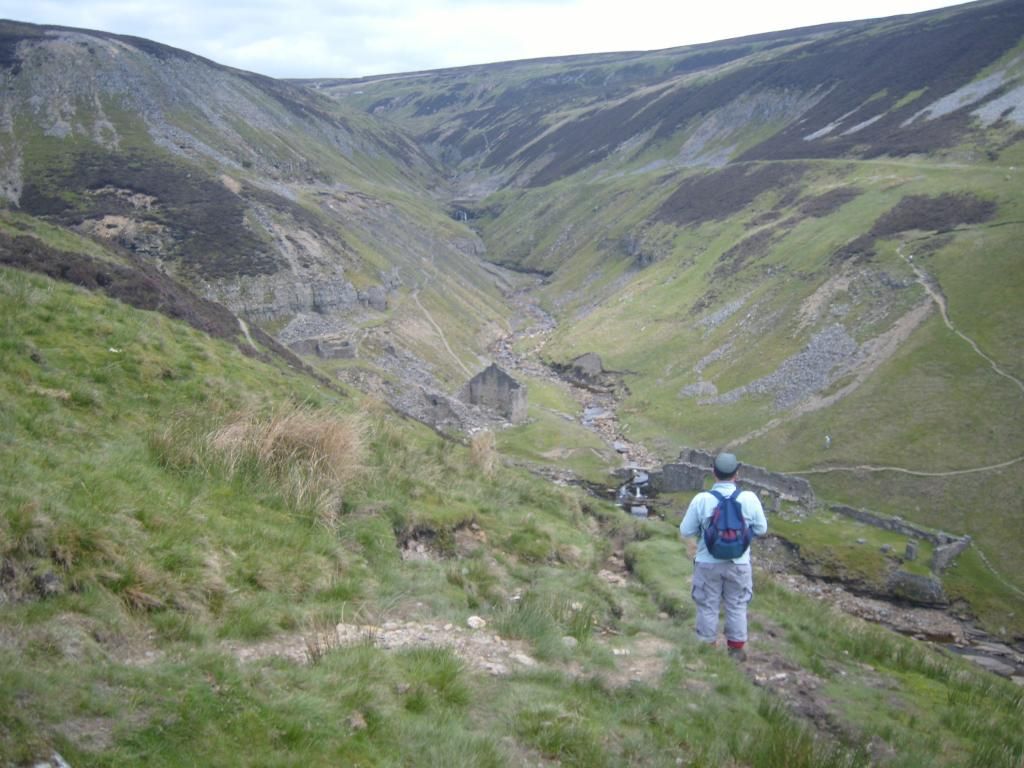 We spotted a man obviously searching for something on the otherside of the gill. We later discovered it was his guide book which his grandaughter came back down and found for him. We took our lunch at the base of the mill and then made our way across the stone footbridge where we spotted trout jumping for flies.
I made an ambitious attempt to catch them on photo with this being my closest shot.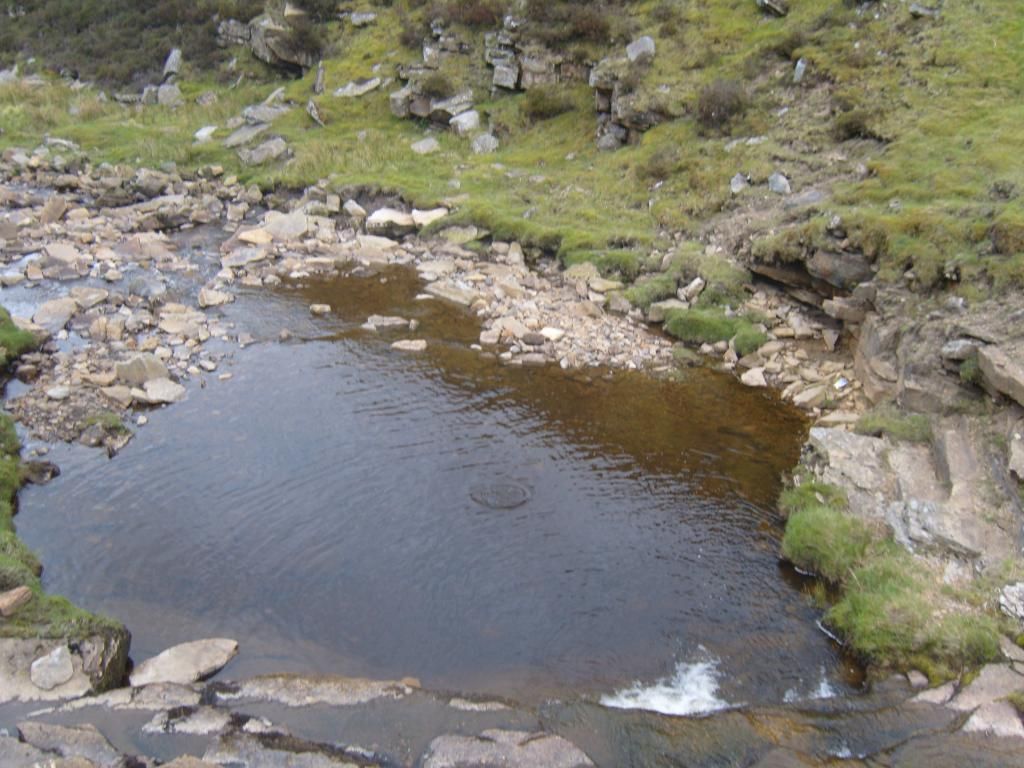 We made our way up the steep path on the opposite side of the gill to reach the main path and the made our way down the gill. Unfortunately for us we were caught up by a sprightly couple with a dog and whilst chatting to them we ignored our path which turns back to the left off the main track. As we reached the base of Bunton Hush we discovered our error and after studying our maps we determined that a path up the hush would take us back to the higher level path we needed. Unfortunately half way up we spotted a walker on a path we assumed to be our path higher up the fellside so we made our way up diagonally to reach this path. After about 50m on the path we realised this was not our path and after consulting the gps on my iphone, which was now down to 15% charge, we about turned and followed this path up wards to eventually reach our path to Old Gang mine at the head of Bunton Hush. We determined our slackness had cost us about 20min of wasted time. The landscape on the road to Old Gang mine had now become almost lunar with the almost complete lack of vegetation due to the array of heavy metals in the waste.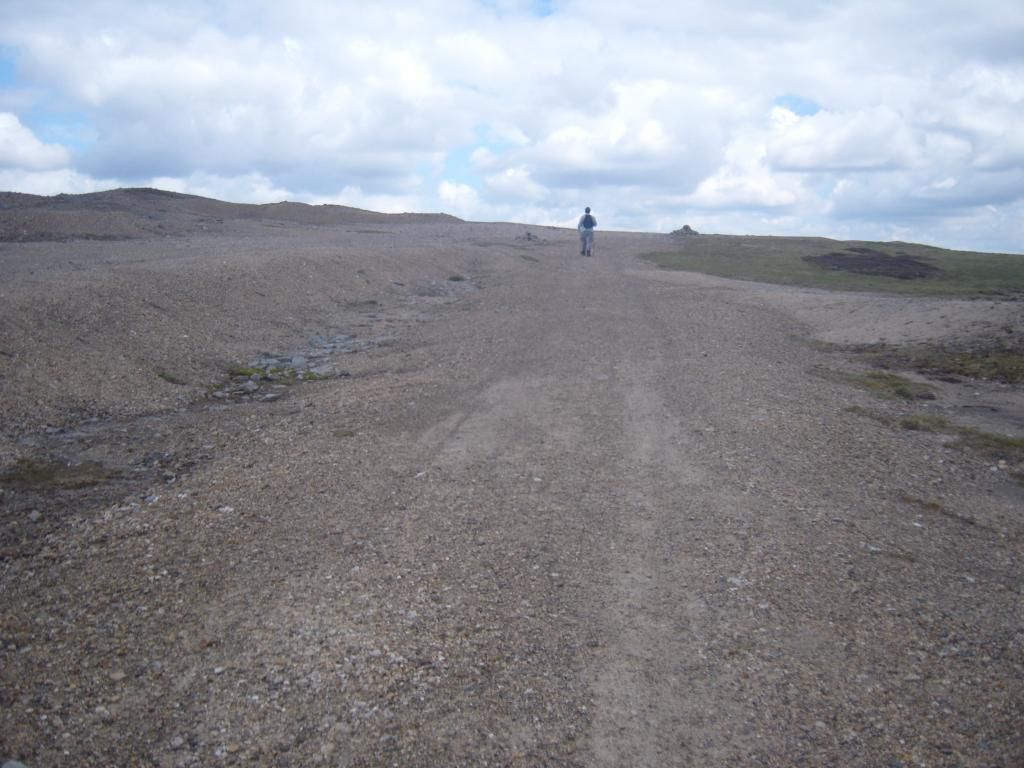 We soon arrived at the well photographed abandoned stone crusher.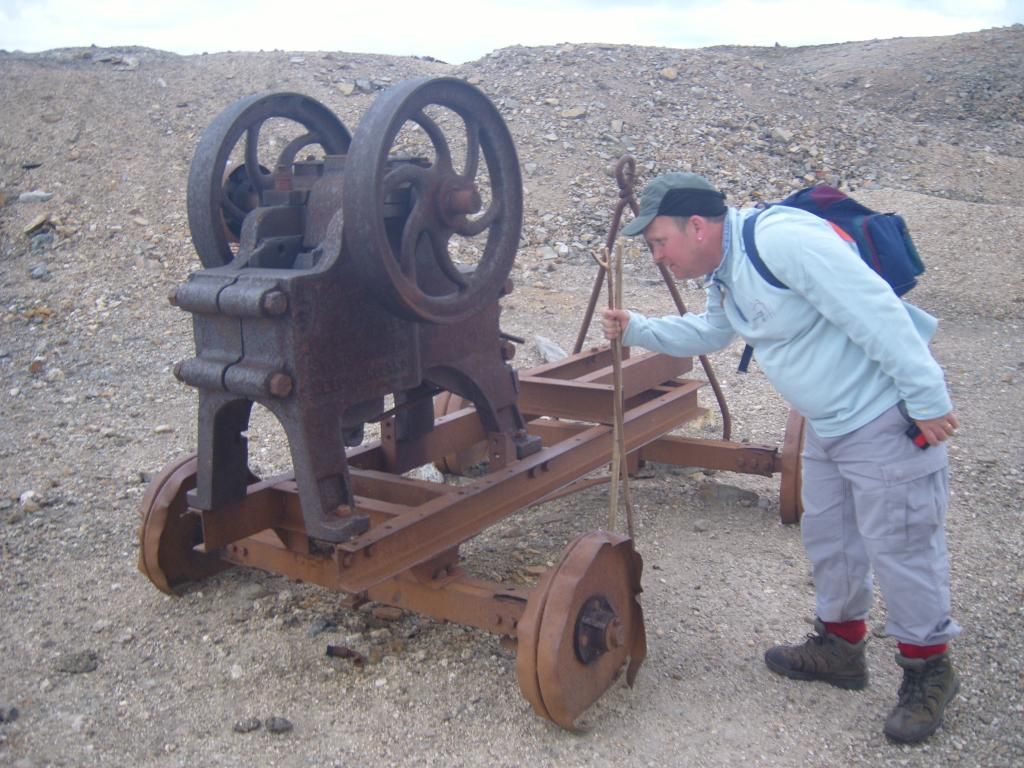 We were now conscious of time and headed off down the gill to try and reach Reeth for the last bus to Richmond at 5:00pm. The chimney of Old Gang smelt mill was briefly seen as we trecked downwards. My dodgy knee was now beginning to hurt as it had done for the last hour or so of every days walking. After what seemed an age we arrived at the smelt mill and spent a few minutes exploring the ruins.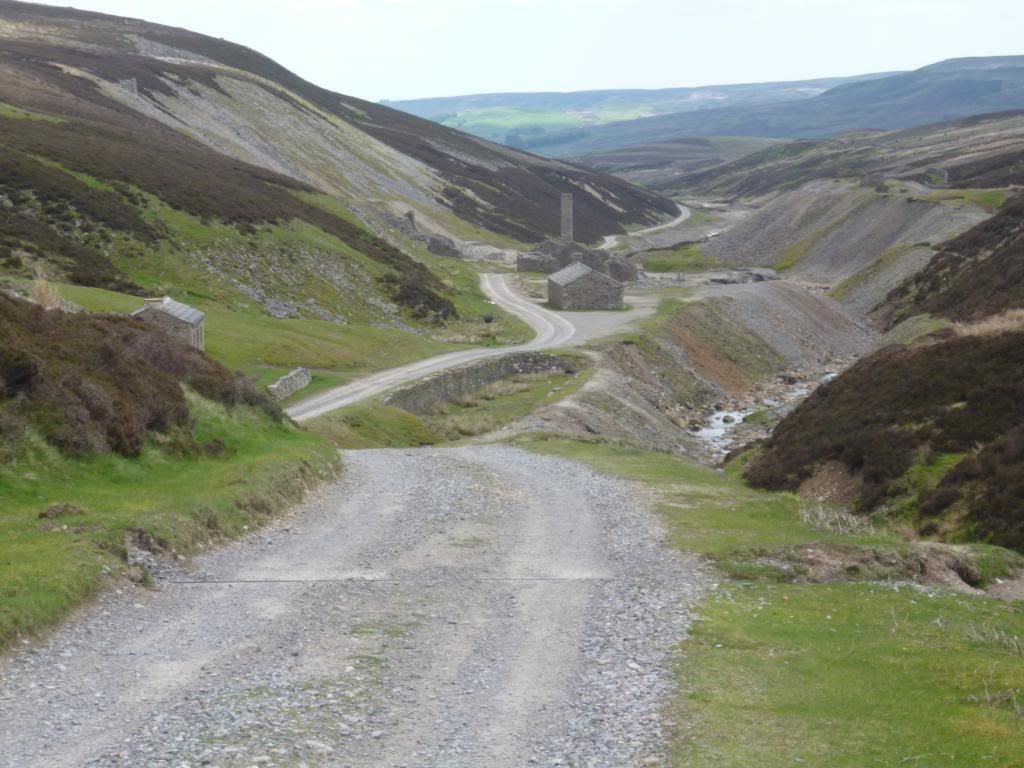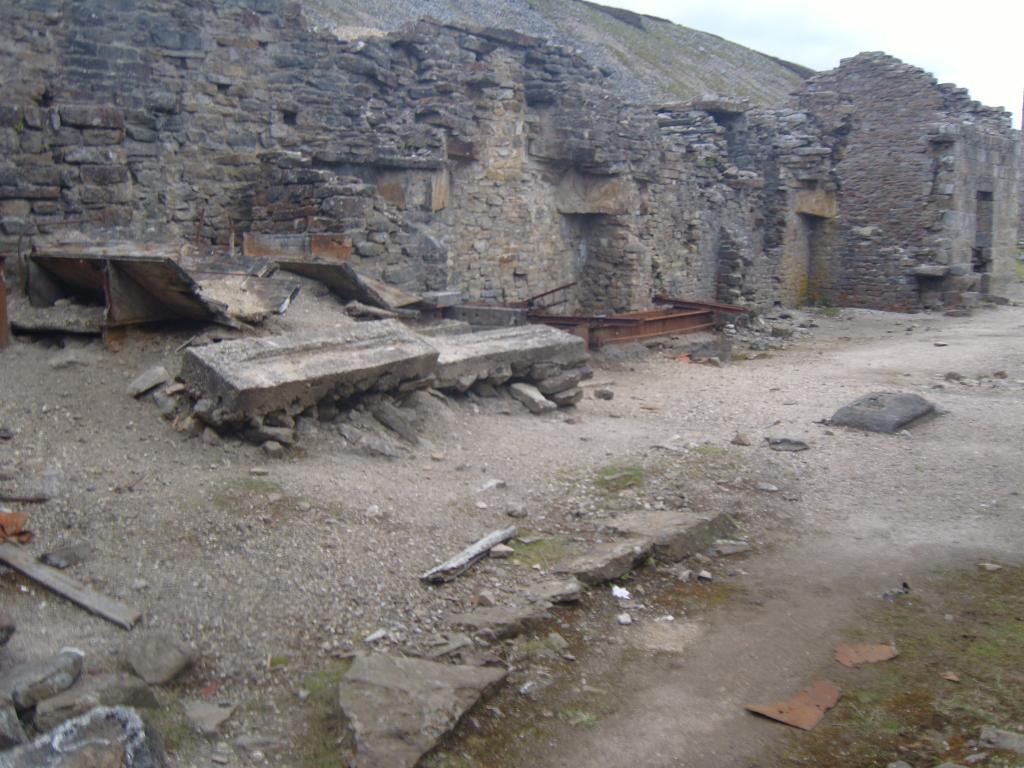 We now began to pick up the pace as we made our way down to the Surrender Bridge and noticed the road sign saying it was 5 miles to Reeth. It was now 3:00pm so we pushed on past the Smelt mill below the bridge and missed our chosen path in the boggy ground beyond the ruins and continued down a path which led us down Barney beck into Healaugh. This path was a little tricky at times and slowed our progress. However we reached Healaugh just before 4:30 and found the path to Reeth we had used last year. The foottpath sign read 1 mile to Reeth which we thought should be no problem in half an hour. However a combination of my dodgy knee, narrow stiles and the path actually being 1.3 miles when I later checked it, meant that we arrived at the village green at 5:10pm and the last bus had gone. I suggested that we just sat outside the pub and rehydrated with Black Sheep until his wife Marie could come and pick us up at about 6:45pm when she shut the shop but when he rang her she said she could pick us up now. So we only managed a couple before completing taking a ride home with Marie's son Ben at 5:35.